Angel Stadium
Anaheim

,

CA
Anaheim 1 (A1)
Monster Energy AMA Supercross Championship
BTO Sports is your number one source for all of your motocross parts, gear, accessories and apparel. BTOSports.com is a motocross company who is truly dedicated to the sport and to the customer. Proud sponsor of your Racer X Podcasts and the BTO Sports race team.
Anaheim 1 has come and gone and with it, a bunch of hopes have shattered along the way. The first round of supercross (or Nationals for that matter) is always time for everyone to LOVE their new bike (Brayton), new trainers/coaches (Josh Grant is working with Kyle Lewis now), and everyone has a new attitude. But the sport of supercross isn't easy and produces a lot more failures than it does success stories. Like if you're Josh Hill, who didn't race due to injury, or Martin Davalos, who fell in the first turn and broke his bike, you're already feeling the pressure as the first round couldn't have gone any worse. The whole series is now about playing catch up, which leads to pressing, which could lead to mistakes. This is not a nice, to borrow a term I've heard a few times, mindset to start 2013 with. But, to borrow another cliché, it is what it is. Let's get this thing rolling!
First off, the track. The promoters and track builders like to make Anaheim 1 pretty easy for the guys (of course, easy is in the eye of the beholder - you go try and ride it!) and this year's track was much better than last year in my opinion. There was a quad that was not supposed to be jumped but was, and a sand wall that was cool. But I didn't like them taking out the little pre-jump before the sand wall after practice, because the top guys were figuring out to jump over the big wall from the small jump (think a smaller version of James Stewart's Daytona jump a couple of years ago) and it was awesome. It was also an awesome spot for some serious carnage so maybe that's why they took it out. All in all, a good start to the year. Was there an over/under bridge? No and frankly, that sucked.
Rockstar Energy Racing's Davi Millsaps won the opening round at Anaheim. Let me say that again. Davi Millsaps won the opening round at Anaheim! Even after seeing it and typing it twice, I'm not sure I believe it. And what a ride it was! Millsaps has long had the talent, but his desire to do all the things off the track to win have been questioned by many. I'm sometimes held up as a shining example of a person who carries the torch and pitchfork to the Millsaps house but I'm just one of many. In fact, at times Millsaps should just change his name to "The much maligned" Davi Millsaps because that's often what comes in front of his name. Regardless of his past, leading as many laps as he did at A1 and passing Trey Canard back on the last lap to win was very, very, very impressive.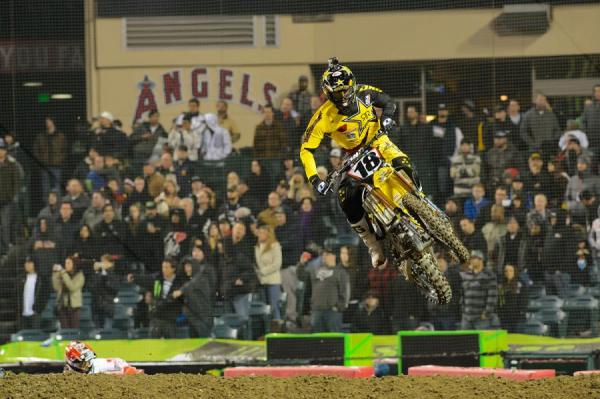 Millsaps shocked the industry with his win at the season opener.
Simon Cudby photo
And it was his first race for the Rockstar Energy Racing team, a team that may or may not be on Suzukis. They're doing everything short of flying a blimp over the stadium saying, "We're not getting help from Suzuki." Stay tuned on this development as we go forward. I'm pumped for team owner Bobby Hewitt and team manager Dave Gowland (who used to wrench for Ross Pederson by the way) on the win. There was no luck to this, no fortunate circumstances or anything. Millsaps earned this one the hard way.
Does this mean that Davi is a player this year in the 450s? In response to that question I'll say a couple of things. One is that it's early, but two is that, why not? Before the season, many people in the industry said giving Millsaps multi-year deals for good money is not a good idea. He's a guy who's always been known to take the easy way out, and he admits as much in interviews. So with a two-year deal, the thinking is that he would slack a bit with his training and, for lack of a better word, his trying. But did you see his post-race interview? He's lean right? He looks like he's been putting in the work with his trainer "Pistol" Pete and former supercross-winner Ezra Lusk. Maybe age has helped Davi out here. He just had his first kid, he is more mature and luckily for him, he still has the talent. He just needed to realize the gifts he's been given (on and off a bike) and be comfortable in his own skin. Now it's all coming together for him. I think this season is going to be great for him. He's a legit race winner each week. I know it's early, but I haven't been this excited for an opening act since that first fifteen minutes of Casino Royale.
I wasn't sure if Honda's Trey Canard could make it all the way back to being a potential winner after his brutal injury from last year. Even if you only had a knee injury, missing nearly a full year of racing is a long time. Never mind the fact he had to get hardware in his spine from the back injury! Canard's been through a lot (think about his career graph -- the highs and lows of it would look like the EKG reading of someone having a heart attack) and it's a lot to ask of a guy to immediately get back to where he was. You're supposed to slowly build all the momentum you had, one lap at a time. Cliché, yes, but it's true. I went to the Honda test track a few weeks ago and Trey was there with his crew putting in laps, and he looked really good. The scrubbing was back, he was aggressive, his fitness seemed great (lap times didn't vary much) and his attitude was, as usual, pretty great.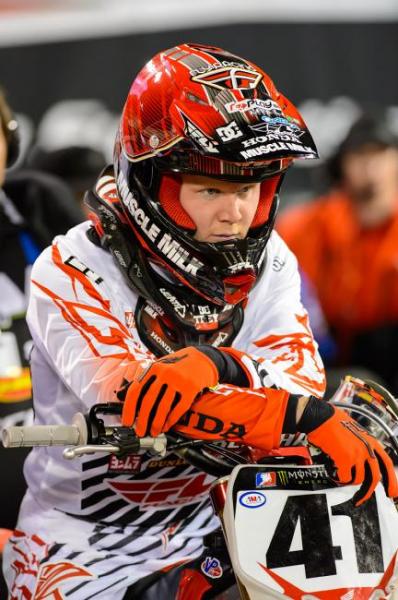 Canard is back and in fine form!
Simon Cudby photo
He didn't win Anaheim but he stalked Millsaps for most of the race, made the pass and was a half a lap away from winning the opener. I'm not sure who should be happier of the top two riders, and as a matter of fact, Millsaps told us on The Pulpmx Show that Trey was "happy for everyone" after the race, which sounds about right. Canard is back baby! It's that simple. He was a big question mark for me before I saw him out off the I-15 practicing, but after that I knew he'd be A-okay.
I can't figure out if Ryan Dungey had a good night or not. Of course a third is awesome for most mortals but he's not like the rest of us. He's Ryan Dungey! Halfway through the race I turned to my wife and said that Dungey was going to win. He was in fourth, just watching (or stalking) the top three. He was going to kick it into full Dungenator mode and grab the win. Only he didn't. The top two guys broke away a little bit and third-place Barcia seemed to have no problems holding off Ryan. His fitness was great, but the guys in front of him had great fitness too. I think the track was pretty basic and there wasn't that much to separate the riders. As a result, Dungey, much like Eli Tomac in his heat, was having a hard time making up ground. Right before it was poop or get of the pot time for Dungey, he knifed the front end and went down. He passed Barcia when the Honda rider went down and got a third. Is Dungey happy? Probably not but on this night, you gotta take it.
Defending champion Ryan Villopoto was amazing in his heat race. Like, he was warp nine in catching up to Barcia and even though he didn't win, he was awesome. There looked to be no stopping the guy come main event but then he went and chose the inside gate for the main. That's a boom or bust sort of deal and RV busted. He didn't get the jump he needed, hit Dungey in the first turn and was way back. I asked him about the gate selection and he said there was room on the left and it was a straight shot to the turn. He also said I didn't know what I was talking about and that I wasn't a racer. I shot back with, "Four Manitoba titles," and he hit me back with some swear words and reiterating that I was an idiot. I told him I never would have let Timmy Ferry start there and that was it, the texting stopped after that.
I maintain that it was a poor gate choice and it hurt him. In the back of the pack, RV started freaking out and crashing everywhere and in every way possible. He actually got lucky to not have gotten hurt one of those times and his sixteenth was as fortunate as any sixteenth in history has ever been. This just in, RV is fast and he's angry. Not a good combination for his rivals.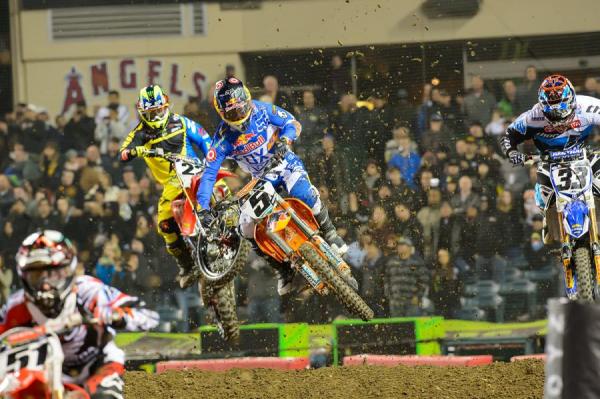 Dungey did what Dungey does best at Anaheim -- get on the podium.
Simon Cudby photo
Eli Tomac walked away with the 250SX main event win and as the defending champion and fastest practice at Anaheim, it was to be expected. But what was up with that mediocre heat race? Well as Tomac explained after the race he just had a hard time making time up and riding the track the way he wanted to because he was always in a group. It's tough to get the flow going when the dudes behind you want to try and block pass you every change they get! Anyways, in the main he was awesome and made it look easy. He lived up to expectations, and the rest of the guys have some work to do to catch this kid.
Let's take a look at the results shall we?
250SX Overall
1. Eli Tomac Hon
2. Ken Roczen KTM- Weird that Roczen's second, a strong ride, isn't getting much talk. It's all about how awesome Tomac is, how Seely charged hard to catch Kenny, how Anderson looks like a new rider, Mookie's back and how Baggett and Rattray struggled. If you ask me, a second is pretty good.
3. Cole Seely Hon- Seely wasn't good in practice. Like, weird not good. We were wondering what was going on with the guy. Maybe he was, like JMB, already looking ahead to his next career, which for Bayle was road racing but for Seely, it's drifting.
4. Jason Anderson Suz- I thought this was a great ride for "Ando." Can we call him Ando? Isn't that what you call everyone with the last name of Anderson?
5. Malcolm Stewart KTM- This is a great first round finish for Mookie. Perhaps my fever is rising a bit despite brother James telling me that Mookie isn't a fan of this column.
6. Ryan Sipes Suz- If Sipes wins a race this year, I won't be surprised and if he gets hurt this week and misses the rest of the series, I wouldn't be surprised either. Sipes is like a hot tech stock in the '90s -- he's boom or bust.
7. Zach Osborne Hon- I thought Osborne was great, he fell in the first turn and had his work cut out for him. He was the fastest rider on the track the last three laps and charged hard. Nice turnkey rider GEICO Honda has with Zach.
8. Tyla Rattray Kaw- Rattray has got to be better than this. It was an off night for a guy who has been a regular podium contender in the past.
9. Max Anstie Suz- Who knew?
10. Michael Leib Hon- Leib's probably the first guy in the main that you're like, "Who's this guy?" But remember, last year he was pretty good before going to Europe. He's also a total privateer.
11. Kyle Cunningham Yam
12. Christian Craig Hon- It's so confusing over there at Lucas Oil/Troy Lee Designs Honda. Nelson has Seely's old number and Seely has Craig's old number and as far as what this has to do with Craig's A1, well not much.
13. Joey Savatgy KTM- I have nothing to say, I never noticed him but I believe this was his first ever SX race, so this is great.
14. Blake Baggett Kaw- Baggett may have broken his hand when he got caught up with Nelson's cartwheeling bike. Not a good start for the Lucas Oil Motocross 250 National Champion, but if can tough out the pain on the hand, he'll be a potential race winner. After all, after Tomac lapped him he stayed right with him to the finish. I do not think anyone will be mopping any floors with Blake anytime soon.
15. Travis Baker Yam- Baker was right up there in a gnarly battle for sixth until he fell. Bummer for him. It was crazy because there was some serious bar banging happening.
16. Austin Politelli Hon- Politelli was very good in the heat but he crashed early. Still, on his bike and team, that heat race ride was impressive. Keep an eye on this kid.
17. Jean Carlos Ramos Hon- Jean Carlos Ramos is back and I guarantee the Brazilian was the most unknown dude out there in the main.
18. Jessy Nelson Hon- Nelson's starts were on point all night, he got second in his heat and looked to be in a prime position to do some damage in the main when he pulled the holeshot. Unfortunately, the only damage he did was to himself when he endo'd hard. Still, I was impressed that he even though he was down and wadded up forever, he eventually got up and finished the race.
19. Jake Canada Hon- Canada's bike blew up, which is unfortunate for him. He's had a few issues in the last six months with his bike. I like Jake a lot, he's a good kid and up and coming, but it wasn't cool when he dropped his broken bike and walked off. As a former mechanic, that pains me to see that. Team managers see that sort of thing and don't like it either. I spoke with him about it and he knows he goofed up. He apologized and we'll all move forward from here.
20. Martin Davalos Kaw- He won his heat in a great ride and there's no doubt that he's very fast. But on a new bike with a new team, it was the same old Davalos. Just dumb luck for the guy and one of these days, he's going to break through and be a consistent podium guy but I just don't know when.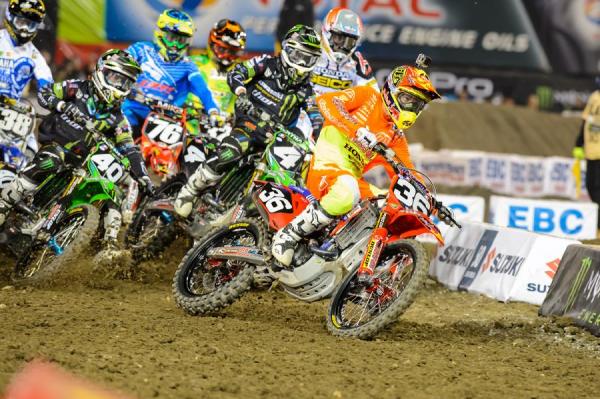 It was a night full of ups and downs for rookie Jessy Nelson (#36).
Simon Cudby photo
450SX Overall
1. Davi Millsaps Suz
2. Trey Canard Hon
3. Ryan Dungey KTM
4. Chad Reed Hon- Reed was off all day. He's usually not that great at the opening rounds and he'll get better. With Barcia and Villopoto crashing, his fourth was a bit fortunate and to me, it was a great result. He'll be better.
5. Jake Weimer Kaw- Weimer commented afterwards that he was just cruising out there. I think a lot of guys would love to get a fifth by "just cruising". Good start for Snake.
6. Andrew Short Hon- With all that's been going on with Andrew and his team, a sixth is a great result. He sort of rode by himself out there for most of the race -- just off Weimer's pace and just ahead of everyone else.
7. Justin Barcia Hon- BamBam was a steady third for most of the race and with Millsaps and Canard battling, appeared to be in position to perhaps do better than a third. But then he hit neutral and went over the bars on a small double. He was what we expected him to be though, which was very fast. His coach Jeff Stanton says he's ready and has been working hard, and that's good enough for me.
8. James Stewart Suz- Disaster for James as he hurt his knee in practice and it appears to be a serious injury. We'll know more later this week but I hear he's going to try to race Phoenix. No matter what happens, he's not 100 percent and that's a massive disappointment for him, Suzuki and the series in general.
9. Justin Brayton Yam- Brayton, on his return ride at JGR, hurt his thumb in practice and toughed it out the best he could. Considering he had to ride the LCQ, this result wasn't bad at all, but still not the start he wanted. Oh hey, don't think I didn't remind JGR manager Jeremy Albrecht that both James Stewart and Davi Millsaps won their first races with new teams after splitting from JGR. You're welcome J-Bone, that's why I'm here.
10. Kevin Windham Hon- Windham was bummed after the race that he wasn't better and I have to say, he was a little invisible out there, which was weird. But as he said in the post-race Pulpcast HERE, he has hit the ground a lot lately and now he needs to focus on not hitting the ground. Good strategy I'd say.
11. Josh Grant Yam- Grant, who's working with Kyle Lewis this year, didn't have a good race- he wasn't able to capitalize on his sixth place first lap position and I'm not exactly sure why. He'll be better.
12. Matt Goerke KTM- Who had Matt Goerke in their SX fantasy leagues? Anyone? Beef rode great, he was a definite surprise and admitted afterwards that he was nervous. Well, he didn't ride like it, that's for sure.
13. Kyle Chisholm Yam- Chiz got the very last spot in the main so a thirteenth is okay. He was pretty good in the last practice as well on his return ride on the Yamaha.
14. Weston Peick Suz- Weston rode great and as Jason Thomas told the Pulpmx Show, "Weston's greatest gift is that he doesn't care about anyone out on the track," meaning he rides with anger and a chip on his shoulder. Seems scary but hey, keep doing it Weston, it got you a fourteenth in a deep field!
15. Matt Lemoine Kaw- Lemoine was a surprise. He was out there in the unseeded practice and he really stood out among those riders. He looked very good and I'm sure he did make a mistake at some point in the race, but nothing that I ever saw. He was very good on the JAB Kawasaki team.
16. Ryan Villopoto Kaw
17. Vince Friese Hon
18. Broc Tickle Suz- Tickle got caught up in Villopoto's carnage, and that's bummer for him. He was as high as tenth at one point. The RCH Racing Dodge/Sycuan Casino guys may have a new bike brand and a new managing partner in Ricky Carmichael, but judging by this result, as well as Josh Hill hitting his head, hurting his hand and not being able to race, it appears that the same bad luck that plagued the team last year is still around this season. Tough start for RCH.
19. Robert Kiniry Yam- Kiniry was way back early in the race due to a crash, then he hit some hay bales (that's what he called them and with his shaved head and intense attitude, I wasn't going to argue with him) and finished way back.
20. Mike Alessi Suz- Alessi went down early and jacked up his bars. Up until the crash, he'd not gotten his usual great start and was in tenth.
Everything old is new again in the sport of motocross these days. In the seventies we rode four-strokes and now we ride them yet again in this millennium. We had JT in the '80s and they're back. The 100% brand is back at the races, and I'm just waiting patiently for cargo shorts to be back. What am I getting at? We're in an air suspension era in American right now with production bikes coming with air forks  (look ma, no springs!) and this weekend, Ryan Dungey debuted a new springless rear shock. Yes, what was cool in the '70s is back again. It's lightweight, very plush and predictable compared to spring suspension. The guys like it for many reasons and it's a cool step forward in technology from when it was done back in the day. The major problem with the air stuff is that when you suffer a seal failure of any sort, you're done. The air escapes and you can't ride the bike. But the teams in the pro sx pits aren't running the full air forks for this very reason, they can't suffer a catastrophic failure and DNF. So the Showa forks that Kawasaki, among others, are running are the SFF model. SFF stands for Seperate Function Fork, which means it has no spring, but it has all the oil and dampening in one side and has the air in the other fork that is fully tunable like a spring. What's different from the production air forks is that there's a sealed air container, which isn't affected by anything to do with the main fork seal and in case of a failure, allows the rider to finish the race. I would also imagine that Dungey's shock has some pretty trick stuff inside of it to regulate the air pressure (or bleed it off) that would drastically build, as would be the case when ridden hard for twenty laps in supercross.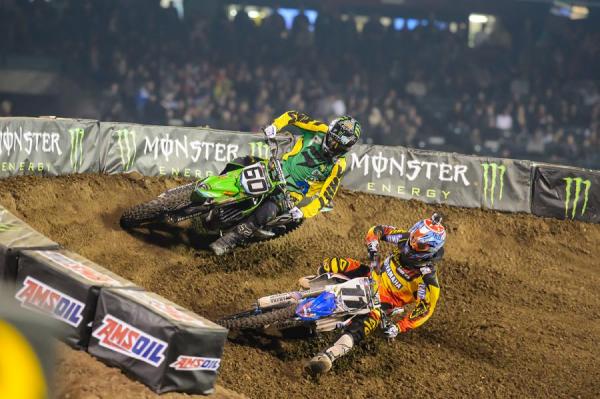 Josh Hansen (#60) was at the center of controversy in Anaheim.
Simon Cudby photo
There was a strange deal in the 450SX LCQ. Josh Hansen hit privateer Alex Ray for apparently no reason. It was the last turn on the last lap and it was vicious. I'm sure Hanny was upset at not qualifying for the main, but the lack of respect for Ray was startling and cowardly in my opinion. The Mike Kranyek-owned team has Hansen this year and is still managed by Paul Delaurier. I like Paul, he's a good, hard-working and in the trenches kind of guy and I can't imagine he's happy that his rider pulled yet another bonehead move. This was after a very questionable move on Phil Nicoletti early in the LCQ. It was a bit dirty but hey, it's the LCQ and the last spot to get in, I get it. But T-Boning of Ray was just pathetic in my opinion, Ray's lucky to not be hurt seriously. I know the AMA guys saw it and will be having a word with Josh to try and get his emotions under control. I spoke with Ray via email about it and this is what he had to say:
"I've never had any problem with him. I've never even talked to the guy, so obviously he doesn't know me. I didn't even know that was him behind me and I wasn't expecting it at all. It was the last turn of the LCQ, nowhere near the front, so I don't know why he did it After the race I went over to his pit to ask him what he was doing and why he did it but he couldn't give me an answer.
"He hit my leg so hard with his front wheel that it broke my knee brace and took me over the berm pretty good. I know that him and Nicoletti got into it pretty good but that had nothing to do with me."
Thanks for checking out the column. Feel free to email me at matthes@racerxonline.com and we can chat.