Worcester Arenacross Practice Report
The 2013 AMSOIL Arenacross series has started in Worcester, Mass with not exactly the turnout expected in the Northeast. Returning champion Tyler Bowers topped qualifying times with teammate Zach Ames a close second. These two riders seem to be on a different level, and are riding with serious confidence. Only a few of the local New England pros have shown up, which is surprising considering the amount of fast guys in the area. The track is soft, which is developing ruts fast, causing the corners to break down quickly. The first practices had much faster times due to a triple out of a corner, but once the track broke down after the first session, not many riders were able to do it—resulting in much slower times. Lap times hovered around the low 20 seconds and the whoops seem to be smaller than normal—with there being six total whoops.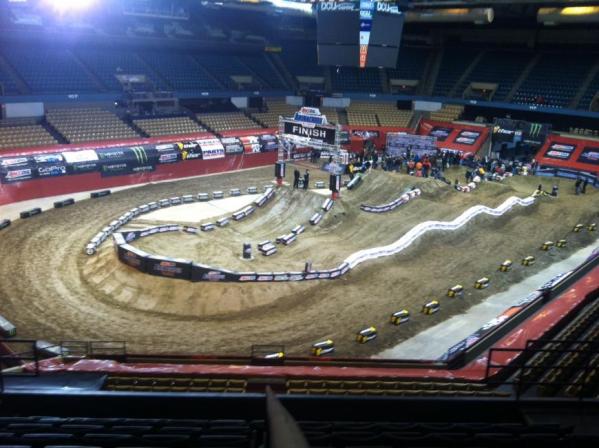 Other notable riders in practice that looked good were 2009 champion Jeff Gibson, Daniel Blair, Nathan Skaggs, Willy Browning, Kelly Smith and Sweden's Fredrick Noren. It will be interesting to see if anyone can give Bower's a run, but as of now, it looks like only Ames is on pace. No sign of former champion Chad Johnson or Tyler Villopoto, who apparently is still nursing a knee injury sustained overseas a month ago. Qualifying practice is over and now everyone is waiting for the show to start, beginning with heat races. The new changes to the format might stir things up with the gate picks for the last main event—no one knows if there will be a inverted start or the normal gate picks from qualifying. This is to be determined after the first main event. Look for the full race report tomorrow morning.