Munn Racing Clothing Now Available
Looking for a way to show your support for the Munn Racing team in 2013?  Munn Racing KTM and Moto Star have teamed up to supply you with team apparel to keep you looking great and to allow you to show your support for our team!  The first run of our line will consist of a t shirt, a long sleeve shirt, and a hooded sweatshirt.  The entire line is EXCLUSIVELY available NOW at munnracing.com.  Head on over to the website and pick yours up so you can be the first of your friends to have the new team casual apparel!  If you order soon we will even through in some stickers for you! We are very excited about this new line and hope to see you all rocking it at the races!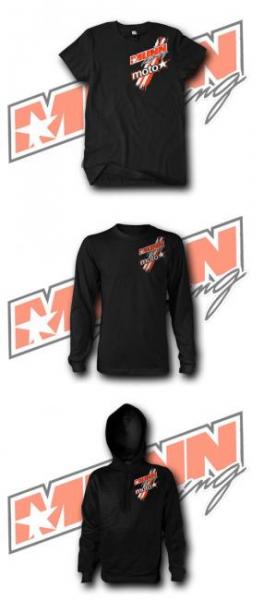 T shirt: $19.95
Long Sleeve:  $22.95
Sweatshirt: $39.95
Be sure to follow us all year long on Facebook, Instagram, and Twitter for all the behind the scenes action and up to date information!  We will also be doing many giveaways that you won't want to miss out on!