In my office, Josh Hill, sitting in a chair and munching on a bag of SnackWells and drinking a can of "old school" Hansen's Natural Energy (the precursor to Monster Energy) reflected on his day at the Suzuki test track. Now part of the recently christened RCH Dodge/Sycuan Suzuki team (owned and operated by 15-time AMA Champion Ricky Carmichael and Freestyle Motocross icon Carey Hart), Hill, after an almost mercilessly run of bad luck, injuries and medical challenges, was in good spirits, now healed up, healthy and at "100 percent" for the 2013 Monster Energy AMA Supercross Championship. It's been a rough three years for the 23 year old from Clackamas, Oregon (who now calls Newport Beach home), but Hill, while doing some serious soul searching, has kept at it – despite all the ups-and-downs. Hill, whose 2012 Supercross season lasted one start straight (Hill was caught up in a first turn crash at Anaheim 1 and broke his Tibula), is keen to get back to his front-running ways in 2013.
Racer X: Josh, so you just came down off the big hill in Temecula where you were bashing out laps at the Suzuki test track, huh?
Josh Hill: Yeah we had another photo shoot and we did some testing and after that we just went through the whole race day program.
So you guys went through a whole routine of what goes down on race day? I don't think I've heard of a team doing that before…
Yeah, we try and do it. On normal training days we'll probably do more laps, but today, we kind of went through a routine where we'll do a couple of heat races and qualifiers and a main event. It's cool. It was good today.
Was RC out there?
Yeah, RC was out there. He actually put on some gear and started doing some laps with [Carey] Hart. Me and Tickle were all done so we hung out and watched. Max Anstie was also out there doing some laps. The track was perfectly prepped and I went out and tried to match the track record.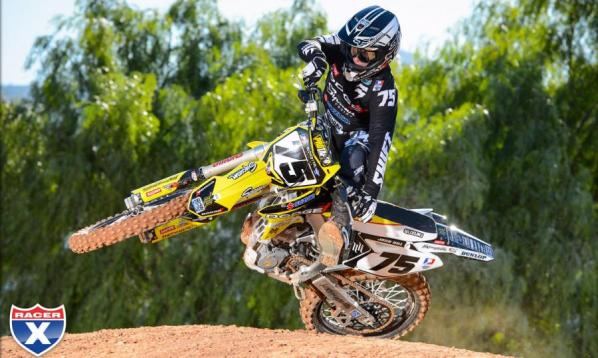 Hill is under contract with RCH Dodge/Sycuan Suzuki for 2013.
Simon Cudby photo
Word has it that you have the track record up there.
Yeah, well [James] Stewart hasn't really been out there too much! The thing is the track, when it's right, is like Velcro. So I've gotten to ride it more and have been on the track a lot more than James. But, yeah, I guess I do have the fastest time.
Have you seen James out at the track?
Yeah, I've seen him ride. The guy is amazing. He's always riding awesome. Even when he's out there riding with us and we're trying to chase him down, he can bump it a little more if he needs to.
How's Ricky to deal with? Is he cool? Is he a hard ass?
If you're doing what you need to be doing, he's cool as be – which is great. What's cool with him is that when we're testing, he'll end the day hopping on the bike and go out and give us his two cents on it. You know it's not like he's getting the final say on what's going to be on my motorcycle but he definitely gives me good input to it.
Josh, when was it that you hurt yourself with the ill-fated backflip attempt?
It was July in 2010. It was right before the X Games. I got mangled. It really wasn't that bad of an injury at first. I thought I broke my femur and arm and I was fine with that. I was laughing on the way to the hospital and once I got some pain medicine in me I wasn't feeling too much pain. After the first surgery, that's when things took a turn for the worse and I developed Compartment syndrome (Note: Compartment syndrome is limb threatening. It occurs after an injury when there is not a sufficient amount of blood to supply the muscles and nerves with oxygen and nutrients. The raised pressure within the injured arm, leg or any enclosed space, can lead to nerve damage because of the lack of blood supply.) I was paralyzed from the knee cup down. I still don't have feeling in the bottom of my foot and I can't my move my toes individually. It was a big injury and I just had to learn to adapt and get strong enough to just race motocross again.
And then you finally made it back to ride the Nationals last summer at Washougal.
Yeah … I was working hard over the summer. When I went to go do some outdoor races, I wasn't just quite ready yet and my equipment really wasn't there for me. It was just a real downer because I worked hard all summer and wanted to have some good results and they didn't come and I was thinking about hanging it up. Luckily, I got another shot and I got healthy. Now things are going great.
So you almost packed it in, huh?
Yeah, I was contemplating it. I'd never really pack it in and quit riding, but I contemplated not trying to race supercross. I was thinking about going to Germany or Canada … I still wanted to race my bike, but I knew if I didn't get healthy that I wasn't going to be racing. Luckily, I hit the lottery and got good equipment.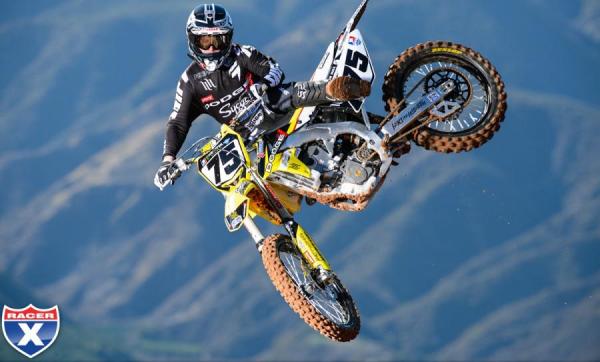 At one point during the off-season, Hill contemplated not racing supercross in '13.
Simon Cudby photo
When did you start feeling 100 percent again?
It was kind of funny, man. I quit. I didn't ride for two months after Southwick. All I did was ride my BMX bike every day. I went skate parks and would just hang out with my buddies. I stayed active, but I wasn't riding dirt bikes. Finally, I came back to it. I had to go to a Shift "Ride On!" tour out in Georgia. I hopped on the bike and thought I'd be feeling real rusty, but I had a really fun day. I felt good riding the bike. I felt comfortable and didn't feel like I was getting held back too much. So then I flew back into town and I was just riding my blown-out outdoor bike on a supercross track with my little brother and I just started to feel it again. That's when I got the call to come down and try the Suzuki. Pretty much when I got on the Suzuki, things just really started to click for me. I got my confidence back. I started feeling like my old self again. I wasn't scared. Last year, you know I had so many injuries that I never really had time to just ride my bike and have fun and just get back into my own pace again. It was more like, 'Hey, I have to race in two weeks!' So I put a pressure a lot on myself to go fast and weird stuff kept happening and I kept finding myself on the ground.
You've been on the sidelines for almost three years. During the last two supercross seasons you've seen you guys like Dungey, Canard and Villipoto win main events. You've won main events and been on the podium numerous times. Was it frustrating for you to watch those guys do so well when you know you would have been right in the mix?
It was frustrating, but I don't take anything away from those guys. Trey Canard's a great kid and I'm glad to see him doing well. It hurt me to see him have so many injuries and all the problems he had and getting landed on and things like that. I mean, where I'm at, I'm just kind of looking forward. I never hated on any of those people having success, I just wanted to always getting back to me having success. That's all I thought about. At times it seemed really far-fetched. Man, I don't know exactly what's happening, now. Maybe the hard work is just finally starting to pay off and starting to materialize to where I feel like I can be myself again. I think I can be better than I was. I did well before but I never really went the extra mile in training. I rode a lot but I was never too scheduled and on too much of a regimen. I think things are going well. Things are going good.
A few of us think you're going to be a "sleeper" of 2013 and be able to find the podium…
There are a lot of fast people this year. It's going to be one of the toughest years ever to do that. Press day is just around the corner for Anaheim and I get to ride that because I'm one of the 10 riders racing this series that's won a main event. I guess it's the first time in history that that's ever been 10 riders who have won on the gate. This year is going to be a tough year to get on the podium. I'm hoping this year is going to be a building year and hopefully next year I'll come into it as a legitimate threat again. But I mean like I said, that's a long ways away and I just have to gain momentum and stay healthy.
You've done it before. Do you think you can win again?
I think I will win again. I don't know how soon that's going to come around, but I feel like I just keep gaining steam and I think I've adapted to this injury to where it's not affecting me as much as maybe it should. My main focus now, 24/7, is riding my dirt bike.