After a few down years, Matt Goerke, who you might remember as the upset winner of the 2009 Southwick National, is back on the upswing. A new deal with Team BTOSports.com KTM will give him access to factory parts for the full Monster Energy Supercross and Lucas Oil Pro Motocross campaigns. Our man Jason Thomas caught up to his former teammate for this interview.
Racer X Online: You kind of bounced all over last year, you started the year on a Kawasaki, then went to Suzukis with BTO Sports, then back to Kawasakis to race outdoors in Canada. Was that hard?
Matt Goerke: It was a little difficult. It was weird switching bikes, I was on Kawasakis for a few supercrosses, then I got the call from BTO Sports, and that put me on Suzukis as a replacement rider. But once I got to the races that was okay. But there was some pressure for sure, I was living out in California, and I knew if I didn't get some good results and make it through the whole season, I wouldn't have made enough money to keep living out here.
Yeah I was going to ask you about that. You've lived in Florida your whole life, but you decided to move to California last year. Explain the thoughts behind that.
Yeah once I healed up from some injuries I had the previous year, I started doing good again in Germany. So I used the money I made there to move here, and hopefully I would get a ride. And I got picked up right away by Forrest [Butler] as a replacement rider. But that's kind of weird, because they're a Florida-based team! But I just figured since most of the teams are out in California, living out there would have made it easiest for me to get a ride. And I get to ride on different tracks than I'm used to, which makes me a better all-around rider. Seems to be working, I like it.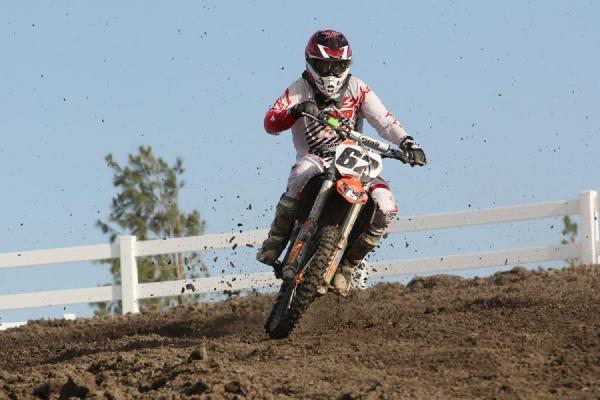 After filling in for BTO last season, Goerke will be a full-time rider in 2013.
BTO Sports photo
Then you went to Canada and rode a Kawasaki again, and now you're going to be on KTMs. That's three bikes in less than a year. I've been through that myself and I know from my experience that you never end up feeling totally comfortable on one bike.
Yeah in superrcoss it was a little hard, because we went right into racing. I literally got hired and just went racing on the Suzuki. Outdoors on the Kawi (in Canada) was a little different because I had a good month of riding before the first round. Now I've tried the KTM, and it doesn't feel much different. After a few days I felt comfortable on it. I really didn't expect it to be that way, I thought it would be a lot different.
Up in Canada you pretty much dominated, you won 16 out of 18 motos. Obviously, winning a championship is a huge deal. Are you bummed not being able to go up there and run a number-one plate.
Yeah, I was pumped on winning there, and I was pumped on running the number-one plate. I got to do it in Montreal, which was awesome. But to have this chance down here with BTO in the U.S., we have good bikes, and I'm healthy and riding my best again, I feel like I need to race here.
Was it difficult to leave Kawasaki up there?
It was a little bit. The team was great, and I felt bad leaving them, but I had to do what I felt was best for me. I'm healthy and I'm back up to speed the way I felt a few years ago, and we will have great bikes. So I feel like this is where I need to be right now.
So let's switch gears to this KTM deal. You've had the bike for a month or two. You're getting to run some KTM factory parts. Talk about that.
Yeah so far they've been hooking me up good. The bike is great.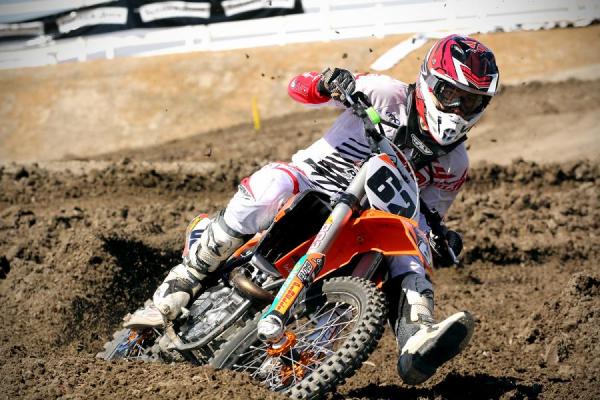 Goerke will not be defending his #1 plate in Canada in 2013. He will be contesting the Lucas Oil Pro Motocross Championship.
BTO Sport photo
This off-season has to be a little different for you, you're usually doing off-season races in Europe, like last year you were over there all winter. How do you think this will help or hurt your prep?
Yeah, at first I did want to go to Germany to make more money. But I did well in Canada, so I have enough money to make it to the season. So I decided not to go -- and now, staying here, I feel more comfortable than i have in a long time riding on a real supercross track. So it has been for the best.
So what are you expectations for this year? Last year was a last-minute deal.
Well, I really don't know how everyone else is going to be, because I'm just focused on myself, but I think I'm gonna' do good! A lot better than last year. I'm a lot more prepared, the bike is a lot better.
You've been around for a little while now. When you first started, things were going well for you, at one point you had a Yamaha of Troy ride, you had some podiums in the early East Lites rounds and were even tied for the points lead at one point. But then it seemed like things didn't go well after that -- until the last few years when you've turned it back around. What do you think caused that? Just growing up in general?
At the beginning I was just riding a lot, and having fun, basically. I thought I was training hard, but it's nothing compared to what I'm doing now. Then when I won Southwick in 2009, I got hurt, two or three times, really bad. It got to the point where I almost just quit. It was rock bottom. I had to put in a lot more effort to get healthy and get fast again, and it taught me that I can work harder, and train harder. So I train much harder now, and I eat much better, too. I've never been more prepared for a season than I am for this one.