Welcome back to the Monster Energy 30-Day Countdown to Anaheim! Today we unveil our #19 on the all-time list of history's fastest supercross racers, and it's only fitting that this legend comes in at #19.
Doug Henry must rank as one of the sport's most popular athletes. A privateer from Oxford, Connecticut, who lived a hardscrabble life before he made a name for himself on a motorcycle, Henry was not only an incredibly hard worker, he was also extremely fast and diversely talented. He started racing later in life than most top supercross athletes, and by the time he earned a factory ride on a 125 with Honda in 1993, he had already established himself as one of the fastest men in that division. He won the '93 125cc East Region with ease, as well as one of that year's two East-West races (Dallas). He also claimed that year's 125 motocross title.
But this list is about supercross, and when Henry moved up to the then-premier 250 class for Honda in 1994, he didn't exactly set the world on fire. In fact, he never even reached the podium on his way to seventh in the final rankings.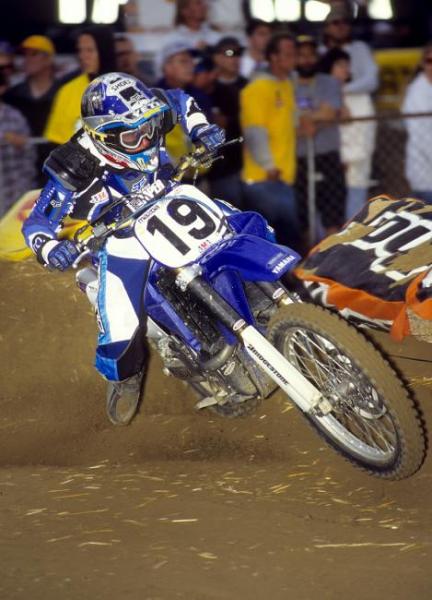 Injuries would play a big part in Doug Henry's career.
Moto Verte photo
One year later, he began to find his way in big-bike stadium racing. Henry registered his first main-event win at the Dallas Supercross in the old Cowboys Stadium en route to fifth on the year. Unfortunately, what happened next was not another victory, but rather the first of a series of devastating crashes that put his entire career at risk. While battling with his Honda teammate Jeremy McGrath at the Budds Creek National in June '95, Henry slipped off his pegs at speed and launched off a giant ski jump. He landed so hard it broke his back and put him on the sidelines for eight months.
When Henry returned halfway through the '96 supercross tour, he was riding a Yamaha. His results were less than stellar, and many thought his best days were behind him. But toward the end of the series he started getting faster, garnering a fifth at the Charlotte SX.
When the 1997 AMA Supercross tour started, Doug Henry quickly showed the rest of the pack that he was as fast as ever. He finished second at the Los Angeles opener to winner Greg Albertyn, then won the second and fourth rounds. Riding a YZ250, he was vying for the series championship into late March, only to suffer a broken hand at the Houston SX when Chaparral Yamaha's Jimmy Button accidentally came down on top of him. Just like that, Henry's shot at the title was over.
But then Henry did something extraordinary that resonates to this day. With his title chances over, he came back for the last round of the series in Las Vegas aboard a prototype four-stroke YZF. That night he literally changed the sound of the winner's circle, racing to the first main-event win in supercross history aboard a four-stoke motorcycle. But then, just a couple of weeks later, he broke both wrists on the same bike (once again at Budds Creek) when the bike bogged on the old Big Gulp jump.
For 1998, Henry decided to ride the thumper full-time, sacrificing his best chances to win the title for the continued development of the four-stroke program. He did score a few podiums, including third at what turned out to be three of the last four SX races the season. Then he dominated the 1998 AMA Motocross Championship.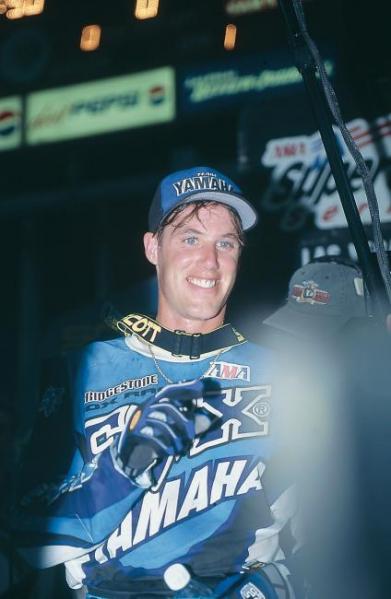 Henry rode to the first main-event win in supercross history aboard a four-stoke motorcycle.
Moto Verte photo
Like Jean-Michel Bayle before him, Henry didn't race that much supercross over the course of his career, as injuries and an early retirement—not to mention competing in the era of Jeremy McGrath—limited his career wins to just four. But he made history in one of those four, and he very well may have been the 1997 AMA Supercross Champion instead of Jeff Emig if not for that broken hand. But his pure skills and his unique place in history land the man who wore #19 at the end of his career at #19 on our list of the 30 best supercross racers of all time.
If you want to take a look at all of Doug Henry's results, check out the Racer X Vault.
The 30 Best Supercross Racers of All Time Tracker:
#20 Jimmy Ellis
#21 Mike LaRocco
#22 Ezra Lusk
#23 Broc Glover
#24 Ron Lechien
#25 Jimmy Weinert
#26 David Vuillemin
#27 Donnie Hansen
#28 Larry Ward
#29 Mike Kiedrowski
#30 Marty Tripes