Welcome to day #26 of the Monster Energy 30-Day Countdown to the Anaheim season opener, coming up fast on January 5. To mark each day until the 2013 Monster Energy Supercross Series starts, we are presenting our list of the 30 best supercross racers of all time. We've counted down these men already: #30 Marty Tripes, #29 Mike Kiedrowski, #28 Larry Ward, #27 Donnie Hansen. Now it's time for our first foreign import to make the cut, #26 David Vuillemin.
On January 27, 1996, an unknown kid on a Kawasaki KX125 showed up at the Anaheim Supercross (the third round of the series back then but the first West Region race) and scored fourth place. It was David Vuillemin from Marseilles, France, who was testing the SX waters before heading back home for a proper return in '97. When he came back he was on a Yamaha YZ125, and he was much faster, winning the Seattle SX.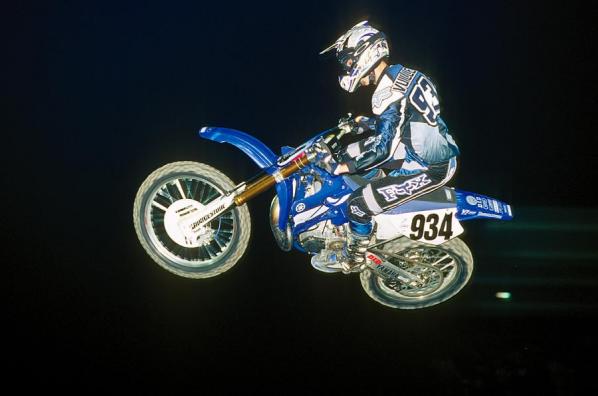 In 2000, Vuillemin moved to the States to race full-time.
Simon Cudby photo
The trend of going back and forth from France to the West Coast continued for Vuillemin, as he was still racing for Yamaha in Europe in the FIM World Championships. He very nearly won the '98 125cc West Region title, narrowly losing out to his part-time teammate John Dowd. By '99 Vuillemin was ready to move up to the premier 250 class, scoring a handful of top tens before once again going back to Europe to compete for the FIM World Championship (Vuillemin won six GP overalls during his moonlighting phase).
Finally, in 2000, he was ready to move to the states for a full-time program. Over the next few years, DV934 (and later DV12 when his number changed) was a thorn in the sides of guys like Jeremy McGrath and Ricky Carmichael, winning seven main events and leading the 2002 series until the halfway point, before a practice injury wrenched his shoulder and left him unable to stay with Carmichael. He still finished a solid second in the standings, well ahead of third-place McGrath.
With his lanky frame and aggressive style, Vuillemin was nicknamed "The Cobra" for the way he moved around on the bike, and his speed and skills took him to nearly forty total podiums in Monster Energy Supercross before he called time on his career in 2008. While he did not win a title in the stadiums, he must be considered one of the 30 best riders of all time. You can check out all of Vuillemin's race results from the AMA circuit right here in the Racer X Vault.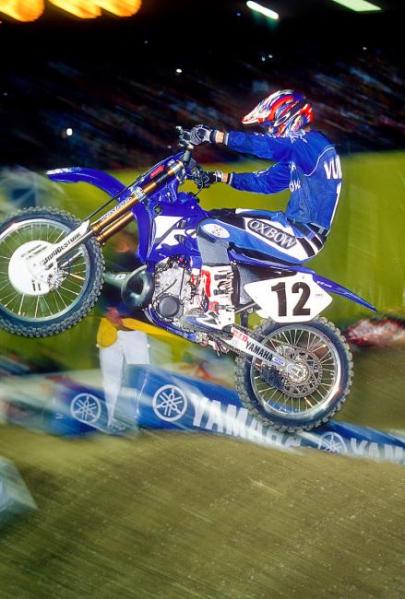 Vuillemin led the 2002 series until the halfway point, eventually finishing runner-up to RC.
Racer X Archive photo
The 30 Best Supercross Racers of All-Time Tracker:
#26 David Vuillemin
#27 Donnie Hansen
#28 Larry Ward
#29 Mike Kiedrowski
#30 Marty Tripes