Welcome to day #27 of the Monster Energy 30-Day Countdown to the Anaheim season opener, which takes place on January 5, 2013. To mark each day as we count them down, we are presenting our list of the 30 best supercross racers of all-time, as voted on by the Racer X editorial staff and our contributors. So far we've counted Marty Tripes (30), Mike Kiedrowski (29) and Larry Ward (28). Today we reach our first Supercross Champion on the list, Donnie Hansen.
When the 1982 season started California's Donnie Hansen was one of several talented men on an extremely powerful Honda team. Darrell Shultz, Jim Gibson, Danny "Magoo" Chandler, Chuck Sun and future champions David Bailey and Johnny O'Mara all rode red and were poised to challenge for the title. But from the first race of the season at Anaheim, it was "Holeshot" Hansen who would lead not just his team, but every other rider in the 1982 AMA Supercross Championship fight. Hansen would enjoy a magical season, winning four main events on his way to taking the #1 plate away from Suzuki's Mark Barnett. He would also win the 250 Motocross Championship in what turned out to be the best year of his career.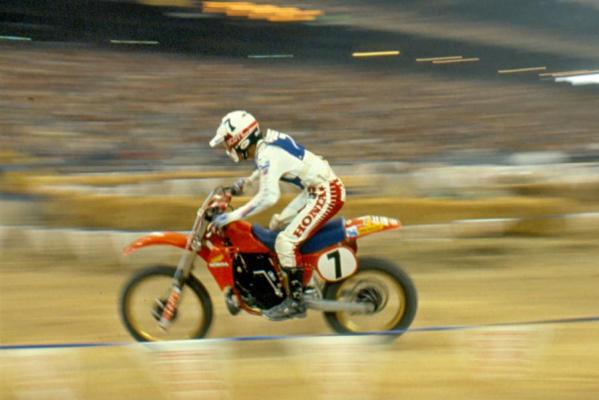 Donnie Hansen's first and only Supercross title came in 1982.
Robert Price photo
Unfortunately, 1982 was the last year of Hansen's professional career. In September he traveled to Europe to begin preparations for leading Team USA in that year's Motocross and Trophee des Nations. He won the final 250 Grand Prix of the year in Sweden, then went to Germany to practice at fellow Honda rider Rolf Dieffenbach's house. It was there that Hansen suffered a debilitating concussion, severe enough to keep him from returning to professional racing.
Donnie Hansen's time at the top was way too brief. His style and technique were well ahead of the rest of the field at that time, and there's little doubt that he would have put up a solid title defense in 1983, which was won by his younger teammate Bailey, as well as contended for the title for many years to come. Instead, his career is an early cautionary tale for the repercussions of traumatic head injuries. The good news is that he eventually made a full recovery and helped raise a very fast son in Josh Hansen. He also still continues to ride and teach at the Donnie Hansen Motocross Academy (www.dhma.com).
To check out all of Donnie Hansen's race results in Monster Energy Supercross, check out his pages in the Racer X Vault.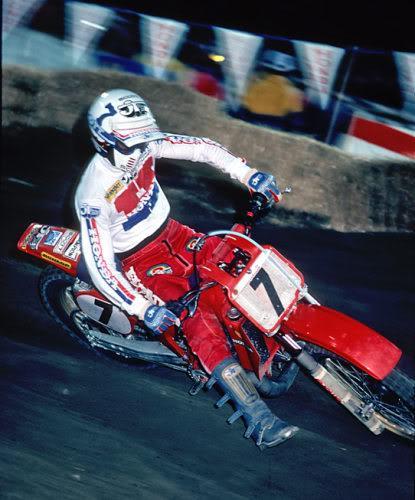 Hansen was forced into early retirement in 1982 due to concussion symptoms.
Racer X Archive photo
The 30 Best Supercross Racers of All-Time Tracker:
#27 Donnie Hansen
#28 Larry Ward
#29 Mike Kiedrowski
#30 Marty Tripes