Round 2 of the ADAC German SX Championship is held in Eastern Germany in the booming metropolis of Chemnitz. Since this area has only been liberated for just over 20 years, remnants of the old Communist regime are still easily found. Shot out buildings and excessive graffiti line many roads, often with a brand new, modern building next door. And since this race is far from any large airports, sits in a fairly remote location and features weird dirt, it's generally the least regarded among the German rounds.
But after an always-chaotic round 1, things start to take shape at Chemnitz. The dirt has a very strange, almost oily texture. It still gets very rutty, but is also a bit slick. I have raced there many times, and I've never heard anyone compliment that particular combo. Consider it just another quirk of the series.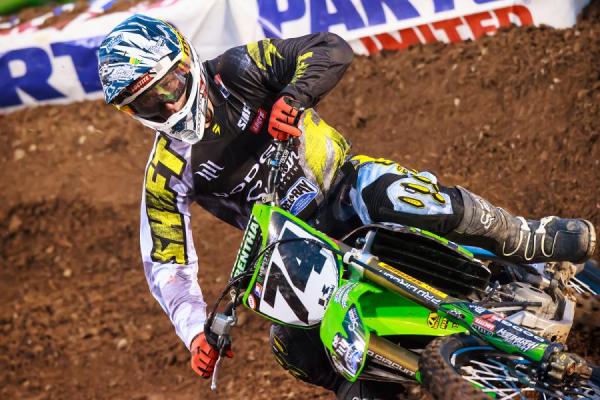 We didn't send a photographer to Chemnitz and even our reporter is really just one of the racers. So we'll have to use a Supercross photo of Bowers to illustrate the story.
Simon Cudby photo
Tyler Bowers won Friday night with a wire to wire performance. After an up and down opening weekend, he looked right at home in Chemnitz and was up front in almost every start both nights. With Bowers' years of arenacross experience, he knew what to do with a holeshot and cruised home to the victory. Points leader Florent "Franz" Richier finished a strong second and and Portugal's Joaquim Rodrigues (remember him?) grabbed the last podium spot. Yours' truly started in 11th and fought up to a disappointing 6th.
Saturday was more of the same. Bowers and Richier started up front and stayed there, but it was German upstart Dennis Ullrich taking the win on the KTM 2 stroke. I rounded the first lap in 10th after another stellar start and could only manage 4th by the checkers. Bowers took the overall with a 1-2 score accompanied by Richier and Ullrich rounding out the podium. At the halfway point, Richier leads the series followed by Bowers and Ullrich. I am sitting 5th and have some work to do! Next stop is the Bavarian capital of Munich December 20-21.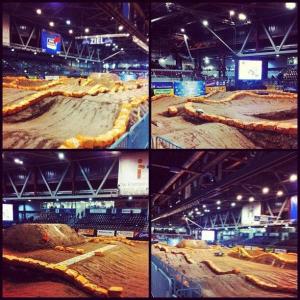 The track at Chemnitz.
Jason Thomas photo