Thor's amateur riders took on the first race of the new season at the annual Winter Olympics at Gatorback Park in Gainesville, Fla. In both the supercross and motocross competition, Thor riders racked up an impressive 14 championships and 16 additional podiums. The week started with supercross racing and Jordon Smith showed his skills. He won all but one moto on his way to earn five championships for the Schoolboy (13-16), 250 B Stock, 250 B Modified, Open B Stock, and Open B Modified classes.
Also grabbing championships in the supercross portion of the week were Jordan Bailey and Joey Crown. Bailey also earned a runner-up result in the 85 (9-11) Stock class, while Ryder DiFrancesco, Jack Rogers, Tanner Stack, and Tyler McSwain also grabbed second-place finishes.
Halfway through the week, riders made the switch to motocross racing. Smith once again led the way with four championships, while Matt Burkeen grabbed his first championship of the week in the Four Stroke class. Bailey added two more championships to his week's total as he went undefeated in motocross competition in the 85 (9-11) Stock and Modified classes.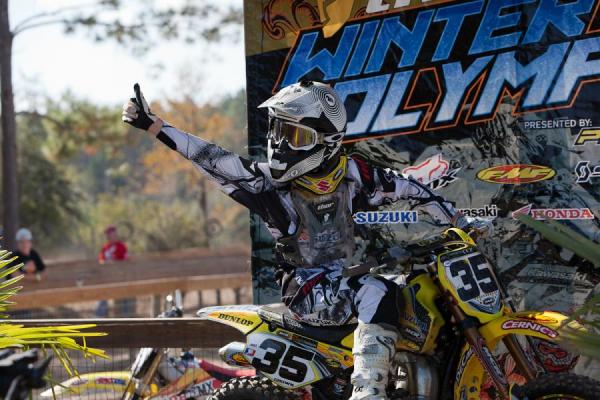 Joey Crown
Vurbmoto photo
When the week of competition ended, the customary specialty awards were passed out. Thor's Bailey was presented with the Ironman Award, given to the rider that showed great sportsmanship to a fellow rider. Just after crossing the finish line for the checkered flag, Bailey displayed this incredible character by going back to help a fellow rider push their bike over the finish line after the riders bike broke just before the checkered.

Thor's Burkeen was presented with the Outstanding Achievement Award. Burkeen was awarded this for his breakout performance and overall consistency throughout the Winter Olympics.

For all the latest from Thor, be sure to visit the NEW thormx.com, Thor on Facebook and follow @ThorMXOfficial on Twitter.