They're reloaded.
Over the course of the last decade, Factory Connection/Amsoil/GEICO Honda has chipped away at the armor of the mighty Team Green amateur squad and the Monster Energy/Pro Circuit Kawasaki pro team. At the pro level, the success of the GEICO team is obvious, but its key is not just signing great amateur talent, but helping take the rider to the next level once they get him. Trey Canard, Justin Barcia, Blake Wharton, Eli Tomac and Justin Bogle were all string riders before Factory Connection came calling, but they all got better once they did, and bagged out numerous titles. Now this team owns some of the most sought after rides in amateur motocross. Yes, Team Green still has their long-standing reputation of churning out titles year after year, but Factory Connection has run an efficient program — every rider they hire delivers piles of amateur championships.
Following Bogle, who moved to GEICO Honda (pro) in 2011, Factory Connection signed Matt Bisceglia — a rising star out of Texas. The Texan was coming off of a few injury-riddled years, but promptly won two titles at Loretta's (250 B Mod and 450 B Stock) this year after signing with the team. They then turned their attention to Suzuki-backed Jordon Smith.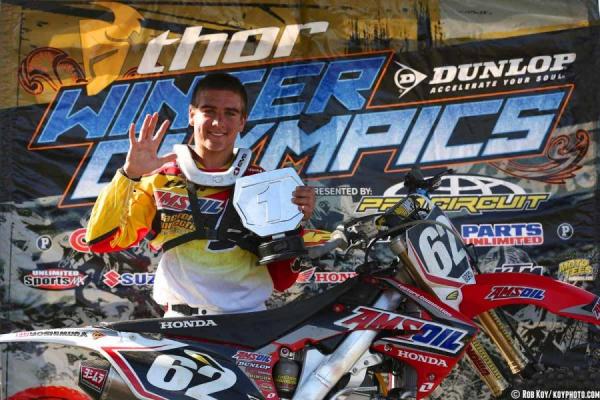 Jordon Smith won nine of 10 championships at the Mini O's.
Rob Koy photo
Smith's stock was soaring after finishing runner-up to Team Green prodigy Adam Cianciarulo — even stealing a moto win —in both Loretta's Supermini classes in 2011. But his stock reached a new level after his first title at the Ranch this year in the Schoolboy 1 Class. Factory Connection scooped in and signed the North Carolina native shortly after — pairing him alongside Bisceglia as their one-two punch moving forward.
After an impressive debut at the Monster Energy Cup — third in the first moto, even though he was just entering the Intermediate ranks — Smith entered the Mini O's as a heavy favorite in the B Class. The B division recently lost stars such as Webb, McElrath, Alix, Owen and Cianciarulo. The class was there for the taking, and take it Smith did.
Star Racing Yamaha's Cooper Webb captured the headlines by winning six of eight titles in the A Class, but Smith's performance in his B Class debut ranked right alongside Webb's — winning 17 out of 20 motos and nine of 10 championships.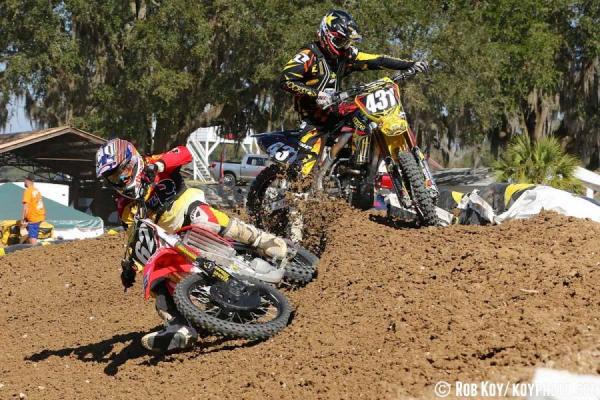 Smith (#62) battles with Daniel Baker (#431) in Supercross at the Mini O's.
Rob Koy photo
Vurbmoto has spent the better part of the decade scouring the country covering amateur motocross, so we called Editor-In-Chief Brent Stallo to get his take on Smith's performance at the Mini O's.
"He was very aggressive and clearly on another level," Brent stated. "I think Webb's performance, given the level of competition, was a bit more impressive. Although, with Cianciarulo moving to the A Class, barring some unforeseen incident, Jordon Smith has a chance to be the most elite rider in the B Class going into 2013."
Factory Connection has yet to have any interruptions in their pipeline to the professional level. And with Bisceglia and Smith onboard, the future looks as bright as ever.