etnies Releases The Marana
ETNIES OFFICIALLY RELEASES THE MARANA, RYAN SHECKLER'S NEW PERFORMANCE SKATE SHOE; A STYLE BUILT TO LAST
Today, the Much-Hyped Ryan Sheckler Skate Shoe is Available at etnies Retailers Around the World
Lake Forest, CA – As seen previously only on Instagram and etnies pro skateboarder Ryan Sheckler's feet during X Games, Street League and other key 2012 skate events around the world, the etnies Marana has finally arrived. Available at etnies retailers all over the globe, the Marana, Ryan Sheckler's latest skate shoe, was designed piece by piece, to blend strength and style. The Marana features an STI Evolution Foam™ midsole, a non-slip grip outsole and an injected rubber toe cap, making it the longest lasting shoe Ryan has ever skated. You can watch Ryan skate the Marana and explain the story behind the new style here: etni.es/introducingthemarana
Ryan Sheckler said: "I've been putting up photos on Instagram since I started skating the Marana's and kids are freaking out because they want them so bad. Now they're available and I want kids to have these. It's amazing how long you can skate this shoe. They don't rip, the toe cap doesn't wear down and it's the best jumping shoe I've ever had. It's just an all-around solid skate shoe."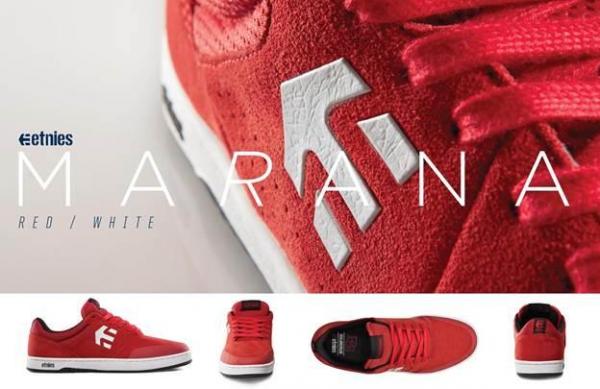 The etnies Marana technology breakdown:
STI Evolution Foam™ – The innovatively crafted STI Evolution Foam™ molded midsoles in the Marana replaces your typical EVA, PU and heavy rubber with a durable, abrasion-resistant, ultra-lightweight and high-impact rebound cushioning foam. Its molecular build is resistant to abrasion and has a high-impact rebound quality so it won't pack out when landing hard. Plus, STI Evolution Foam™ enhances the cushioning and comfort of the footbed and noticeably decreases the weight of the shoe.
Non-Slip Grip Outsole – Created with a thick herringbone tread with deep grooves, the Marana outsole has an insane grip and just doesn't wear down with all the abuse skateboarding puts it through.
Injected Rubber Toe Cap – The Marana toe cap is fused-on with injected rubber and has no stitching making it super hard to wear through, no matter what your skate style is.
For more details and dissected photography on the Marana design, visit the new Marana product page on etnies.com.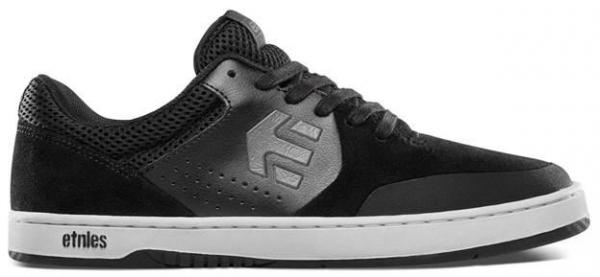 Available now for US$75 (€80 / £60), the Marana comes in the red/white Ryan has been seen wearing this year as well as an all-black color. The new performance shoe can be found at etnies.com and etnies retailers around the globe.
Get caught up with Ryan in this full written interview, complete with a photo spread and Under Our Feet Tour: Europe video, posted on etni.es/marana--sheckler.
For more information on the etnies Marana, visit etnies.com or keep up with the brand on facebook.com/etnies.