A belated Happy Thanksgiving, everyone. Racerhead is coming to you on "Black Friday," which is a uniquely modern American holiday/marketing tool. My son Vance was up at 5 to go try and score a Wii U (no luck) and my wife's women's clothing boutique had shoppers inside at the crack of dawn. (If you're looking for something for the Monster Girl in your life, check out http://www.shopparkandmadison.com/ .)And if you're just looking for something simple and easy—and staying at home—check out www.supercrossonline.com to get your 2013 tickets!
Thanksgiving in America also means the Winter Olympics (Mini O's) are going off down in Florida at Gatorback Cycle Park, a motocross tradition that dates back the seventies. It's a week-long event that includes Supercross and Motocross, and it acts as a combination of the last-big-race-of-the-year and preview for next year's competitions. The whole event has a great family atmosphere and is a great way to spend a week racing and enjoying the holiday. Chris O'Neal and Rob Koy have been sending in updates and photos, so look for those on the main page. Sounds like Star Racing Yamaha's Cooper Webb was the main man in SX, along with Lucas Oil/Troy Lee Designs Honda's Shane McElrath in the A class. Other standouts so far have included GEICO Honda riders Matt Bisceglia and Jordon Smith, KTM riders Dakota Alix, Jordan Bailey and Brock Papi, Suzuki-mounted Jace Owen, and Yamaha-supported Paul Coates and Chase Sexton. And then the real shocker so far has been a rare loss for California mini cycle prodigy Ryder DiFrancesco, who was beaten by New Yorker Nick Ramono!
Looking ahead to 2013, there were lots of changes in the line-ups happening this week, from Dean Wilson landing on his feet (albeit back where he started in 2012) to Marvin Musquin getting himself a gear makeover. There was also the announcement that Tyla Rattray would be staying with Monster Energy/Pro Circuit Kawasaki to race 250 SX and the 450 Class in the Lucas Oil Motocross Series. Add fellow veteran Martin Davalos to that team, as well as Wilson, Darryn Durham and rookie-to-be Justin Hill, and you might have the most age diversified team Mitch Payton has ever fielded in 2013.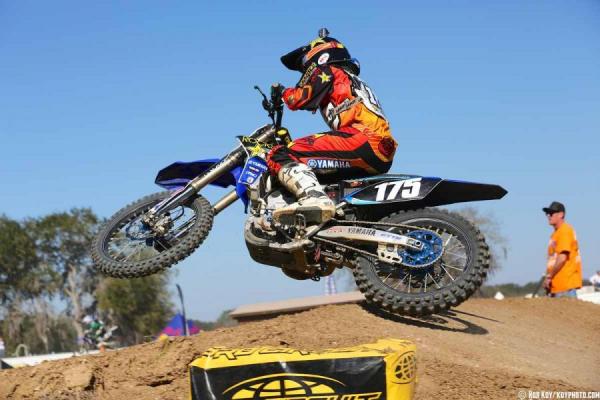 Star Racing Yamaha's Cooper Webb has been a force down at the Mini O's thus far.
Rob Koy photo
Vurbmoto has added another superb video to their Platinum Series. TwoTwo Motorsports Honda's Chad Reed let the boys trail him and his family for an afternoon of riding and bench-racing at his private practice facility near Dade City, Florida. Reed, who has been doing a little off-season racing in his native Australia, is starting to pick up his strength and speed as the 2013 Monster Energy AMA Supercross Championship nears. Set aside 4 minutes, 23 seconds to watch this gem—several times, actually!
As for guys like Ryan Villopoto, Ryan Dungey, James Stewart, Kevin Windham, Trey Canard and the other big-hitters, they are out there somewhere doing what everyone else is doing: getting down to business and getting ready for Anaheim. Stewart just hosted his Champions Ride Day from the James Stewart AMA Spring Amateur Championships at Freestone Raceway in Wortham, Texas, where class winners were invited to come and race prior to the Mini O's.
James Stewart's Champions Ride Day went off last weekend with winners from the James Stewart AMA Spring Championship getting to spend an afternoon at his house and on his track in Florida
One of the nicest guys you will ever meet at the motocross races (or really anywhere else, for the matter) made a big decision this week. Ryan Morais announced his retirement from professional racing ten months after his frightening crash at the Los Angeles Supercross with Trey Canard and Weston Peick. His announcement was as follows:
Family, Friends, and Fans,
It is time for me to announce my retirement as a professional motocross racer.  The opportunity to be a professional racer over the last 10 years has been an incredible journey.  I would like to thank my family, friends, sponsors and fans for all of the support, encouragement and love that I have received over the years.  Now that I am putting up my boots, I am excited to focus on the next chapter in my life.  Therefore, it is with great pleasure that I get to announce I will be the Star Racing Yamaha's Team manager, test rider and rider coach.  I look forward to seeing you all at the races!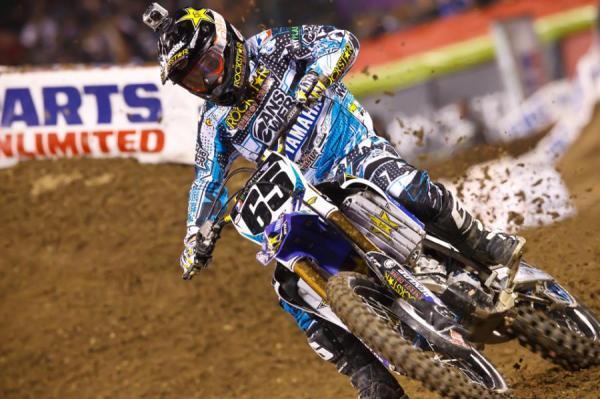 After a job well done, Ryan Morais announced his retirement from professional racing this week.
Simon Cudby photo
Over the course of more than a decade, Ryan Morais came agonizingly close to winning, landing on the podium more than a dozen times in 250 SX, only to never hoist a first-place trophy. He came into the sport as a highly-successful amateur, moving from the Schoolboy ranks right onto to Jeremy McGrath's Chaparral Yamaha team. But Morais didn't make it out of his first pro SX practice before crashing himself onto the sidelines for the rest of the season. That started a long and difficult list of injuries that would plague Morais throughout his career, though what he lacked in on-track success he more than made up in outright respect and admiration from his fellow riders and the industry as a whole. Having known Ryan since he was a Yamaha support rider on an 80, throughout his entire career, I think he will make an excellent manager moving forward, just like past pros like Larry Brooks, Erik Kehoe, Casey Lytle, Forrest Butler and others have done. On behalf of everyone at Racer X Online, we congratulate Ryan on his long career and wish him luck in the future.
Check out all of Ryan Morais' career finishes right here in the Racer X Vault.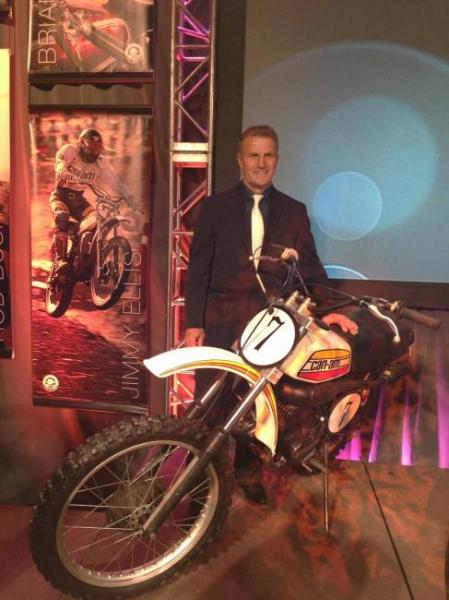 Jimmy Ellis returned to the U.S. for the first time in thirty years to be inducted into the AMA Motorcycle Museum Hall of Fame.
Speaking of The Vault, I had a chance to attend the AMA Motorcycle Museum Hall of Fame induction ceremony last Friday night in Las Vegas. There was some worry at first that the whole ceremony would be overshadowed by the Nobby Clark voting fiasco, but Hall of Fame Chairman Jeff Heininger made a heartfelt apology to Mr. Clark, who was on hand to be inducted, and Clark accepted, joking that he must have done something special to be inducted twice in the same year!
Besides Clark, who was a road racing wrench for such iconic legends as Kenny Roberts, Giacomo Agostini and the late Mike Hailwood, the Hall of Fame inducted 1975 AMA Supercross Champion Jimmy Ellis, WMX pioneer Sue Fish, the versatile off-roader and motorcrosser Ty Davis, AMA flagger Al Wilcox, motorcycle restorer Brian Slark, and the late Rod Bush, who won gold medals as an ISDT rider, then joined the business and eventually become the President of KTM North America. Much of the KTM brass were on hand to support Rod's induction, including his successor Jon-Erik Burleson, Red Bull KTM team manager Roger DeCoster, and KTM's Global President Stefan Pierer. Also participating in the ceremony was On Any Sunday director Bruce Brown, who was on hand to introduce two of the three stars of his seminal motorcycle film, Malcolm Smith and Mert Lawwill. (The third, the actor Steve McQueen, died back in 1980 due to cancer.)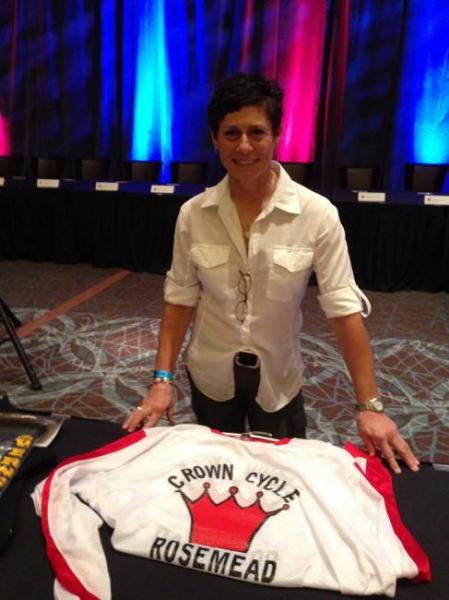 WMX pioneer Sue Fish was also inducted into the Hall of Fame.
On Saturday there was a giant Concourse D'Elegance featuring all kinds of beautiful old motorcycles, and it was attended by the likes of Jimmy Ellis, Kenny Roberts, "King Richard" Burleson, Barry Higgins, Mark Blackwell, Bud Ekins, former AMA Pro Rookie of the Year Kevin Foley, Racer X's own Scott Wallenberg and many more. There was also a live taping of the Bike Week Radio Show featuring Broc Glover, Jimmy Wooldridge and my old Cycle News boss Paul Carruthers. You can listen to the archived shows right here.
Finally, on Saturday night, it was off to The Orleans for the final round of EnduroCross, which means another amazing performance by KTM's Taddy Blazusiak. It's also a fun time, and we ran into the likes of Hart & Carmichael Racing's Kenny Watson, Husqvarna off-road's Fred Andrews, Kawasaki's Reid Nordeen, LeBig, Damien Ercole and Adam Booth of Dirt Rider, and Cycle News' Sean Finley (thanks for the tickets, Sean!)
Add it all up—the Hall of Fame ceremony, the bike show, the bench-racing and the EnduroCross—and try to make it out to the big weekend in 2013. With a certain #4 from Tallahassee going on the ballot next year, here's guessing that it will be quite a fun weekend!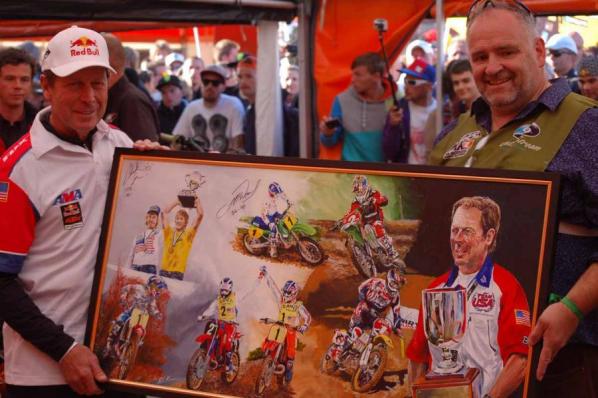 Roger DeCoster is handed an original painting by moto artist Rob Kinsey.
During the Youthstream Awards at the Motocross of Nations last month Roger DeCoster was presented with a Lifetime Achievement award for his success as Team USA manager, as well as a large scale canvas painting of Roger with the Chamberlain Trophy and several of the key members of Team USA over the years: Danny "Magoo" Chandler, Johnny O'Mara, Jeff Stanton, Jeff Ward, Ricky Johnson, David Bailey, Ricky Carmichael and Ryan Villopoto. Several other Team USA alumni, including Ron Lechien, Chuck Sun and Ryan Hughes, also signed the painting.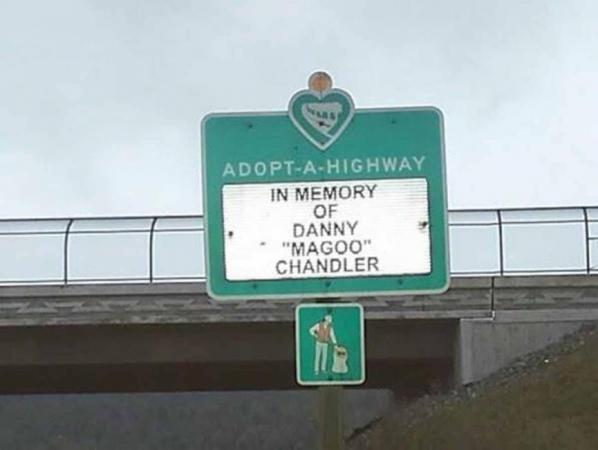 Speaking of Magoo, Brett Coulson snapped this sign on Highway 1 in Oregon and posted it on Facebook.
There was a lot of interesting news out of Europe this week, as Youthstream and the FIM changed up the FIM World Motocross Championships as they prepare to expand into new territories in 2013. The expense of travel as well as the huge differences in speed between the Grand Prix stars and local racers from places like Qatar, Thailand, Brazil and Mexico has become a general problem. Only twenty riders in either class usually attend the "flyaway" races, and the solution to these half-full gates is to have each class (MX1 and MX2) race one moto on their own, and then combine the GP riders for one big "SuperFinal" race, ala the mixed motos at the Motocross of Nations. They are also doing away with the controversial green-mesh fencing that surrounds the tracks and tends to tackle riders when they touch it with their wheels. And the 23-year-old age max for the MX2 class at the MXoN is no more, which means we can send Mike Brown or Steve Lamson to Germany next year for Team USA! (Just kidding.)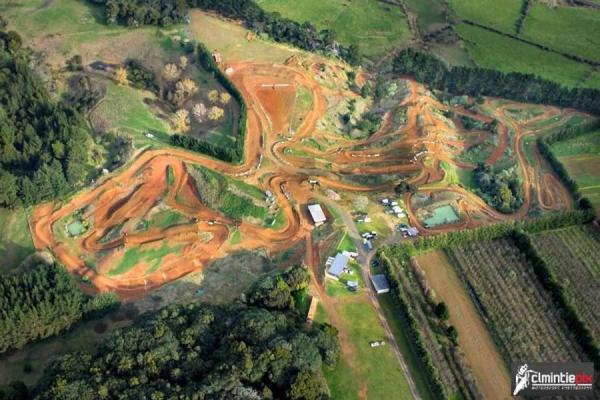 The Mr. Motorcycles Raceway in Harrisville, New Zealand.
Check out this ariel photo of Mr. Motorcycles Raceway at Harrisville, New Zealand. It was founded by Tony Cooksley as a club member in 1976. It is National track for NZ MX Championship round in 2012 and will again be one in 2013. I mention this because I got a note from my Kiwi friend Sharon Cox about Cooksley's four-year career in motocross, having raced all over the world, well into his fifties. His most recent success was managing the New Zealand team at the 2012 Motocross of Nations, which marked the last race of the great Josh Coppins' career. Besides winning an FIM World Veterans Motocross Championship in the +51 class, it was one of the highlights of his own career. And this track is a fine testament to his legacy!
Looking for a Black Friday sale for motocross? Check out www.factoryeffex.com and, also, this cool 100% ad below.
Todd Huffman of the MX Files is trying to pull together a team to help produce a documentary film on the motorcycle racing legend John Penton, who forever changed off-road and motocross racing with his development and import of Penton motorcycles from KTM back in the late sixties and seventies. The film will be narrated by none other than Lyle Lovett, a legend in his own right, albeit a musical one. Check out the flyer below if you want to get involved...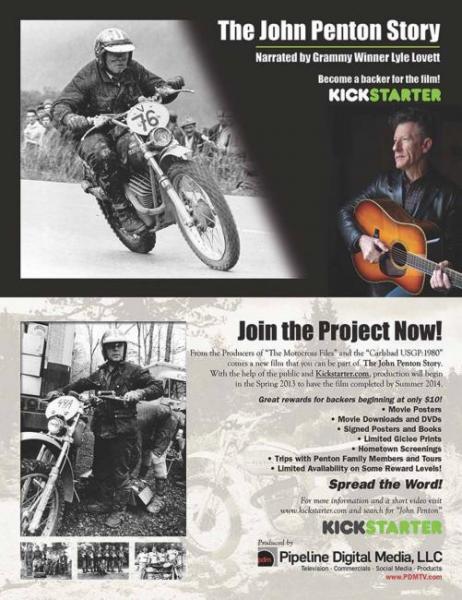 Every now and then an interesting video or race story will pop up on my screen that stands out from others. On Wednesday morning the injured Andrew Fredrickson (broken tib-fib in Mexico) sent along this no-budget Swedish riding video called "Whiplo" (with two periods over the O) by Niklas Nilsson. It's a little out there—like Travis Pastrana's Nitro Circus meets Swedish cable TV, or as they call it in Canada, "Trailer Park Boys"—but it's really funny and entertaining. These guys aren't exactly Torsten Hallman and Ake Jonsson, but their love of moto and friendship and creativity are obvious. Just put the ear-muffs on the kids because some of that Swedish gangsta rap gets saucy.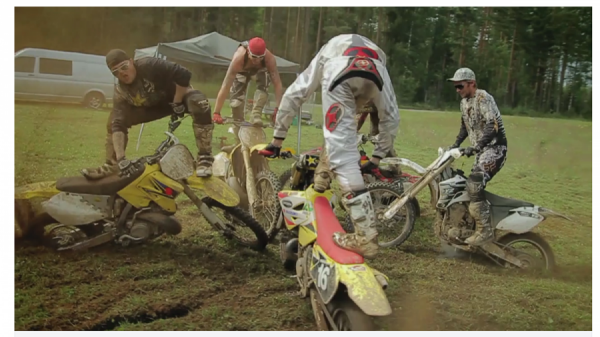 Whiplo has modest riding talent, great edits, funny bits and the first-ever tattoo-on-the-track scene in modern motocross cinematography.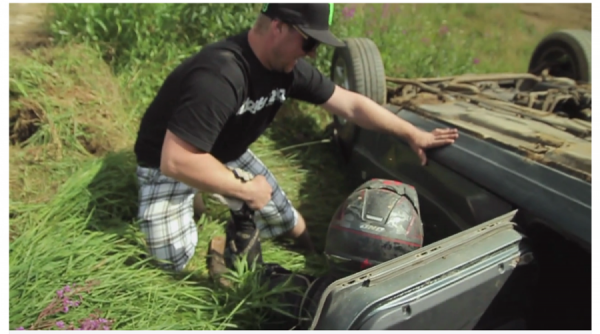 If the old Trailer Park Boys lived in Sweden, these would be their show...
Last weekend Kuwait won the UAE's first Arab Motocross Championship, which took place in Dubai. Check out the full report here.
Reigning WMX World Champion Chiara Fontanesi has ventured into the world of FMX. The 18-year-old Italian, who swept both motos at the Lucas Oil Pro Motocross season finale at
Lake Elsinore
in her WMX debut, is hoping to compete in the 2013 X Games, reports Ricky Monti of ESPN. Check out the full article with photos
here
.
Speaking of WMX, look for a press release early next week on how Women's Motocross will fit into the schedule for the 2013 Lucas Oil Motocross Series.
In case you missed it, here's another look at Edgar Torronteras' ridiculous whip at the Paris-Bercy Supercross.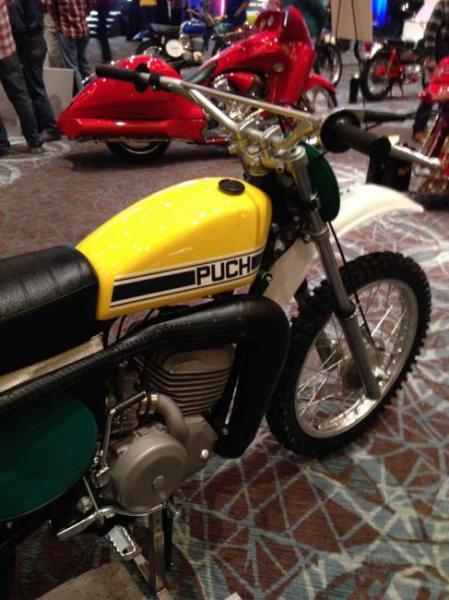 Beautiful Puch on display as part of the Concourse D'Elegance motorcycle show on Saturday at Red Rock Resort and Casino in Las Vegas.
If you like your motorcycle videos in the slow-motion variety, with very well-dressed riders on vintage bikes, and including the occasional ladies tug-o-war and jumps over a campfire, well, you've got to check out See See Motorcycles vid right
here
.
Nothing from Ping, who is out at the A Day in the Dirt at Glen Helen, another Thanksgiving Tradition in motocross, and crew this week, so that's if for this holiday weekend edition of Racerhead. Enjoy the rest of it, thanks for stopping by. See you at the races.