By Adam Spence / MotoOnline.com.au

Carlton Dry Honda Thor Racing's American import Gavin Faith first hit the Australian scene in 2011 as he landed the Lites class runner-up spot in his Australian supercross debut.
The Iowa native returned in 2012 to the Terex Australian Supercross Championships with his game face on, taking home three out of the four possible SX Lites round wins on his way to clinching his first ever title on Australian soil.
MotoOnline.com.au caught up with Faith after he capped off his SX Lites championship campaign with a win at Newcastle's season finale. Hear what he has to say about his season preparations, championship win and more.
MotoOnline.com.au: Congratulations on taking out the 2012 Terex Australian Supercross SX Lites title. How does it feel to clinch your first championship on only your second attempt?
Gavin Faith: It's a pretty awesome feeling. I was kind of bummed on how the year went last year a little bit, I went back to MTF [Millsaps Training Facility] and just trained harder and smarter this year. I've been working really hard up until here to get here, so it feels good.
Heading into Newcastle's final round, yourself and Ryan Marmont were separated by just nine points in the standings. Did you feel any extra pressure in that situation?
Yeah a little bit, I knew I couldn't make any mistakes or do anything dumb. But I just went out there like it was a normal race. I wasn't really thinking much about the championship. I mean, if something were to happen or whatever, I would have started thinking about the championship, but I just went out there and tried not to think about it and ride how I normally do.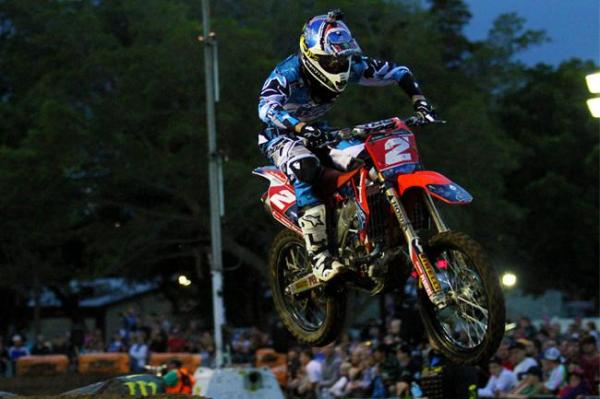 We saw a much more mature and smart Gavin Faith during the 2012 season.
Simon Makker/Makkreative.com photo
You were fast and smooth throughout the entire event, the Newcastle track layout seemed to suit you quite well.
Yeah the track was pretty good, it had some technical things on it, so it was good. It was good as far as separating us a little bit. It was a good track and I enjoyed it.
Being your second supercross season in Australia, did you feel more comfortable this year knowing that you were heading into more familiar surroundings?
I definitely knew a little bit more of what to expect and I had a place to train while I was here permanently. I learned a lot from last year and all the things that went wrong last year, we fixed. I came back this year and we obviously got them worked out and it ended up pretty good.
You stayed with Hayden Mellross throughout the supercross season, giving you a permanent base in Australia, as you mentioned. Do you think that played a big role in your success this time around?
Yeah, definitely. We have a good track out there that they can water and stuff, and it's just nice to have somewhere to have a base. Last year I was kind of bouncing all around at different tracks and I couldn't really get any great riding in. So it was good this year to actually have a base to go home each week and just focus on training.
Finally, what are you plans for the 2013 season and beyond? Will we see you back in Australia and do you have a ride lined up for next year back home in America?
I'm racing the AMA East Coast Supercross 250SX series and I plan on coming back. I just really enjoy it over here and it's a good time. I look forward to coming back next year for sure, if not many more years to come.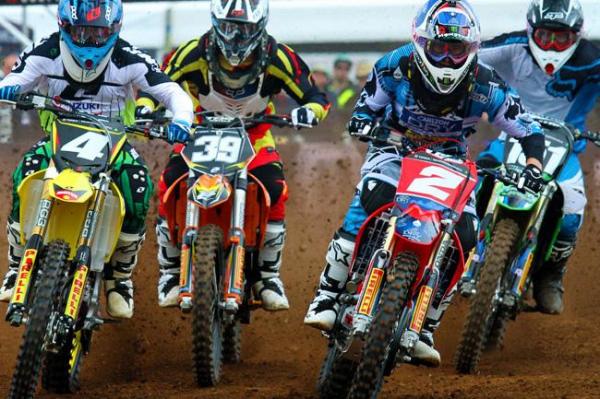 Faith (#2) never finished worse than third place throughout the four round series.
Simon Makker/Makkreative.com photo