It's been a turbulent couple of months for South Carolina's Les Smith. Just weeks after the announcement that Smith had re-signed with Langston-Witt KTM, rumors began circulating that the team had folded and would cease operations. Those rumors would quickly come to fruition; meaning Smith would join a host of others looking for a ride for 2013. Then team owner Scott Witt did what many would not have under such circumstances; he held true to his word. Witt stood by the contract he signed with Smith and will provide him with the essentials to go racing in 2013. We caught up with Smith last week to get his thoughts on the up-coming season and much more.
Racer X: Hey, Les. How are things going?
Les Smith: Everything is coming along well. I'm back down at Carmichael's farm and getting ready for 2013. The whole deal with the team [Langston-Witt KTM] was unfortunate, but luckily the team owner [Scott Witt] stuck to his guns. I already had a deal and he is going to help me out this year and we are going to move forward like business as usual.
Does that mean only Scott Witt will be helping you out this season?
Yeah, it will be only Scott Witt helping me out this season.
Can you elaborate on how that will work? Will he be providing you a bike, getting you to the races, etc.?
Yeah, pretty much. I'm still going to be riding the KTM just as planned. Actually, I think the BTO guys will be transporting my bike for me, but I won't actually be on their team.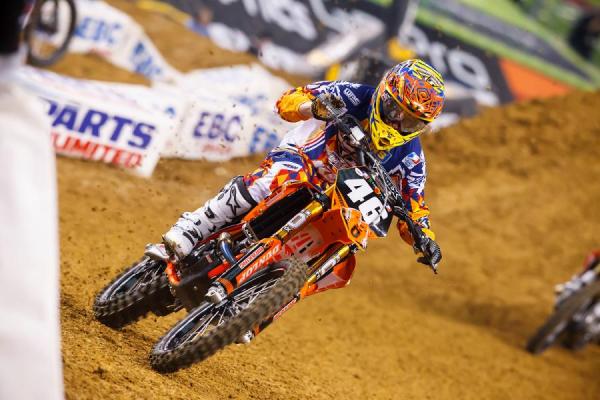 Although the Langston-Witt team has folded, Smith will still be receiving help from former team owner Scott Witt in 2013.
Simon Cudby photo
How is this going to work as far as parts are concerned? Will you be getting any help from the factory, or will it be your own deal?
Actually I'm still going to be running the factory motors and suspension. So that will be awesome.
How much did it mean to you for Scott to stick to his guns and abide by his word and provide you with support this year?
It's huge, man. Honestly, when a situation goes down like that it never works out that way. But Scott is a good guy all around and wants to hold his word. Luckily for me I was associated with him, because a lot of people wouldn't have done that. To be able to carry on, it definitely means a lot.
Before signing with Langston-Witt last season, you had played musical chairs throughout your career—especially in 2011 when you rode for a number of different teams and different classes. How does it feel to finally have two years under the same program, and how much will that help you going into 2013?
It's awesome. I'm super excited. That's the thing, I'm already riding the KTM and I'm already back in Florida riding supercross. I'm really excited to be back on the same bike and be able to move forward. It's a great machine and I'm excited to get to stay on it.
Knowing that most likely the team will not be around next year, how much pressure does it add to next season—knowing that you are essentially going to go out and have to earn a ride?
Not really. I try not to think about it that way. I think we made the best possible move we could have made, and that was coming back to Carmichael's. I haven't been back down here too long and I've already had Ricky on the track helping me and his mom, Jeannie, and big Rick. Ryan [Dungey] is out there riding, as is Jeremy Martin. It's a lot of good company, and honestly, before I came here it was in my head a little bit, but since I've come here we're so busy looking forward that you really don't have time to think about that. It's really a huge stress reliever to be here. When it's like that, it really takes the equation of worry out of your mind.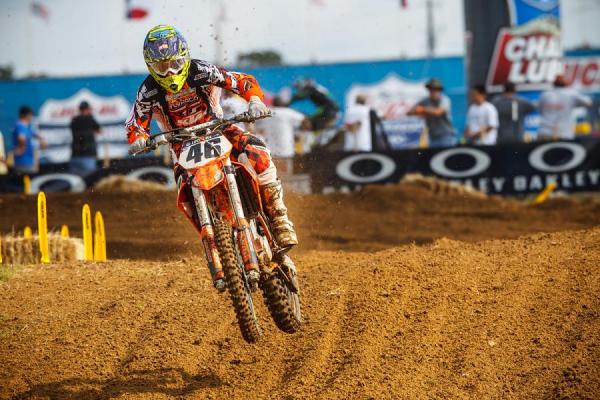 Smith will be making his rookie debut in the 450SX class in 2013.
Simon Cudby photo
What have you been able to take away from working with guys like Dungey and Carmichael? Both are really known as notoriously hard trainers, on and off the track. What have you been able to learn from them about how they prepare?
I have learned so much. Mainly, it has to be your life. It has to be what you do and about the only thing that you do. That's part of what is so good about me being here, I'm away from my family and friends, which sucks, but it takes away all the distractions. There is no time for anything else, other than to ride and work and try to be better.
I don't think anyone has ever questioned your work ethic, but how much of an adjustment to your normal routine has this been for you?
Not too much, because I grew up down here with the Carmichaels. They taught me everything I know. Anytime that I'm home, I try and stick as close as I can to that program. Obviously it's a lot better when I'm here and have them in my ear keeping that thumb on me everyday.
You suffered a broken tibia and fibula at Unadilla, which was a while ago now, how's the injury coming along? Are you back to 100 percent?
Yeah, it's coming along great. I had Dr. Augustine in Florida fix me up and I'm good as new and ready to go.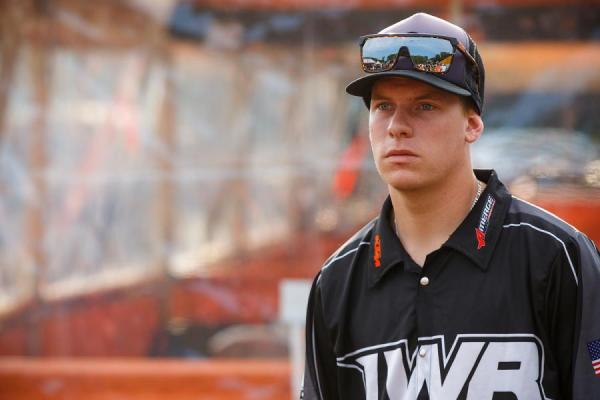 Smith is currently training down at Ricky Carmichael's farm in preparation for the '13 season.
Simon Cudby photo
This will be your first full year in the 450SX Class. What are you're thoughts about having to line up with Villopoto, Dungey, Reed, Stewart, Canard, etc.?
It's going to be crazy, there's no doubt about that. I think it's probably the most stacked 450 Class ever. Like I said, I'm down here on the best program I feel I can be on and our goal is to just build—to show up at Anaheim 1 and be safe and learn and to keep building. I want to be there mid-season and still be there and still improving—that's our goal. I don't want to go out at Anaheim 1 and try and be a hero and blow my wad and get hurt. I just want to take my program and give it time to work and just keep building throughout the series.
Do you think seeing so many riders go down last season plays into your thought process coming into next year?
I never want anyone to get hurt, but it happens. Obviously it is always better to be there at the end, rather than the guy that was doing good and hits the mat. Last year was pretty crazy with so many guys going out, but you never know what's going to happen. I just want to be one of the guys that is still standing at the end.