Mike Shoemaker Ride Day at Piru
November 19, 2012 11:25am
Mike Shoemaker Memorial Fundraiser Ride Day at Piru MX!
December 1, 2012 from 1pm to dusk at Piru MX, Piru, CA
Raffle and BBQ included, additional Raffle tickets available!
Riders $25 & Spectators $10
Former professional motocross racer and Team Tamm member Mike Shoemaker passed away on Tuesday, August 21, 2012, after a hard-fought battle with cancer. Shoemaker was a former pro from back in the '80s who earned AMA National #48 for the 1984 season. He is survived by his wife, Debbie, and three sons, Shane, Broc and Devan.
"As you know cancer takes more than just lives, it devastates families both emotionally and financially. While Mike was fortunate enough to have good insurance his family was still left with considerable medical bills. Mike was was the nicest guy you will ever meet, and I just wanted to help, so I came up with this ride day. Kevin at Piru MX jumped in and offered up his track and the dirt bike community followed with a huge list of raffle items. I hope to see you there!" - Donnie Hansen, Mike's close friend and former  AMA Supercross and 250 Motocross Champion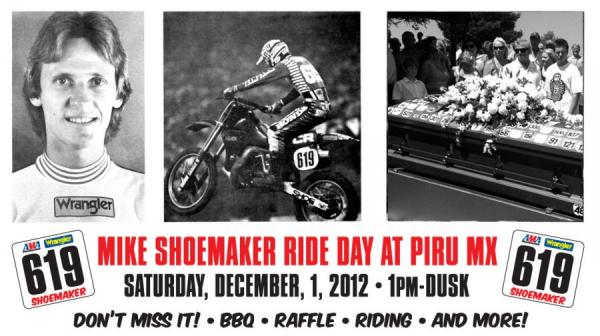 Piru MX - Fully Prepped Track
100% of the proceeds will go directly to the Shoemaker Family (includes: gate, raffle, BBQ and donations)!
RAFFLE ITEMS
Monster Energy - Monster Mini Refrigerator Autographed by Ken Block &  A Ken Block Replica RC Car
Signed Rider Jerseys - Tommy Croft, Jim Gibson, Marty Tripes, Donnie Hansen, Josh Hansen, Cole Seeley, Martin Davalos, Will & Tommy Hahn, Ronnie Lechien, Dean Wilson, Brad Lackey and more!
Tons of Raffle items donated by the following companies:
Matrix Racing Products
Atlas Braces
1.7 Cleaning Products
Gaerne Boots
Maxima Racing Oils
Alpinestars
Renthal
Oakley
Deft Family
Coast RV
JT Racing
O'Neal USA
Mechanixwear
DHMA - 2 Day School
Confirmed Professional Riders Attending:
Josh Hansen, Cole Seeley, Will & Tommy Hahn, Tommy Croft, Jim Gibson, Marty Tripes, Donnie Hansen, and more!
Not yet confirmed: Ricky Johnson, Mike Bell and Gary Jones
Shoemaker lived in Agua Dulce, California. He rode for the privateer Team Tamm on a Honda in the mid-eighties. His teammates were Alan King, Tom Carson, John Whelchel, Jeff Hicks, Chris Heiser and more. His best outdoor national finish was seventh-place overall in the 1983 Saddleback 500cc National.
Mike Shoemaker was 52 years young!