There's an old saying (and pop song), "One is the Loneliest Number." The saying seems to work in pro motocross, anyway. Over the years we've seen a variety of men win a championship and the coveted #1 plate, only to either switch series or classes, get injured, or simply choose not to wear the digit. Here's a list of champs who, for some reason or another, did not get much use out of their #1 plates.
At the top of the list is Grant Langston, the South African legend who won the 125cc world title in 2000, then moved to the U.S. the next year and started wearing #111. He won the '03 125 outdoor title, then moved up to 450s. Then he moved back down to a KX250F and won a pair of Regional SX titles, only to switch coasts or classes the following year. And then when GL won the 2007 AMA Motocross Championship, doctors discovered cancer in his eye, effectively ending his career before he get ever race with the #1!
In 1982, California's Brad Lackey achieved a lifelong dream of winning the 500cc FIM World Championship aboard a works Suzuki, only to find out that Suzuki was trimming back its open-class efforts. Lackey couldn't find a suitable ride and ended up wearing his world #1 a single time: at the 1983 500cc U.S. Grand Prix at Carlsbad, when he raced a Fox Racing-supported Yamaha.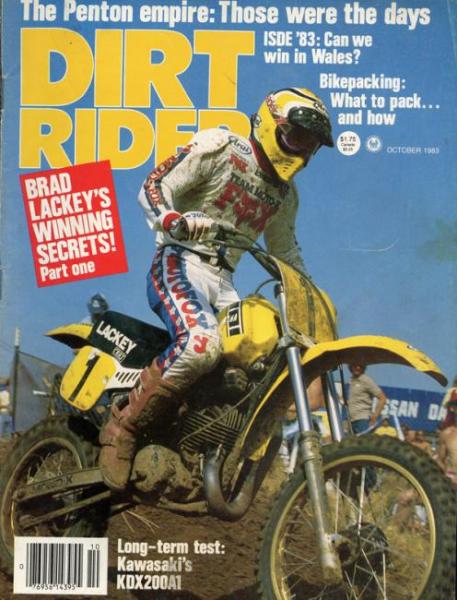 Brad Lackey only sported the #1 plate once after winning his title.
This past summer in the Lucas Oil Pro Motocross Championships, the #1 plate of Ryan Villopoto was never seen on the track, as the defending 450 champion was out with a knee injury. In the 250 Class we only caught a glimpse of the #1 plate of Monster Energy/Pro Circuit Kawasaki's Dean Wilson, as he tried to race the opener at Hangtown but realized his separated shoulder would make it impossible to contend; he elected to pull out midway through the first moto and go get surgery. All told, between both classes, the #1 plate was seen for just ten laps all summer long!
Trey Canard won AMA Supercross Lites East title in '08 but then decided to run the West Region in '09. Canard also won the 2009 Lucas Oil 250 Motocross Championship in '10 but moved up to 450s the following year. Now we're looking forward to just seeing #41 out there again in January and vying for some supercross wins on the Muscle Milk Honda.
Back in 1993, Kawasaki factory rider Mike LaRocco won the 500cc National Motocross Championship, only to see the class abolished by the AMA in 1994. But he did get to wear that yellow #1 plate once: at the 1994 Motocross des Nations in Roggenburg, Switzerland. Unfortunately, LaRocco and Team USA lost that race to Great Britain. He did win the '94 250cc MX title, only to suffer an injury during SX in 1995 and not be able to put up a solid defense of the #1 plate that summer.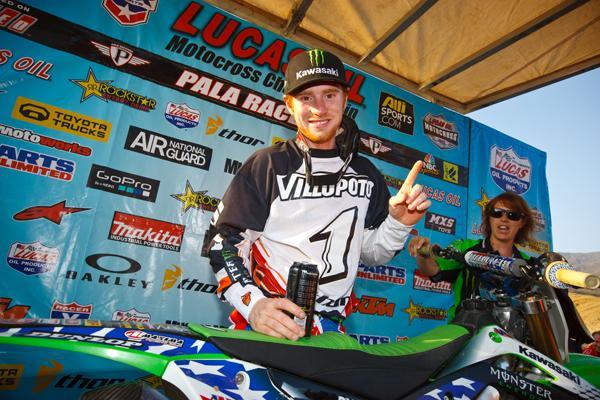 A torn ACL in supercross left Ryan Villopoto on the sidelines and unable to defend his #1 plate in Lucas Oil Pro Motocross in 2012.
Simon Cudby photo
Ricky Carmichael took full advantage of the AMA rule that went into effect in 2000 allowing riders to wear permanent numbers instead of #1 after they won titles, and he carried #4 to a whole trophy room full of wins and titles through the end of his pro career in 2007. That made seeing #1s scarce in both SX and MX throughout that period. But Carmichael did wear #1 at least twice during those years: once at the last outdoor national of 2004 at Glen Helen, which also happened to be his last race on a Honda (so he wore it as a nod to the people he worked with there), and then again at the 2007 Motocross of Nations at Budds Creek in Maryland, where he was the MX1 rider for Team USA.
James Stewart was another rider who often opted for his own number (259 or 7) even though he won several championships in both classes. But then the old numbering rule was changed again, stating that the defending champion of a series had to wear his #1 plate, so James wore the #1 he won in the 2009 Monster Energy Supercross Series, only to get injured and pull out three races into his title defense.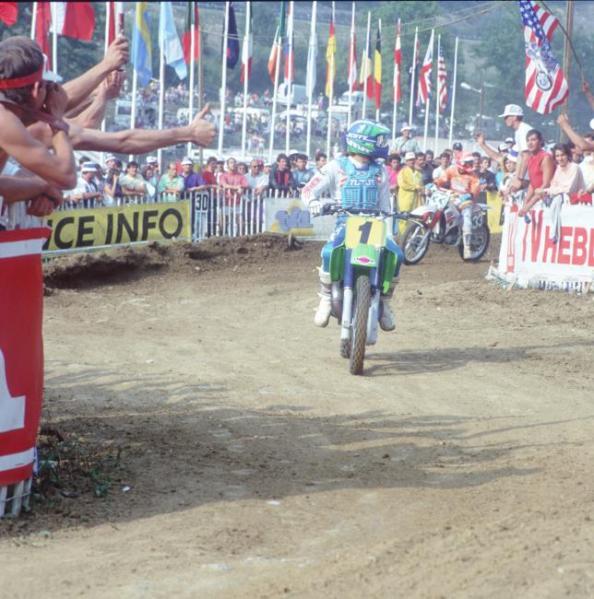 Ron Lechien was able to finally wear his #1 plate at the 1988 Motocross des Nations.
Racer X photo
Bob "Hurricane" Hannah swept the AMA Supercross and Motocross Championships in 1979, only to break his leg water-skiing. The all-time great would never wear #1 again.
Ron Lechien won #1 in 1985 in the 125 class but never actually got to wear it, as he switched from Honda to Kawasaki and moved up to the 250 class. He did, however, get to wear #1 at the 1988 Motocross des Nations in France, where he helped Team USA win while manning a Kawasaki KX500.
Finally, there's Donnie Hansen. In 1982 the Honda factory rider earned #1 plates in both AMA Supercross and 250 Motocross, but then he suffered a severe concussion while training for the '82 Motocross des Nations in Germany and was out for many months. He wore the #1 for a magazine cover shoot and tried to race one more time at a 1983 Supercross race, but the effects of the concussion lingered and "Holeshot" Hansen eventually retired from professional racing.