By: Jason Weigandt and Steve Matthes
With the Bercy SX just wrapping up 30 years of racing, it seems like a good time to look up France's favorite motocrosser ever, Jean-Michel Bayle, and recap some memorable races in The Vault.
Matthes and Weege can go on for days talking JMB, so they're tag-teaming this one.
Anaheim Supercross, 1989
Matthes: The 1988 125 World Champion's first ever race in America didn't produce the results that would indicate his future greatness. In the main event, he made mid-air contact with defending champion Rick Johnson right after the first turn. The #111 Honda rider landed on a hay bale and flipped over the bars and that was it, the World Champion DNF'd his first ever SX. I can close my eyes and hear Larry Maiers now: "The commie can't hack it in America…" or something like that.
As we all found out, despite the inauspicious beginning, Bayle was just finding his way and he'd be back the next week with a top five and the following year was back full time.
Weege: This race was a big deal because in '89, the idea of a foreign World Champion even attempting supercross was considered ludicrous. John Van Den Berk, David Thorpe and Eric Geboers were not exactly lining up to race supercross. I remember MXA writing, condescendingly, "Bayle has never seen a set of U.S. quads." And then when he crashed out spectacularly on the very first jump in the main event, well, all the anti-Euro folks though they were very smart.
Gatorback 250 National, 1989
Matthes: Before JMB was forced to go back and ride the 250 GPs (which he would dominate) he had one last U.S. race at the opening round of the AMA Nationals at Gainesville, Florida. The big news was defending champion Rick Johnson's wrist injury that morning in practice, but that wasn't the only surprise that day. Wearing his #111 and running "Starbuster" on the back of his JT pants, Bayle took his Pro Circuit CR250 to the overall win, shocking America in the process. JMB went 1-3 for the overall and stamped that when he did come back full-time, he'd be something special.
Oh, and by the way, in case anyone thought that this race was a fluke, Bayle came back after his GP season was over and won Unadilla in the 500 Class. So, uh, yeah, this dude was really, really good.
Weege: RJ's career essentially ends on the same day a European comes and wins on American soil for the first time in ages. Is Gatorback '89 the biggest transitional day in the history of American motocross? It's got my vote.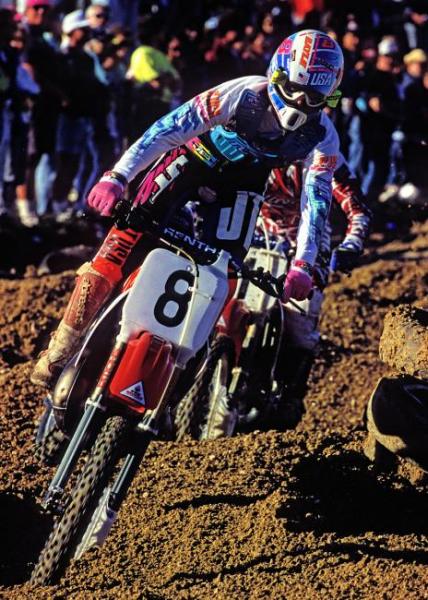 Bayle at Gatorback in 1991, during his quest to do what no one else had ever done.
Racer X Archives photo
Dallas Supercross, 1990
Matthes: I remember early on in the 1990 Camel Supercross Series, they showed a video asking the riders what it would take to beat Damon Bradshaw. The Yamaha kid had racked up early season wins and looked unstoppable. All the riders gave the politically correct talk about working hard, staying confident, etc, etc. except for when they came to JMB. What's it going to take to beat Bradshaw? He said, "Just JMB." At the Cotton Bowl at Dallas later that year, he was right. The number #22 Honda rider beat the returning-from-injury Bradshaw by doubling past him, and then went onto his first 250 SX win. JMB missed two races with an injured elbow and came pretty close to the SX title at the end of the year. But as we all know, you never forget your first.
Weege: The one thing The Vault can't show you are races a rider didn't compete in, and those two races JMB missed early in '90 were huge. He finished second at Anaheim, then missed rounds two and three, and lost the SX title to Jeff Stanton by seven points. That Dallas breakthrough was bound to happen, and the '90 season was filled with parity and one-off winners. It's what was coming next that really changed things.
New Jersey and Foxboro, 1990
Weege: I'm throwing these in here because they're key to the JMB career arc (and it's key for me to always mention New Jersey's small contribution to supercross history). Bayle's Dallas win was soon followed by victories in Tampa, Florida, New Jersey's Meadowlands (outside of New York) and Foxboro, Massachusetts (outside of Boston. Yes, SX fans in the Northeast used to have some choices. But very few chose to go, judging by the slim crowds). Suddenly the Frenchman was the hottest property in supercross. If you had told someone a year earlier that this would happen, they would have locked you up and stored you under the Meadowlands, next to Hoffa.
Personally, I remember Bayle having the fastest heat race lap time in NJ, and the winner of that award each week was given a kiss from Miss Coors Light! The smooth Frenchman got in a good peck, and then, his mullet flapping in the night wind, went in for seconds. The American fans liked to boo him but they had to cheer that move.
Matthes: Figures Weege would throw the Jersey race in here. No one else would have.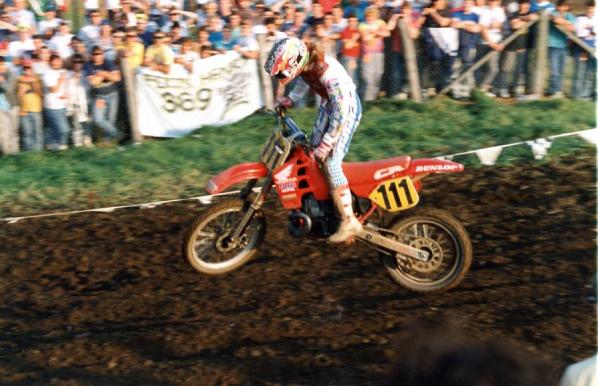 JMB won the Gainesville 250 National at the beginning of '89, went home to grab the 250 World Championship, then came back to the U.S. to win the Unadilla 500 National.
Racer X Archives photo
Lake Sugar Tree 250 National, 1990
Weege: Although he was the 1989 250 World Champion, Team Honda dispatched JMB to the 1990 125 Nationals in the U.S. (hey, they had guys named Stanton and Johnson on 250s, so they were kind of covered there). He was consistent early, then won round three in Virginia, and started opening a big points lead over Guy Cooper and Mike Kiedrowski. JMB was headed to his first American title, until he crashed at Washougal and broke his arm. How do you say "D'oh!" in French?
Matthes: JMB would 'a, could 'a, should 'a won the '90 125 title as by all accounts, he was checking out before Washougal. A side note here: his main competition was Mike Kiedrowski, the champion from '89. Once JMB got hurt, the MX Kied got 'hold of JMB's motor set-up and started racking up the wins partly because it was a lot better than his bike. This was back in the day when mechanics did much more than bolt on parts, and Bayle's wrench, Cliff White, was going in there and making some of his own mods.
Another key race for Bayle was one that he didn't race.  In 1990 at Budds Creek, JMB showed up healthy, but was told to move over for Kiedrowski to help with points. JMB said, "No." So Honda team manager Dave Arnold benched him for the day. As Bayle told me recently, "Yeah, ok you pay me to just watch the race? Cool!"
Results from Lake Sugar Tree '90.
1991 Phoenix 250 Supercross
Matthes: Last week, I was over at Bercy and did a Pulpmx.com Classic Commentary with Bayle on this race. He personally chose it as the race that he wanted to talk about. After just losing out on the 1990 250SX and 125MX titles, Bayle came into 1991 as a full-time 250 rider and looking to finally win a championship. He had already won three SX races going into Phoenix and was only four points back in the title hunt. At Phoenix, JMB, running #8, got a horrible start and was forced to come through the pack to capture the win. Bayle passed rivals like Stanton, Ward, Matiasevich and Kiedrowski by using the outside berm after the finish and sling-shoting his way past. It was a great race by Bayle and he would eventually go on to win the 1991 Camel Supercross Championship. Look for the Classic Commentary next week with the JMB himself.
Weege: Hate to say it, but I got all caught up in the American thing that year and started rooting against Bayle. I'm embarrassed about this now, but hey, these were the Gulf War days and I was only 12. USA! USA! USA!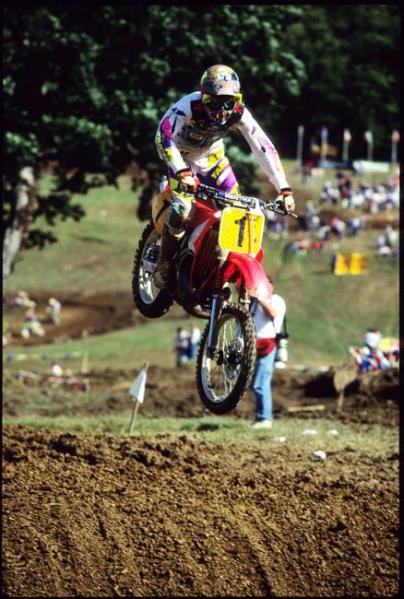 Bayle says Steel City was his favorite U.S. Motocross track, and here he is ripping it up for the last time there in '92.
Racer X Archives photo
Hangtown 250 National, 1991
Weege: JMB would make history in 1991 by becoming the first (and only) rider to win the 250 Supercross and 250 and 500 Motocross titles in the same year. Huge in that run was the famous Hangtown 250 National, where massive rains basically flooded the track. The race was cut to one moto and some privateer dude named John Dowd won. JMB finished second and made up 22 points on defending-champ Stanton, who drowned his bike.
Matthes: This basically won the championship for JMB because he finished second while Stanton and Bradshaw both DNF'd. He never won a 250 National but in the shortened series back then the Hangtown finish was enough for him to ride around in second and third and win the title for his second championship in the year. Also, ever see photos from Hangtown that year? JMB was an innovator as he put a cardboard #8 sign on top of his helmet so he would be scored properly in the slop. Brilliant!
Unadilla 500 National, 1991
Weege: JMB only went 2-5 at this one, but that was enough to edge Jeff Ward for the 500 National Championship, thus making him the first and only "three-peat" winner in one season. The 500s are gone, so no one is going to touch this record.
Matthes: JMB's skills really shone on the bigger bike, in my opinion. He never raced the 500's in Europe but he would've waxed those guys and he does have two 500 USGP wins in two attempts. The line selection, the throttle control and the ease of his riding really came to the forefront on the bigger bike. I know a bit about it because he passed me in practice at Millville three times while he was trying to find a good line in the sand whoops.
Las Vegas Supercross, 1992
Weege: After winning all of those '91 titles, JMB then ran the standard "Winning titles is one thing but defending them is another" and,  "It's all about the record book" lines. Just kidding! He actually announced that he no longer cared about motocross or supercross! He'd ride out his Honda dirt bike contract in '92 while looking for an entry into road racing for 1993. Very, very strange.
But even while struggling on Honda's all-new CR250R, Jean-Michel was still fast enough to contend. Late in the season Bayle won a crazy race in Las Vegas, where points leader Damon Bradshaw took out himself and Jeff Matiasevich. Bayle was back in the title hunt ... but then he nearly collided with his teammate Stanton in San Jose, and crashed back to ninth, which basically ended his chances of repeating as SX Champion. The Vegas win would be JMB's last supercross victory.
Matthes: In doing a podcast with Bayle a couple of years ago (check it out HERE) he told me that despite the public thinking he didn't try this year, he did indeed try to go out a winner. But he also said he didn't want to get hurt and that he did not like the all-new '92 model. It was too twitchy and unstable in his eyes. I myself blame his decision to go with the Taichi gear as the reason he didn't defend. Should've stuck with the JT.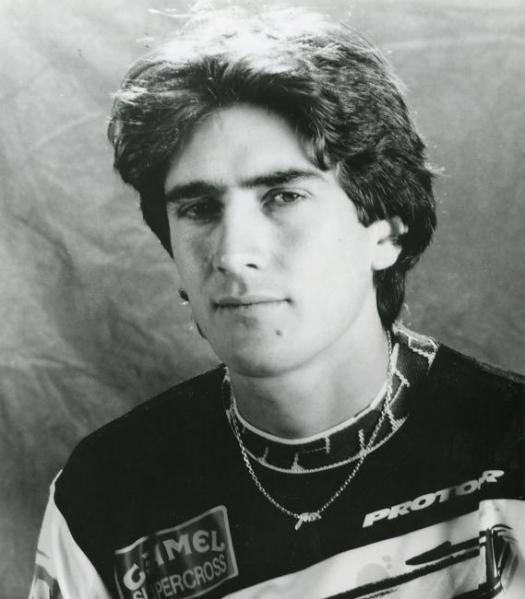 The legacy lives on. JMB paved the way for riders born outside of the U.S. to find success here. Le Pioneer!
Racer X Archives photo
Los Angeles Supercross, 1992
Weege: Perhaps the craziest supercross ever. Bayle's inter-team rivalry with Stanton had boiled over badly. They crashed into each other in a heat race, and Bayle says on TV that he will not do anything to help Stanton win the title, even though they're teammates. Then in the main, Bayle actually tries to help Yamaha-mounted Bradshaw beat Stanton for the title! Late in the race, Bayle gave up and went around Bradshaw to finish fourth in his last Supercross race ever. Stanton won the race and the title.
Budds Creek 500 National, 1992
Weege: Bayle's motocross career ends with a fourth-place finish at the Budds Creek 500 National at the end of the season. From there, it was off to road racing, and thus one of the most talented riders to ever throw a leg over a dirt bike retired right in the center of his prime years. Sadly, he decided to give his last racing jersey away to our own Davey Coombs, because there weren't any fans who really wanted it. That jersey is now hanging up at a bowling alley in Morgantown, West Virginia, among some other great sports memorabilia. You can't make this stuff up!
Matthes: I did not know this at all but if you see a headline in the Morgantown paper saying, "Police Report: Theft at Bowling Alley" it wasn't me. I was shopping at a very busy mall where lots of people saw me.