Monster Energy World Speedway on Dec 29
November 13, 2012 11:20am
Monster Energy World Speedway Invitational
Coming to SoCal's Industry Racing December 29
Global Event Showcases World GP Riders vs. America's Best

CORONA, Calif. (November 13, 2012) – Industry Racing has unveiled its plans for the ultimate global speedway battle with the inaugural Monster Energy World Speedway Invitational. The race will be held at The Grand Arena in the City of Industry, Calif., at 7:30 P.M. on Saturday, December 29.

The unique event will showcase the world's best speedway riders, all on 500cc, single cylinder, methanol-burning, brakeless machines in a one-night, winner-take-all competition. In total, 16 riders will be invited for an international showdown between the best riders in America and the global elite from the Monster Energy FIM Speedway Grand Prix.

"Speedway is experiencing a resurgence in the U.S.," said Industry Racing Track Director Kelly Inman. "The significance of this event for speedway racing in this country is incredible as these are the best riders in the world. This is a one-of-a-kind chance for fans to be introduced to a new caliber and level of racing like they've never seen before. The same can be said for the American competitors, who wouldn't otherwise get a chance to race against their European counterparts."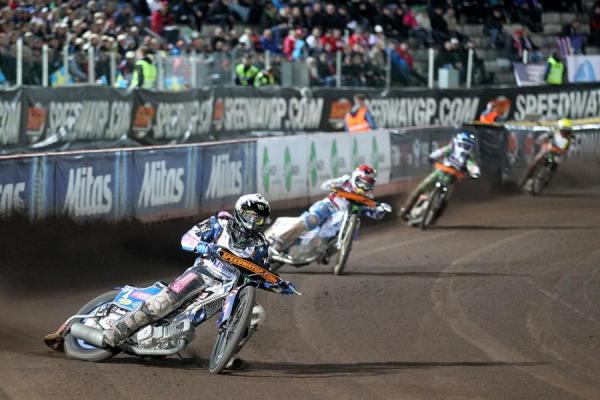 American-born 2011 FIM Speedway Grand Prix Champion Greg Hancock (front) will lead the international field of star riders.
(Courtesy FIM Speedway Grand Prix)

Foremost of the Monster Energy FIM Speedway GP riders who will make the transatlantic flight to America include California-born Greg Hancock, the 2011 FIM Speedway World Champion and third place finisher in the 2012 title fight; Two-time Grand Prix winner in '12, Antonio Lindback of Sweden; as well as GP winners Freddie Lindgren of Sweden and Tomasz Gollob of Poland. Having competed in 12 GPs in such nations as Poland, Sweden, Denmark, Italy and Great Britain in 2012, this world class contingent of riders will certainly face a unique challenge in the form of the one-eighth mile layout of Industry Racing. Normally, the average length of the longer Speedway Grand Prix tracks of Europe are about a one-quarter mile in length.

And then there are the American racers. Recently crowned U.S. National Speedway Champion, and Monster Energy athlete, Billy Hamill, who won a World Championship of his own back in 1996, will headline the U.S. field, along with four-time National Champion Billy Janniro.

"To invite a number of the world's best speedway riders – many who won GPs in the 2012 Monster Energy FIM Speedway GP series – to the United States and have them line-up against a host of highly competitive racers from America is unprecedented," said Bruce Stjernstrom, Vice President of Sports Marketing for Monster Energy. "Speedway racing is really a global sport, with its largest fan base residing throughout Europe. However, the sport's roots are very rich in Southern California, as well, which is why we made the decision to hold such a prestigious event here."

The Monster Energy World Speedway Invitational will utilize the GP format that consists of 23 total races, including 20 heats, a pair of semis, and of course the main event. In the end, one rider will stand above the rest. Exciting Junior Speedway racing is also scheduled, showcasing the future stars of the sport in America.

Presale tickets for the inaugural Monster Energy World Speedway Invitational will be available for purchase from December 1st through December 22nd by visiting the event website at www.IndustryRacing.com. Tickets are priced at $18 and $10 for Juniors and Seniors. Tickets purchased the day of the event will be an additional $5. All kids under 12 are free with adult admission. Parking is $5 with motorcycle parking free of charge. The event will run rain or shine as The Grand Arena has a roof.

Industry Racing at The Grand Arena
16200 Temple Ave.
City of Industry, CA 91744

To get a rundown on the most recent Monster Energy Speedway Grand Prix season, log onto www.SpeedwayGP.com.


Invited Riders

Rider    Country
Tyson
Burmeister    USA
Jimmy
Fishback    USA
Tomasz
Gollob    Poland
Billy
Hamill    USA
Greg
Hancock    USA/Sweden
Billy
Janniro    USA
Maciej
Janowski    Poland
Edward
Kennett    Great Britain
Antonio
Lindback    Sweden
Gino
Manzares    USA
Scott
Nicholls    Great Britain
Emil
Sayfutinov    Russia
Charlie
Venegas    USA
Ricky
Wells    USA
Bryan
Yarrow    USA
More to be announced...