Night two of the tremendous Bercy Supercross is in the books and much like the first night, it's the Jake (Weimer) and Eli (Tomac) show as those riders went 1-2 in the main event with Weimer winning for the second night in a row. The Monster Energy Kawasaki rider has set himself up with a low score of 2 (to Tomac's 4) to be the King of Bercy when it's all said and done tomorrow evening.
Once again in practice, Tomac and Weimer were very quick and that translated into the heat races where Weimer won his going away. In his heat, Tomac moved quickly to third in his before running out of time behind his heat winner Christophe Pourcel. In the elimination races, JGR Yamaha's Justin Brayton captured a win in the second one but Weimer won the first and third ones to take that series. Tomac suffered a rear flat in his third elimination race.
The GEICO Honda rider, Tomac, did extract some revenge on Weimer by winning the Superpole hot lap portion of the event and Weimer suffered an ugly crash whilst pushing to beat Tomac. He and his bike were fine however.
The battle was set for the main event win, but Weimer nailed the start while Tomac was buried early on. Weimer was riding well right from the start, as was Brayton, and then pulled away runnig 1-2. Soon, Tomac joined them and went by Brayton into second, then Brayton spun out in the tunnel as well as messed up a rhythm lane to lose valuable time to the two riders out front.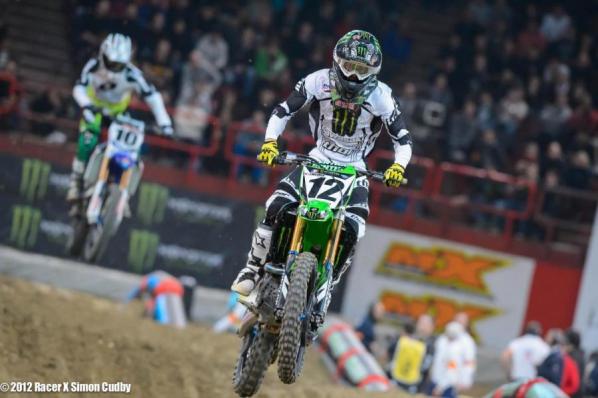 Boom. The 12 has been tough to beat in Bercy.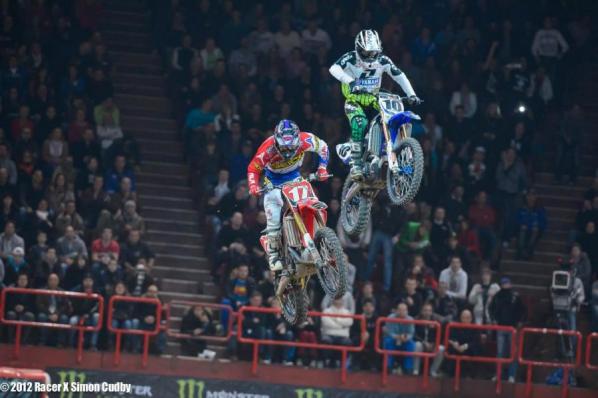 Tomac got a bad start but came through traffic to get Brayton for second.
Cudby photos
For three consecutive laps, Tomac closed the gap on Weimer and pulled to within a second before some lappers messed up Eli's drive. That allowed Weimer to grab the win with Tomac right behind and Brayton a distant third. Last year's King of Bercy Kyle Chisholm finished fourth for the second night in a row –so that's the exact same top four as last night. All in all, there was only one change in the top six from Friday.
After having a much better night early on than last, French hero Pourcel crashed hard in the main even and landed right on his side on the hard track surface. That was it for the #377 and it's doubtful he'll be back tomorrow. He did walk off under his own power.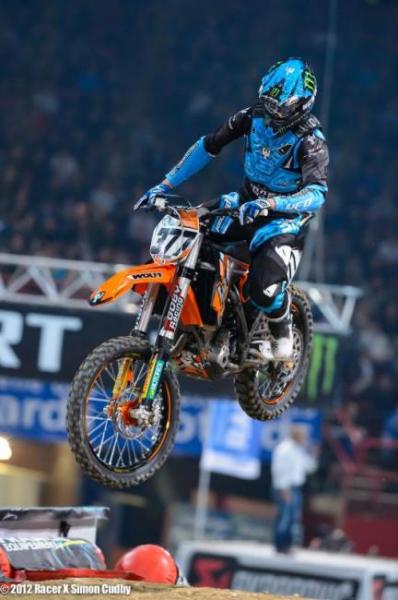 Pourcel's night started well but ended badly.
Cudby photo
Meanwhile, what's it going to take to beat Weimer? Well, "Just JMB" is in street clothes in the stands, as much as the French fans would love to see the legend hop out and go for the win. Stay tuned tomorrow to see if someone else can do the trick.
CLICK HERE FOR SATURDAY RESULTS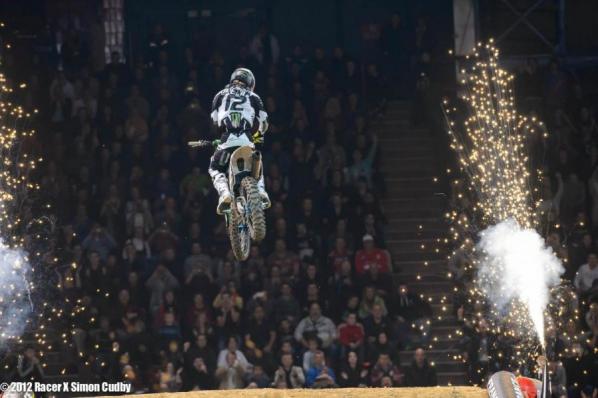 Weimer has to sleep with the pressure of leading tonight. If he finishes within a spot of Tomac on Sunday, he's King of Bercy.
Cudby photo