Bercy Report: Night 1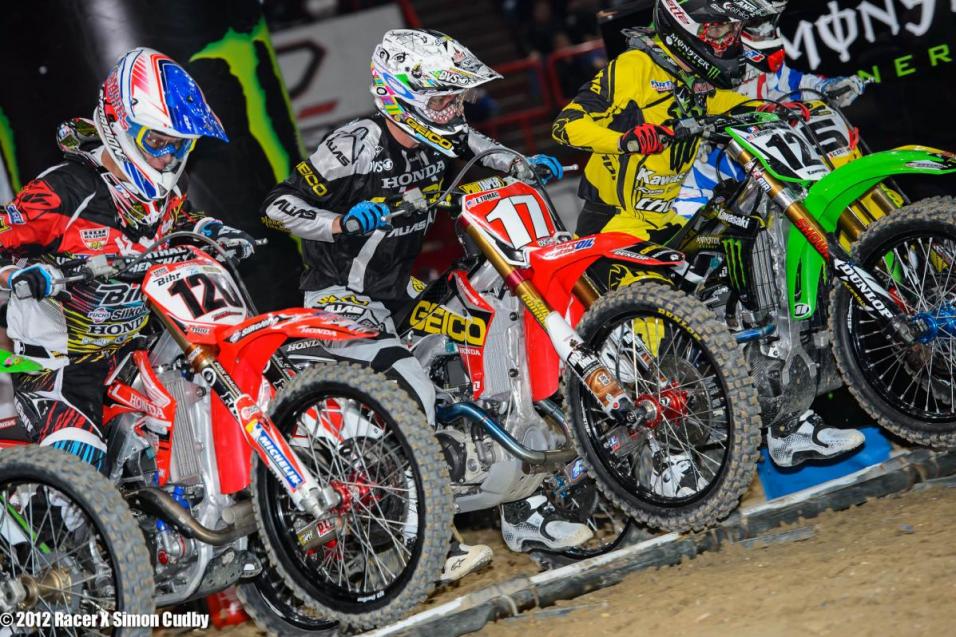 The 30th annual Bercy Supercross, located in the heart of Paris France, took off today with day one of three. Some great racing went on and overall, it's a sign that we're going to see a battle for the top spot in the next two days, with two riders standing apart from everyone.
A mostly sold out Palace de Omnisports arena (complete with some splendid grass growing on its walls) featured a track slicker than in years past. It also featured a pretty long whoop section along with a triple that you had to hit just right or bail out of.
All day long, from first practice on, GEICO Honda's Eli Tomac and Monster Energy Kawasaki's Jake Weimer have been the class of the field with JGR Yamaha's Justin Brayton just a smidge behind those two.
In the three heat races, we saw Brayton, Weimer and Tomac all win to transfer into the main events along with other American racers Kyle Chisholm (on a BUD Racing Kawasaki) and GEICO Honda's Wil Hahn.
Next up was the Superpole race (a timed qualifying event) and again Weimer and Tomac dominated that with Weimer hanging on until the last rider, Tomac, went. And by .03, Eli set the fastest one lap time and the prize was his.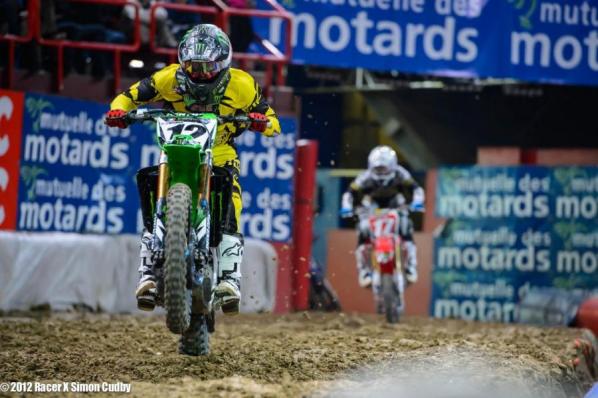 These were the two fastest riders all night.
Cudby photo
After that came three three-lap elimination races where the bottom four racers were removed and the survivors went right to the line for the next race. Weimer and Tomac dominated these races as well with the ultimate prize going to Weimer when Tomac fell on the last lap while going for the pass.
In the main event, it was Weimer, Tomac and Brayton 1-2-3 and things seemed set for a great main. Slowly the top two pulled away from Brayton and commenced a race that never saw the gap get bigger than a second or two. On the last lap, with a turn or two to go, Tomac snuck inside of Weimer for the lead briefly, but Jake grabbed it back and with it, snagged the win in the 14-lap main event.
A bummer for the French fans, as Christophe Pourcel wasn't himself all night, as he said he had some throat problems. And Gregory Aranda suffered from crashes.
Americans Chisholm and Hahn were fourth and fifth. And Tyler Villopoto raced the 250 support class and ended the night after two main events with a second overall via 2-4 scores. Villopoto was going for the lead on the last lap when he crashed almost exactly like Tomac did in the Elimination races.
All in all, it was an awesome night of racing and with two nights left, it looks like a Jake and Eli show right now. Let's see if anyone else can get into the mix tomorrow.