By Keith Monti
Hurricane Sandy tried its best to wreak havoc on Hog Heaven MX's $10,000 Purse Open Pro Shootout. Postponed a week due to the hurricane that has dominated the news across much of the northeast, the 2nd Annual Open Pro Shootout went off this weekend in spectacular fashion.

This race, intended to bring big names and great racing back to North Carolina, became a benefit event during the short week it was postponed. A local racer, TJ Selleck, suffered a terrible crash the weekend prior, the end result of his injuries leaving him permanently paralyzed from the waist down. A benefit auction was put together on short notice that raised $3,900 for the Selleck family, other fund raising efforts brought in a total of $7,900 from this weekend's event. If you would like to help TJ and his family, please click the links below:
With names like Shane McElrath, Alex Martin, Cooper Webb, Jacob Hayes, Ryan Zimmer, Tyler Bright, Frank Lettieri, Luke Renzland, Cody Gragg, Dustin Kendall, Seth Rarick, Jace Owen and many others, the racing didn't disappoint the crowd that came out. With $1,000 per moto for first place in the 250 and 450 A classes and a tiered payout totaling $10,000 across the top 10, the riders put on an awesome show. During the 20 minute plus 2 lap motos, the sandy soils of Hog Heaven MX developed into a track that would separate the men from the boys.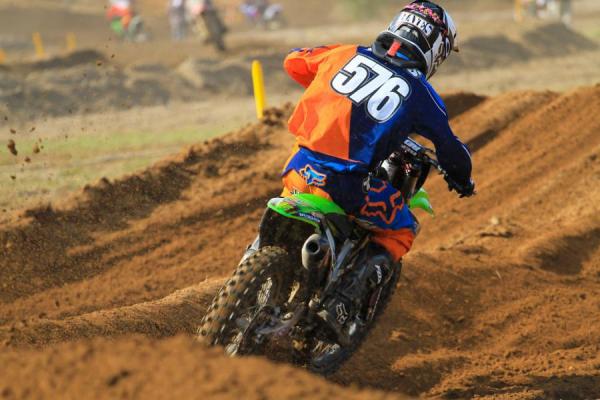 Jacob Hayes would outlast McElrath and Renzland to take home the overall in the 250A Class.
Randall Overby Photography
The event kicked off with 250A Moto 1. The stands, pavilion and fence line were packed with a crowd eagerly awaiting one of the day's four main events. Early on, the Kawasaki of Jacob Hayes was leading. By the halfway point Cooper Webb had put on a solid charge reeling in Hayes. Webb attempted an aggressive inside pass on Hayes, but Hayes closed the door, causing Webb to stall his bike. Webb's Yamaha would not come back to life forcing him to retire from the moto. The win would go to Hayes. Robby Marshall took second after a solid ride and third went to Luke Renzland of Roanoke, VA. Shane McElrath survived a nasty tumble over a single to climb back for a sixth place finish.

In the second 250A moto, Webb was able to grab the lead early and carried it for the rest of the 20 min + 2 lap event. McElrath kept Cooper honest the whole moto, but could never close the gap. Hayes was there for a strong third, giving him the overall over Renzland and McElrath.

In the 450A class, the addition of Alex Martin to the line up made for some spectacular racing. In Moto 1 Alex Martin put together an excellent ride taking the win. Hayes, Webb and McElrath were all in tow. Robby Marshall was running a strong third when he went down in a turn, remounting for an eighth-place finish.

Moto 2 started with a first turn pile up that collected Alex Martin and several others. At the front of the pack Webb and McElrath stayed nose to tail for the whole moto. McElrath kept Cooper honest, pulling to within a bike length or two at times but Webb proved unflappable, making minimal mistakes and never giving McElrath an opening. Hayes stayed within a few seconds of McElrath and Webb after tipping over early and giving up the lead.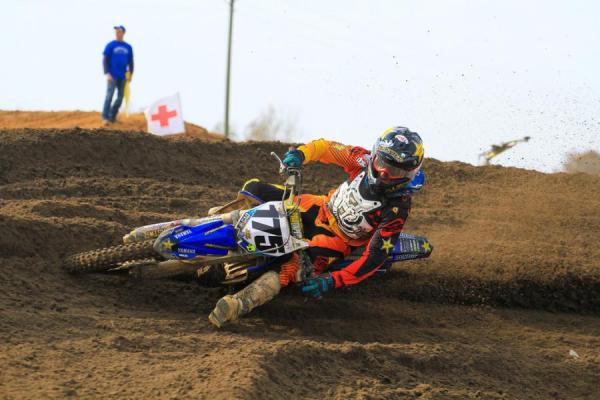 Webb would rebound in the 450A Class, taking the overall over Martin and others.
Randall Overby Photography
The overall went to Webb with 3-1 scores, second to Hayes with his 2-3 and third to McElrath with a 4-2. Alex Martin's climb back to second after the second moto first turn pile up kept him off the podium in fourth, but anyone who was watching knew the front runners may have been in trouble if he would have cleared the first turn.

Hog Heaven MX would like to thank the sponsors of this event. No small amount of effort goes into putting together an event or a purse of this size. Special thanks to those who supported the event without you this would never be possible.
Miller Paint Company           Yamaha of Lumberton
MotorcycleMax.net               Liquid Performance
Motorcycle Madness             Jimmy Weinert Training Facility
K & R Hot Dogs                 Taylor Futrell MX Training
Total Control Suspension     Club MX
Pinned Industries                 MX67 Photography
Rock Auto                            Randall Overby Photography
SMX race series                    Kyle Overton photography
Fayetteville-Cumberland Parks & Rec
DEP Pipes
Only One Inspiration             FlexR
Fegert Family                        Lonnie Taylor
Shannon and Abby Weaver    Triangle Cycles
Mac Hodges                          Banks Mx
Keith Monti                           MXPTV
Mike Elliott                           Racer X