The bar has been raised.
The highly anticipated MOTO 4: The Movie drops tomorrow at www.motoxcinema.com and at retailers, and we were lucky enough to catch a sneak peek of the latest masterpiece from director/producer Taylor Congdon and The Assignment Inc. A ten-month project that sent Congdon and his crew across the country—with trips to Norway and Spain thrown in the mix—to shoot with various stars of the sport has finally come to fruition.
The fourth installment in the MOTO franchise will capture the hearts of viewers worldwide with its astonishing landscape shots, heartfelt interviews, and utterly amazing videography.
What I Liked:
In our technology-based culture of Twitter, Facebook, and Instagram, it's hard to attract the attention of most young adults for fifty-three minutes—I myself change TV channels faster than Usain Bolt runs the 40. But when the end credits began to roll on MOTO 4 I was disheartened. I wanted it to go on for another hour. The amazing cinematography had me feeling like I was watching a National Geographic documentary, except with dirt bikes in it.
The transitions from one discipline of the sport to another really grabbed my attention and helped the movie's flow. One moment you're blown away by the majesty of Ryan Dungey and Ricky Carmichael spinning laps at Carmichael's farm, and the next you're whisked away into the mind of off-road rider Taylor Robert as he blasts through a California vineyard.
A series of in-depth interviews also show different sides of the riders—what makes them tick, what drives them to get out of bed, what makes them champions. One of the best is with former amateur standout and current GEICO Honda rider Zach Osborne. The Virginia native opens up about mistakes he made as a young professional that led him to leave America for the Grand Prix tour, where he revitalized his career and earned another ride stateside.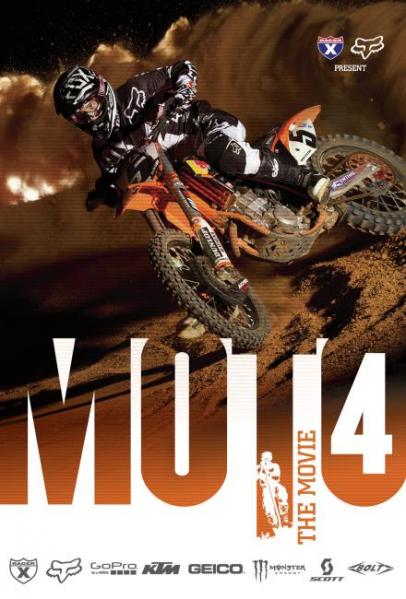 What I Didn't Like:
My first complaint is no one's fault but my own: I'm begging you, watch this movie on Blu-Ray. I felt I really missed out because I watched this on my computer. Even if you don't have a Blu-Ray player, at least watch it on the biggest TV you have.
Although the interviews were fantastic, I wish some of them had been longer. I'm nitpicking here, but not having much of an off-road background, it was refreshing to get inside the minds of legends like Taddy Blazusiak, Kendall Norman, Kurt Caselli, Taylor Robert, and Robby Bell. I always enjoy insider's perspective, and feel there could have been more of that.
MOTO 4: The Movie will be available tomorrow at www.motoxcinema.com and at retailers everywhere. It will be available starting November 12 on iTunes.
Starring: Ryan Dungey, Ricky Carmichael, Taylor Robert, Chad Reed, Andrew Short, Jessy Nelson, Taddy Blazusiak, Eli Tomac, Kendall Norman, Ken Roczen, Zach Osborne, Kurt Caselli, and many more.
Running Time: 53 minutes