Welcome to Racerhead, post-Monster Energy Cup, pre-Halloween, just-about-ten-weeks-from-Anaheim '13. It's a busy and rather strange day here at the Racer X offices in Morgantown, West Virginia: we're getting a visit from the GOAT! Ricky Carmichael was on his way to New York City on business and decided to stop by to talk about next year's Ricky Carmichael Daytona Amateur Supercross, RCU, and more. We are hoping to do a Monday Conversation with RC about his future plans, which include his new partnership with Carey Hart; his continued work with Monster Energy, Fox Racing, Suzuki, Oakley, and more; his beloved Seminoles and our defenseless Mountaineers; and what his little kids plan on dressing up as on Halloween.
I was not at the Monster Energy Cup, so I have little of the scoop from the big night in Vegas, though I will say it was a good race to watch on TV in between college football and our endless presidential election. I was stoked for Justin Barcia and Eli Tomac, I thought RV looked very fast and fit for a guy who hasn't raced since April, and Ryan Dungey once again proved that he's got big heart and sheer determination. I also liked all of the razzle-dazzle of the MEC, the format changes and oddities of the race (well, I was lukewarm on the split start), and seeing top youth and amateur riders get on SPEED TV as part of the live coverage. It made me wish I was in Las Vegas, and I won't miss it next year! Matthes will break it all down further below.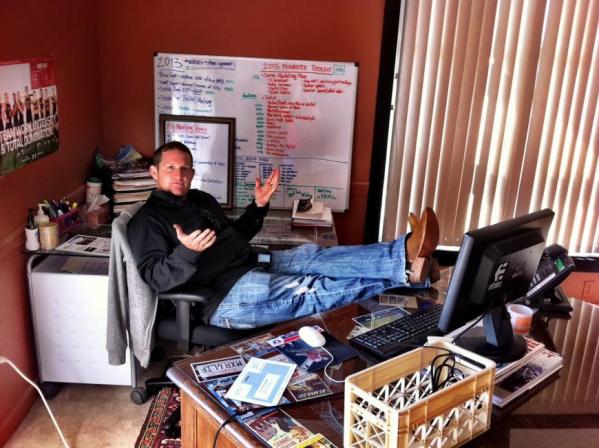 RC stopped by the Racer X offices this morning to talk RCU and more.
DC photo
For the first time in history, coverage from this year's Loretta Lynn's National will be broadcast three separate times in the month of November. The first show will appear on NBC Saturday, November 10 at 2:30 PM as part of the Red Bull Signature Series. The next two shows will be broadcast on NBC Sports Network, airing Sunday, November 11 and the following Sunday, November 18 both at 4 PM.
REMINDER: If you plan on competing in the 2012 GoPro/Racer X Amateur Film Festival entries are due on November 9. For more information on the 2012 GoPro/Racer X Amateur Film Festival please visit filmfestival.racerxonline.com.
With Halloween less than a week away, we are calling all moto fans to send us their best moto related Halloween costumes. The FIVE best costumes will receive a copy of Black Friday—Metal Mulisha's Freestyle film directed by Jay Schweitzer. To enter, please send photos with the title "Halloween Contest" to contests@racerxonline.com.

I'm not much of a NASCAR fan, but I usually pull for former minicycle racers Clint Bowyer and Jimmie Johnson. But this weekend, when the cars race around Martinsville, Virginia, I will also be keeping an eye out for Dale Earnhardt Jr. and hoping he does well. He's the man who voluntarily took himself out of the Race for the Chase after a concussion at Talladega left him with severe headaches and balance problems. Earnhardt said he wanted to give his brain time to heal and allowed the team to use a different driver for a couple of races. After consulting his doctors and brain trauma specialists and driving in a 123-lap practice race at a track in Georgia, Dale Jr. will race again this weekend.... Hopefully it will work out well and serve as a lesson for the pros and amateurs in all sports.
Here's Steve Matthes:
Well that's it, the 2012 Monster Energy Cup has come and gone and besides another epic Dirt Shark video, the race was a success all around. I loved it. I thought that basically everything Feld Motor Sports tried worked (aside from the opening main-event gate drop, but even that negative can be turned into a positive as I must've watched the replay on TV 633 times; seriously, it was like my TV was frozen) and I hope there is some real serious thought into implementing some of the MEC things into supercross.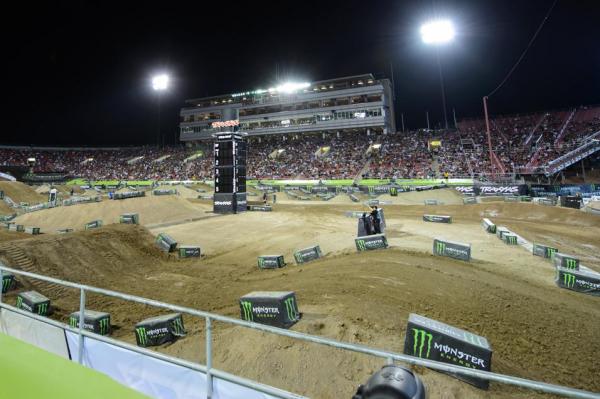 The second-annual Monster Energy Cup was considered a huge success.
Simon Cudby photo
What if we had five races a year where there were three ten-lap main events, Down Under-style? We'd be able to see who the sprint specialists were, who excelled at those races, and who didn't. It would add a lot of intrigue to the series.
What about a Joker Lane? I understand the dirt (and room on the floor) would be an issue, but even just a lane right beside the main one with a switchback in it would be easy to do. In speaking to Dave Prater on Monday's PulpMX Show, he seemed more than thrilled with all the changes and also seems to have an open mind for the future. I'm all for it—let's switch things up a bit and see what we come up with. If something doesn't work, we can always go back to, you know, what we've been doing for the past three or four decades.
As I said, congrats to the Feld guys and Monster Energy as well, because I know that Bruce Stjernstrom over there at the green claw was also involved in a lot of the setup.
Having the race in Las Vegas is weird because, well, I live here. When I didn't live here it was always an exciting and lost weekend. But since moving here seven years ago, it's usually not such a debacle after the race and I hold it together. This weekend, though, myself, Weege, Ben, and Johnny O' from JGR and some others were out wayyyy too late (early) at the circle bar at Hard Rock. At the end of the night, I was up $132 but down on my dignity.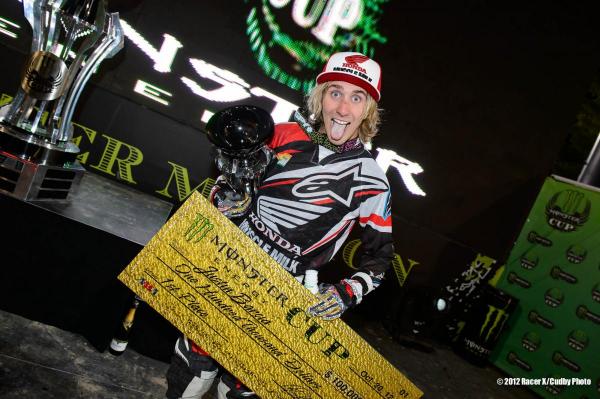 Justin Barcia was the big winner at the MEC in his debut with Muscle Milk Honda.
Simon Cudby photo
And what about this Bam-Bam kid? Justin Barcia came out and looked to be fully adapted to the new CRF450R as he took the win and appears set up to be, as Chad Reed told me after the main, a "real pain in the ass" next year to the big guys.
Just as Justin wins the MEC, his main rival over the years, Dean Wilson, is out in California just getting going with the JWR team. He's been a little forgotten because of the injury that knocked him out of the outdoors, but if Barcia is that fast that quickly, why wouldn't Dean be?
We had JWR owner Jeff Ward on the PulpMX show on Monday, and as always, Wardy was a good interview as he explained the relationship they have with Dean and how excited they are to get going. The team's going to probably have a second rider as well, and I think that it will probably be Kyle Chisholm, last year's rider.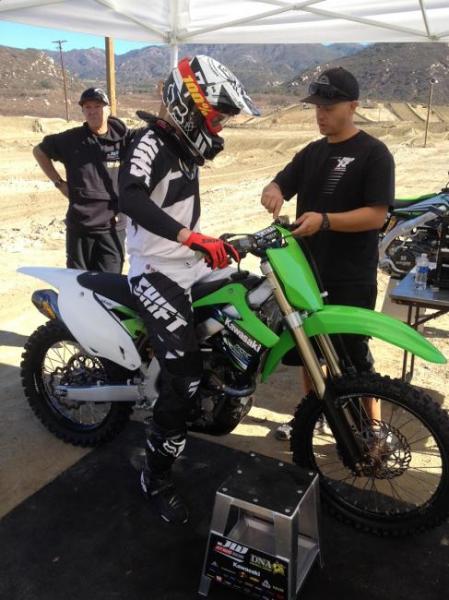 Dean Wilson is back on the bike with his new team, JWR Kawasaki.
Ludovic Boinnard photo
Looks like my prediction of Wilson wearing Answer was off the mark as he tweeted a shot of him in Shift gear and 100% goggles. I'm not sure what was up with that, but now Jake Weimer will be in Answer and also with 100% goggles for 2013.
Chiz was also in the running with the RCH team alongside Broc Tickle, and the team set up a shootout of sorts between Chisholm and last year's rider, Josh Hill. The guys rode late last week and then again this week and the team chose Hill for the second SX-only spot. Hill's basically been out racing the last two years while Chisholm has been a top-ten guy in that time. The team obviously feels that Hill's potential is greater than Chisholm's, and it should be interesting for the bench racers to see if Ricky Carmichael and the guys made the right choice. If Hill can get back to his old level, that would be a hell of a story.
What if you're WMG agent Jimmy Button and you represent both Chisholm and Hill? Tough spot to be in, as one client was happy and one was not, and as an agent, you have to talk to both guys afterward.
In a way, Chisholm going to RCH wasn't, in my mind, the best thing for him. He'd be on an SX-only deal, and he's a great outdoor rider—plus he'd be getting used to his third bike in three years. I think that if he stays at JWR, he'll be better in 2013.
I'm hearing that with Darryn Durham out and now Blake Baggett's injury over on the Monster Energy/Pro Circuit Kawasaki team, Tyla Rattray has a solid chance to stay over there and ride the 250 indoors and possibly the 450 outdoors. Rattray is about the fastest rider left on the market right now, and this should be interesting if it does happen.
Always an interesting interview, check out the Larry Brooks podcast I did yesterday. Brooks goes on at length about the team and his rider Andrew Short's issues this year. The Chaparral Honda team had the best of the times (winning the Seattle SX) and the worst of times (title sponsor dropping out) all rolled up in one season. Near the end we start bench racing and I get his opinion on a lot of different subjects.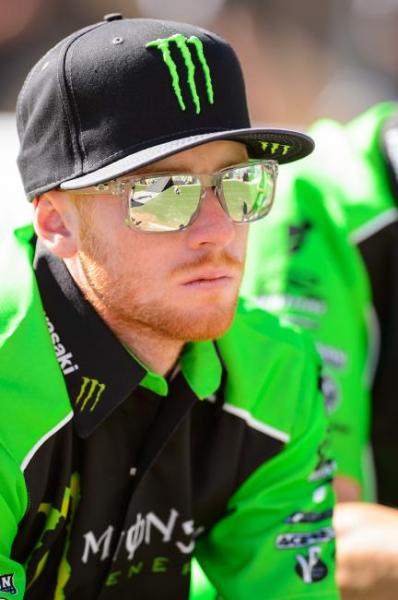 Ryan Villopoto was back in action at the MEC for the first time since ACL surgery and won the first main before a crash in the second main ended his night early.
Simon Cudby photo
Tune in to the PulpMX Show on Monday nights. We had Justin Barcia, Dave Prater, Jeff Ward, Jason Thomas, and Nick Wey all on this past Monday and you just never know who will show up. 6PM PST. Be there, bro.
We had journalist Jani Hovi in-studio last week to do a feature story on the show for a magazine in Finland. So yeah, we've reached the big time in Helsinki! When it comes out, we're going to need a Finnish-to-English translator to make sure he doesn't talk crap on us.
Over to Ping:
I was technically at the MEC last weekend, but I didn't get to see a lot of it. I was there helping Adam Cianciarulo at his first big-bike race, so I missed a lot of the 450 racing. What I did get to see was a few of the future stars of the sport, and there is some talent coming through. Cianciarulo steals much of the spotlight, not just because he has more minibike titles than anyone else and talent coming out his tailpipe, but because of his media savviness. When you can sit at a press conference next to Reed, RV, Dungey, and Brayton at 16 years of age—actually, he was 15 years, 364 days old at the presser, as his 16th birthday was literally the day of the race—and steal the show, well, you've been watching a lot of Travis Pastrana videos.
Adam was impressive in his debut, by all accounts, but equally notable were Loretta Lynn's standouts Cooper Webb and Shane McElrath. Both riders will make their pro debuts at the motocross season opener at the Hangtown Classic next summer for Star Racing and TLD/Lucas Oil Honda, respectively. So right as 250 heavy hitters like Justin Barcia, Eli Tomac, and Cole Seely bump up to the 450 Class, their positions on the gate are going to be filled with rookies full of talent and devoid of fear. It will be fun to watch.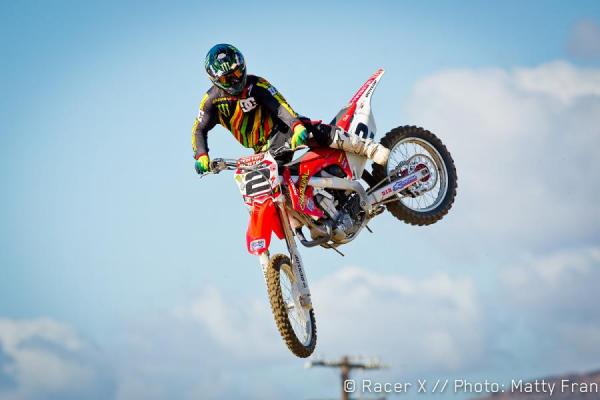 McGrath showing off the new Troy Lee Designs/DC gear collaborative.
Matt Fran photo
Troy Lee Designs and DC Shoes announced a collaborative effort this week with some athlete-inspired gear. Jeremy McGrath and Robbie Maddison, both longtime DC athletes, were on hand to model and promote the gear that bears their names. According to Troy Lee and Nate Hawley at DC, different things inspired the designs. For Jeremy's gear, his TLD/Monster helmet was the starting point for the color scheme and design. For Maddo's stuff it was a pair of popular board shorts that were already in the DC lineup that they moved over to motocross gear.
These collaborations sometimes seem a little weird to me, especially since TLD is aligned with Adidas. But Troy loves working with his friends, and his attitude is a little more laid-back about all of it. I think he'd rather just have a vodka tonic with everyone and enjoy the party. And with Troy around there is always a party.
Speaking of parties, the 15th Annual Day in the Dirt Grand Prix is coming up at Glen Helen Raceway. This year's course is going to feature a couple of asphalt sections, lots of hills, and the typical fun layout that DITD is known for. There is a new separate race for kids, a new two-stroke class, a fire and police class, and of course the popular Moto-A-Go-Go GP and the Coup De Grace at the end of the weekend. Honda is going to have a learn-to-ride setup for kids and Red Bull is providing entertainment for the event, so each night will be fun. Get your entries in quickly before it fills up at www.adayinthedirt.com.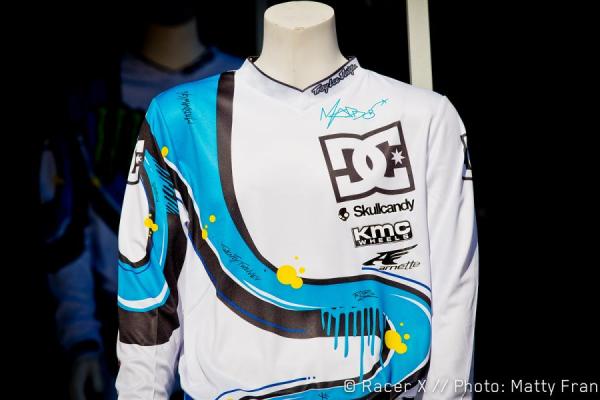 The TLD/DC Robbie Maddison collection.
Matty Fran photo
Let's hand it over to Aaron Hansel:
By now you're probably aware that the merger between Star Racing and Valli Motorsports has ended. Star Racing will continue racing next year with Kyle Cunningham and rookies Jeremy Martin and Cooper Webb (Webb outdoors only), but what about Valli? Until recently, nobody was quite sure would happen to Valli Motorsports, but it was announced earlier this week that the team will indeed go on in 2013 with Travis Baker (signed) and Brett Metcalfe (no official announcement yet) on Yamahas.
Travis Baker, who rode Yamahas in his rookie year with MotoConcepts, will contest the Western Regional Supercross Lites series as well as the Lucas Oil Pro Motocross Championship, while Brett Metcalfe will jump back into racing at Hangtown. Metcalfe's involvement with the team will begin before that though, as he'll be helping Baker with advice and by serving as an extra set of eyes for him at the test track.
Team owner Chad Lanza says he's excited about the prospect of having a small team: "We're going to have a good package. With only having one rider on the West Coast, we can spend a lot of time with him." No matter what happens, it's good to see teams sticking around these days.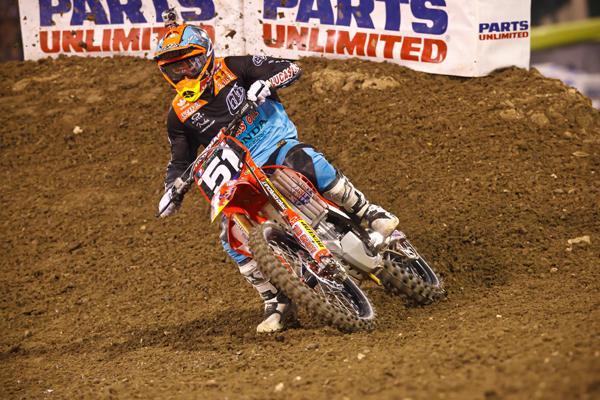 It was announced earlier this week that Travis Baker would be joining Valli Yamaha for the 2013 season.
Simon Cudby photo
In other news, I had the opportunity to speak with Shane McElrath, who dominated one of two mains in the first Amateur All-Stars race at the MEC, and he seems like a genuinely nice guy. I'd heard a lot about him after he came out of nowhere (and North Carolina) to win a couple of motos at Loretta's this year, but I hadn't had a chance to see him ride until the MEC. I was very impressed with how well he rode in the first moto, especially considering he'd only had six days of riding supercross on the TLD Lucas Oil Honda. He mentioned that he's planning turning pro this year for the Nationals, so it should be fun to see how he stacks up against the rest of the youngsters next year.
We will close out with some random notes:
Congratulations to a couple of industry friends who tied the knot that weekend: AMA race official Craig "Transponder" Andredas married long time girlfriend and recent fiance' Amanda Conroy of the Asterisk Mobile Medics team. Here's wishing the best to the newlyweds!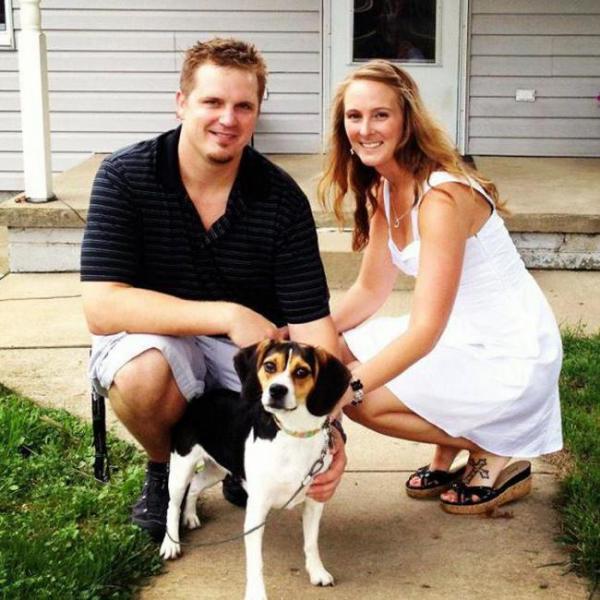 After a tough opening round to the Australian Supercross series, Ben Townley was back in action last weekend in his home country of New Zealand for the Labour Weekend Motocross Extravaganza in Taupo. Meanwhile, his Carlton Dry Honda teammate Ford Dale was in Japan to compete in the final round of the MFJ Japanese Motocross Championship. Dale won both MX2 races in Japan, while Townley reigned supreme in New Zealand. Check out the full report here.
The first round of the European Supercross Championships kicked off in Marseille, France last weekend with the young French prodigy Valentin Teillet taking the win both nights in the SX2 class and Cedric Soubeyras winning both motos on day 1 and the first moto on day 2. Christophe Martin would win the second SX1 race on day 2. Check out some of the highlights here: SX1, SX2.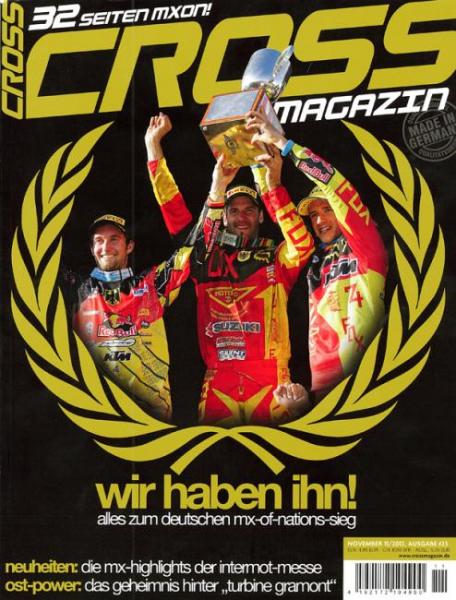 The German magazine, Cross, has waited 66 years for this cover.
Check out Marty Tripes' new Facebook page for the 2013/CMC Marty Tripes Motocross Series.
And make sure you spend a couple of quality minutes watching the latest episode of "SX Ed" starring Miss Supercross herself, Dianna Dahlgren.
Last weekend at the Monster Energy Cup, Ricky Carmichael and Carey Hart unveiled their new Suzuki-backed RCH team, which includes new recruit Broc Tickle. Check out this piece BJ Smith of ESPN.com penned about the announcement.
Hey, Idaho racing fans: here's a cool idea that Boise area Husky dealer Moto Tech is offering for this Saturday's National Endurocross round. A special Endurocross party package offer. Buy a ticket from them and you get a special T-shirt, a private track walk and a special concert from Idaho's Blues Addicts band before the doors open to the public. For more information click here.
Remember those amazing body-painting photos of Erin Bates? Here's another shot, though without Erin, of Emma Hack's work.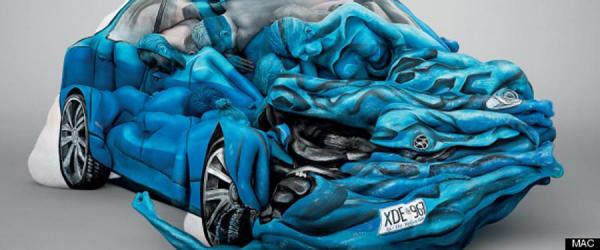 Hey, single ladies, interested in becoming the wife of freestyle motocrosser Mike Mason? Head on over to his fan site and click on the link to download his wife search application.
Halloween time! Check out this unique pumpkin carving.
Check out the lineup for this year's Maryland Terrapins Field Hockey team. What does that have to do with motocross, you ask? The #22 player (third from left) is Tara Zollinger, little sis of MX Sports Pro Racing's Courtney Zollinger, the marketing boss for Lucas Oil Pro Motocross. Tara is now graduating from Maryland as a member of two NCAA National Championship-winning teams.

From reader Shan DiGennaro:
"I have dedicated a limb to each of my children & their racing accomplishment's..Proud to say this year's GNCC at Unadilla was my 10-year-old's first ever race! I will wear it proud for the rest of my life!"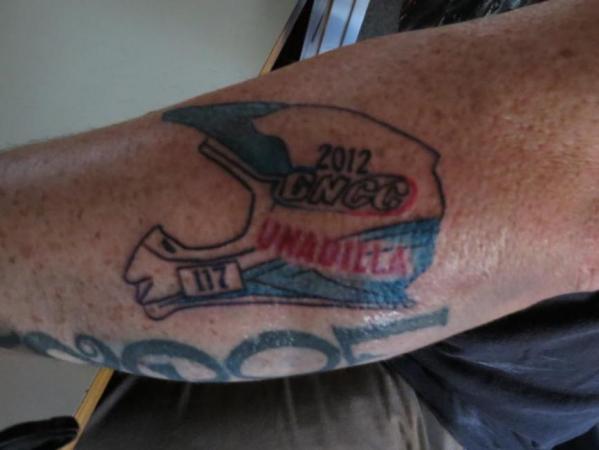 Greg Robinson of Unadilla posted this photo on his Facebook page: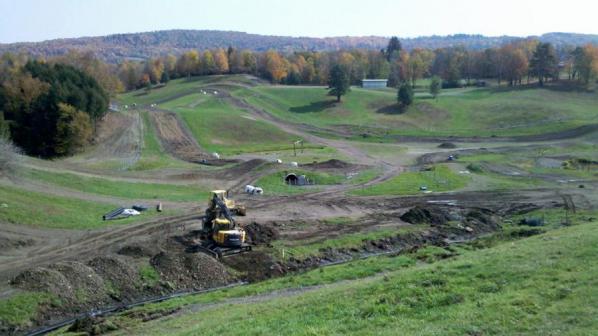 Nothing like the fall to get projects underway for next year....
Here's some old-school for you: The 1975 Polka Dots MC 125cc National at Midland, Michigan. If you look close enough you will catch some glimpses of the early factory Hondas, Yamaha factory pilot Tim Hart (10), Mickey Kessler (65 on a Husky) and even our own Scott Wallenberg!
Thank you for reading Racerhead, see you at the races!