Hailing from just outside Baltimore, Maryland, Nick Evennou grew up racing in the shadow of Travis Pastrana. Like Pastrana, Evennou's racing career showed promise at a very early age, and by the age of 11, he had a Team Green support ride and several amateur championships on his resume. He was fast, and well on the road to becoming a professional racer.
Evennou turned pro in 2004 and landed a rookie ride with the Yamaha of Troy team. He had speed and promise, but mixed results and a string of injuries. After five years of racing professional, Nick eventually called it quits in 2009. He quickly landed a job working in the motorcycle business and hasn't looked back. We ran into Nick at the Racer X  250/450 shootout at the Chaney Ranch, where he was riding as an invited guest of Racer X.
Racer X: Nick, what's going on? You are still flat out hauling out there!
Nick Evennou: Thanks! It's cool to be here, this track is awesome. I am out here in California with my wife just visiting some old friends and hanging out for a little vacation before heading back to Maryland.
So no plans for a comeback then?
No, nothing serious. I am still riding quite a bit and really enjoying it, but racing for a living is not in the cards for me anymore.
So what are you up to now?
Well, my last season racing was 2009. I wanted to stay around bikes, and pretty much started working in the motorcycle business right away. After I made the decision to stop racing, I came home to Maryland with my wife Lacy, and we really thought hard about it. I had a lot of friendships in racing, and I made a few phone calls to see if I could get a job in the industry. That was helpful. I called Malcolm McCassy, and he helped me out a lot with the underwear company he was working for, Ethika. I moved back out to Southern California and went at it. I then moved over to FMF Racing and went to work with Donnie Emler. They hired me to work in the in-house sales department. After doing that for a while, FMF moved me over to more of a customer service and sales role. Working for FMF allowed me start living a much more stable life.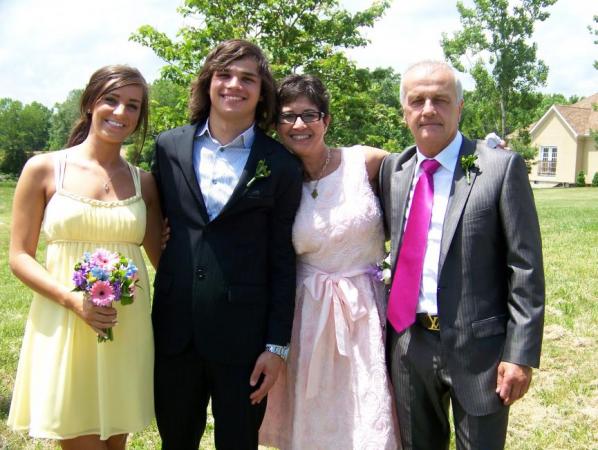 Nick (second from left) and his wife Lacey (far left), joined by Nick's mother and father, at his sisters wedding in 2010.
Photo provided by Nick Evennau
But you are now living back home in Maryland, right?
Yes, for now. I ended up moving back to Maryland due to some family issues. I wanted to be closer to home for some things that were going on. My grandmother was really sick, and in fact she just recently passed away. Also, my sister was about to have a baby. So, for those reasons, I came home. All the guys at FMF were super cool and put me in charge of the website and social media, as well as handling a lot of the online image with some of their bigger retailers, so that's what I am doing now, as well as helping out a local dealership here in Maryland with their social media.
Let's talk about your racing career. You were pretty much the next kid coming up from the Mid Atlantic area after Travis Pastrana. You had a strong amateur career, but then struggled to earn those same results as a pro. Looking back on your racing days, what sticks out as both the good and the bad?
Man, so much! I got my first ride when I was on a 60, and in 1999. I had a Team Green deal that was for two years. I went and rode at the U.S. Open as well, which was real cool because that was my first race in front of a big crowd. Then I moved over to Yamaha, and pretty much stayed with them for the amateur stuff. Mike Guerra picked me up while Kawi was having budget cuts. I have one Loretta's title, which came in the 2003 in the 125 B Class. But overall, I have about six or seven other amateur championships, all of which mean a lot to me.
So you got your first ride when you were 11-years-old, and were well down the road to becoming a top racer. Did you make the decision to be home schooled?
Yes. We chose to do the home school thing since I was 9-years-old, and in the 4th grade. We were just doing way too much traveling and there was no way I was able to keep up with the schoolwork without making a change. But I did fully graduate from high school, as my mother made me finish it. Motocross played a factor in my thinking for sure. I am glad I listened to her though!
When did you turn pro?
In 2004, after Loretta's, I signed a support deal with Yamaha of Troy, and for the last three races, which were Broome Tioga, Steel City and Glen Helen. Ryan Clark and his Team Solitaire had approached us before YOT, but my motor guy Frenchy [who now owns C4 Racing] was building my bikes and they were really good. We just thought it would be better to go with YOT. We spoke to them for a while. They told us that if we were to willing drive to Michigan to pickup one of Nick Adam's race bikes, I had a ride. So my dad and I made the drive and I had a ride for those last three races.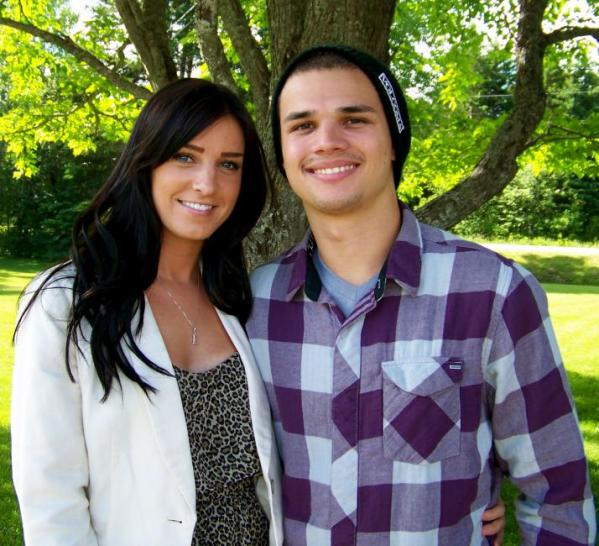 Nick and his wife Lacey in Canada in 2009.
Photo provided by Nick Evennau
How did that first national go?
It was a little rocky! I was a little injured coming off Loretta's. I ended up going DNF- 21. The DNF was from tangling with Brett Metcalfe, and I broke some spokes and couldn't finish. But I had a performance based ride; there was very little paperwork involved. The YOT guys were like, "Let's just see how you can do and go from there, and once Glen Helen is over, we can talk some more."  Steel City was a similar deal. I had some speed but the final results didn't come. I came into Glen Helen ready and motivated to score some points, and something clicked. I got some good starts, and scored my first national points. I was running well inside the top ten both motos, but went 15-12 on the day. It was a good place to finish the year.
So then what happened?
Well, then YOT was just starting to going through some management issues, and we didn't know what was going on with them. So for 2005, I had the option to ride amateur stuff again, but I wanted to make the jump up to the pro ranks full time. But I was pretty small guy, height wise, and I was late getting off the smaller bikes, so I was hungry to move up. I was a late bloomer for sure. So I took a ride with the Moto XXX team. They had some Honda support and seemed to have good program. It was for the East Coast supercross series.
How did it go?
I didn't do well. The ride for was for half the season, and it was injuries, one after another. I broke my wrist, which ended up being a compound fracture, which was gnarly. I had to regroup, and moved back to Maryland for rehab and surgery. That was a big blow. I came back for Hangtown, but wasn't 100 percent ready to race, I didn't do too well at that first race, and then I broke my foot at Southwick. It was just a lot of little crashes. 2005 was a depressing year with a lot of problems and injuries. The foot injury ended up having a ton of issues, and lasted some 16-18 months in total, and well into 2006. They had to re-break it [the foot] in order to allow it to heal up, and it just sucked.
Wow. That's tough, and it was your first full rookie year?
Yeah, it was the toughest part of my life, so far! It was rough, you know, I worked 15 years of my life to make it to that level, and then it just fell apart, all around me. I was ready to hang it up and move on, but my father pushed me to regroup.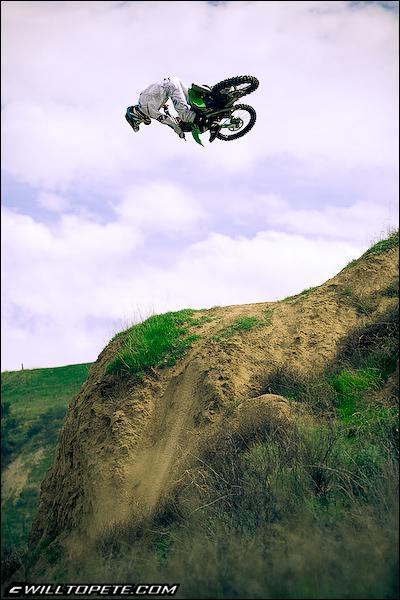 Nick throwing it down at Beaumont in 2009.
Will Topete photo
So what got you going again?
Well, late in 2006, I got a call to race Yamaha's in Canada. I thought it was good chance to go up and get my confidence back. It was a good ride for the time, and a good experience. That led me into another Canadian ride the following season with Blackfoot, and I went up there [to Canada] thinking I was going to smoke 'em. But that was not the case. I did well, and was top four in the East Coast Canadian races, but I didn't walk away like I thought I would.
And how did that go?
It didn't go well. The team was awesome—but I wasn't. My head wasn't there. The bikes were great, the team was great, but I wasn't. It was only four race series, so I had some issues and didn't do as well as I should have. But I did get an overall win, which was cool. I was fast, but not consistent enough to get the championship. Then in 2008 I came back up to Canada for Factory Monster Kawasaki. It went well, and in the first race I went 2-2 for second overall, which was cool. I felt really good, and I knew it was a make or break year for me. But then I ended up going down real hard, and in doing so I broke my nose and eye socket. I just couldn't get the wheels going again though.
What made you decide to call it quits?
Well, that wasn't it. I then moved in with and lived with Ryan Hughes for six months after healing up. We were just getting ready for 2009, and I felt awesome. I got a handful of podiums and a handful of DNF's, but no championship. And that was it, after that, I just decided to call it quits. I wasn't having fun. It was too tough, too much stress and racing wasn't paying the bills. But it ended on a good note. I decided to do the Montreal Supercross on my own. I went up there, and just went and had fun. I ended up making the main event, and riding well, but I broke my rear wheel. That was my last pro race.
So, for a guy who was home schooled, how did you land a gig doing websites and social media? That's pretty cool!
Well, I really owe it do Don and Donnie at FMF for letting me run with this. Those guys, and the whole brand at FMF are just awesome. That includes Doug, George, Jeff, and all those guys. But I have always been a good communicator, and I picked up the technical side of the computer stuff pretty quick. And it is worth noting that the operation that Don [Emler] has built over at FMF is amazing. They do all their production and manufacturing onsite and have over probably over 100 employees at a given time. It's crazy, and very cool. You know, you hear about the decline of American manufacturing, but I can tell you that it is alive and well at FMF. Pretty much everything is done in house, and I am really proud to be part of the team. That place really is a speed factory!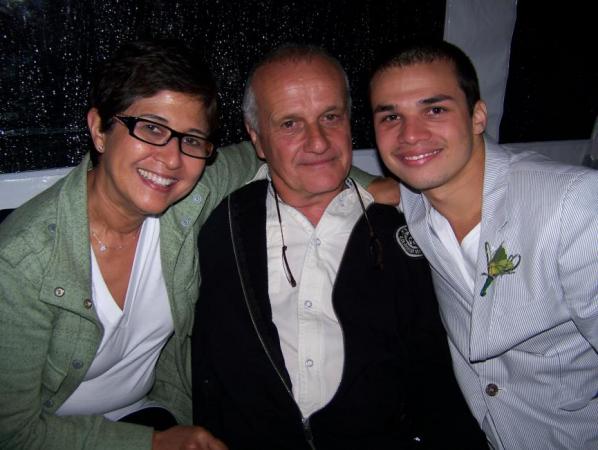 Nick with this mother and father in Canada.
Photo provided by Nick Evennau
So, a lot guys that are in your shoes, or have been in your shoes don't always have happy endings once they stop racing. In fact, there are some racers from your era that are probably going through tough times right now as they come to terms that racing is over, and facing the transition into another stage of life. Any words of advice?
I have to give a ton of credit to the family. My mom, dad, sister and my wife, Lacey. They really helped with the dark days. But a lot of people have a misconception about former racers that we are wastes. Not me. I always had good grades, and finished my home school program with a 3.8 GPA. My personal strengths have helped me. I have always had really good communication and interpersonal skills. Being outgoing and hard working, was really helpful as well. But that's my personality. I was able to build some friendships and relationships that paid off once the racing stopped. But you know, every person is different, and every guy is wired differently, so it's hard to say. But in my shoes, I think it mostly has to do with people whom your surrounding yourself with. I feel that I took the best path I could on my own.
Lastly, you are an east coast guy. Any good JLaw stories from back in the day?
Ha! I don't even know where to go with that one. But here is one that I laugh about all the time. One day, I was racing 50s with him at a track called Pagoda. It was in Pennsylvania, and we were both around seven years old. There was a finish line jump at the place that we were hitting, and we were duking it out, side by side, lap after lap. And then every freakin' lap, JLaw would take a little ninja kick at me, and right on that finish line jump. Literally every lap in that same spot, he would throw a kick at me when we were in the air. I had no idea what he was doing, but I knew I didn't like it, and I still remember it. I didn't even think like that at the time!
That's classic! Well, thanks for your time, and good luck!
Thanks for doing this, and maybe after this family stuff gets sorted, I will be moving back to the West Coast!