Sam Boyd Stadium
Las Vegas

,

NV
Monster Energy Cup
Monster Energy Cup
Welcome to Racerhead. I am very sorry we are late today, but with races in Las Vegas (Monster Energy Cup), Tennessee (Suzuki Top Gun Showdown) and Indiana (GNCC) and, most important of all, a five-year-olds Alice-in-Wonderland Birthday Party in my backyard, everyone got stretched out too far today to get this thing in on time. My apologies (but Sloane had a blast).
It's a busy week in the American motocross industry because the Monster Energy Cup goes off tomorrow night in Las Vegas, with $1,000,000.00 on the line. The race marks the long-awaited returns of reigning champion Ryan Villopoto (out since April) and former champion Chad Reed (February). There's also Red Bull KTM's Ryan Dungey, who won the main event the last time everyone gathered in Vegas back in May, as well as the new-team debuts of Justin Barcia (Muscle Milk Honda) and Josh Grant and Justin Brayton (both back on Joe Gibbs Racing Yamaha). Add in MotoConcepts' Mike Alessi, Monster Energy Kawasaki's Jake Weimer, GEICO Honda's Eli Tomac on a 450 and some more fast guys and you should see quite a good night of racing!
And what happens in Vegas will not be staying in Vegas—it's being broadcast live on SPEED, beginning at 10 p.m. in the East and 7 p.m. out West. There will also be live streaming of practice and some of the qualifying racing on www.supercrossonline.com. And always check out Racer X Online, our Twitter and Instagram for all of the breaking news and action.
On a recent trip to shoot Ryan Villopoto for our current cover, Simon Cudby made this video of RV riding at his home track. Simon told us that it was a wet day, the track was pretty slick in some parts and mushy in others, but RV looked very smooth and confident. That means you can expect him to be in the mix even though he's been off for some time.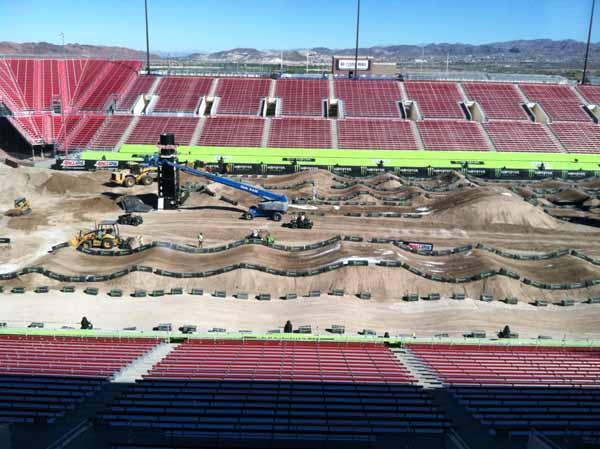 The Monster Energy Cup is LIVE on SPEED tomorrow starting at 10 p.m. EST.
Matty Fran photo
"Went the distance last night, early AM to dark!" Sounds like RV is going to be ready, according to a Facebook post earlier this week.
Another interesting aspect to the MEC will be watching Adam Cianciarulo in the Amateur All-Star race on a Monster Energy/Pro Circuit Kawasaki KX250F. AC92 was the brightest star at Loretta Lynn's this past summer in the Super Mini classes, leading every inch of the way in all six of his motos. He's already signed a long-term development deal with Mitch Payton's team. He's also had access to Kawasaki's supercross track below Corona, as well as friends like Ryan Villopoto's place in Florida. I bring all of this up because I still believe there's a possibility that this kid will end up racing professionally earlier than expected. And tomorrow, October 20, marks his 16th birthday. If he's as good on a big bike as he was on minis, there's a good chance he will be lining up on a pro starting gate in the early month of 2013.
Good news/Bad news for Blake Baggett. He got the cover of the new British MOTO Magazine, but it comes with the dubious headline "Yanks Spanked!" Hey, they gotta say something catchy -- they only get to write stuff like that every seven years or so! Just kidding, the MOTO guys treat our boys very well...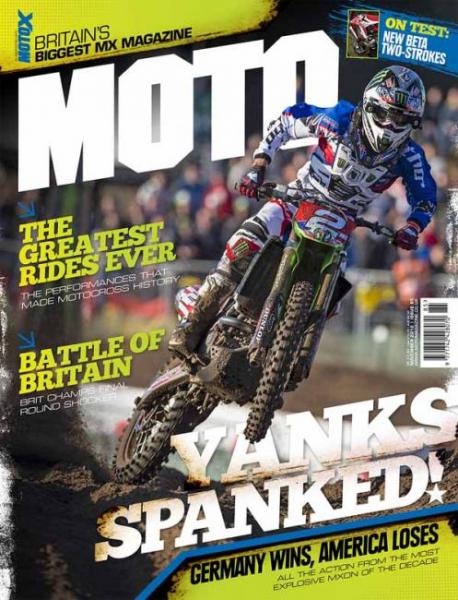 Trey Canard is finally back to racing, and he decided to start back up with a surprise visit last weekend at Swan MX in Texas for the 21st Annuual Texas Pro Challenge. Our friend Shand Garcia was there and posted this report on TXMotocross.
Troy Lee Designs/Lucas Oil Honda is definitely ramping up for the future. The Corona, California-based team hired two of the brightest young stars from Loretta Lynn's Ranch this summer in Shane McElrath of North Carolina, as well as double-class 85cc champion Justin Hoeft of California. They join
Cole Seely
,
Christian Craig
and Jessy Nelson, plus WMX contender
Tarah Gieger
. McElrath will turn pro for the start of the Lucas Oil AMA Pro Motocross Championships next May while Hoeft has at least another year in the amateur ranks.
Here's a couple of videos of each rider talking about their near-future plans... (Part I, Part II)
And if you get some time this weekend before the Monster Cup, check out
Kids of the Dezert
, a movie short produced by Bermcannon Media. The film features High Desert riders
Mike Alessi
, Ryan Abbatoye, and Justin Seeds. The opening shot of the painted rocks is very cool....
Okay, let me turn this over to the rest of the guys, starting with Matthes, who wants to invite everyone over to his house tomorrow night as soon as the checkered flag falls on the Monster Energy Cup in Vegas—Bring Your Own Fireworks, please.
Well, we're here, we've done it—we've reached the hundredth meridian, where the great plains begin.  Forgive my Tragically Hip lyrics; I'm just excited for the weekend right here in my hometown. The Monster Energy Cup is tomorrow night live on SPEED TV and it's promising to be a good time. Can Monster Energy Kawasaki's Ryan Villopoto win another one million dollars by sweeping all three main events again? Can Ryan Dungey, with the benefit of not stopping his prep due to the MXoN, win the whole thing for the Orange Brigade? What about Chad Reed showing up and getting back to the winning form he had at the start of SX '12? The Two-Two is always capable of making the magic happen. And exactly how many of the "big guys" is Justin Barcia going to show up on his first night for the new team? Justin Brayton and Josh Grant make their (re) debuts for JGR Yamaha and Jake Weimer, he's in the house also. And your defending 250 MX champion Blake Baggett is there and ready to wring his 250F out against the 450s....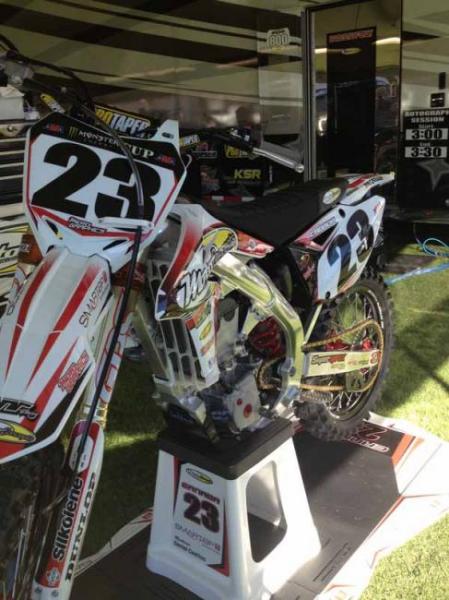 MotoConcepts is sporting a new look for the Monster Energy Cup.
Steve Matthes photo
All in all, this year's edition of the MEC should be better than last year just because of the rider entry list as well as the track changes (with the help of Ricky Carmichael himself) and format changes that Feld Motorsports has made. They've learned what works and what doesn't going off last year's event and in speaking to the guys at Monster, they're emphatic that they don't want this race to be the 18th round of the supercross series—they want something unique and different and they'll get that methinks.
Our own David Pingree has been helping out amateur wunderkind Adam Cianciarulo as he makes his 250F debut this weekend in the amateur all-star race but unfortunately for AC (and for Ping who I imagine has bonded with AC due to their height similarities) he had broken the tip of one of his fingers (he posted the x-ray on Twitter yesterday) and looks to be affected by that. I'm not sure how much it will affect AC but it's got to be somewhat of an issue.
The H&H team is going to have a sort of official press conference on Saturday by their truck announcing their move to Suzuki's, Ricky Carmichael coming on-board as co-team manager (along with Kenny Watson) and the announcement of Broc Tickle to the team. The team is also going to have a second rider, (SX-only while Tickle is SX and MX), and were hoping to announce it this weekend but they're still in the process of narrowing it down. I got to think that Kyle Chisholm (who's still in the running to go back to Jeff Ward Racing as Dean Wilson's teammate) is one of the guys and maybe Josh Hill or Ivan Tedesco as well.
Speaking of Tedesco, he and others like Tommy Hahn and Brett Metcalfe are some high-profile veterans who still don't have rides lined up for 2013. Weird. From what I hear, the Motoconcepts team is looking around for a teammate for Mike Alessi for next year but at their price. They're not looking to pay a lot for the second guy and it's a matter of waiting it out and having the riders lower their demands a bit.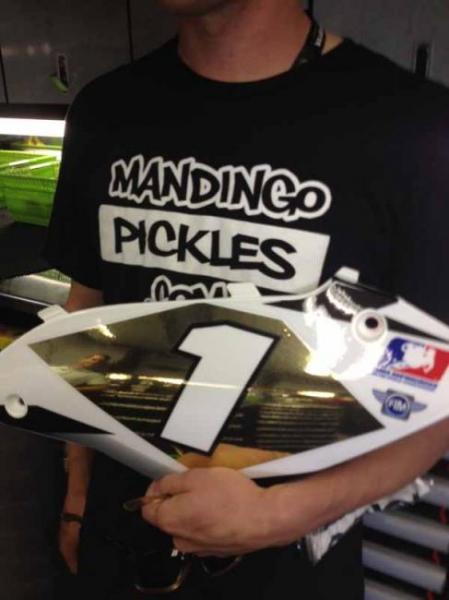 RV is going gold for tomorrow.
Steve Matthes photo
Once the race is over stay tuned here for all the post-race interviews, recaps and podcasts and as well, over on Pulpmx.com, we'll have a show on Monday with some guests talking about the MEC and all that went down.
Here's Ping:
It's been a crazy couple of weeks for me. Our annual Racer X Tested Shootouts took place last week at the exclusive Chaney Ranch here in southern California. The private facility is hands-down the coolest track around here. We assembled another elite test panel to help me out including former world and national champion Greg Albertyn, Chris Blose, Austin Howell, Cody Young and Phil Lawrence. Some of the Racer X staff also got involved to give their perspective. Simon Cudby was working his magic with the camera and Matt Francis was there shooting video. If you missed the entire 250F shootout click HERE to read it. You will also see four separate videos from the 450 shootout as each rider gives you his feedback personally. Keep an eye out for a follow-up video from all the manufacturers giving you setup suggestions for all of the new motocross models as well.
On top of all that I've been out working with Adam Cianciarulo, like Matthes said, as gets ready to make his big bike debut this weekend at the Monster Energy Cup. He has a couple local races under his belt but this will really be the first time he lines up against some of his old rivals in a long, long time. For instance, Star Racing's Cooper Webb was riding a CRF150 against Adam on his Super Mini so the last time they went head-to-head on even equipment was years ago on 85's. Add to that mix some of the current "A" and "B" class stars such as Jordan Smith, Chris Aldridge and Shane McElrath and you have an awesome amateur class at this race. And speaking of McElrath, he'll be debuting his brand new Troy Lee Designs/Lucas Oil/ Honda ride in Vegas. There is a cool story coming together there too. Apparently the first time Shane ever flew on an airplane was when TLD flew him out to test their bikes. How do you not cheer for a guy like that?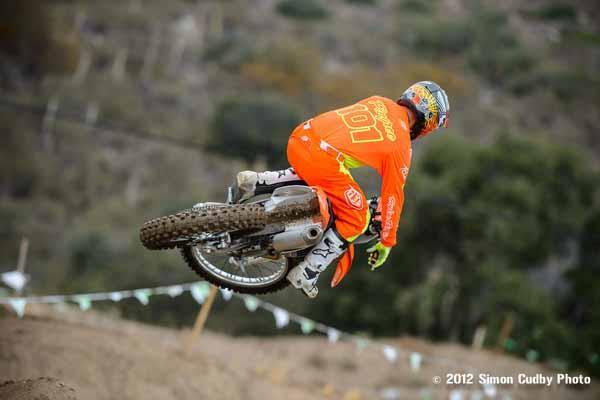 Ping throwing it down at the Racer X Shootout.
Simon Cudby photo
Anyway, it's been amazing working with Cianciarulo and for those who don't think he deserves all the press that he gets, well, I guess you'll get it when you see him ride this Saturday. Adam is as driven as any other rider I've ever seen and the media-savvy of Jeremy McGrath all at the young age of fifteen. Well, make that sixteen, actually. This weekend is Adam's birthday and I know he'd love to start his sixteenth year of life with a win at the MEC. I'll tell you this: He's ready.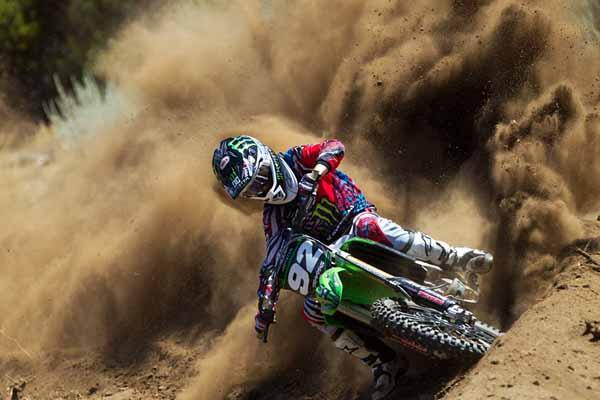 AC92 makes his 250F debut tomorrow night.
Racer X photo
So, if you are heading to Vegas for the Monster Energy Cup this weekend I'll see you there.
My friend Shawn Norfolk over at Ironclad (formerly of Renthal) sent me over this cool photo of their new mechanic glove. It's called the Ironclad Touch Screen Glove. Now mechanics don't have to take their gloves off to use their phone or operate touch-screen devices. I don't really fancy myself a mechanic but I've definitely experienced that moment of panic when you have dirty work gloves on and your phone rings. Who here hasn't tried to answer their phone with their nose? Don't lie. Do you have any idea how ridiculous that looked? Ironclad's core market is in the industrial and automotive sectors and those guys use touch screen devices all day long. They also sponsor the JWR Team and the Chaparral Honda team in our industry. The new glove hits retailers in January.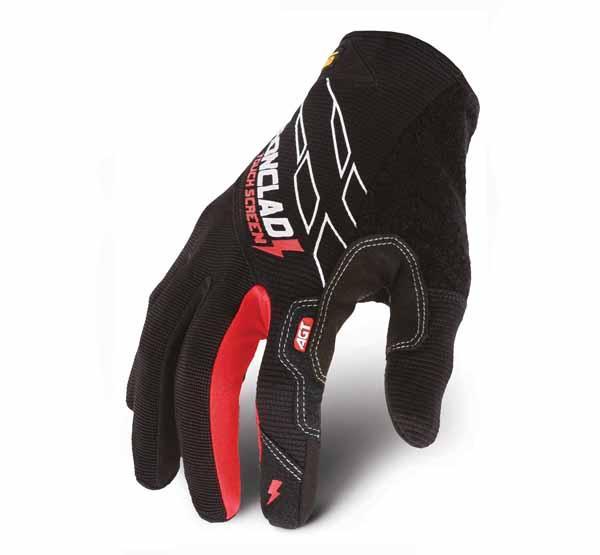 Here's Chase Stallo:
The silly season is slowly beginning to fall into place, but there are still plenty of riders and teams that are expected to make major announcements in the next coming weeks. JDR J-Star already has Malcolm Stewart on the books for 2013 but is expected to announce the remaining members of their team next week. And speaking of KTM, Munn Racing/Ankle Savers/KTM powered by EBR Performance is implementing a unique recruiting structure. They will be holding open tryouts, which will be open to all privateers, at Three Palms MX Park October 27-28.
A year after being one of the mostly highly sought after amateur recruits in the country, former Star-Valli Yamaha rider Kyle Peters will be hitting the 2013 season on his own. Peters struggled with numerous injuries and illness throughout 2012 that lead to his downfall and ultimately his release from what is now Star Racing. The ultra talented North Carolina native is expecting to contend the Lites East Region on a Honda. In more Yamaha news, after a breakout season under the Rock River Yamaha team in 2012, Alaska native Ben LaMay will be returning to the team in 2013. I spoke with Ben earlier this week and he's ecstatic to be back with the team and looking to carry his momentum from last year into 2013. Rock River is also expected to announce to finalize their team after the Monster Energy Cup.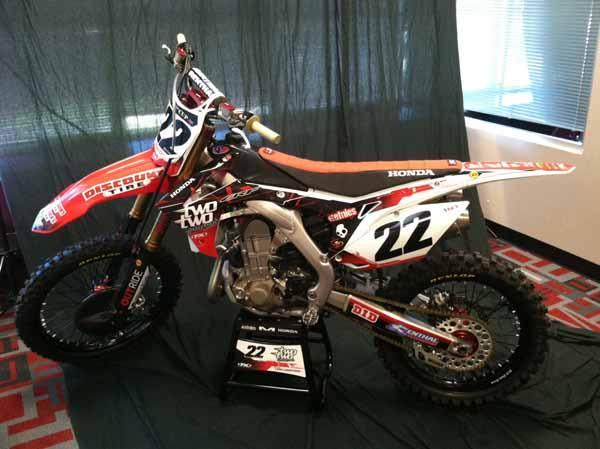 Reed has a new look for the Monster Energy Cup.
Matty Fran photo
Lance Vincent, who missed all of the Lucas Oil Pro Motocross Championship, is close to signing a deal. "We are getting close. Had good talks, but no contract yet," explained Vincent to me earlier this week. Also expect an announcement from former Hart and Huntington rider Josh Hill in the coming weeks. Although he was unable to comment on his plans for next year, he did say he is hoping to have something finalized soon. And in even more silly season news, Matt Lemoine, Cole Thompson and Phil Nicoletti are all expected to have put the final touches on their contracts by the end of the month. One final note, and then it's back to practice at Muddy Creek Raceway where we are covering the Suzuki Top Gun Showdown, Zack Freeberg has signed with a new team, Mayker/Honda, and will be riding the Lites East Region.
Okay, we will round it out with some random notes...
Last weekend Dutch sandmaster and MX2 World Champion Jeffrey Herlings crossed the English Channel to race the Weston Beach Race on the British shoreline. The Red Bull KTM rider won the race over Shaun Simpson and hundreds of others.  This weekend, Herlings will try another interesting challenge when he lines up for both the MX2 and MX1 classes at the final round of the Dutch National Championships. If there's sand involved, don't bet against him...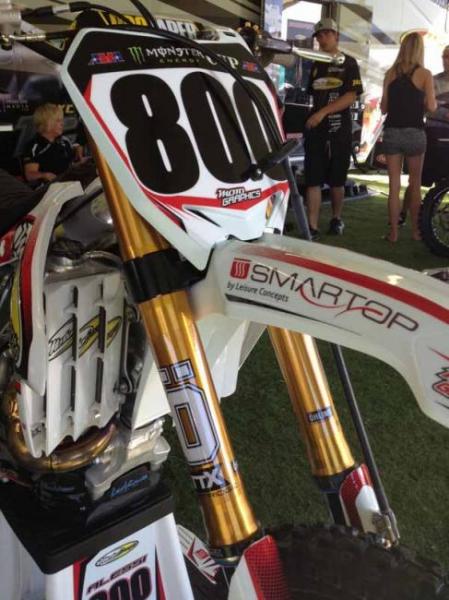 Fork Wars! Alessi now on Ohlins.
Steve Matthes photo
By now you've probably seen this really cool time-lapse video from the Los Angeles Times of the Space Shuttle Endeavor being transported along the streets of LA.
When Craig "Stikman" Glaspell spotted it, he sent over this piece that he did of Lucas Oil/Troy Lee Designs Honda's Corey Martin getting the team's big rig set up on time lapse as well.
Finally, the motocross world lost former pro racer Scott Johnson, who won a 1980 CMC Championship and was AMA Pro #93 in 1982. Scott fought a brave battle with cancer before passing away this week. Godspeed, Scott.
Thank you for reading Racerhead, sorry we were late, enjoy Vegas!