GNCC Title Fight Invades Ironman
Morgantown, W. Va. - Heading into the penultimate round of the 2012 Can-Am Grand National Cross Country Series this weekend, AmPro Yamaha's Paul Whibley holds a mere four-point lead over FMF/KTM's Kailub Russell in the XC1 Pro class standings. Whibley and Russell have exchanged victories all season long, creating one of the most tightly contested GNCC championships in some time.
The Amsoil Ironman GNCC, held in Crawfordsville, Ind., is one of the most popular stops on the 13-round tour. The track offers everything from rocky riverbanks and creek beds to some of the steepest hill climbs on the circuit. There are also plenty of wide-open grass-track sections, favoring almost any riding style. Because of the course's versatility, the intense three-hour race through the woods of Ironman will most likely demand a high level of fitness in order to stay out front.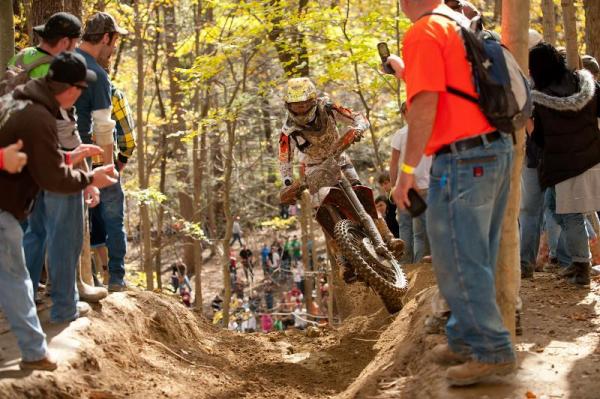 Thousands of spectators gather around "Ironman Hill" to cheer on their favorite riders.
As a former GNCC champion, Whibley has never been known to back down from a challenge. The "Axe Man" has continuously proven to possess the highest level of physical and mental strength, but the young gun Russell has stepped up to the plate in 2012. Although Russell's training program and all-around demeanor doesn't appear to be as intense as his competitor, his five wins can attest that he must be doing something right.
Last round, defending champ Charlie Mullins battled his Factory FMF/KTM teammate all the way to the checkers; where he fell one second short of his first win of 2012. Mullins seems to be back up-to-speed after injuries plagued him early in the year and there's a good chance he will be in lead contention for the remainder of the season.
Shenandoah Honda/Offroadchampion's Thad DuVall continues to maintain consistency inside the Top 5 as he holds fourth place in the championship standings, right behind WMR/KTM's Rory Mead. Mead has two wins this season, both coming from the toughest courses on the circuit, elevating him into the third place position in the standings. However, Mead's ability to ride technical terrain has been challenging when the series hits faster-paced courses such as Ironman and the Loretta Lynn's finale.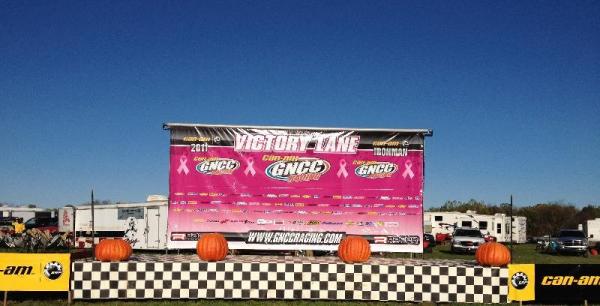 This special pink podium backdrop will be signed by all podium finishers
and auctioned off Saturday evening.
Two of the most consistent riders just outside of the Top 5 are AmPro Yamaha's Jordan Ashburn and Kawasaki-mounted Garrett Edmisten, who haven't missed a race all season. Ashburn finished a season-best third place at Round 6 and currently holds sixth place in the standings with a consistent string of finishes. Edmisten ran into bike issues in New York, finishing 14th after only completing two laps. Edmisten sits only two points behind Obermeyer Yamaha-backed Chris Bach in eighth place. JG Offroad/American Honda's Nate Kanney and defending JNCC champ Takeshi Koikeda round out the Top 10 in XC1 with two rounds left in the season.
It's all about KR4 Performance's Jason Thomas in the XC2 Pro Lites class right now as the UK-native holds the points lead for the first time all season. Previously dominated by KTM/Fly Racing/WPUSA/PG-backed Privateer Steward Baylor Jr., the XC2 championship title is up for grabs in a three-way competition between Thomas, Baylor and F.A.R Husky's Andrew DeLong. Only four points separate Thomas and Baylor, while DeLong sits eight points behind Baylor's second place. With six-hours of racing left to go, the title could fall into anyone's possession.
Obermeyer Yamaha/Raines Riding University/Offroadviking.com teammates Jedediah Haines and Brad Bakken round out the Top 5 in class points. The newest addition to the XC2 division-Aaron Plessinger-may throw a wrench in the lineup at the final rounds as the young gun grabbed a second place finish in his Pro debut last round.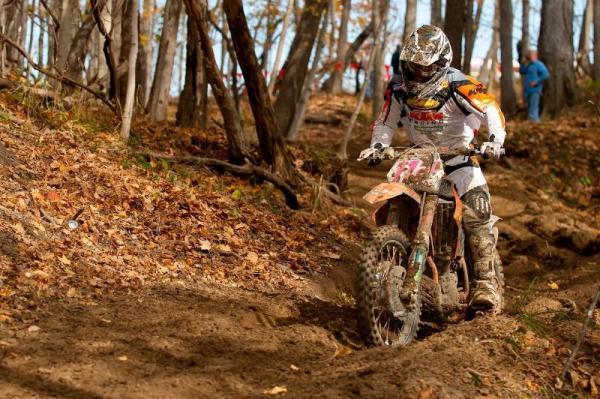 Racers are encouraged to run pink on their bikes and gear in honor
of Breast Cancer Awareness Month.
Four-wheeled ATVs and Side-by-Sides will compete throughout the day on Saturday, October 20, and dirt bikes will race on Sunday, October 21. Local riders are invited to race the event as well, as GNCC racing offers classes for riders of all skill and experience levels. The amateur racer entry fee is $40 and riders can sign up at the track.
Spectator passes run $15 for the full weekend, with pro pit access and pro autographs at no additional charge. On both Saturday and Sunday, the Youth races at 8 a.m., amateurs race at 10 a.m., and the top amateurs and pros race at 1 p.m. Special to this event, Side-by-Side racing will take place Saturday afternoon at 4:30 p.m., following the ATVs.
The track is located south of Crawfordsville off Route 47. You'll find it, just stay on 47 South and look for signs. For more information, visit the series website at www.gnccracing.com.