While most of the world was focused on the international affair of the Monster Energy Motocross of Nations, a different international event also took place with the annual  Montreal Supercross in Canada (hey, they even speak French up there!) No surprise who won the race, though, as American Matt Goerke, riding for Team Leading Edge Kawasaki, continued his roll up North, taking both the MX1 final and the Superfinal, which combined 450s and 250s together. Goerke also cleaned up in the motocross nationals up there. We called up Matt last week to get his take on the Montreal race.
Racer X: Matt, your 2012 season has been fantastic. You just won Montreal SX also, how was it?
Matt Goerke: Yeah, man it's great. Everything went my way again and my bike was working perfectly. I haven't had any bike problems all year, my team is awesome. I couldn't do any better up there in Canada and I'm pumped. In the heat race, I spun on the gate and got a bad start. I moved from sixth to second but I didn't have enough time to pass for the win. In the main event, I switched tires and got a great start and got out front quick. From there, I worked on just sprinting to put some time on everyone and thankfully it worked out.
In the Superfinal, same deal. I got a great start and on that track, that was key. I got out front and led the whole way.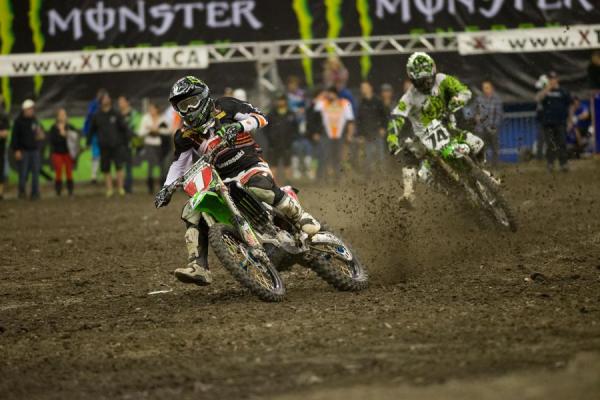 Goerke won in Montreal for the second straight year.
James Lissimore photo
How was the track?
It was pretty good, it's a little tame compared to a normal supercross. It was fun and had some cool stuff. There was a quad there that was pretty big.
Who was your competition?
My teammate Teddy Maier was going fast in qualifying times and he was very close to me. I'd say he was probably the closest guy to me but he got bad starts. Other than that, Tyler Bowers was there and he was pretty quick, he was right behind me both times. He was probably my best competition in the mains and Bobby [Kiniry] was there and got second in one main. It sounded like he battled with Bowers quite a bit. He's always pretty fast and is a great rider.
Which main event was tougher for you?
They both went great, but probably the 450 final. It wasn't really tougher but it was the bigger deal to win, you know? Once I did that, the Superfinal thing was just for fun and I went out there to try my best. The break between the finals wasn't very long, it seemed that once I got back from the podium in the 450 main, my mechanic Chad was prepping my bike to go back down. I changed jerseys, gloves and basically headed back down.
What a season you had up there, you won everything and safe to say this has been the best year of your career?
Yeah, I think so. I turned everything around this year and I'm excited for the year I just had. I can't thank the Leading Edge team enough for having faith in me and knowing what I can do. Even supercross went well for me (Goerke rode as a replacement rider on the BTOSports.com Suzuki team in Monster Energy AMA Supercross), I finally stayed healthy the whole time and I felt like I rode good in that also.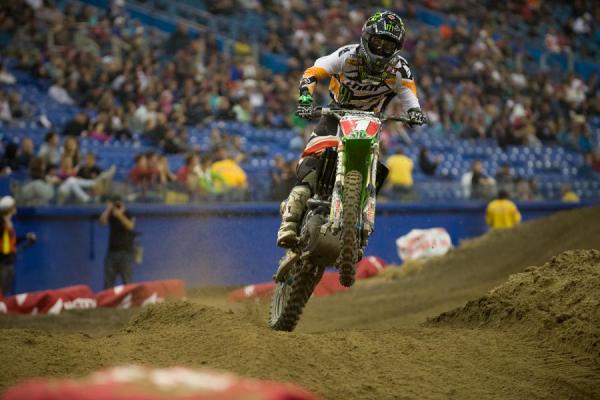 It's been a career year for Goerke in Canada.
James Lissimore photo
There was a small underground movement to get you on the 2012 MXoN team, did you hear about it?
That was awesome, I heard about it for sure. That track is really sandy though! I grew up in the sand and it kind of looked like Gopher Dunes up there in Canada and every year I go there, I do great. I think I could have done pretty well but who knows? I thought the USA guys would do better than they did and they're pretty fast so who knows what I could have done. I didn't really have a shot at being picked though but it was cool some fans thought I should go!
Your Leading Edge Kawasaki team, led by Pat 'The Dominator" O'Connor up there, won all three main events in Montreal as well as both national titles in Canadian motocross. What an effort by those guys.
Oh yeah, great guys and I'm pumped to help them out and they turned my career back around. They're awesome guys for sure and run a top-notch program. This has been the best career move I ever made and those guys were a big part of it.