Whibley Leads Field into Powerline Park
Whibley Leads the Field Heading into the ITP Powerline Park GNCC
Baylor, Thomas and DeLong Fight for XC2 Pro Lites Championship
Morgantown, W. Va. - AmPro Yamaha's Paul Whibley leads a fierce group of competitors into the final stretch of the 2012 Can-Am Grand National Cross Country season this weekend for one of the most exciting championship chases in history. Whibley's tight points lead over Factory FMF/KTM's Kailub Russell has created plenty of hype leading into the ITP Powerline Park GNCC. However, that's not the only highly contested battle taking place this weekend in St. Clairsville, Ohio.
Shenandoah Honda/Offroadchampion's Thad DuVall finally got a win under his belt at Round 10, giving him a high level of confidence heading into Round 11. DuVall has been on the verge of a race-win all season and his increased presence inside the lead-battle only makes the competition level raise another notch.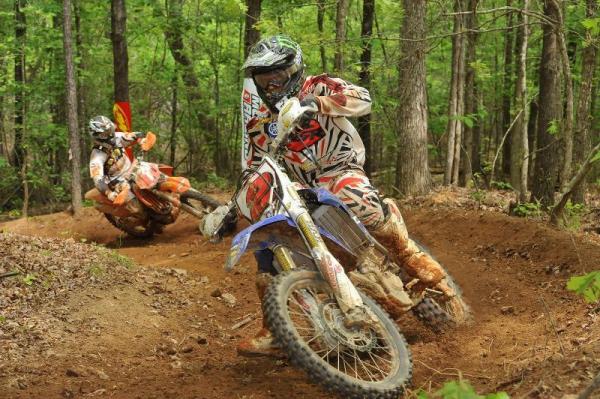 Whibley and Mullins will both be tough this weekend.
Although it's still Russell who holds the most race-wins this season, a twelfth place finish in the season opener has kept him on a level playing field with Whibley's consistent finishes in the overall standings. However, Whibley struggled last year with the infamous "Powerline Mud Hole", ultimately finishing fourth. Russell aced his way through the obstacles and claimed his first-career XC1 victory at Powerline Park, giving him an upper hand this year.
Factory FMF/KTM's Charlie Mullins has had a rough 2012 season but the defending champ has fully recovered from injury and is expected pick up where he left off at the beginning of the season. Mullins has battled everything from mechanical issues to personal injuries this year, but there's no doubt that he has the speed and endurance to win races.
WMR/KTM's Rory Mead has two wins this season and the New Zealand native has a history of dominating the more technical types of terrain. Mead currently holds third place in the standings, just ahead of DuVall. AmPro Yamaha's Jordan Ashburn isn't far behind and Ashburn usually shows strength in tougher course conditions, which may benefit him this weekend at Powerline Park.
JG Offroad/American Honda's Nate Kanney grabbed his first podium finish of the season last round and the New York native looks to keep the momentum rolling for the remainder of the season. Kanney, along with Obermeyer Yamaha-backed Chris Bach, Takeshi Koikeda and Garrett Edmisten, has made impressive strides this season and the overall competition level has visibly increased as a result.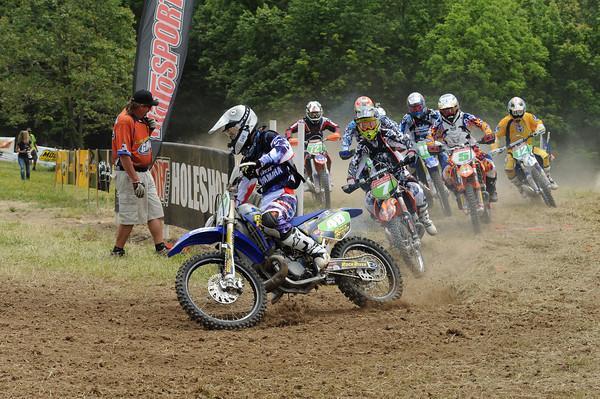 The XC2 Pro Lites class is stacked with competition.
F.A.R Husky's Andrew DeLong took his second consecutive win at Round 10, making up a sizable point-deficit after missing the first two rounds due to injury. DeLong's fourth win of the season now puts him into a three-way championship battle with points leader KTM/Fly Racing/WPUSA/PG-backed Privateer Steward Baylor Jr. and KR4 Performance's Jason Thomas. The XC2 trio has pushed their way well inside the top ten in overall standings as they continue to show impressive speeds each weekend.
Obermeyer Yamaha/Raines Riding University/Offroadviking.com's Jed Haines holds fourth in the class, followed by North Carolina's Jesse Robinson.
Four-wheeled ATVs will compete throughout the day on Saturday, October 6, and dirt bikes will race on Sunday, October 7. Local riders are invited to race the event as well, as GNCC racing offers classes for riders of all skill and experience levels. The amateur racer entry fee is $40 and riders can sign up at the track.
Spectator passes run $15 for the full weekend, with pro pit access and pro autographs at no additional charge. On both Saturday and Sunday, the Youth races at 8 a.m., amateurs race at 10 a.m., and the top amateurs and pros race at 1 p.m. Special to this event, Side-by-Side racing will take place Saturday afternoon at 4:30 p.m., following the ATVs.
The track is located at exit 213 off Ohio I-70. Take Route 331 N. just a few yards and make a right onto Hammond Rd for approximately 1 mile. Turn left at Lee Road for another .5 miles. Track is on the right. The track is roughly 15 miles west of Wheeling, W.Va. For more information, visit the series website at www.gnccracing.com.
About GNCC Racing:
The Can-Am Grand National Cross Country series is America's premier off-road racing series. Founded in 1975, the 13-round championship is produced exclusively by Racer Productions. Cross-country racing is one of the most physically demanding sports in the world. The grueling three-hour GNCC races lead as many as 1,500 riders through tracks ranging in length from ten to 12 miles. With varied terrain, including hills, woods, mud, dirt, rocks and motocross sections, GNCC events are tests of both survival and speed and draw talent from all over the U.S., Europe, Australia and New Zealand. GNCC Racing is televised and airs every week on NBC Sports Network. For more information, please visit www.gnccracing.com.