Lommel
Lommel

,

Belgium
MX of Nations
Motocross of Nations
By Jason Weigandt and Chase Stallo
Want to know how the Monster Energy Motocross of Nations was really won and lost? Have a look at our breakdown of the top ten teams in The List.
1. Germany: 25 Points
Ken Roczen (4th Race 1, 5th, Race 2)
Max Nagl (3rd Race 1, 6th Race 3)
Marcus Schiffer (7th Race 2, 14th Race 3)
It was over when: Roczen and Nagl doing well wasn't the surprise—but everyone knew that Marcus Schiffer would be the weak link. They needed a top ten finish from him, and they got it in the second moto with his strong 7th. At that point, Germany had no flaws and looked set for victory.
Who Stepped Up: The whole team
What can you say—they all stepped up. Roczen's dominance of the MX2 Class at this race has been impressive.
Who Disappointed: For the other teams, they were hoping for a big mistakes, and it never came. Producing six scores without a big crash, mistake or mechanical failure is tough, but this team did it.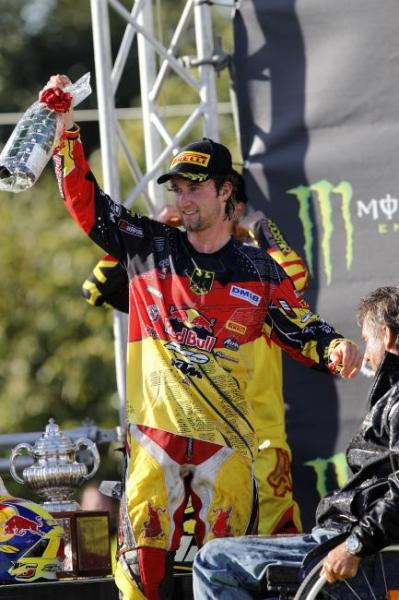 Max Nagl played a big role in Germany's win.
Ray Archer photo
2. Belgium: 29 points
Ken de Dycker (3rd Race 2, 5th Race 3)
Clement Desalle (4th Race 1, 7th Race 2)
Jeremy van Horebeek (10th Race 1, 38th Race 2)
It was over when: Jeremy van Horebeek suffered a mechanical DNF in the second moto. He was second of all the MX2 riders in the first moto, so he could have scored big points for the team. They did get to drop his score, but it meant de Dycker and Desalle would have to crush the third moto to catch back up.
Who Stepped Up: Ken de Dycker
Big Ken has been a revelation in 2012 since replacing the injured Max Nagl under the Factory KTM tent. De Dycker finished sixth in the final MX1 standings and carried that momentum into Lommel, where he helped Belgium to second overall, even outperforming his more heralded countryman Clement Desalle—although it wasn't by much.
Who Disappointed: Jeremy van Horebeek
It's tough to place van Horebeek in this spot considering his failure was due to no fault of his own. But when your teammates string together finishes of 3-4-5-7 there's no one else to fill the position.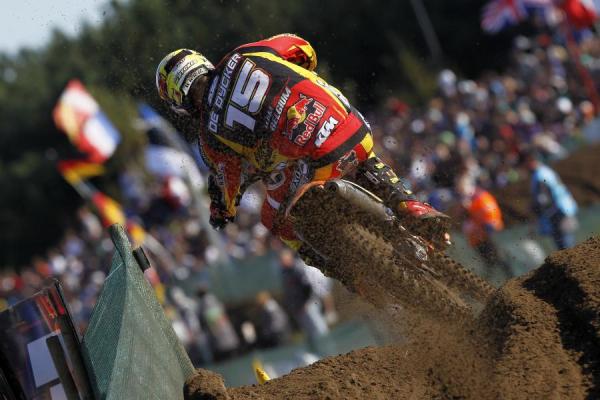 Ken de Dycker was the star for Belgium at Lommel.
Ray Archer photo
3. USA: 39 Points
Blake Baggett (14th Race 1, 6th Race 2)
Ryan Dungey (7th Race 1, 9th Race 2)
Justin Barcia (14th Race 2, 3rd Race 3)
It was over when: Things weren't looking good after the qualifiers, practice, or the first moto. But the Barcia/Baggett duo had a chance to drag the team back into contention in the second moto, putting themselves in position to take advantage of a mistake. But Barcia's run for a runner-up finish in the second moto ended with a collision with Ken de Dycker—the Belgian that Team USA needed to beat. Barcia got his bike fixed, but it didn't matter, because he only matched the score of Baggett's first moto 14th.
It was over when II: But really, Barcia finishing second in that moto wouldn't have helped in the end. This one was over as soon as Team USA couldn't get up to pace in the deep sand.
Who Stepped Up: Justin Barcia
Yeah, Barcia bounced off the track and got crazy on Saturday. Then he collided with Ken de Dycker in his first moto, which eventually busted his bike. But he was also up front in all of his races, and scored Team USA's only podium finish in a moto.
Who Disappointed: Ryan Dungey
Dungey has been a big part of Team USA's success the last three years, and he's the two-time and defending National Motocross Champion. His 7-9 scores (with a pair of uncharacteristic crashes) didn't get it done.
You might have missed: Easy to say Baggett struggled when looking at his 6-14 scores. But, that actually made him the second best MX2 rider for the day. A bigger problem was Baggett's starts—the team gave the 250F man the good gate pick in each moto, but he still started way back.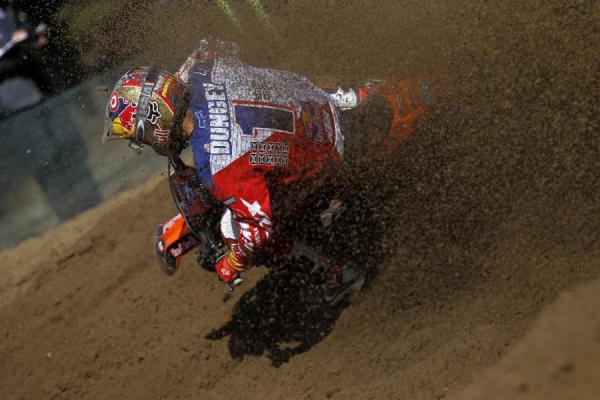 Ryan Dungey wasn't himself in the deep sands of Lommel.
Ray Archer photo
4. The Netherlands: 44 points
Jeffrey Herlings (1st Race 2, 2nd Race 3)
Marc de Reuver (9th Race 1, 17th Race 3)
Glenn Coldenhoff (15th Race 1, 39th Race 2)
It was over when: Marc de Reuver crashed in the second moto. The Dutch had already used their throwaway when Glenn Coldenhoff suffered a DNF in the same moto due to a broken clutch lever.
Who Steeped Up: Jeffrey Herlings
At just 18 years of age, the controversial Dutch phenom Jeffrey Herlings had the weight of an entire nation, if not all continental Europe, bearing down on his shoulders. While his conquests in the sand will live in motocross lore, his chance to prove himself against the best in the world was a challenge Herlings has embraced all season. Riding the 350F, instead of the 250F he's ridden all season, Herlings dominated his first moto (Race 2), which set the stage for the showdown with Tony Cairoli in the final moto. An early crash from Herlings looked to wash away the hype. But the current MX2 Champion was up for the challenge and sliced through the pack to pull onto the back wheel of Cairoli with just minutes remaining. Although his last ditch effort would prove futile, Herlings answered the bell on the biggest stage.
Who Disappointed: No One
The Dutch were not expected to win the event outright, and other than a DNF from Coldenhoff, the Dutch were who we thought they were.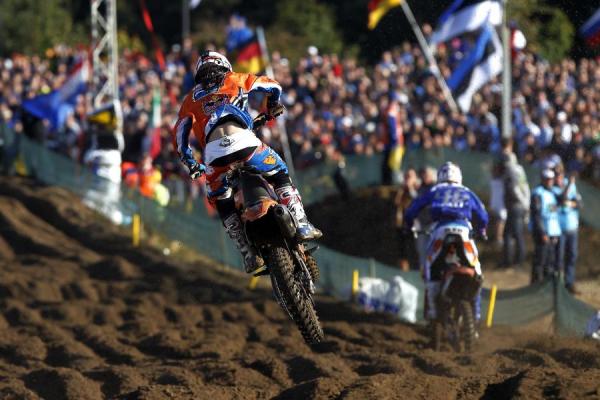 Herlings was a monster for The Netherlands at Lommel.
Ray Archer photo
5. Italy: 45 points
Antonio Cairoli (1st Race 1, 1st Race 2)
Davide Guarneri (5th Race 2, 13th Race 3)
Alessandro Lupino (37th Race 1, 25 Race 2)
It was over when: MX2 rider Alessandro Lupino broke a ligament in his thumb ... driving go karts on Friday night before the race! He struggled to 25-37 scores, basically eliminating any chance of Italy contending.
Who Stepped Up: Davide Guarneri
David Philippaerts, the 2008 MX1 World Champion, was expected to be sorely missed by the Italians (he was out with an injury), but Guarneri filled the spot well, logging a solid fifth in his first moto. It was a great ride, but he crashed in moto two and finished 13th, and even team leader Tony Cairoli admitted that sapped his own motivation a bit.
MVP: Antonio Cairoli
Super Tony finally showed what he can do on the grand stage. Ending the year with 12-straight moto wins in the GPs and a 1-1 at the des Nations, Cairoli might never be better than he is right now.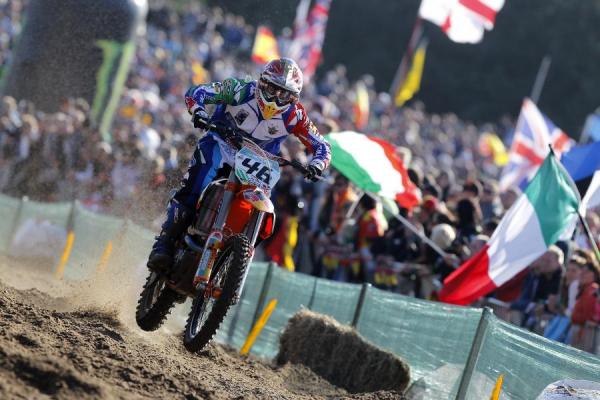 A 1-1 performance at Lommel from Super Tony carried Italy to a fifth place finish.
Ray Archer photo
6. France: 47 points
Gautier Paulin (2nd Race 1, 8th Race 2)
Xavier Boog (10th Race 2, 16th Race 3)
Marvin Musquin (11th Race 2, 19th Race 1)
It was over when: Marvin Musquin failed to finish inside the top-10 in either of his motos.
Who Stepped Up: Gautier Paulin
Paulin not only showed his versatility at Lommel—he's known as more of a hard packed rider—he's begun to establish himself as France's go-to-guy at the MXoN, after two moto wins in his past three appearances (2009 and 2011) and a second place finish to Cairoli in the first moto. A crash in the second moto hurt his chances for the overall, but Paulin has proven to be a contender on the world stage.
Who Disappointed: Marvin Musquin
Musquin, who won the MX2 Class at the MXoN in 2009 and helped lead France to the brink of their first title since 2001 a year ago, was arguably the biggest disappointment of the weekend. The two-time MX2 World Champion had lofty expectations entering the weekend after winning at Lommel in 2009 and finishing third in 2010 (in the MX2 Class). But his 11-19 moto scores left Musquin and France looking for more.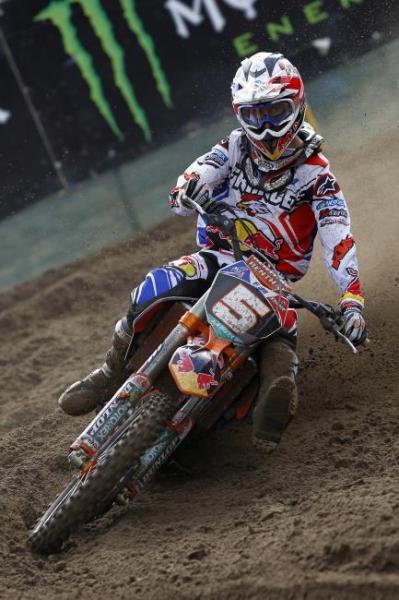 It was a dissapointing weekend for Marvin Musquin and the French squad.
Ray Archer photo
7. Estonia: 56 points
Tanel Loek (2nd Race 2, 4th Race 3)
Priit Ratsep (20th Race 1, 15th Race 2)
Gert Krestinov (17th Race 1, 18th Race 3)
MVP: Tanel Leok
The Estonian Express, Tanel Leok, had a sensational performance, running in moto podium contention in both of his motos. Perhaps not by coincidence, Leok's best performance of the GP season came in sandy soil at Lierop, where he finished third in the second MX1 moto. But he was only eighth this year in MX1 points, so this was a great day.
Who Disappointed: Estonia got seventh overall! No one disappointed here.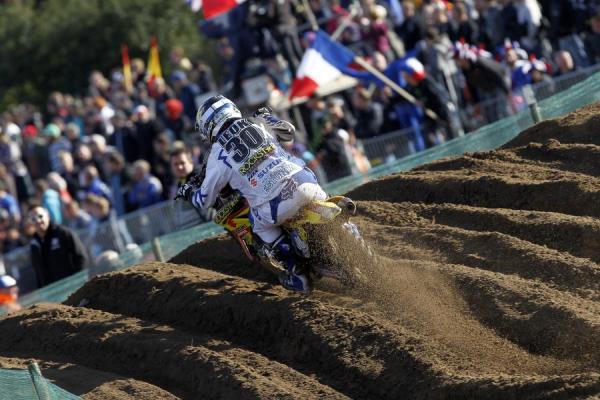 Tanel Leok put together an amazing performance at Lommel.
Ray Archer photo
8. Great Britain: 56 points
Tommy Searle (8th Race 1, 12th Race 2)
Max Anstie (9th Race 2, 11th Race 3)
Jake Nicholls (16th Race 1, 36th Race 3)
It was over when: Tommy Searle couldn't break the top-5 and Jake Nicholls failed to secure a top-10 finish in the first moto.
Who Stepped Up: Max Anstie
Max Anstie has shown his prowess in the sand—a podium at Lierop in the MX2 Class this year—but many questioned his choice over Shaun Simpson for the MX3 spot. We'll … Anstie answered his critics with solid rides in both motos while riding the 450 (he spent all season riding the 250).
Who Disappointed: Tommy Searle
With Dean Wilson sidelined with a shoulder injury, the torch was passed to Tommy Searle to lead GBR back to the podium—or at least match their fourth place finish from a year ago. Searle failed to do either, and was outperformed by the less established Anstie.
9. Portugal: 80 points
Rui Goncalves (10th Race 3, 12 Race 2)
Luis Correia (13th Race 2, 24th Race 3)
Paulo Alberto (21st Race 2, 33rd in Race 1)
It was over when: Paulo Alberto failed to break into the top-20 in either moto.
Who Stepped Up: Rui Goncalves
He was expected to be the strongest rider, and he was, with 10-12 scores.
Who Dissapointed: Paulo Alberto
Alberto had the weakest results, but seriously, top ten overall for the team is good so no one is really complaining.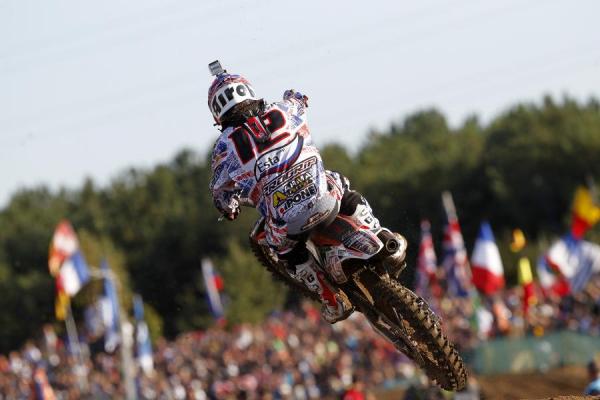 Max Anstie rode a terrific race for the British.
Ray Archer photo
10. Australia – 83 points
Todd Waters (8th Race 2, 15th Race 3)
Lawson Bopping (19th Race 3, 21st Race 1)
Luke Styke (20th Race 2, 26th Race 1)
It was over when: Veterans Chad Reed, Michael Byrne, Brett Metcalfe and Matt Moss all were unable to compete due to injuries, leaving a team of three rookies to contest one of the hardest tracks in the world.
Who Stepped Up: Todd Waters
Next year Australia may have a real dilemma on their hands when everyone returns from injury. The reason: Todd Waters. The runner-up in the Australian Nationals MX1 Class far exceed expectations with an eighth in the second moto—firmly establishing himself as a potential pick next year.
Who Disappointed: Luke Styke
It's hard to pin point any rider from a team that really disappointed—this was a group of rookies. But Styke, who lost the MX2 Australian Nationals title at the final round, was hyped as a great sand rider. And he failed to live up to those lofty expectations.