Lommel, Belgium
MX of Nations
Motocross of Nations
The 2012 Motocross des Nations (not going to call it "of Nations" no matter what anyone says) has come and gone for another year, and the race that some people call the biggest of the year once again produced its share of surprises. With it being staged in Lommel, Belgium—an old-school sand track if there ever was one—it was going to be tough for Team USA to hold onto its eight-year winning streak, but most everyone I spoke to before the race thought that they could eke this one out with consistent results. After all, Team USA is always pretty incredible with its depth of talent, while the other countries always seem to have at least one weaker link. USA's strength has always been its one-through-three consistency, and some years it just plain has the three fastest riders out of anyone there!
It's weird because, as most of you know, I'm Canadian. I was born there and lived there for 22 years before coming down to the USA and beginning a career as a mechanic. And so I've been here for 16 years now, and starting the process of becoming a citizen (but not losing my Canadian citizenship—it's a win/win!) and all the USA team guys are people that are my friends … or at least tolerate me in some way. So I do root for Team USA a bit because they're my friends, but I also have friends who are working for other teams at the MXDN year after year. And this is not to mention my own country (when we show up), which I also want to do well. All this confusion results in when I'm talking about Team USA to people referring to them as "We" or sometimes "They" or some mishmash of that. Generally speaking, I don't care who wins that much. I just want to see a good race and some drama and awesome riding.
But then again, seeing USA on top of the podium at the end of the day gets me assurances that the after-party will be rocking.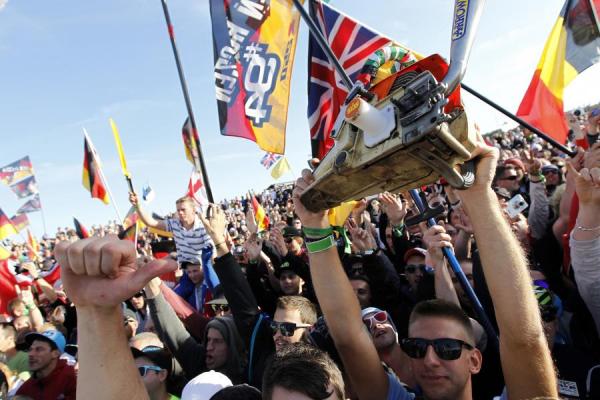 The European fans flooded the 66th Motocross of Nations at Lommel.
Ray Archer photo
Before I get to the race, first a rant. The under-24 years of age rule for the MX2 Class is not helpful, in my opinion. What they wanted to do when they put it in was get the riders to move up to MX1 because of the lack of depth in the classes all –around. With only approved teams who pay a lot of money to race the GPs being allowed in, a lot of good riders were left to race in England or other places for prize money or simply not race the GPs because they didn't have the funding to get in and once they did get in, they didn't get paid much (because the teams have to pay so much to get in) and there's no prize money at the races. So this left the depth of the field thin (remember, several fast young guys were going to America too) and the age rule was instituted to get the teams to be forced to find young kids while the MX1's depth was improved. But all it's really done in my opinion is create situations where the lesser MX1 racers now have to buy rides or don't make much money at all. If you're a top-ten MX1 rider, you're struggling and underpaid, but if you're a younger kid with even a bit of speed, you're now vastly overpaid until you're 24-years old and have to leave the class. I have a lot of friends that are managers in Europe and they're not happy at this bidding war for potential podium finishers in the MX2 Class. Because in 2013 it's going to be the Jeffrey Herlings show in MX2 but someone has to get the other two podium spots, right?
Ok, so now that I've outlined the many reasons why that age rule is ridiculous in the GPs, it's even more amazing that the rule is not removed for the MXDN. Think about it: It's the Olympics of Motocross and there are rules preventing the three best riders from going. Why would you ever want to prevent the absolute three best guys from going as well as take away a ton of interest from your race? Think about a big bike guy dropping down onto the 250F and all the interest, intrigue and hype that would bring for the MXDN so we can see more "Johnny O'Mara/Jeff Ward/Bob Hannah on a 125s" situations in the coming years of MX2.
Just my two Euros on someone else's business model.
Okay, so as most people know, Team USA lost. The streak is over—seven years of winning have come to an end with America's third-place finish. Also, a personal little weight off my shoulders has been lifted as I no longer walk around with the shame of being a member of the last Team USA to lose (Zolder 2003). As a matter of fact, the last three MXDNs that have been held in Belgium (Lommel 2012, Zolder 2003, Nismes 1997) have all seen the USA lose. So take notice, USA: Belgium is bad!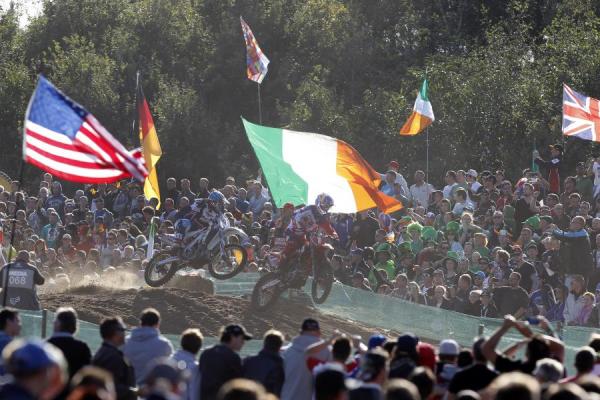 Ryan Dungey didn't have the week many expected him to have.
Ray Archer photo
Having gone to Lommel to practice before that MXDN in '03 as well as having gone to the GP there last year, I knew the USA guys were going to be in trouble in keeping this streak going. The track is deep, deep sand and rough as hell. Add into that fact a lot of the European racers ride the Lommel track quite a bit, as they live around there and it's been a regular GP race for years, and if USA was to pull this one out, it might have been it's greatest feat since, well, since 1981 when USA won its first MXDN at this very location. I still thought the USA was going to win, though, just because as I outlined before, the team's depth was ridiculous and USA always seems to come through in that last moto. The last two MXDNs saw Team USA trailing going into the third moto but they always come through. That's what they do!
Congrats are in order to Team Germany for winning their first Motocross des Nations. What in the name of Rolf Diefenbach is going on with Germany becoming a world motocross power? Well, it's a combination of a few things, really, one being that Ken Roczen absolutely rises to the occasion at the des Nations. The last three years he's dominated—actually, let me put that in caps because just saying it lowercase doesn't do it justice—DOMINATED the MX2 Class and no one has been close. And remember last year Herlings was close to him or beat him at many GPs and this year in America, he trailed Baggett many, many times. But sand or hard pack, Roczen brings his game to a new level in the Olympics of motocross. His teammate Max Nagl has had a trying year with injury and being let go from the KTM team next year, but he's very good in the sand and according the Euro media guys, was VERY motivated to show KTM that they made a mistake in letting him go. "Mad" Max finished second overall in MX1. And Marcus Schiffer, who doesn't even race the GPs (again, why? Because he can't make money doing it) is the weakest rider on the team but the team needed one solid finish from him and his seventh in the first MX2/MX3 moto was enough to get it done.
But if I'm being honest, I was surprised at how much USA was off the pace. And from the very first practice I thought that it was going to be even tougher than I first thought. We all know that Italy's Antonio Cairoli and Holland's Jeffrey Herlings were going to be tough to beat but that's okay—neither one of those guys have the teammates to grab the win. Let 'em go and be the sand masters of the weekend, no worries there. But the other guys—riders like Ken Roczen, Max Nagl, Clement Desalle, Tanel Leok, and Evgeny Bobryshev—were more than capable of hauling ass in the sand and matching (or exceeding) our guys' speed.
And that's ultimately what did the USA in. Let's take a look at the USA guys and their race:
Going into the race, Ryan Dungey was thought to be the one rider that was our (see? There I go again) rock. There's no doubt that Dungey's one of the very best racers in the world no matter what, and although I expected Cairoli and Herlings to beat him, I didn't think anyone else could match him, and I was very sure that his incredible fitness could carry him to the front if his speed didn't.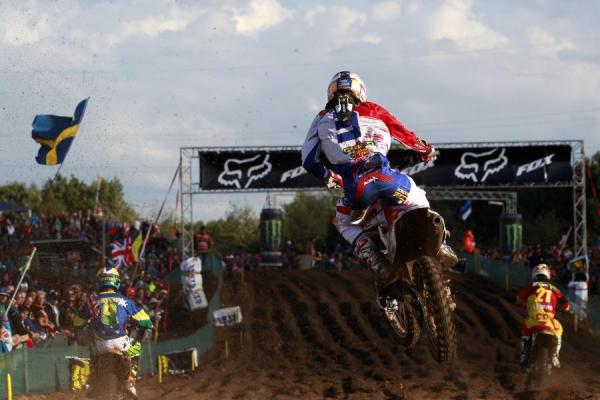 In his maiden MXoN appearance Justin Barcia landed the only moto podium for Team USA.
Ray Archer photo
But this weekend was a rough one for Dungey. A crash in each moto and a lack of speed in the sand was surprising. And this from a guy that rarely crashes and even his fitness, the one thing I counted on-didn't help him much this weekend. He was just off this weekend, even in the Saturday qualifying race when he went backward. I never thought that Ryan would struggle the way he did, and I also thought his bike looked like an absolute handful out there. And afterwards my suspicions were confirmed in talking to Team USA—some team members thought the same thing and manager Roger DeCoster admitted to me that it was off. Ryan also looked like he sat down and near the front way too much compared to Cairoli and Herlings, who both sometimes looked like they were trying to pull Trey Canard air wheelies out there.
In the all-important third moto, with USA trailing and needing some incredible finishes to pull it out, Dungey and Justin Barcia started 2-3 behind a rapidly disappearing Cairoli and I was thinking that I'd seen this movie before. The USA was going to go 3-4 (because let's face it, Herlings was going to pass both of them unless abducted by aliens during the race) and pull through in the clutch for the win once again. Even the track announcers were remarking on America's penchant for clutch rides was showing itself once again. But Dungey went down early in the race and then couldn't do much. After he picked himself up, he was 11th and by the end he got up to 9th. 9th! That's not really a fitness issue either, it's just Ryan not being on pace. His lap times indicate that it just wasn't his day in Belgium but not to worry, he'll have a chance in 2013 to redeem himself and I'd bet he does just that.
The decision was made to give the inside pick to Blake Baggett in the second moto and I'm not second-guessing that move at all—I would've done the same thing. To me Dungey was the best rider on the team and he could move up from a bad start, Baggett, on the smaller bike, needed the help. But when Blake went down first lap and was 23rd (thereby negating the inside pick) and Dungey couldn't even see the front pack and was unable to make up time on the guys that we all thought he had covered (Paulin. Desalle, Nagl, Bobryshev), the USA's strategy was in trouble. Fifth overall for Dungey in the MX1 Class was a very unexpected result indeed.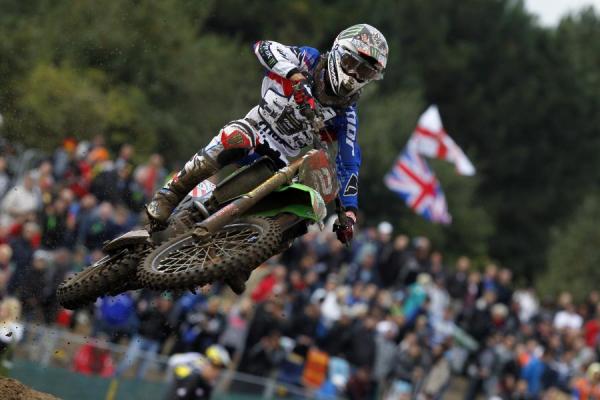 Blake Baggett would finish a distant second in the MX2 Class behind Ken Roczen.
Ray Archer photo
I thought that Blake Baggett did very well, much better than last year. Baggett didn't have anything for Ken Roczen but he did get second overall in the MX2 Class (a ways back of Roczen but a ways ahead of Marvin Musquin) and he went from 23rd to 14th in the sand on a 250F. Second moto he definitely looked a little winded at the end (as there was just an hour in between the motos for the MX2 and MX3 guys, who had to go back-to-back) but he got a 6th overall beating some solid riders on 450's. Blake's first moto was tied for the worst one on the team but in that moto he was impressive. He ate some serious sand and I thought that late in the race, his fitness helped him tremendously compared to the guys around him.
I thought that Justin Barcia was tremendous for Team USA. He's not a regular 450 guy but on the factory Honda, he was pretty good. In the first moto he tried to stuff it in on Ken de Dycker and went down catching his front wheel in Ken's footpegs (and while I'm at it, spare me the "De Dycker cleaned him out!" talk that was going around by some American media guys after. Ken had control of the corner and maybe he did move down but that's racing and let's leave the patriotism at home shall we?) while trying for the pass. Barcia knew his front wheel was jacked up and backed it down a bit to try and save it. And once he saw that it wasn't going to lock up, he picked it back up some looking at the lap times. Unfortunately, the spokes eventually broke and bent enough that they hit the front caliper and prevented the front wheel from even moving. This was with two laps to go and Justin was forced to DNF but he was far enough ahead that he was still awarded a 14th.
As well, Barcia's Honda got so hot in the sand that the oil filler cap blew off at some point and oil poured out of the bike. So I'd look for an aluminum filler cap on the bike at the next sand race. Either way, Barcia dodged one bullet but another got him.
In his second moto Barcia knew he had to let it all out and ended up a strong third in the combined MX1/MX3 moto. Or he actually won the "First Human" race as Cairoli and Herlings were amazing and on another level in that moto. Even though he was a rookie, even though some thought he shouldn't have gone, even though some thought he wasn't reliable enough on the bike, Barcia proved that he was the real deal. Yes, he should've waited for de Dycker and tried his move somewhere else but hey, what are you gonna do? He's a racer.
What this race did for me, besides fill my belly full of waffles, is give me even more respect for Team USA in 1981 who came here and won. This was back in the day when the Europeans were very much superior for years and we didn't even send the best USA racers. Basically thanks to Roger DeCoster and Dave Arnold, we sent Team Honda. How these kids went over and beat the Belgians in the sand is even more amazing when you think about it. Incredible!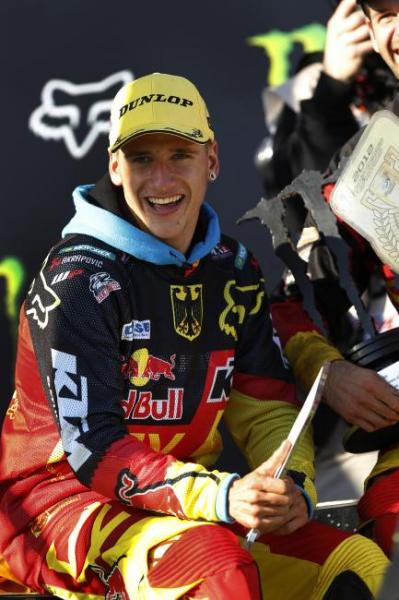 Ken Roczen was all smiles after leading Germany to its first MXoN overall win.
Ray Archer photo
And one of those team members, Chuck Sun, was in the house. Unfortunately for Chuck his desire that fueled him to win in 1981 was still there in 2012 and he helped out Justin Barcia get out from a tricky situation in Saturday's qualifier when he lifted a fence up. This resulted in a disqualification of Barcia for outside assistance. Yes, Chuck Sun just happened to be standing by the track and yes Justin Barcia got stuck right there and he lifted a fence and got a Team USA rider DQ'd. I couldn't even make this up folks.
I've been to three GPs in the last three years and every time I come back and tell people about this guy named Antonio Cairoli. Then this guy shows up at the Motocross des Nations in Budds Creek or Lakewood and gets beaten. Then the people I told him about laugh at me and say I'm an idiot. Cairoli is one of the very best racers in the world, either side of the ocean, and I've seen it enough with my own eyes to know this: his unfortunate luck at the MXDN hiding his true ability. But this weekend he was incredible, he went 1-1 in his motos and was so far in front of everyone else not named Jeffrey Herlings, it was ridiculous. Twenty-one seconds in the first moto and him and Herlings had almost a minute in the third moto!
Yeah, he lives near the track, and yeah, he's a great sand rider, but I'm just happy to see him finally do what I've always thought he could do. Last year when I went to Lommel, Herlings and Roczen were super impressive but Cairoli was by far the best rider there in my eyes. In the third moto, he was caught from over a ten second lead by Herlings and knowing what I know about these two guys, there was no way AC was going to let Herlings get by him. And he didn't, the old guy cracked the kid when Jeffrey ran out of fitness near the end (and he was incredible coming from the back) and held on for the win. Great job to Antonio Cairoli and now the people there and the people that watched the race on CBS Sports know what I was talking about.
Oh and I'm pumped that the race was on CBS Sports no doubt about it, and you know who else was pumped about this? Youthstream! The promoters of the MXDN had the at-track announcers talk about it over and over again. Like any of the 10,000+ Europeans even knew what in the heck CBS Sports channel was or like any of them were going to rush home from the track and check their DVR's for it. Weird.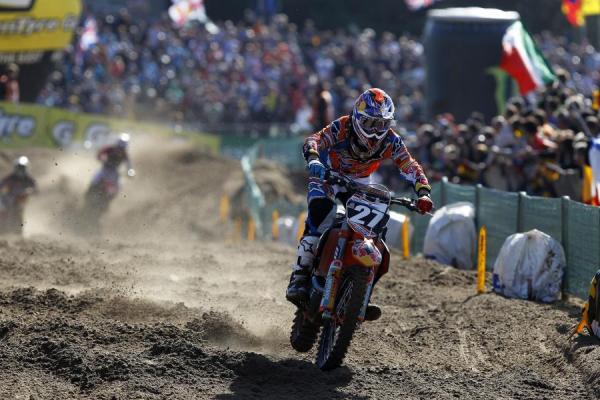 Jeffrey Herlings put on a show at Lommel.
Ray Archer photo
And on the level of Cairoli was Holland's Jeffrey Herlings. The wild child of European motocross decimated the field in his first moto (almost a minute margin of victory) and as I said, had a hell of a battle in coming through the pack in the last moto of the weekend. Herlings is the MX2 World Champion and most likely, he'll be the 2013 MX2 champion as well before being forced out of the class by winning two titles and although I don't think we're going to see the 18-year old anytime soon in America (his supercross skills are lacking), he's on his way to being one of the very best in Europe, sand tracks or hard tracks—it doesn't matter.
This is three years in a row that Ken Roczen has won the MX2 Class pretty easily. The 18-year old German was amazing at Lommel as he somehow got great starts on his 250, even more amazingly passed to the front and was basically the third most impressive rider on the day. I predicted beforehand that Cairoli, Herlings, and Roczen would win their classes but I didn't think each of the three would be that dominant. Roczen was at home in the sand and because they score the event by your actual placing and not where you placed in your specific class. Kenny's rides were so huge for Germany in taking the win.
There was another American-ish team at the Motocross des Nations and that would be Team Puerto Rico! Yeah, who knew? But PR regular Zach Osborne as well as real, live Puerto Rican Gino Aponte lost their third team member Jimmy Albertson when he crashed just days before the event. Needing a last-minute fill-in from America, the call went out to a bunch of people (including me) to see who would be willing to come over at the last minute. My choices were Bobby Kiniry and Kyle Chisholm because both guys were on the East Coast, wouldn't need much preparation, and are low-maintenance. Both guys committed to it and were working on getting the details sorted when Chisholm became the first guy to actually get everything sorted. So he was in!
On Thursday afternoon he flew out to Belgium and got in Friday night. Twelve hours later he was in Lommel trying to figure out WTF happened to him. His suspension never showed, he was riding Sebastian Pourcel's bike with different bars and stuff than his normal setup, and then there was the small part of him not really riding much since the last National. Chisholm loves the sand and actually wanted to race the GP at Lommel last year—that's how much he loves the soft stuff. Well, after struggling through the weekend, I'm not sure if Chisholm will ever go back! Team Puerto Rico was held back by crashes from Chiz and Osborne and didn't make the A main. What a trip for Kyle, though!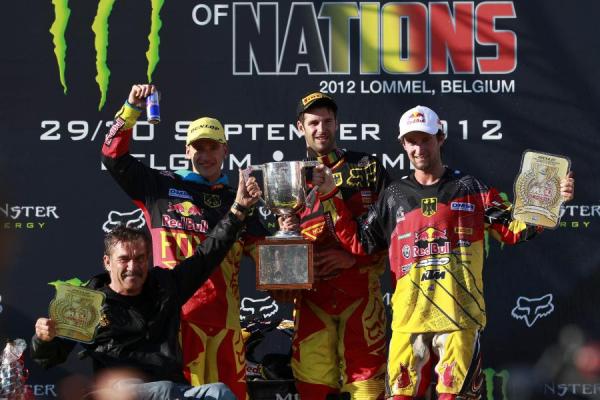 Team Germany will defend their title on home turf in 2013.
Ray Archer photo
There are so many surprises at the MXDN each year, riders put in amazing rides, some powerhouse teams struggle and all in all, it's a crapshoot many times. One very surprising country this year was the green and gold of Australia. With injuries taking Reed, Byrne, Metcalfe, and Moss right out of the running, the Aussies fielded a team of complete rookies and riders who only race in Australia. Lawson Bopping (again, early leader for name of the year), Todd Waters, and Luke Styke were solid in every moto and brought home a tenth overall. Considering there was talk beforehand about the Aussies being lucky to make the A main, I think that was a more than respectable finish. All rookies and in the top ten at the MXDN? Hells yeah.
Must be all those laps at Manjimup.
The neighboring country to Australia, New Zealand, had quite an adventure at this MXDN. With Cody Cooper, an unknown MX2 rider Kayne Lamont, and the last-race-in-his-career Josh Coppins, the Kiwis had to go to the B Main on Sunday morning due to a bad qualifying race on Saturday. And in a good/bad move, they dominated the B main Sunday morning. That's the good. The bad is that they now had to do two more 30+2 motos in the A main! So three 30+2 motos at Lommel is really equal to torture than a race but that's what the guys had to do. Early on in the first moto, Coppins was inside the top ten from a terrible gate pick!
But the dream scenario wasn't to be as both Coppins and Cooper visibly tired throughout the day (wouldn't you?) and by the third moto, they were just hanging on. Still, they beat five other countries that didn't have to ride a moto that morning and Coppins went out proper with three motos. In his last race as a professional, Josh didn't leave anything on the table! Congrats to him on a fantastic career, and I'm very happy to call him a friend—class guy on and off the track and he'll be missed. All hail the Lizard!
That's it from another MXdN and an interesting race to say the least. Team USA will be back next year in Germany (good luck with those 1, 2, and 3 plates in the home country—no pressure!) and looking for revenge on another track I visited in 2009. It plays more into the USA's hands and will be another great race, I'm sure. Congrats to Germany on their first MXdN win—they were the best team by far and deserved it. Email me at matthes@racerxonline.com and share your thoughts on all this.