Dragon Introduces NFX Goggle
DRAGON CONTINUES TO INNOVATE WITH NEW NFX MOTOCROSS GOGGLE
The First Fully Frameless Motocross Goggle with Patented Technology
Carlsbad, CA - While it may be true that there is nothing new under the sun, innovations are still happening. For the past few years, Dragon riders and engineers have been working diligently to create a motocross goggle that genuinely improves rider performance. After all, for the past twenty years Dragon Alliance has been an industry leader when it comes to bringing premium products to the market. This year Dragon is proud to launch their latest revolution, the NFX frameless motocross goggle.
"Since the company was started in 1993," explains Dragon Founder and CEO Will Howard, "the teams at Dragon have worked hard to develop innovation in all product areas. Our mission for the NFX goggle was to utilize our patented frameless technology to improve rider performance and increase peripheral vision while on the track. In racing, every advantage makes a difference."
Mission accomplished.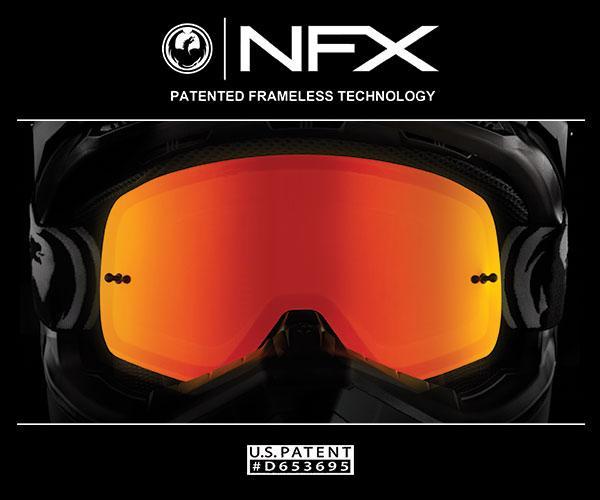 Dragon's latest offering was developed and rigorously tested over several years at test tracks across the country by motocross heroes such as Josh Grant, Blake Wharton and Jason Anderson. The NFX provides more peripheral vision, by far, than any other motocross goggle on the market. The frameless technology provides the rider with a fuller, clearer field of vision, which improves both rider performance and safety. The NFX also boasts Dragon's patented slant quad foam design, for maximum sweat absorption, coupled with a hypoallergenic micro-fleece lining.
With the patented frameless design of the NFX changing lenses is no longer a daunting, time-consuming task. Dragon's anti-fog lenses clip directly on in a matter of seconds instead of being tediously shoehorned between the channels of a traditional frame.
"I love this goggle," claims Josh Grant of the new NFX. "I honestly could not believe how easy it was to change lenses and how awesome the vision is. I feel like we've been looking through this tiny hole for all these years and now I finally have a full view of the track. It's an amazing goggle."
The Dragon NFX is available in a multitude of lens and 2" strap design variations. Each NFX goggle also comes with an additional bonus lens and a protective goggle bag. Dragon's Rapid Roll system is also available for wet or muddy conditions.

Visit your local Dragon dealer to see the new NFX or visit  www.dragonalliance.com. For more information contact  Dragon HQ (760) 931 - 4900 or email Billy Boersing at Billy.Boersing@DragonAlliance.com.
NFX PATENTED FRAMELESS TECHNOLOGY