Lommel
Lommel

,

Belgium
MX of Nations
Motocross of Nations
When the checkered flag fell on the 2012 Motocross of Nations in Lommel, Belgium, it was hard not to be happy for Tony Cairoli as a racer and for Germany as a whole. And it was hard to be too upset for Team USA—it was simply their turn to leave the race empty-handed, having lost the Peter Chamberlain Trophy for the first time since their last trip to Belgium, in 2003. On Sunday, the latest American winning streak ended at seven (they did not race in 2004) and the second-guessing from the other side of the Atlantic began almost immediately, which one could only expect—the rest of the world has been waiting for quite some time to win this race.
For Tony Cairoli the MXoN has been a frustrating exercise in futility for years, his Italian team either making remarkable mistakes (think "cheese wheel" in 2007) or being just plain unlucky (like the crashes that knocked them out at their home race at Brescia in 2009). Team Italia did not win this time either, but Cairoli was able to take a huge personal win in the soft sands of Lommel, winning the MX1 races and beating his Team USA nemesis Ryan Dungey and everyone's odds-on favorite to win in the sand, Dutch teenager Jeffrey Herlings.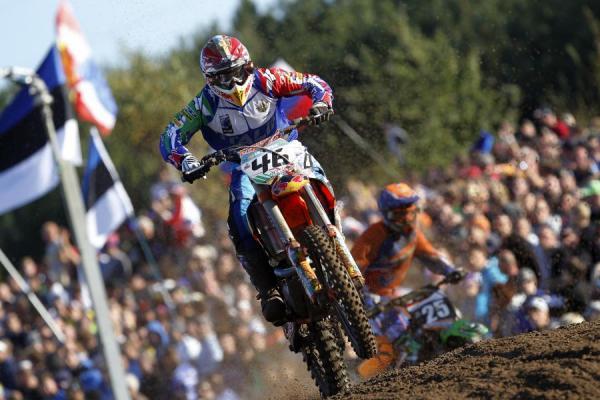 Cairoli was spectacular at Lommel en route to the top spot in the MX1 Class.
Ray Archer photo
Cairoli was incredible to watch in the sand, driven to get the MXoN monkey off his back; to do it in the sands of Lommel, against the younger Herlings, made it an even sweeter success. Tony is not a natural sand pilot, as Italian tracks are notoriously flat, fast, and slick. Rather, he is a superb athlete who taught himself to ride in the rough stuff by planting himself right there in Belgium. After years of frustration, he finally got to put two solid race wins together to take the individual overall outright.
Germany has also been waiting a long time to win the Motocross of Nations—sixty-six years, to be exact. Led by Ken Roczen, back on familiar turf and with familiar friends and equipment, the Germans were set to at least podium, though few in the paddock or the press room really had them pegged to win for the first time ever. But Max Nagl was almost as rock-solid as Roczen all weekend long, and the veteran Marcus Schiffer was more than capable of being a solid third man on a team that has waited longer than anyone to actually win the MXoN. They left little doubt as to which country had the best day in Lommel.
As for the rest of the results, there's bound to be second-guessing and armchair quarterbacking, especially when it comes to Team USA. Some of the European reporters were downright giddy after the race—one sent me a photo of Ryan Dungey with the caption "Look, is that the world's fastest amateur?"
But after the race, the three Americans—Dungey, Blake Baggett, and Justin Barcia—stood tall on the bottom step of the podium, accepting this defeat as they have every victory I can remember: with respect and with humility and the inherent knowledge that there's going to be another one of these races in a year's time, which they will be expected to win but just might lose. In some ways, the same goes for other exceptional athletes who did not have their best days in Lommel: Marvin Musquin, Tommy Searle, Gautier Paulin, Jeremy Van Horebeek, Zach Osborne, Evgeny Bobryshev....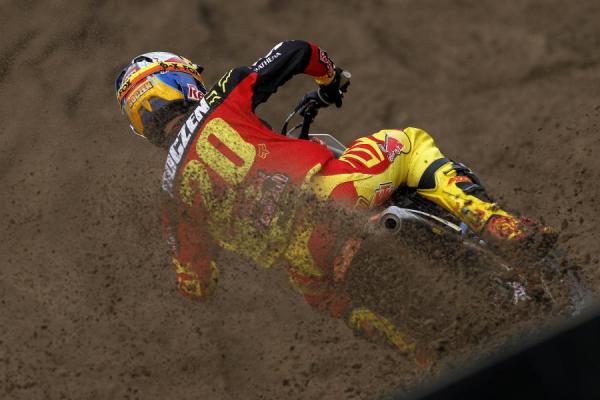 Ken Roczen helped lead Germany to its first victory in 66 years.
Ray Archer photo
So what has this race changed in the whole big scheme of motocross things? Honestly, nothing comes to mind.
Roger DeCoster chose the game-changing Team USA in 1981, and he chose Team USA again this time around. Roger's still the smartest man in racing. "The Man" stood by the kids he chose, and they stood by him—it just wasn't their year. I told Ryan Dungey as much after the race when we all sat in the hotel bar and talked about going home—our riders had been over there for almost two weeks preparing in the hopes of reaching an eighth straight win.
Congrats to Germany, congrats to Tony Cairoli, and congrats to the runners-up from Belgium, the country that put this whole party on, both this year and back in 1981, when everything really did change based on the results of one race.... And thank you, Belgium, for letting us have Roger DeCoster.
HOWEVER, just for bench-racing's sake (not to mention the fact that this is a very long flight home), what if we really DID bring a totally different team? How about Mike Alessi, Eli Tomac, and Jake Weimer—all fast, all could have raced in a pinch, and all would have done … what differently?
Or what about the one-third-injured, two-thirds-amateur, all-redheaded Ryan Villopoto, Ricky Carmichael, and Adam Cianciarulo?
What about the all-Chucks: off-roader Charlie Mullins, Team USA veteran Chuck Sun, and the all-around ass-kicking Chuck Norris? Actually, Chuck Sun did at least try....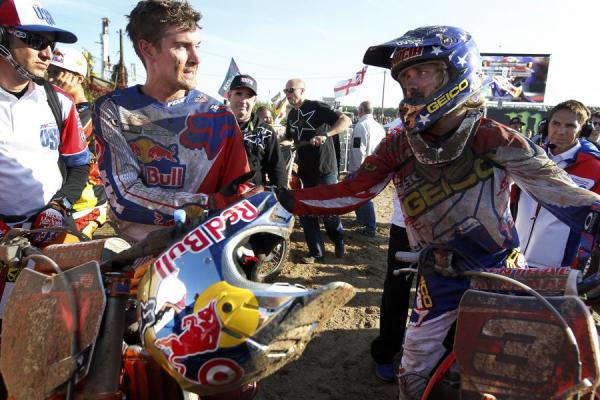 Team USA gave it their all, but in the end it just wasn't enough.
Ray Archer photo
How about the all-brothers: one Stewart, one Martin, and one Durham?
Team Tedder: Myles, Dakota, and their dad, Matt?
Team Team Managers: Nathan Ramsey, Grant Langston, and Tyler Keefe?
Exported from Australia One Decade Ago: Chad Reed, Michael Byrne, Brett Metcalfe?
All joking aside, it really wouldn't have mattered much. It was Germany's day in Belgium for the first time in 66 years, and I was stoked not only for them but for KTM's Pit Beirer, who won the MXoN as an individual a couple of times but never as a team, and then this time not only his country wins, but three KTM riders in the three classes. Let them enjoy it over in Europe, because we will be back—maybe even with the same three fast men.
Same time next year, boys?