Lommel
Lommel

,

Belgium
MX of Nations
Motocross of Nations
Racerhead is coming to you from the Old Dutch bar on the city square in Valkenswaard, Holland. Right next door is Lommel, Belgium, home to this weekend's running of the 2012 Motocross of Nations. It's Team USA versus the world, as usual, though this time the world has the advantage of very, very deep North Atlantic seaboard sand. Stay tuned to Racer X Online and our Twitter and Instagram feeds for news and photos and results from tomorrow's qualifying races, as well as Sunday's Motocross of Nations. The race will stream live (for a fee) on www.mx-life.tv both tomorrow and Sunday, and then the CBS Sports Network, with the help of Monster Energy, will be showing the race on a time-delay basis Sunday. Check your local listings.
All day here there was lots of buzz about the event and the showdown not only between the teams but also Ryan Dungey vs. Tony Cairoli, heavy favorite Jeffrey Herlings vs. Justin Barcia on 450s, and whether Blake Baggett can avenge himself for last year's tough day in France.
The track itself is going to be as rough as billed, though when I walked the whole track this afternoon with John Ayers Jr., I have to say it was a little shorter than I expected. But it's deep and soft, and while it looks fast right now, that's a fool's play—it's going to be rougher than anything our boys will ever see, unless Mitch Payton and the Honda and KTM boys can come up with a time machine overnight and send them back to Cocoa Beach in the early eighties!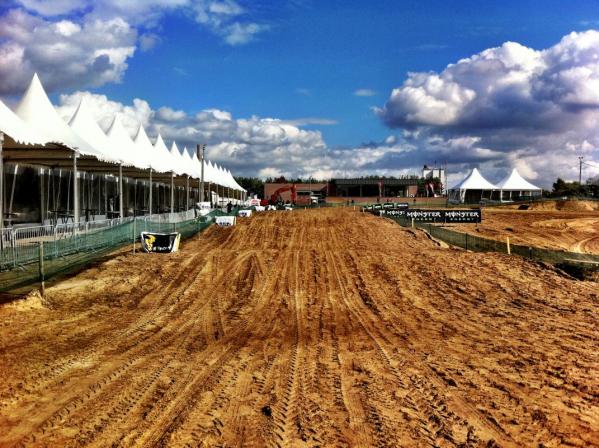 The calm before the storm.
DC photo
Speaking of Cocoa Beach, Florida, it sounds like a Floridian is joining the race at the last second, after the unfortunate injury to Team Puerto Rico's Jimmy Albertson, who broke his leg this weekend. "Top Jimmy" is being replaced by Kyle Chisholm, a Floridian who can definitely ride the sand well. Get well soon, Jimmy, and good luck this weekend to both KC11 and his teammate Zach Osborne.
As for Team USA, they've already met the competition and they seemed to get along quite well. Last night Stefan Everts, who lives right near Lommel, invited a bunch of folks over to his home for a cookout. Everts, the greatest Grand Prix racer of all time and a super nice guy, was host to a lineup of dinner guests that included his father, Harry, and good friend Roger DeCoster, plus Tony Cairoli, Marvin Musquin, Ken Roczen.... Wow, that's twenty-eight FIM World Motocross Championships right there! And then there were Team USA's Dungey, Baggett, and Barcia, and all of the team crew and friends and families.
Everts' home is simply remarkable. His basement and garage, which he told me was inspired by Jeff Stanton's legendary trophy den, has all his GP trophies, all his world championship laurels, all his old number plates, and all ten of his FIM World Championship motorcycles. It's simply astonishing, and all the riders and friends kept going downstairs to check it out. Everts even has one of those rare Batman-like KTM cars, with the license plate "101 GPS"—the amount of wins he took in his Grand Prix career.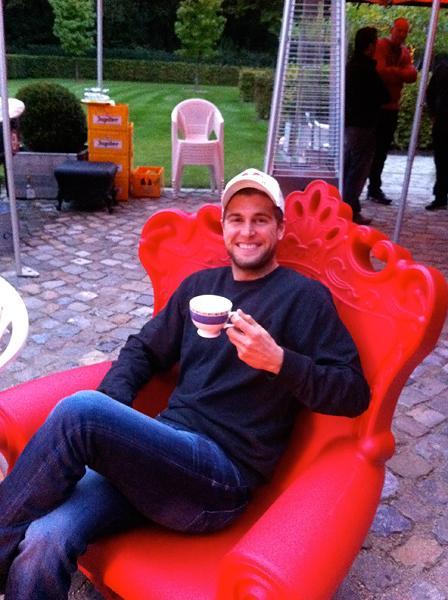 Team USA captain Ryan Dungey hanging out at Stefan Everts house.
DC photo
One very interesting thing I noticed at the gathering was the fact that the European guys—Cairoli, Roczen, Musquin—all got out in Stefan's yard and kicked a soccer ball around (Tony has some skills) while all the U.S. guys just sort of hung out and watched. I can't imagine the day before Anaheim seeing Dungey, Villopoto, Stewart, and Reed all getting together to shoot hoops! (Speaking of Stewart, the word on the streets of Belgium is that he's parting ways with Answer....)
In other news, Youthstream's Giuseppe Luongo announced at today's press conference that the Motocross of Nations would return to the U.S. in 2015 at Glen Helen Raceway. That's a couple of years behind the schedule that was announced a few years back when Glen Helen decided to run the U.S. Grand Prix for a couple of years, but it will be good to have the race back in the States for the first time since 2010. It's also cool that California finally gets the MXoN, as the Golden State is the cradle of American motocross, and they have been holding FIM races since Carlsbad's first GP back in 1973.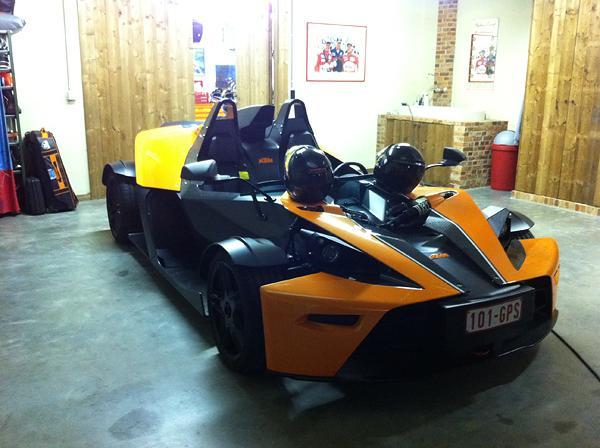 Everts' Batman-like KTM car.
DC photo
I saw Jeffrey Herlings today and we spoke for a few moments. He told me he's probably not going to race Monster Energy Supercross this fall because the GP schedule has changed and they now start in March in Asia. But he does hope that maybe the following year he can come across early and get some SX in. And I remain surprised that the Netherlands didn't put that kid on his 250, because I really think he could win this race in any class, and on any bike—he's that good in the sand!
While the Motocross of Nations is garnering a ton of headlines we also have a major announcement to make from our home base: The 3rd Annual GoPro/Racer X Online Amateur Film Festival has begun! If you're an amateur videographer and you'd like to participate in this year's competition -- and maybe win some killer prizes and global recognition in the process -- then check the official website today and get to work!
A huge thanks goes out to
GoPro
for once again being the title sponsor of this event, and also to new sponsor
Unit
. We really appreciate your support of this contest, and of up-and-coming videographers in general.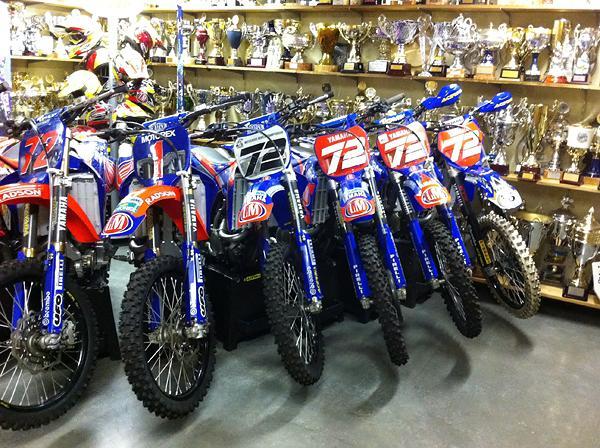 Stefan Everts has quite a collection.
DC photo
But in closing, I will say that I predict another win for Team USA—that would be eight in a row—based on their strong top-to-bottom lineup, the leadership of DeCoster and assistant team manager Mitch Payton, and the sheer will our boys have to win this thing every time they're called upon. There are some very fast men over here—Herlings, Cairoli, Roczen, Musquin, Clement Desalle, Gautier Paulin, Tommy Searle—but there are not THREE guys from one country as fast as the Americans. But you never know what might happen....
Let's start with Matthes, who is here with me at Lommel:
It's 5:15PM here in Lommel, Belgium, and all is quiet in the press tent except for the whirring of the Monster Energy fridges. Most of the media members went to some go-kart thing, but I stayed behind to hammer this report out as well as build a few pair of X Brand goggles for Team Puerto Rico riders Zach Osborne and Kyle Chisholm. More on that later.
First, Team USA is all here and there was the press conference today with the top three teams from last year. Of course the Green and Gold of Australia was up there with its 2012 team, but with everyone from last year's team injured, the Aussies don't have much of a chance to repeat their podium finish. Still, for Lawson Bopping (early leader for best name in moto 2013), Luke Styke, and Todd Waters it's a great chance to get experience on the highest level.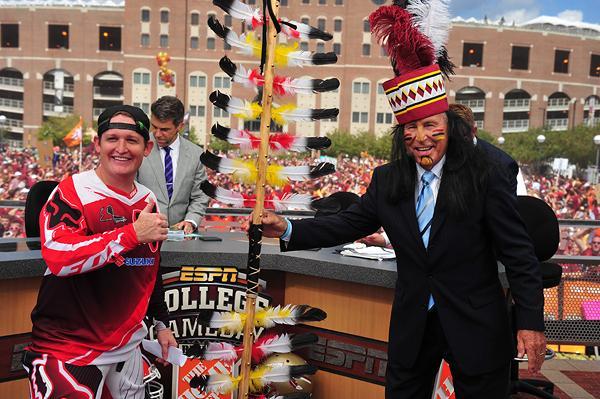 RC and ESPN Game Day host Lee Corso on ESPN's College Football Game Day last weekend.
ESPN images
The core Team USA guys have been here for about eight days now and went out on three different tracks, including one day at Lommel on part of the racetrack. The guys all mentioned that the track in Germany, about an hour over the border, was just epic and maybe the best practice for the guys. Everyone's got the bikes dialed in, and by all accounts the team is really coming together, including rivals Blake Baggett and Justin Barcia. In the press conference today, Dungey spoke about how Lommel was "really sandy" and Blake mentioned that he's "very excited" to get going. And just to top off the huge information-gathering session, Justin Barcia mentioned that he "likes the sand."
It's always funny to me to see the international press get very excited to see the American racers. There's no doubt that they are the stars here this weekend, and although I see these guys every weekend, over here it's a bit of rock-star-ish treatment. Which is cool, no doubt.
Bad news for Puerto Rico when Jimmy Albertson crashed out of the race while practicing a couple of days ago. And with that, the calls went out over to America to try to find a fill-in rider on less than a day's notice. I was contacted to try to help pull it together, as were a few others. My suggestions were Bobby Kiniry and Kyle Chisholm, as both guys were on the East Coast and flights would be cheaper, plus the time change would be less of a factor. Mike Alessi was also contacted about coming over. In the end, to the best of my knowledge, it was between Kiniry and Chisholm, and both guys were mulling it over and trying to make arrangements for everything. The first guy to confirm he was in would get the gig, and Chiz was the winner! Or loser, I guess, when you think about three motos in the deep Lommel sand (including Saturday's qualifier). Kyle will do great for the team—he's a real good sand rider, and I think it's pretty cool for both guys to just drop what they're doing to come and represent PR here at the event.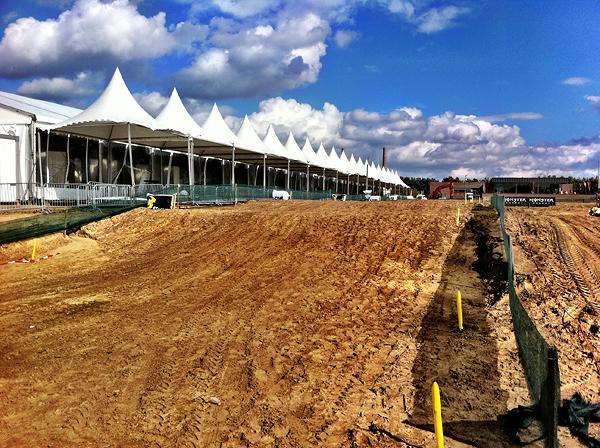 Qualifying races kick off tomorrow at Lommel.
DC photo
Of course, though, Chisholm landed at 4 p.m. Brussels time and his suspension didn't make it. Supposedly it's going to show up tonight or tomorrow morning, but with the airlines, you just never know.
I had a good talk with Roger Harvey, the head of Honda, about the disastrous season for the team of Russian Bob and Rui Goncalves. Next year Rui is out and the team has signed Max Nagl from KTM for 2013 on the works Honda. The guys at Honda have unleashed an all-new works bike for the first time in years, and in talking to Harvey, it's a combo of the 2012 and the 2013. Any way you look at it, it's great to see Honda back building some cool stuff.
Another thing to watch for is New Zealand's Josh Coppins, who is riding his last race as a professional here in Lommel, a track that he used to live ten minutes from. "The Lizard" is one of the good guys in the sport, and it will be sad to see the 2012 Aussie MX Champion retire. Hopefully he has a good weekend.
Also nice to see Shayne King, the 1996 500 World Champion and my former teammate at KTM in 2000. Also, Matthieu Lalloz, former factory Suzuki rider, is here, and nice to catch up with him and his duties at SCOTT Sports. He and my travel buddy John Knowles dorked out with goggle talk for a while.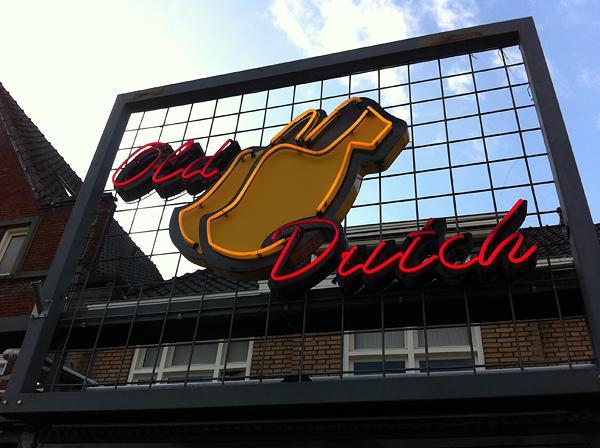 Definitely some good bench racing going on at the Old Dutch at the moment.
DC photo
And of course, Eric Sorby is here and in charge of everything.
Tomorrow morning we have one practice and then a qualifier race for seeding of A and B countries. Should be a great weekend of racing here.
Oh yeah, the rumor of the day over here is that James Stewart will be in some sort of Red Bull-themed gear next year. And this one is pretty close to being confirmed.
Here's Ping:
The Motocross of Nations is happening as we speak in the deep sands of Belgium. I'm feeling pretty good about our guys' chances over there, even though much of the pre-race hype has been about newly crowned world champion Jeffrey Herlings. I'm having a tough time liking Herlings after his maniacal rantings earlier this year. I understand the emotion that goes along with racing, but there's no reason he can't storm off to his trailer, go inside, and then throw his helmet at the wall and scream like a normal person. Instead, he drops the F-bomb on national television and makes himself look like a Stomme Klootzak. (Just working on my Dutch to get ready for the big weekend.)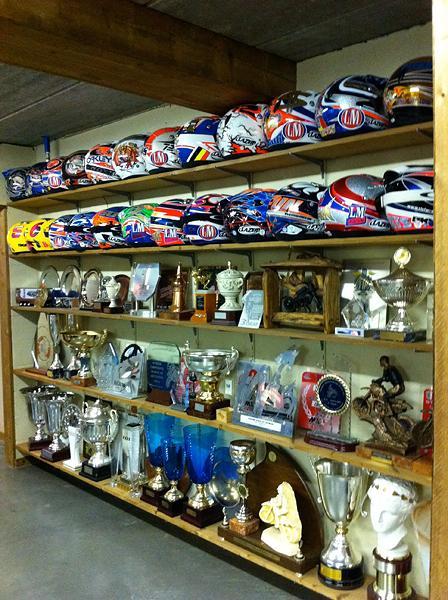 More of Stefan Everts awesome collection.
DC photo

Anyhoo, this race is always cool to watch, and the sand is going to make it that much more interesting. Jim "Bones" Bacon is over there along with a whole staff from Pro Circuit to support Blake Baggett and his Team USA teammates. Sometimes it's difficult to get a sense of what the track is really like when it's lined with banners and fans for the race. These images that Bones sent over give an idea of just how deep and fine the sand is over there. Good luck with all that, boys!
The guys at Washougal Motocross Park, including former factory Suzuki rider and track owner Ryan Huffman, just held the inaugural 125cc Two-Stroke Dream Race last weekend. Was there really any interest in that? Well, they ran until dusk trying to get off all 50 motos they had to schedule. So, that's a yes. It's awesome to see someone understanding the need for fun, affordable racing. Check out the highlight video.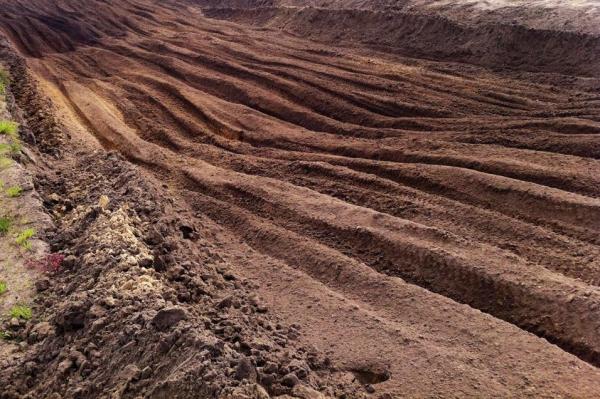 Over to Aaron Hansel:
Do you live in or near Northern California? If so, you probably know what about the Carnegie State Vehicular Recreation area, located roughly an hour east of San Francisco. Carnegie features over 1,300 acres of riding area suitable for all skills, including a motocross track, ATV track, kids' track, 110cc beginner track, and trails. There are even campsites, coin-operated showers, and an on-site moto store. If you've been there, you know it's a great example of a great OHV facility.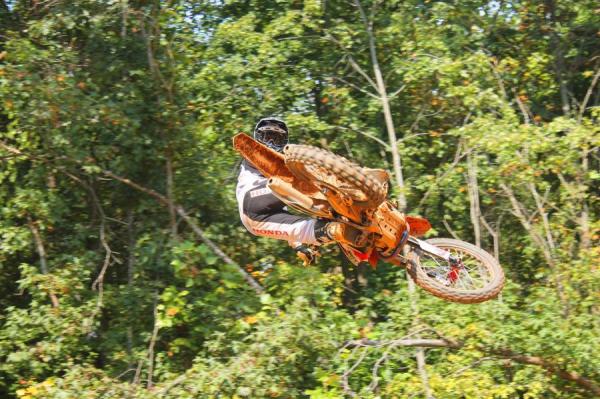 Chad got his whip skill back quickly.
Weege photo
What you might not know is that a sizable portion of land bordering Carnegie was purchased by the Off-Highway Motor Vehicle Recreation (OHMVR) Division of California State Parks back in the late 90s in what is referred to as the Alameda-Tesla Purchase. Since the acquisition, the OHMVR has tried twice to expand the Carnegie OHV area into the new property, but environmental concerns have stood in the way. The organization is now putting together another attempt, and is looking for your input for the general plan for the park. Keep in mind that input from outside groups and surrounding landowners will also be considered in the plan, and as history has shown us, the use of land for off-road vehicle recreation is often frowned upon by outsiders. If you ride at Carnegie, don't let the future of the park be decided by outsiders who all too often want to see dirt bikes go away. The Alameda-Tesla purchase was funded entirely by OHV funds. The future uses of Carnegie and it's new borders should be decided by the motorcycle enthusiasts that paid for it.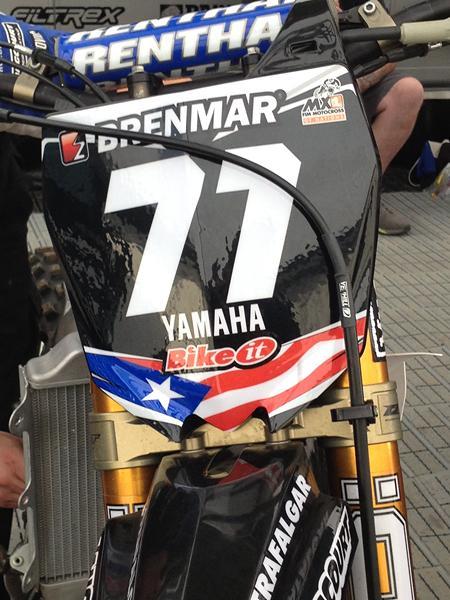 Zach Osborne's at Lommel and ready to go in his farewell ride to the GP's.
Steve Matthes photo
Now comes the part where I tell you how you can get involved. Click here. Seriously, it's that easy. The link will take you directly to the survey and feedback section of the Carnegie's General Plan website. Do it soon though, because the survey period ends on October 12, 2012. For more information, visit www.carnegiegeneralplan.com.
Want to check out what Blake Wharton has been doing during the off-season? Check out this YouTube video of him showcasing some of his musical talents.
Before I sign off, let me say a few quick words on the MXoN. The guys above have already gone into detail about it, so I'll make it brief. Is it just me, or has the uncertainty that comes with a racing on a deep sand track taken the hype for this year's MXoN to a whole new level? I believe that a lot of people seem to think the deep sand of Lommel will create a stumbling block for our boys, while a lot of the Europeans are used to that style of track. On the flip side, it seems like the American fans can't wait for Dungey, Baggett, and Barcia to shut down the doubters on a track that is much more suited to the Europeans. If Team USA gets it done in Lommel, which I believe they will, it's going to be a big victory in someone else's back yard. I can't wait to see what happens! Go Team USA!
RC talks about the new Monster Energy Cup track design.
Thanks, Aaron. Just under the wire, here's Jason Weigandt!
Not everyone gets to go to the Motocross of Nations. So today ended up being something like a "didn't make it to Lommel" day at the JGR test track in North Carolina. Justin Brayton was working his way back into form on a Yamaha, and Chad Reed was there also. Why is Reed at the JGR track? Because Chad is still doing some stock car racing and testing on the side, and he had several tests and even a Saturday night race scheduled in nearby Hickory. Wanting to get in some riding and driving time, he and Ellie loaded up their old black van, stuffed it with their two kids, a 2013 Honda CRF450R, and a mountain bike, and drove eleven hours from Florida to North Carolina. No motor home, no private planes, no practice mechanics, no nannies. I was impressed to see the Reeds road-tripping it.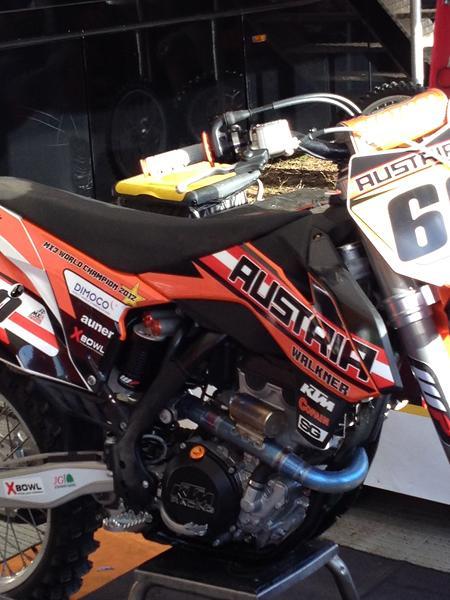 It seems that in the most unshocking moment of the MXoN, Team Austria are all on KTM.
Steve Matthes photo
Brayton and Reed stuck with outdoor practice. Reed hasn't ridden the new '13 Honda on supercross track yet—he's waiting until his first testing day with Honda in California (starting on Monday) to put that together. Right now, Reed says there are few works parts available for the new bike anyway. Specifically, he wants to try some new linkages before he really gets down to pounding out SX laps. As for Brayton, since he just finished the outdoor season, he figured it would make his Honda-to-Yamaha transition easier if he just started outdoors. Supercross testing starts soon, though, as both Brayton and Reed will be racing the Monster Energy Cup. Reed is pumped on it—he says he's not sure if he'll be to exactly 100 percent physically by then, but he thinks he'll be okay in the ten-lap main events. He also says the track seems pretty cool.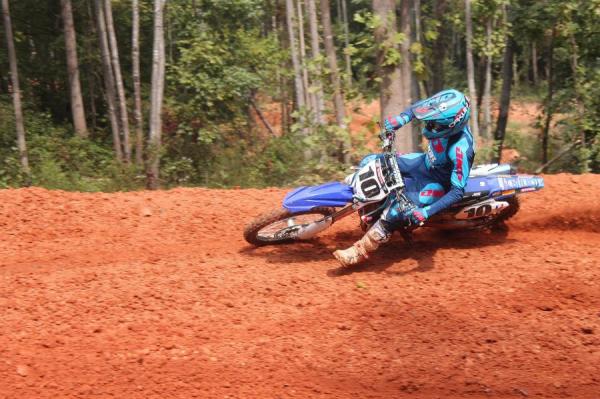 Brayton gets reacquainted with the JGR YZ450F.
Weege photo
As far as MXoN, the Reeds were bummed not to be racing, because during Chad's 2001 250 GP season (where he finished second in points), he and Ellie lived in the town of Lommel, ten minutes from the racetrack. Brayton actually heard some knocking on his door when Jimmy Albertson went down this week, but that's late notice, and Brayton said he can't see himself racing the MXoN against the actual Team USA. Overall, it was a nice day at the test track, but my guess is the North Carolina woods are a whole lot different than what's going on in Holland.
Thanks, Weege.
Okay, I have to do some serious bench racing here in the hotel bar with my friends Adam and Ben for MOTO, Tom Baggett, Mitch and Bones, Cernic and Moe and Tommy Carson, Johnny O'Hannah, 50Beeks, Doc Bodnar, McGuyer (the old JT guy, not the make-a-bomb-out-of-anything actor), and best of all, my mom.
Thanks for reading Racerhead. See you at the races.... And go Team USA!