Lommel
Lommel

,

Belgium
MX of Nations
Motocross of Nations
By Aaron Hansel and Chase Stallo
The Sandbox
In case you haven't heard, this year's MXoN track in Lommel, Belgium, is a sand track. We're not talking Southwick sand, either. Southwick may be the sandiest stop of Lucas Oil Motocross, but it features a hard base underneath, while Lommel is nothing but deep sand stacked on top of sand that's been dipped in sand. Ryan Dungey, Blake Baggett and Justin Barcia are new to this track (although they have been riding there this past week), and it's going to be interesting to see how they handle it in competition. Expect the top-notch physical condition of the Americans to help them plow through the nastiness that Lommel is sure to deliver.
Dutch Sandman
The controversial Jeffrey Herlings not only raced his way to the MX2 World Championship this year, he cemented his reputation of being one of Europe's all-time finest sand riders when he recently beat his nearest competitor by over two minutes in each moto at the sandy Lierop GP in the Netherlands. Unfortunately, those looking for a Dungey/Herlings/Cairolli battle will only get it once, as Holland has dispatched Herlings to the MX3 Class, instead of MX1. Why? MX3 riders have to run back-to-back motos, and the team figures the 17-year-old can handle that physical task better than veteran Marc De Reuver. No doubt, people will be all fired up for the third and final moto, which matches the MX1 and MX3 classes together.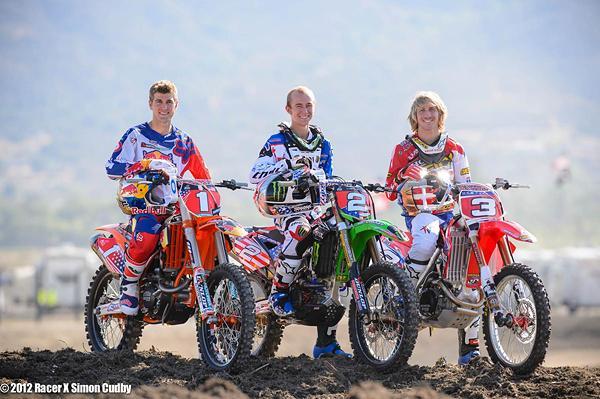 Team USA is looking for their eighth straight Chamberlain Trophy in Lommel.
Simon Cudby photo
The General
Red Bull KTM's Ryan Dungey has been a part of Team USA's winning ways since 2009, and brings a wealth of MXoN experience to the table as this year's team captain. Although he didn't have many opportunities to show it this summer, Dungey is a great sand rider and says he's looking forward to the rough track at Lommel. Dungey's sand experience goes all the way back to when he first learned to ride in 22 acres of deep sand on his grandfather's property, where he and his friends and family would see who could ride standing up the longest on the rough, whooped-out track. With his impeccable fitness, unquestionable speed and vast experience, betting against a perfect 1-1 performance from Dungey in the MX1 Class would not be advisable.
The Sophomore
After wrapping up the Lucas Oil Motocross 250 National Championship, Blake Baggett will now represent Team USA for the second consecutive time in the MX2 Class. Having grown up riding on the hard pack of sunny Southern California, Baggett is not widely considered to be a master in the sand, although he did win at Southwick this year. He's shown maturity as a racer this year by successfully managing a points lead all season long and refusing to crack under the heavy pressure Eli Tomac was applying down the final stretch of the season. And when it came time to step up and deliver at the finale at The Elsinore National, Baggett put the championship on ice, taking the overall to boot. Baggett is confident in his ability to learn the Lommel track and be competitive, and believes his previous MXoN experience will give him an insight on what to expect, as well as help keep him calm. Last year, crashes held Baggett to 17-17 moto scores. This year, look for Baggett to ride smart; he'll take the win if it's there, but don't expect him to throw away valuable points by attempting impossible moves or committing rookie mistakes.
The American Sandman
Considered by many, including himself, to be an excellent sand rider, is Justin Barcia. New to the MXoN with just a dash of experience racing a 450, Team USA's wildest child is also their wildest card, which really puts into perspective Team USA's extraordinary depth of talent. While other teams are lucky to have even two front-runners on the roster, Team USA's largest question mark has two Eastern Regional Supercross Lites titles under his belt and is the 2012 Lucas Oil Motocross 250 runner-up. Expect Barcia, who says he prefers riding a 450, to put in solid motos in the MX3 Class at Lommel. And on an interesting side note, keep an eye out for a potential fiery showdown between Herlings and Barcia. Both are controversial at times (Herlings probably more so than Barcia), both are great in the sand and both have been known to ride with a bit of attitude. If the Barcia-Herlings matchup materializes, international sparks could fly.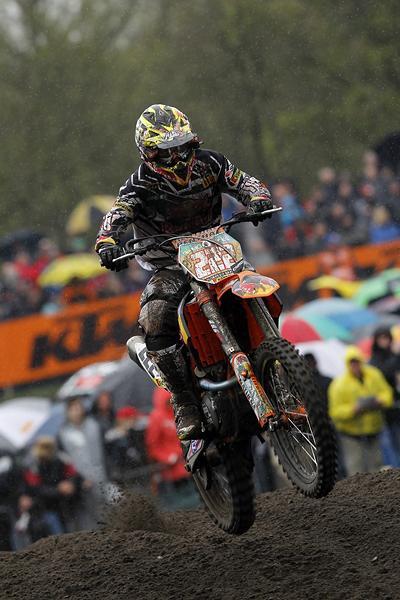 Can Cairoli solve his MXoN troubles at Lommel?
Ray Archer photo
Home Stand
The last time the Motocross of Nations took place on Belgium soil, the Belgians were able to withstand a
Ricky Carmichael
onslaught to hold serve on their home turf in 2003, under a bizarre one moto format. The following year the U.S. didn't send a team and the Belgians captured a second straight Chamberlain Trophy in the sands of Lierop. Having only finished off the podium once since 2004—Belgium finished fifth last year in France—the Belgians have been a formidable foe to the U.S. The team consists of Jeremy Van Horebeek in MX2, The MX Panda (Clement Desalle) and Ken De Dycker. Will a massive, raucous crowd that is expected to flood Lommel over the weekend be able to push the home team to their first overall since 2004?
Les Francais
Aside from maybe the Belgians, the French have posed the most consistent threat to the U.S. throne in recent years. But pressure has begun to mount for a French squad that has had five runner-up finishes since 2004—including a devastating loss on home soil a year ago. It's been eleven years since their last Chamberlain Trophy, which came on the heels of the attacks of 9/11 and the withdrawal of the United States in 2001. With a returning cast of Gautier Paulin (MX1) and Marvin Musquin (MX2), paired alongside Xavier Boog (MX3), who unexpectedly replaced Christophe Pourcel, France will again be poised to dethrone the U.S. from their eighth consecutive Chamberlain Trophy.
Not So Super Tony
The struggles for six-time World Champion Tony Cairoli at the Motocross of Nations have been well documented. Just two moto wins have come from Cairoli in his seven MXoN appearances—something that probably doesn't settle well with the Italian—as crashes, injuries and even struggles with U.S. customs (at Budds Creek) have set Super Tony back. For Cairoli, like many Europeans, Belgium is a second home as he spends a lot of time training and riding in the deep sands. With depth a problem for the Italians this year, the team might not fight for the overall, but Cairoli desperately needs to overcome his past MXoN demons and carry the torch for his country. Will Cairoli finally be able to right the ship at Lommel?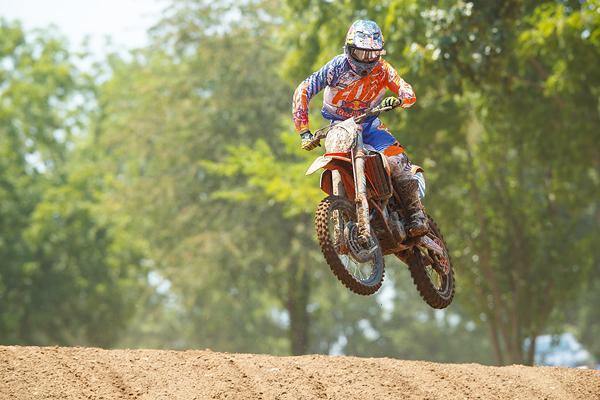 Roczen hopes to lead Germany to the podium for the first time since 2010.
Simon Cudby photo
Da Germans
After Ken Roczen's dazzling performance at Thunder Valley in 2010, the Germans knew they had a sure fire stud to lead their team for many years to come. Although Germany would come up just short of upsetting the Americans on their home soil, there were whispers that a new nation ready to challenge the U.S.  But after pressing the U.S. the prior year, a wounded German squad, that was missing Max Nagl, was only able to muster a seventh in France. Now, the same team that posed a legitimate threat to the U.S. in '10 will embark on Lommel. Will Roczen and company rebound from a disappointing performance in France to challenge for a podium spot?
Short Term Notice
Yesterday afternoon Team Puerto Rico was left scrambling to find a fill-in rider for Jimmy Albertson, after Albertson suffered a broken leg practicing. A few hours later Kyle Chisholm was boarding a plane headed straight for the deep sands of Lommel. Chisholm grew up riding in the sands of Florida, but with only an hour on the bike since Elsinore, according to Chisholm, it may be tough sledding for the JWR rider at Lommel. Will Chisholm be able to dust off the cobwebs in time to lead Puerto Rico into the finals?