Lommel
Lommel

,

Belgium
MX of Nations
Motocross of Nations
With 22 victories all-time, the USA is the most successful nation in the history of the Motocross of Nations. But what were the best Team USAs? Here's our ranking for The List.
10. 1983, Angreau, Belgium:
After the shocking 1981 and 1982 victories, Team USA support grew immensely, and instead of an all-Honda effort, each major factory team contributed a rider to the 1983 team. This led to a dream team of sorts, with David Bailey (Honda), Mark Barnett (Suzuki), Broc Glover (Yamaha) and Jeff Ward (Kawasaki) commanding Team USA to victory.

9. 1985, Gaildorf, West Germany:
The event changed completely for '85, with the Trophy des Nations for 250s getting the ax, and 250, 500 and 125s all being combined into the Motocross des Nations--this is the same basic format still used today. Conspiracy theorists will say the rules kept changing to stop the Americans, but the new one-weekend/three riders/three bikes format was definitely a money saver for each nation compared to having four riders, each on two different bikes, on two different weekends. No one knew how the new format would play out, but Team USA, with David Bailey on a 500, Jeff Ward on a 250 and Ron Lechien on a 125, proved they could win no matter how the race was run. Ward's dominant performances on the 250 established that the big-bores were no longer the ultimate motocross bike.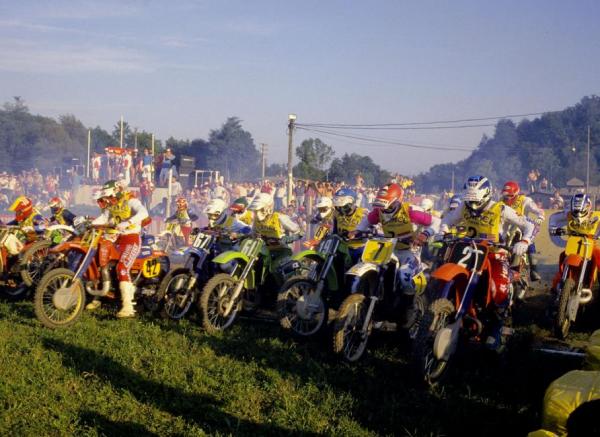 Rick Johnson (2) cuts inside at the 1986 MX des Nations in Italy, with David Bailey (1) not far behind.
Racer X Archives photo
8. 1982, Wohlen, Switzerland: Punctuated by the greatest individual performance in the event's history, Team USA began to build a win streak. With 1981 MXdN hero (and 1982 250 Supercross and 250 Motocross Champion) Donnie Hansen out with an injury, Danny "Magoo" Chandler saved the team with two epic rides, going 1-1 and the Trophy des Nations, and doing it again at the MXdN (up until 1985, the MXdN raced on one weekend on 500cc bikes, with the Trophy des Nations running the next weekend on 250s). No other rider ever logged 1-1 scores in back to back weekends at these events.

7. 1992, Manjimup, Australia: The B team comes through! With the pressure of a win streak mounting, top Americans Jeff Stanton, Damon Bradshaw and Mike Kiedrowski say no to the event. In their place came 125 National points leader Mike LaRocco, on a 250, LaRocco's main 125 rival Jeff Emig on the small bike, and Georgia journeyman Billy Liles, who had left America to race the 500 GPs years ago. This odd-ball team came through in the underdog role on the sandy Australian circuit.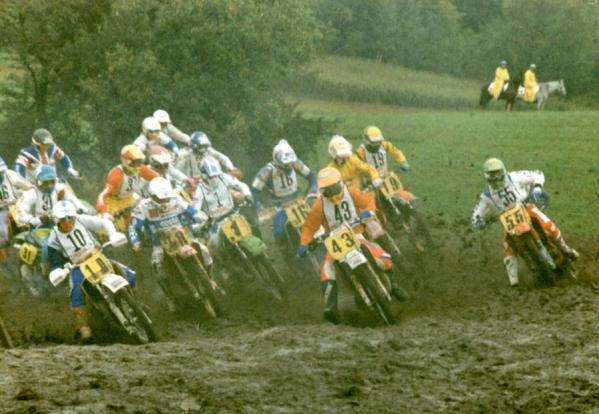 It was really, really muddy at Unadilla in 1987. Jeff Ward (1) is in the center about to eat slop.Racer X Archives photo
6. 2005, Ernee', France: After a decade of starts and stops following the 1994 end of Team USA's big win streak, the Yanks recommit to the event in a big way. The team of Ricky Carmichael, Kevin Windham and Ivan Tedesco win, starting a streak that still goes today.

5. 1987, Unadilla, NY, USA: Not the most dominant Team USA win, but probably the most star-studded lineup. By the time Bob Hannah, Ricky Johnson and Jeff Ward had retired, they occupied the top-three spots on the all-time AMA National win list. They also gathered 20 AMA National titles between them! Combine that with first-ever-MXdN-in-America atmosphere and super muddy conditions, and this was an epic one.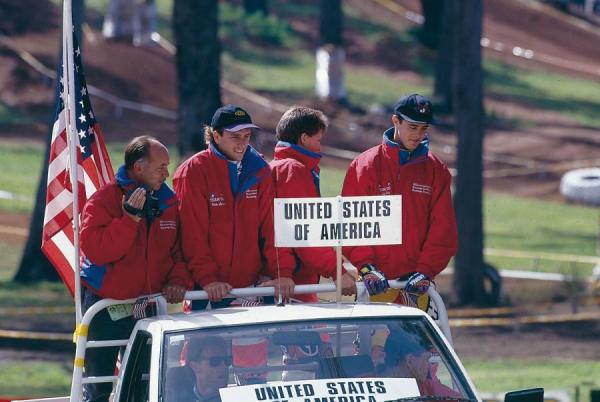 The 1992 "B Team." Team Manager Roy Janson on the left, with Mike LaRocco, Billy Liles and Jeff Emig.Racer X Archives photo
4. 1981: Beilstein, West Germany/Lommel, Belgium: The one that started it all. Most were surprised that the Yanks even sent a team, let alone thought about the fact that they could win. But the all-Honda effort of Donnie Hansen, Johnny O'Mara, Danny Laporte and Chuck Sun wins both the Trophy and MX des Nations, kicking off a 13-year win streak.

3. 2007, Budds Creek, Maryland, USA: Dominance on home soil, as Ryan Villopoto, Ricky Carmichael and Tim Ferry each win their classes at Budds Creek.

2. 1996, Jerez, Spain: The picture of dominance? Steve Lamson did a heel clicker on his 125 over a downhill quad jump that most riders wouldn't even do! This was an underrated performance that rivals the best ever, as Jeff Emig (500), Jeremy McGrath (250) and Lamson (125) won every moto in Spain. Lamson even became the first rider to win a moto overall on a 125! The Europeans complained that the Jerez track was too technical and jumpy, leading to "Supercross des Nations" jokes. But the MC/Emig/Lammy combo would have been hard to top anywhere in '96, when all three were at the peak of their powers.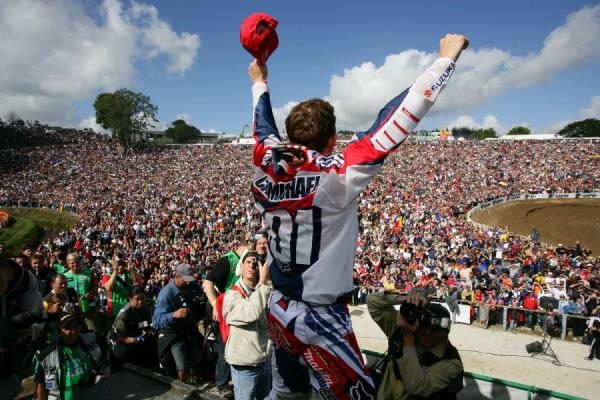 Team USA had mixed results and even skipped the event for a few years. When they returned with a full effort, the fans welcomed them.
Simon Cudby photo
1. 1986: Maggioria, Italy: Few will argue that this team was the best ever, with David Bailey, Rick Johnson and Johnny O'Mara going 1-2 in every single moto. No other rider from any other team finished in front of them all day, and that includes O'Mara's amazing 2-2 overall performance on a 125.