Pit Posse Announce New Chemicals
September 27, 2012 9:15am
Pit Posse is proud to announce new line of chemicals for the Powersports Industry!
After years of hearing our customers ask when we would be producing our own chemical line, Pit Posse has heeded your requests.  Not being satisfied with putting out the same old chemicals as everyone else, our mad scientists have spent countless hours in the lab creating the chemicals that will keep your bikes running and looking in top form!
With a full line of products, including No-fling Chain Lube, Air Filter Cleaner, Foam Air Filter Oil, Oil Filter Cleaner, Carb Cleaner, Parts Cleaner and Body Renew, Pit Posse Chemicals have you covered!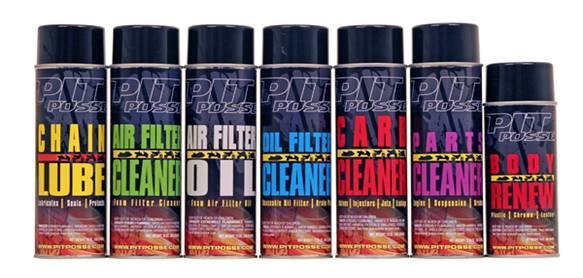 About Pit Posse & Outlaw Racing
Pit Posse is a manufacturer tools, transporting, shop and trailer accessories. Outlaw Racing Products is a manufacturer of motorcycle accessories. With more than 1,600,000 items in stock and over 750 items manufactured under the Pit Posse and Outlaw brands, the company has quickly grown to become one of the leaders in the power sports industry.