When I spoke with Derek Anderson for the first time almost a year ago to the day, the vibrant Colorado native was just trying to get healthy again. A herniated disk in his back would shelve Anderson for the first eleven rounds of the 2011 Lucas Oil Pro Motocross Championship. Although he raced the final round at Pala, his stock after a breakout rookie season had dropped. Flash forward a year and Anderson is one of the most recognizable privateers on the circuit. A contagious personality mixed with strong on-track results have pushed Anderson into the limelight in 2012. Along with childhood friend Tucker Saye and videographer Jimmy Bower, the three began with a dream to show the world the journey of two privateers trying to make it in professional motocross. But little did they know that the Driven to Ride series would morph into the cult classic it did. Although his popularity has risen to new heights in 2012, you would never notice. Just as humble, and down to earth as he was a year ago, Anderson is ready to take on a new journey in 2013... a journey into the world of supercross.
Racer X: When Driven to Ride began nearly five months ago, did you ever imagine that it would take off like it did?
Derek Anderson: I didn't think it was going to happen like it did. We started out how we wanted to, which was to show what privateers do. There are videos and movies and stuff, but there has never really been a live feed about it and that's what we wanted to do. The following came about way more than we were expecting. And it seems like a lot of people were really happy with the whole series.
Were you surprised by how much the entire motocross community came together and helped you and Tucker at various stops along the journey?
Everywhere we went we had someone recognizing us and it was really cool to have the motocross community come together to help me and Tucker get through the whole National series. Also, the sponsors that came through—we can't thank them enough. It was awesome having all the fans really show what that motocross is the number one sport out there family wise.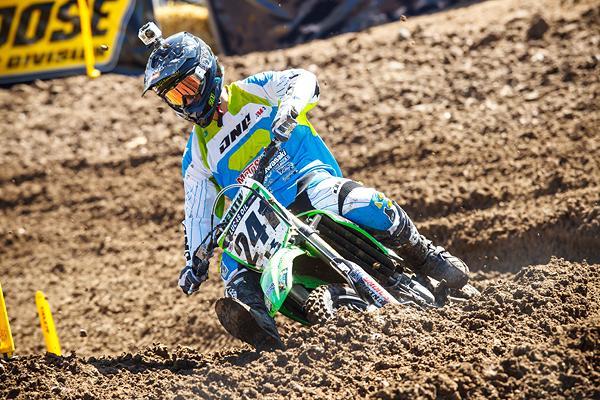 Anderson, along with Tucker Saye, were the stars of the Driven to Ride series.
Simon Cudby photo
What was one of the most memorable moments that come to mind?
Off the top of my head, I'm not sure, we were super busy the whole time. We tried to have fun on the scooters and playing in the river before Millville and stuff like that. Actually on one of the episodes I let a pretty good fart go that sounded like a Velociraptor from Jurassic Park or something [Laughs]. Honestly, we were pretty busy the whole time so it was hard to have too much fun. Obviously every time we were on the bike we were having fun, but we were on the go so much and we spent a lot of time in the motorhome trying to figure out what we were going to do the next day that we really didn't get to get out and be dorks the whole time. The only bad moments were from bad results on the track. That was the worst part. Me, Jimmy [Bower, videographer] and Tucker all had a really good thing together, so we never really had any bad moments together.
You and Tucker grew up together and you have known Jimmy for a while. Could you think of anyone else you would have rather gone on this trip with?
Honestly I wouldn't have done it with anyone else. With my ability and where I was at I was able to make almost all of the Nationals and get good results at them and that's something people wanted to see. But people also wanted to see, and I'm not downing Tucker at all, but he has tried to make some Nationals before and hasn't been able to make them, but he is still trying hard and still trying to make it and I think people like to see that side as well. There are people out there that may not do every race, but they will do their local Nationals. How many really have a chance at getting in? People really want to see that side. I wouldn't have rather done it with anyone else. If we had two guys that were top-20 riders than it wouldn't have made much of a story. I think it was good that Tucker's stories and mine are totally different.
As the rounds went by, did you see the fan base growing? Could you tell a difference between Hangtown and Steel City?
I could tell a huge difference. At Hangtown we had a few people that had watched the videos and knew who we were. It seemed like right after we went to Andrew Short's people were like, "Okay, this is the real deal. These guys know some people, they're here to stay and they're driven to ride their dirt bike." And that's what this series is about, and I think people caught wind of that after Short's and then after our hometown race [Thunder Valley] where we showed some emotions, I think it really got people connected. By Elsinore we could hardly get a break at the pits because people want to get our autographs and stuff…so it was pretty awesome!
I know you've done Road to the Vurb Classic, which was similar to Driven to Ride, but was there an adjustment period to having a camera in front of you for five months?
It was like the exact same [as Road to the Vurb Classic], except toward the end of the series there was less filming going on. In the beginning Jimmy was filming 24-7 and when he went to make the video he would have way too much footage. It really felt natural having a camera in front of my face. I love being a dork on camera, but I'm also serious at the same time.
Did you notice any teams starting to take more of an interest?
Honestly, not too many teams have noticed us. I know Factory Kawasaki and Tyla Rattray's mechanic and there truck driver Big B, noticed us and helped me out with some plastics at one round and helped me fix some things on my bike at Washougal. That little bit of support was definitely noticed by those guys, but I don't think they were noticing me as a potential rider one day, I think that they just saw I rode a Kawasaki and they wanted to help out what we were doing, which was awesome. I got to meet the truck driver for Lucas Oil Troy Lee Designs Honda, Cory, and he was really cool as well. He tried to pull a couple strings for me here and there to possibly be on a team. But the support from the teams wasn't as good as you would think it would be. All of our support pretty much came from Motosport and ONE Industries.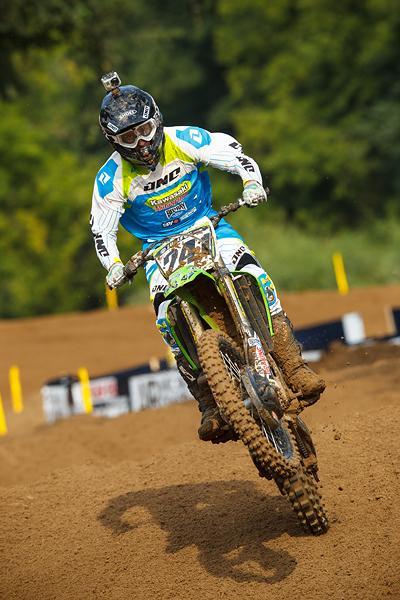 Anderson's great on-track results helped push the series forward.
Simon Cudby photo
Are there plans for a Driven to Ride Supercross or another year at the Nationals?
I know the sponsors were very happy with the turn out to the whole Driven to Ride series and I'm pretty sure they would be in to do it again. As for supercross, I don't really see it happening. It's so hard to find a practice track for supercross when you're traveling and I'm the kind of person that wants to show up on my game week in and week out. I don't want to be struggling because I couldn't find a place to practice or something along those lines. I want to be able to show results and not just my face on a camera, which I think would be hard to do in supercross. But I think there is a chance for doing Driven to Ride for the outdoors again next year.
This will be your first season of supercross in your career. What are you doing in preparation for next season?
Right now I'm trying to sell my motorhome. The 1998 Driven to Ride masterpiece [Laughs]. And I'm going to take that money and put it into myself. Kind of like what Chad Reed did and gamble on myself and hopefully show I can do well in the 250 West for supercross. Who knows, maybe someone will pick me to ride the 450 on the East Coast and if I can continue to do good maybe it will lead into something for outdoors. I've never done supercross before so I can see why someone hasn't hired me yet. I would do a 450 but that's not really in the budget. So I'm going to ride the 250 and try to find a place to train out in California.
Do you think your inexperience in supercross has been a breaking point in contract talks?
You know, I guarantee that is probably why I haven't gotten any calls because no one sees my as a supercross rider because I have never done it. But I do have a BMX background and I feel like have the rhythm to do it and I want to take a gamble on myself and prove to everyone that I can do supercross. Right now, I'm looking to find my own sponsors and get to the track on my own.
Let's transition to this past season outdoors. You had a couple of breakout rides, but also struggled with an ankle injury as well. How would you grade your season?
This year was definitely a rollercoaster ride. It started out just like a rollercoaster, where I started climbing right away and then after Lakewood it fell to the bottom. I twisted my ankle there after I had a couple of good rides and it wasn't feeling good enough to even get me in the show at High Point, and actually for the rest of the year I had to deal with the ankle injury. As far as grading myself, I guess I would give myself a C+. I got lazy a couple of times toward the end there, with my ankle and my bikes falling apart it was hard to get motivated, but looking back, it's something I'm kicking myself over. With the series and all the stuff we had going on I couldn't have asked for a better season. I had a lot of good finishes, but as far as putting two motos together I dropped the ball at almost every race.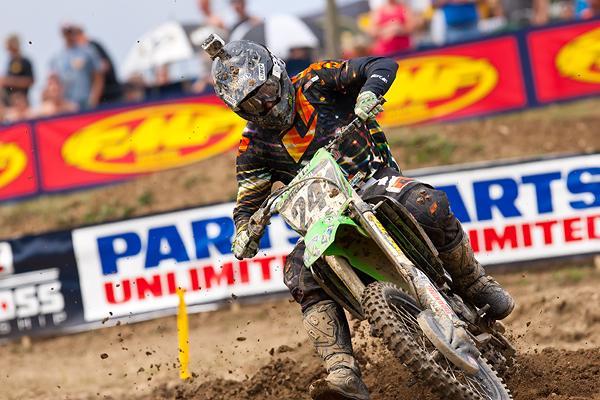 Anderson will make his supercross debut in 2013 in the West Coast Lites Class.
Andrew Fredrickson photo
Let's talk a little bit about how you rehab an injury while on the road. For example, if Ryan Villopoto were to suffer an ankle injury he would be getting treatment on it during the week, whereas your driving in a motorhome and probably the best treatment you're receiving is ice. What did you do to rehab the injury yourself during such a long season?
When you have an injury when you're on the road like that it's best just to mentally prepare yourself that it's not going to be 100 percent the next weekend. I think that gives you a better mindset going into the races. Not getting treatment week in and week out… like I said is just a big mental game. It's definitely tough.
Congrats on a great season and a great series, Derek. Who would you like to thank for making all of this happen?
Obviously, Motosport and ONE Industries. Also, I'll call him the middleman at Vurbmoto, he was the one that got me in touch with the sponsors, and so I owe him huge thanks. I would also like to thanks SPY and Novik Gloves, and everyone who saw interest in the show and helped us along the way.