Track Profile: Walden Playboys
September 25, 2012 9:05am
By Iain Grae / realMotocross.com
The Walden Playboys motocross track is a historic motocross facility located in Wallkill, New York. Founded almost 50 years ago, the Walden Playboys is one of the best-known places to ride in New York because of its longevity and unique layout. The track is owned by a hard core group of riders and racers who've formed a club to manage the facility and this arrangement has continually provided both members and visitors a great motocross experience.
There are two tracks at Walden, the big track is called "W1" which is long (about 2 minutes) and has a variety of obstacles…everything a rider could want. The Walden Playboys do a great job of grooming the tracks, always working hard to keep it safe for all skill levels, listening to the riders and changing the track layout accordingly.
W1 at Walden features great elevation changes, big downhill doubles and a great whoop section in front of the spectator bleachers, and this section always proves entertaining to watch! Overall the track is challenging but safe and the members work hard to keep it that way.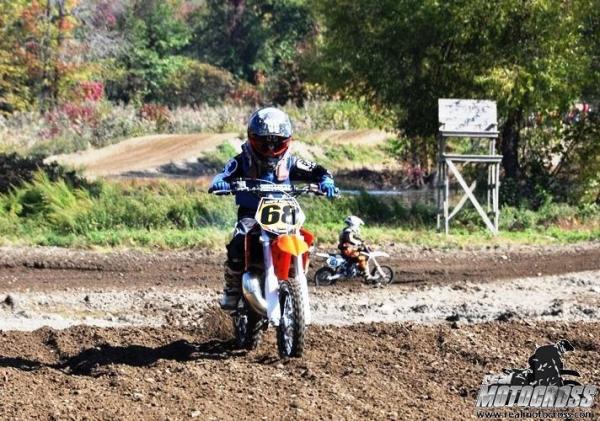 The smaller track is called "W2" and is a great beginner's track. It's tame and a great place for parents to watch the younger riders on pee-wees and minis as well as adult pilots on pitbikes. This smaller track also sees action when Walden hosts quad racing…and on that note, Walden is one of the few tracks in the area that welcomes quads on occasion, so quad riders be sure to check the Walden Playboys website for details regarding these events.
Most racers agree that the Walden Playboys motocross track has lasted the test of time and although the rocks just keep coming up, the club works hard to groom carefully before every event…even so, wear your chest protector and bring a spare tube if you have it!
Because of the track layout and availability of bleachers, Walden is an excellent place to bring family and friends to spectate, and the view is especially scenic in the fall. Walden is a simple facility, but expect a host of vendors associated with the club to provide food and spares at major events. There are clean porta-potti's and water available to wash your bikes/quads and the track features beautiful grassy areas surrounded by trees in which to park your RV or trailer.
The Walden Playboys motocross track does offer overnight parking for RV's but it is not a campground, so no tents or open fires are allowed. The track is conveniently located close to many options for both food and lodging, located in the nearby town of Newburgh.
The Walden Playboys have existed for years at the same location by respecting the rights of their neighbors and they ask that you do the same by adhering to a 30 MPH speed limit on the road that the track is located on. They also urge you to make every effort to patronize the local community by purchasing your food, gas and supplies close to the track.
Safety at the Walden Playboys motocross track is of great importance and all machines must be in good working condition with silencer and full protective gear is required on all riders with no exceptions.
Walden offers open practice days as well as race events and the schedule for these can be found updated regularly on the Walden website. You do not need to be a member of the club to attend or participate in these events.
The Walden Playboys motocross track has no regular weekly schedule, so open practice days and race events are announced on the club's website. Normally the fee is $35 per rider for open practice and the usual fees apply on race day.
You can find more information by checking out the Walden Playboys motocross track page on realMotocross.com