PC New Product: KX85 Triple Clamps
September 24, 2012 10:05am
CORONA, Calif., – Pro Circuit has added another option to its selection of triple clamps for the KX85 rider. The new-style clear anodized triple clamps are the perfect option for taller KX85 riders who are looking for better feedback and control, and are offered in addition to the popular brown anodized triple clamps.

Works Look: The clear anodized finish on both the upper and lower clamps gives the new Pro Circuit Triple Clamps a works look, and creates a durable finish that helps retain the like-new luster.

Clamp Features: The upper triple clamp has been modified to accommodate a more open, forward bar mount position for taller riders, and has also been modified to increase rigitiy for better feedback and control. Pinch bolts have been moved to allow for easier access without removing the front number plate. Additionally, the bar mount position has been moved forward by 10mm from the standard KX85 triple clamp.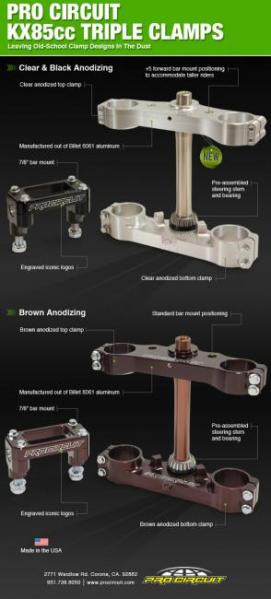 Additional product specifications are included below. Pro Circuit Triple Clamps for the KX85 can be found at your local dealer or at the Pro Circuit online store. For additional information on this and other Pro Circuit products, please visit www.procircuit.com or call 951-738-8050.
Made in the USA
Clear anodized finish
Bar mount position moved forward 10mm from the standard KX85 clamp
Bar mount position increased 5mm forward and up
Top clamp has improved feedback and control due to increased rigidity
Easy access, front number plate removal not necessary
Bottom clamp includes pre-assembled steering stem and bearing
Kit includes:  Clear anodized top clamp, clear anodized bottom clamp, black bar mount
Part Number
- KSM98080
Retail Price
- $549.95