Monster Energy Spotlights Speedway Championship
September 24, 2012 3:55pm
Monster Energy Spotlights Historic Night in Costa Mesa at
44th Annual U.S. National Speedway Championship
Monster Athlete Billy Hamill Overcomes Adversity for Dramatic Win
CORONA, Calif. – American Speedway racing hosted perhaps its biggest night in history on Saturday as the 44th Annual Monster Energy U.S. National Speedway Championship provided a captivating evening of competition in front of a packed house at Costa Mesa Speedway. At the conclusion of 26 races, it was a familiar name standing in the winner's circle as Monster Energy athlete Billy Hamill took home his third win at the iconic event.
The atmosphere at Costa Mesa Speedway was electric as thousands of raucous fans cheered on the riders all night long. The iconic green claw of Monster Energy was a focal point throughout the facility, as the company's title sponsorship of the annual event resulted in the biggest purse ever for the U.S. National Speedway Championship – $11,000.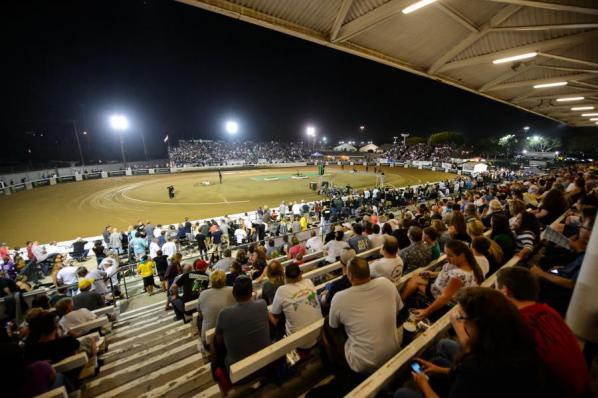 (Photo: Simon Cudby)
Once the action was underway, there was an onslaught of heat races to determine who would run for the money in the Main Event. A total of 20 points-paying heats were ran every four minutes, and with only four laps to get the job done, mistakes and errors in judgment could make or break any rider's hopes. Only three riders would emerge from the heat races, with a fourth and final rider earning a spot in the LCQ.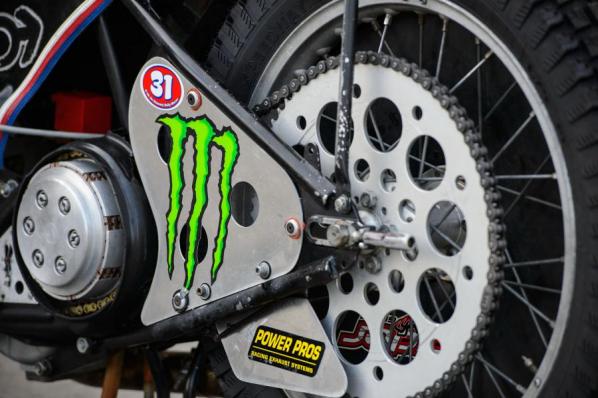 (Photo: Simon Cudby)
Hamill calls Costa Mesa Speedway his home track. Hailing from nearby Carlsbad, he was a crowd favorite and looked to set the tone for a drama-free night in his opening heat. However, misfortune struck as a bike malfunction sent Hamill to the pits and forced him to come-from-behind all night long.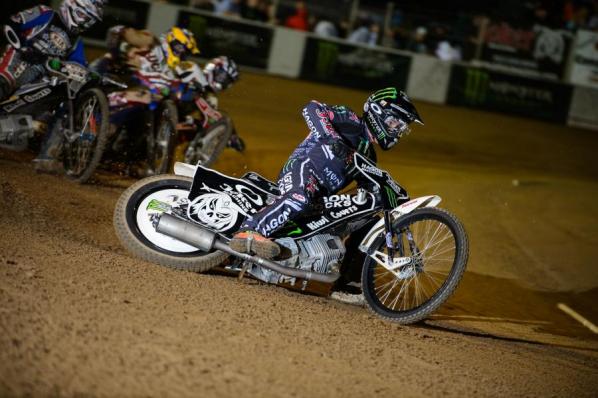 (Photo: Simon Cudby)
In addition to the country's fastest pro riders, the U.S. National Speedway Championship was an opportunity to showcase the bright future of the sport, including newly-crowned Junior National Champion Broc Nicol. Junior races filled out the night with competition that featured PW 50's, 140cc bikes, and 250cc bikes. The all-out style of these up-and-coming riders brought the crowd to its feet, especially when Kurtis Hamill, son of Billy Hamill, captured his first win at Costa Mesa Speedway.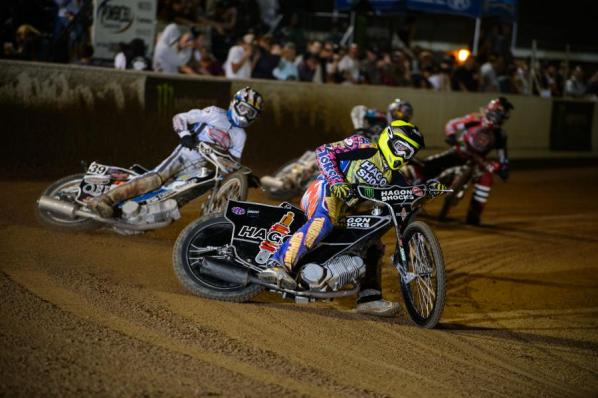 (Photo: Simon Cudby)
The Monster Energy Sampling Station was filled to capacity all evening long, providing fans with a chance to taste the latest flavors of Monster Energy Drink, as well as traditional favorites. Stationed right outside Turn 4, it was also one of the best spots to watch the action.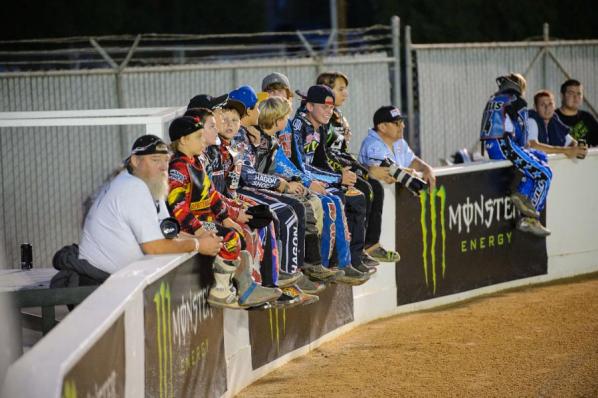 (Photo: Simon Cudby)
While his night started off about as bad as possible, Hamill rebounded to show the true grit and determination of a champion. He went on to win his remaining heat races and despite coming up short in his bid for a guaranteed spot in the Main Event, Hamill won the LCQ to reserve the fourth and final transfer position. In the Main Event, Hamill positioned himself behind reigning back-to-back U.S. National Speedway Championship winner Billy Janniro, who secured the number one seed following the heat races. On Lap 2, Janniro experienced similar bike problems as Hamill coming out of Turn 2 with a chain derailment, which allowed Hamill to slip by and stay out front for the final two laps to claim his third U.S. National Speedway Championship victory.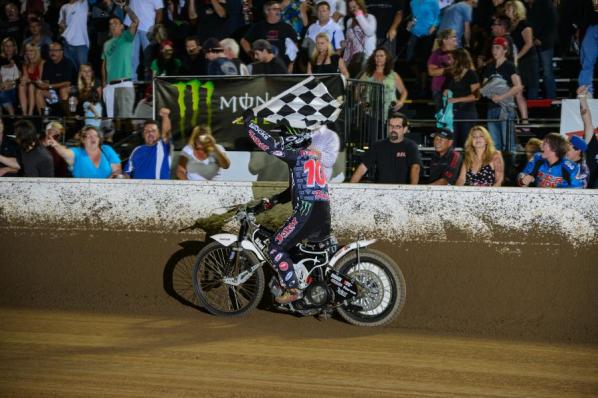 (Photo: Simon Cudby)
"Breaking down in the lead (in the first heat) was pretty devastating," said Hamill. "We had to go out there, regroup, and keep a cool head. I was able to win the remainder of the heats and then I got into a runoff for the last spot. I thought I could do it and I felt good, but then I just got blindsided there. I had to really pick myself up after that, but I just never threw the towel in. Seeing my kid win his first heat at Costa Mesa gave me a little boost, because I wanted to share the moment with him.

"We were unlucky at the beginning of the night (and) Janniro was running a real defensive line because he thought I was coming up the inside, and I was there. His chain came off and I don't know how I avoided him. I don't know what they call that, poetic justice or something like that, but we'll take it."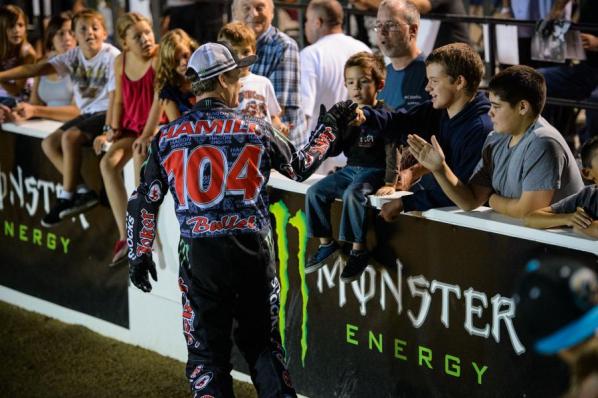 (Photo: Simon Cudby)
"The 44th Annual U.S. National Speedway Championship has a ton of credibility unto itself, and you only get that with decades of tradition," explained Costa Mesa Speedway Owner Brad Oxley. "(However) having Monster on board, with the purse, the excitement it generated, and everything else that came with that just really takes the sport to the next level. This is the most exciting, colorful, and unpredictable live action show there is. The fans are hardcore race fans and have been loyal to us for years, and tonight we introduced new eyes to the sport. We put a new face on it (with Monster Energy), and when you put together the level of competition we had tonight, along with the (juniors), it just really bodes well for our future. Monster Energy being involved really gives us a chance to expose it, draw the kind of crowd, and pay the kind of purse that gives the sport the kind of recognition it deserves. I'm really proud tonight because it means we got there."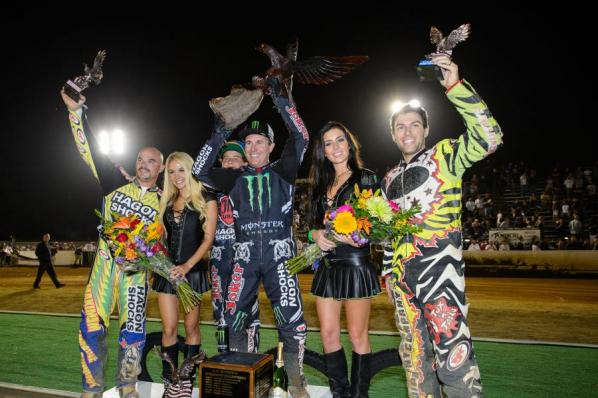 (Photo: Simon Cudby)
"We're lucky to have Monster involved with American Speedway," added Hamill. "They're at the top echelon with (World) Speedway Grand Prix, and now they're recognizing the sport in California. Speedway in California is really going up with the support of Monster and we've got a lot of good things going, so I see a bright future for American Speedway."

44th Annual Monster Energy U.S. National Speedway Championships

Main Event Results

1. Billy Hamill
2.       Jimmy Fishback
3.       Bryan Yarrow
4.       Billy Janniro