Welcome to Racerhead, during one of those rare things in American motocross known as an "off-weekend." There are no big races this weekend, the kids are all back in homeschool (motocross joke), and the big guns are preparing for the 2012 Motocross of Nations, which takes place next weekend in Belgium. More on that below.
First, an anniversary of sorts: Today is the day twenty-six years ago that Team USA's David Bailey, Ricky Johnson, and Johnny O'Mara dominated the 1986 Motocross des Nations at Maggiora, Italy, in a way no one had ever done before or since (though Team USA in '96—Jeremy McGrath, Steve Lamson, and Jeff Emig—came close, as did Team USA '07: Ricky Carmichael, Ryan Villopoto, and Tim Ferry). Even though Team USA had won several before that '86 race, and many times since, that singular afternoon remains the gold standard for not only the event as a whole, but America's role in the motocross world. So a tip of the visor to RJ, the Icon, and the O'Show.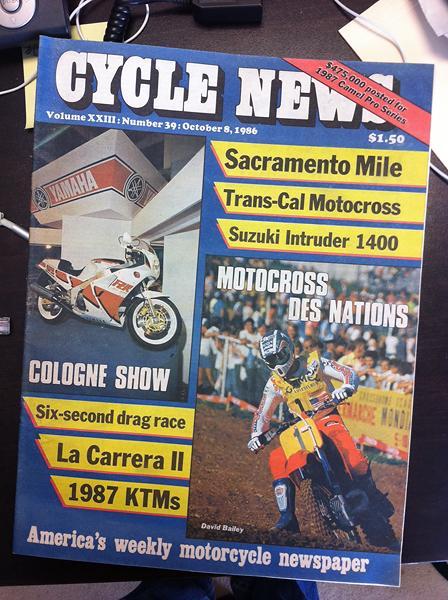 It was 26 years ago today that Team USA dominated the 1986 Motocross of Nations at Maggiora, Italy... And Tom Mueller shot this Cycle News cover of David Bailey!
Looking forward to the MXoN next week, we have to give it up to Wes Williams and his merry band of Vurbmoto men for being on-site early and often with Team USA over in Belgium. When the American trio of
Ryan Dungey
,
Blake Baggett
, and
Justin Barcia
showed up to get some track time in on the sands of Lommel, Wes and crew were shooting, and David "A Year in MX" Bulmer shot some stills and sent a few over to Racerhead. You can check out David's gallery
right here
.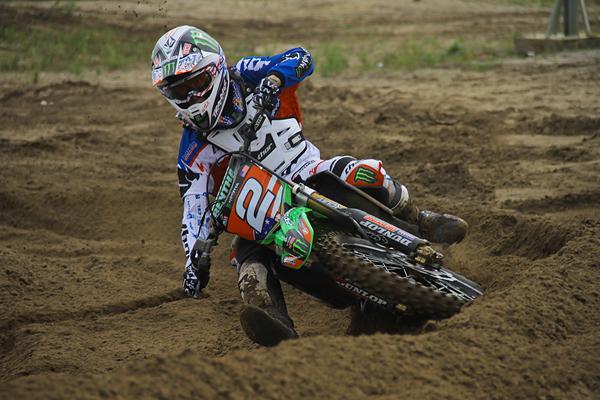 Blake Baggett on the gas at Lommel, Belgium, earlier today.
David Bulmer photo
According to the AMA's Kevin Crowther, who spoke with the team, they got to ride about half the track, as did Team France rider
Marvin Musquin
, who was also on hand. Everything went well, and the riders seemed fine with the uniquely soft sand (uniquely soft sand for a motocross track, not a beach in Holland). Crowther also told me that the team would take tomorrow off, then ride on Sunday, then take Monday off and ride again on Tuesday. Today was the only day they're allowed to ride at Lommel, as the track becomes off-limits for everyone a week before the race.
So is this an unfair advantage? Not at all. The track is there and we've also seen Tanel Leok (Estonia), Max Anstie (Great Britain), Jose Butron (Spain), and Evgeny Bobryshev (Russia) all riding it in the last week. There's also a very cool video of the always-talkative Marc De Reuver riding it and discussing how tough and different the track is. "With me as a sand rider, I don't know what to do!" Check it out right here.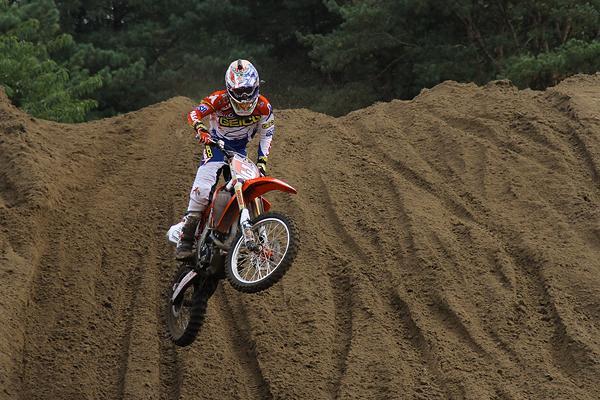 Justin Barcia looked good on the CRF450 in the videos from Lommel we've seen so far.
David Bulmer photo
Motocross Planet also
posted a video
this afternoon with a great interview with Team USA captain
Ryan Dungey
talking about the track, the team, and his background in the sand, plus footage of
Blake Baggett
going very fast on his Monster Energy/Pro Circuit Kawasaki. The film closes with
Justin Barcia
talking about the sand, riding the 450, and just really having a good time over there with the team.
From a distance—several thousand miles—I suddenly feel a lot better about our chances after watching these films. Our boys look comfortable and confident, and they know it's a team race and not a duel with one rider like Jeffrey Herlings, the heavy favorite, or Tony Cairoli or anyone else. I'm heading over myself next week, so I hope I still feel confident after finally seeing a track I've heard about for the last thirty-one years!
And if you missed this, check out this MX Simulator "helmet cam" piece, which was also on Vurbmoto.
And if that is STILL not enough to get you stoked on the Motocross of Nations, then dive into TBlazier's special MXoN page on his YouTube channel to see some of the big wins and losses for Team USA over the years.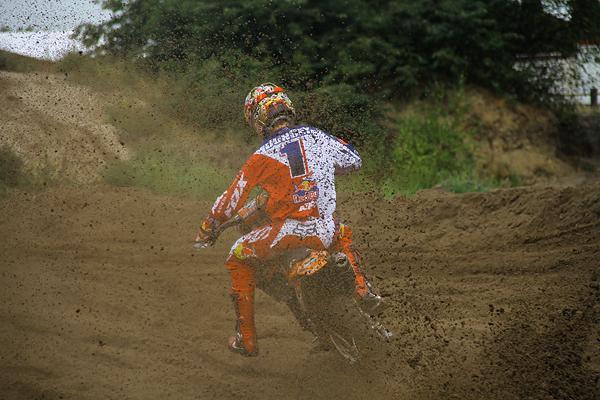 Ryan Dungey throw up some roost on his way around the Lommel circuit earlier today.
David Bulmer photo
Here are a few cool things to look for in Belgium: When
Ryan Dungey
lines up for Team USA, it will mark only the second time a KTM has ever been ridden under the U.S. flag at the big race. The first time? Ryan Hughes in Zolder, Belgium, in 2003. Also, when
Justin Barcia
lines up, it will mark the first time Alias MX gear has ever been worn at the MXoN. Check out their brand new website right here:
www.aliasmx.com
.
And when Team USA lines up as a whole, it will mark a chance to break a rare losing streak at the MXoN for our boys: The last two times the race has been held in Belgium and we participated, we lost: 1997 in Nismes and 2003 in Zolder. (The race was held at Namur in '01, but in the days before the race, 9/11 happened, and suddenly the race wasn't so important....)
While you're prepping to watch the Motocross of Nations this weekend, either on www.mx-life.TV or on television, here's a Vurbmoto preview of Jeffrey Herlings on a 350. Please keep in mind that this Belgian track is much different than what we will be seeing at Lommel next weekend.
Congratulations to our old friend and sometimes-contributor Max Anstie on getting a full factory deal for 2013 on the GP circuit with Rockstar Suzuki. Max will race the West Region SX races in the winter and then head back across the pond when the GPs start.... The other pond, actually—the FIM World Championships begin in Thailand, not Europe. Max, by the way, is presently seventh in the MX2 rankings going into the final round of the season this weekend in Teuschenthal, Germany.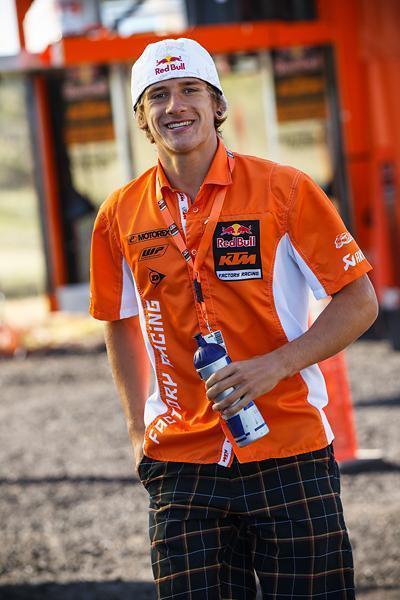 Ken Roczen will be riding in the MX1 class at his home track in Germany this weekend against his transatlantic teammate Tony Cairoli.
Simon Cudby photo
Both world titles have been clinched—Tony Cairoli in MX1 and Jeffrey Herlings in MX2—but this weekend's finale in Germany will have the added energy of former MX2 world champ
Ken Roczen
returning to his home track and racing the MX1 Class against Cairoli and friends. Ken has been over there since right after the last Lucas Oil Pro Motocross race, where he ended the season ranked fourth. He will also be racing for Germany next weekend in the Motocross of Nations. You can watch both events—the German GP this Sunday and the MXoN next week—on
www.mx-life.tv
. It should be an epic race for fans all over the world!
Are you a college football fan? Tune in to ESPN's College Game Day, live from Tallahassee, Florida, because a certain motocross-riding GOAT is set to join the set as their celebrity guest prognosticator. Ricky Carmichael is going to pick his favorites alongside Lee Corso and Kirk Herbstreit at approximately 11:40-11:45 a.m. on ESPN. RC is actually a very big Florida State Seminoles fan, so it's obvious who he'll pick there when the 'Noles host Clemson. But what about the other big games, like Notre Dame vs. Michigan? Oklahoma vs. Kansas State? Who knows. Just so long as he picks West Virginia over Maryland, we'll be good.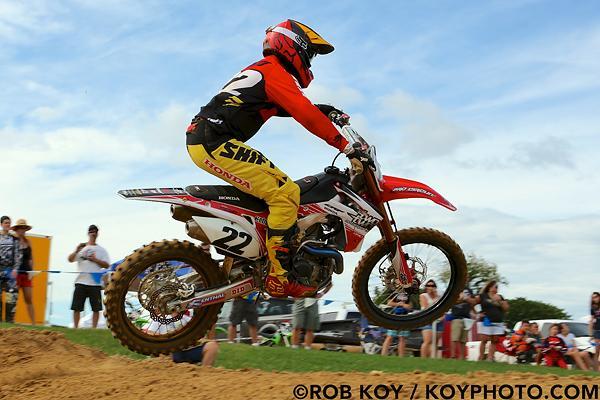 Chad Reed raced the +25 class last weekend at Dade City with his pal Tim Ferry.
Rob Koy photo
Finally, there are a few big guns who will not be at the MXoN next week, but they are making news in the states. Both
Chad Reed
and
Ryan Villopoto
have been spotted riding frequently in Florida – together they won the first and third motos at the MXoN last year.
Trey Canard
and
Dean Wilson
are also riding again, and we're hoping to hear that
James Stewart
and
Brett Metcalfe
are back on their bikes soon as well. This whole year has been one big crash and injury after another for literally six of the world's twelve best racers, and they will all be missed at the MXoN in Lommel. But it's great to see them riding again and getting ready for 2013.
And in many cases, the Monster Energy Cup!
If you are a regular reader of this column, you know that I hardly ever miss my assignment, but last Friday I took an even rarer day off and ended up riding to parts unknown in the north-central area of West Virginia with my good friend and company prez Bryan Stealey. So I missed a chance to weigh in on the final round of the Lucas Oil Pro Motocross Championship at the brand new Lake Elsinore Motorsports Park. You certainly already know the race results, and I won't bore you with all of the mundane details of helping pull that event together, but I will say that it was an amazing job by the whole Lake Elsinore crew, the Nanci family and track architect Marc Peter and his partner Chad to get a motocross race going in what's become a first-class facility in less than a year's time. It's going to get much better in the future, and I look forward to the Lake Elsinore National returning as the 2013 Lucas Oil Pro Motocross Championship finale.
But there's some work to do making the event better, beginning with crowd and traffic flow, sight lines for fans—the 1.5-mile track was so long that it was impossible to see it all from any one spot—and better access for spectators all around the massive facility. Will call was a disaster, which is what happens when dozens of riders and race teams leave hundreds of tickets in envelopes of twos and fours (and everyone needs to sign a waiver before entering a hot pit area), and we are already working on a better vending and less restrictive cooler policies (glass is a no-no but water should have been allowed, in my opinion).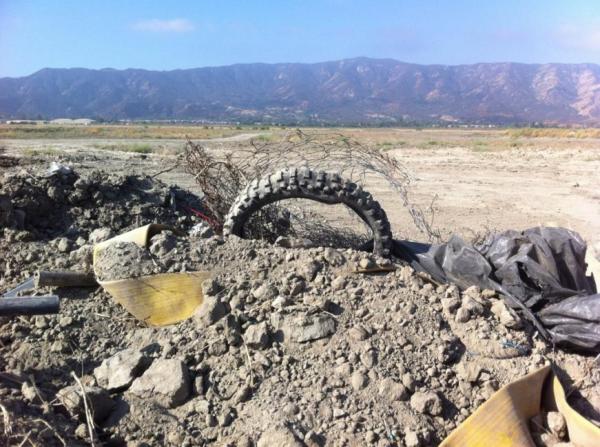 This is what Lake Elsinore looked like one years ago on the morning of September 11, 2011.
DC photo
There's more, but at the end of the day it was a great crowd, good, safe racing, and the dire predictions that the soil would dry up and turn into either greasy slime or blue-groove concrete were way off. It was a great start for a track that has never held such a big race, but there's plenty of room for improvements, which have already started. Thanks for having some faith and patience in the process—it was great to see that whole thing come together from literally nothing just one years ago.
Okay, here's Weege:
The 2012 season began with higher expectations than ever for the Joe Gibbs Racing MX team. This was the year they would step up and battle for championships. It, ahem, didn't work out so well. Perhaps the lowest point came at Washougal. With James Stewart gone and Davi Millsaps injured, replacement rider Kyle Regal was struggling so badly that he pulled off, and so the team just shut down after the first 450 moto and decided to pack up and go home. For the next few weeks, I started hearing the question from various industry folks: "Is Coy Gibbs really going to stay at this motocross project?"
Well, that really wasn't an issue. The team, in fact, was investing in the future, moving out of their old shop and building a bigger one about a mile away (sharing space with JGR's NASCAR Nationwide team). They moved out of the old building at the end of August and are now set up in temporary quarters in the Nationwide shop, while construction begins on their new digs. The team plans on being around for the long haul, as they have a multi-year factory deal with Yamaha. Of course, the blue brand is struggling altogether right now, as the Star-Valli outfit didn't light it up this year either. But a new 450 is coming for 2014 (don't expect to see it at Hangtown or anything like that, though) and fortunes change quickly in this sport. With Justin Brayton back on board, JGR's goals have obviously reset from last year's Stewart signing, but I see 2013 as a rebuilding year for the team and Yamaha. Heck, they are literally "Under Construction" right now.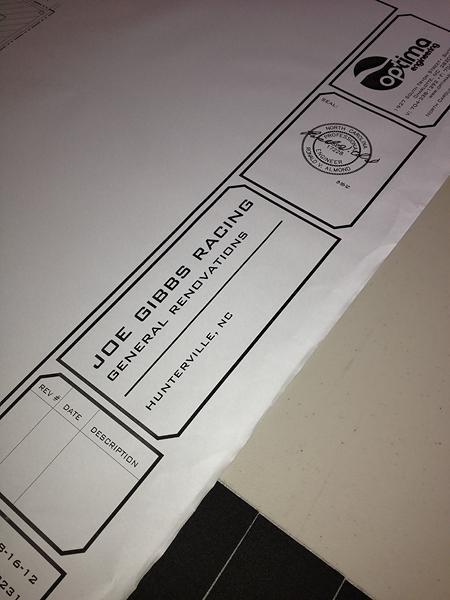 On the other end, we've heard a lot of chatter about the Langtson-Witt racing team shutting its doors. Multiple sources have said this one came suddenly, with team owner Scott Witt (who was funding the whole thing—a massive expense—out of his own pocket) deciding he wanted out the Sunday after the Lake Elsinore National. Les Smith will still get his 2013 salary sent to him in a check, but what about the rest of the team? Will anyone come along to pick up the parts and pieces that are left over? Anyone want to sign Smith?
Also, I had heard Brett Metcalfe was talking with this team about a 2013 spot—if this team is gone, Metty sure lost out. Meanwhile, the luckiest rider in the sport right now is Christian Craig, who was all but signed by Langston-Witt at Unadilla when he changed his mind at the last moment and decided to return to Lucas Oil Troy Lee Honda. Turned out to be a fortunate move.
Finally, had a good conversation this week with Ricky Carmichael regarding the Monster Energy Cup track. I've seen the drawings, and I can tell you this race is going to feature some crazy stuff. Best of all is the Joker Lane, which is a sand section the riders must take one time during the ten-lap main event. The section adds about six seconds to your lap time, and you must take it once. Will riders hit it at the beginning of the race? The end? How will this play out? Gonna be cool. The track also features a massive banked turn in the stands that resembles that big Talladega first turn at Glen Helen. In a stadium! Check it out when the drawings and 3D go public shortly.

Justin Brayton will rejoin JGR Yamaha for 2013.
Simon Cudby photo
Here's Ping:
There is yet another two-stroke event blasting off this weekend. This one is at Sleepy Hollow MX Park in Pennsylvania. There is a $7,000 pro purse and racing classes for everyone—provided you're on a two-stroke. John Dowd will be there, and with a purse like that I'm sure a few more pros will show up. Man, wouldn't it be cool to see some 125cc two-stroke racing mixed in at halftime at the nationals? I wonder if DC reads this far down. Davey? For all the event information, go to www.sleepymx.com.
We got to spend a little bit more time on the all-new 2013 Honda CRF450R this week. The bike is on showroom floors right now (at premium Honda dealers) and will be arriving at more soon. My second time on the bike confirmed what I originally thought: it's an amazing bike! The engine is stronger than I remembered and offers a very healthy pull down low. The motor changes were difficult to feel at the intro but are definitely noticeable. For those who have just picked one up or are planning on taking one home soon, Honda suggests setting the sag at 105mm, and while they suggest 33 or 34 psi on the forks, I strongly recommend starting at 35. Both times on the bike I got a much more balanced feel at that pressure. You are going to love that bike.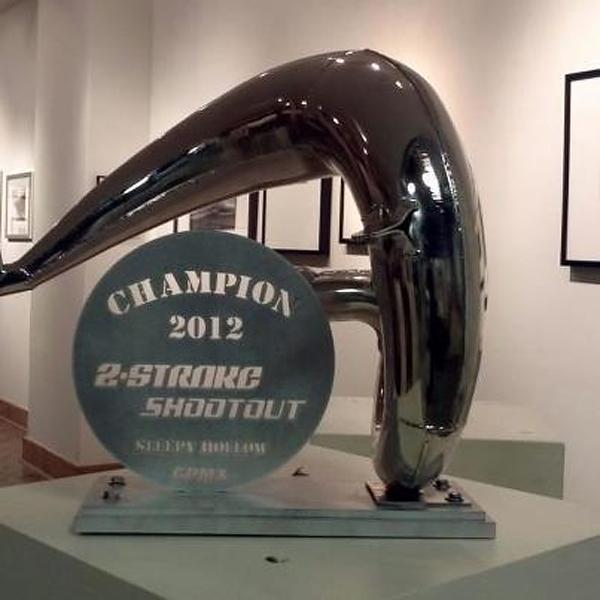 Okay, let me hand these over to that other stomme idioot,
Matthes...
Just one week from now I'll be in Belgium for the Motocross of Nations, which is always a thrilling race to attend no matter where it is. We've all covered the ups and downs of the race, but I do think that Team USA, more than ever in the last eight years, will struggle to win this one. But I do think the Peter Chamberlain trophy will be returning here. The USA guys are too fast and too good to not make it happen, but anything can happen. All three of the guys may not win their classes, but they'll be right there and in the end, that's usually enough to get the job done.
The last two years Team USA was also trailing after two motos if you threw away the worst score (which is how it's scored) but has come through in the last MX1/MX3 moto. I wouldn't be surprised at all if Tony Cairoli, Jeffrey Herlings, and Ken Roczen won the MX1, MX3, and MX2 classes respectively, but they hail from Italy, the Netherlands, and Germany, respectively. The USA will be very fast in all three classes.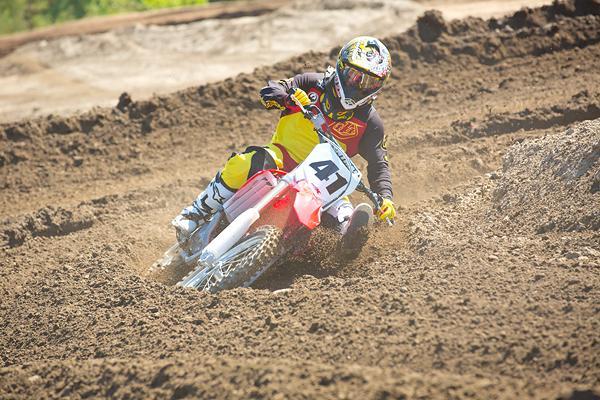 Ping testing the 2013 Honda CRF450R.
Matty Fran photo
I'm glad I went to the GP last year in Lommel and got to see these three amazing sand riders duke it out on a track that's full of history. It was the site where Team USA first won the Motocross des Nations in 1981, and talking to Dave Arnold about this on a podcast was pretty cool. No one, and I mean no one, thought the USA could do anything in the sand, but as we know now, the guys got it done. I remember when I was on Team USA in 2003 (last USA team to lose, by the way, and I hope I get to hold on to this dubious distinction) we went to Lommel on Thursday before the race to shake the bugs out and get a bit of riding in. But my rider, Tim Ferry, went out there and got passed by a couple of guys who had no numbers on their bikes! After relating this story to some of my Euro friends, they laughed and just said the guys probably weren't even racers. I guess the Lommel track is just open for riding during the week for anyone and there are lots of locals that just ride their bikes there and may not even race.
So that's where we're at with this, and I for one am anxious to get this race done and over with so I don't have to see the round-and-round threads on VitalMX where each side tries to say they're better. It's like Groundhog Day over there sometimes. It's like Groundhog Day over there sometimes.
It's no secret that Yamaha has fallen on some hard times lately. Their YZ450F is one where the pro racers seem to love it or hate it, and there aren't many out there on the track. And for the reputation that the 450 has, the 250F is even worse, as virtually no privateer teams or privateers themselves are on the somewhat-antiquated machine.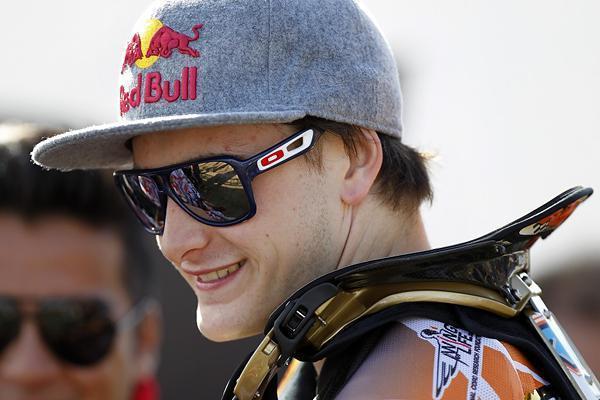 Herlings will have the eyes of the motocross world on him at Lommel in one weeks time.
Ray Archer photo
But for 2013 the blue crew has totally revamped their contingency to try and change this fact and get more blue on the starting lines. In 2012 they paid top three in SX and MX, which is kind of laughable seeing as how the guys who get top three don't need or care about the contingency (unless it's a Ricky Ryan-type scenario) but for 2013 Yamaha is paying all forty riders in a moto and everyone in a SX main event. Yes, you read that right. The actual amount is only about $2,500 more per race, but Yamaha has spread it down to the riders that actually need the money. This is nice to see and props to Yamaha for stepping up. I bet you do see more blue on the starting lines next season.
Everyone loves works bikes, right? Remember those exotic bikes of yesteryear? Well myself, Tony Blazier, and Dan Dunes definitely do and over on PulpMX we each chose our top five bikes from over the years. I had to up the ante over the other two guys, though, so a simple email to the legend David Bailey about the Hondas he rode produced some photos from David's own collection as well as his thoughts on the '85 and '84 works Hondas. Good stuff and thanks David for getting back to me. Check out Part 1, Part 2, and Part 3.

Listen to the PulpMX Show this Monday for some spirited moto talk about a whole bunch of stuff as Kenny Watson, Jason Thomas and I argue about who knows what. Thanks for the support with that show.
Okay, here are some random notes to end the week...
Don't miss the 22nd Annual DC Vet Weekend at High Point Raceway starting this Friday! A night of bench-racing and karaoke will take place on Saturday, so if you're in the Northeast, head on over for a fun-filled racing weekend.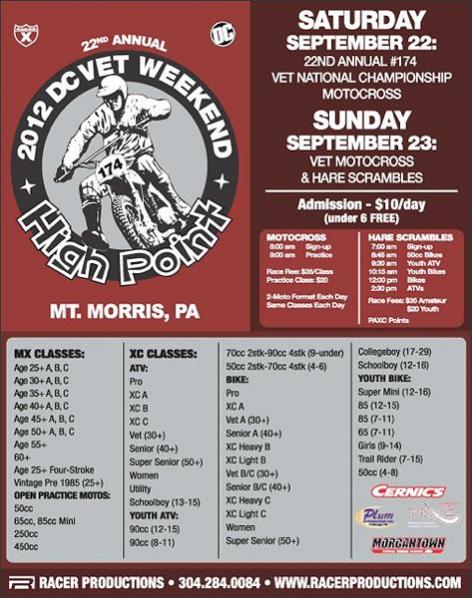 It's that time of year again—we're about to drop the gate on the 3rd Annual GoPro Racer X Online Amateur Film Festival, our yearly video contest. The whole thing kicks off a week from today, on Friday, September 21. That's when we'll announce this year's official rules, we'll post this year's required assets, and videographers across the world can start filming and editing their submissions. The submission period will once again be six weeks long.
This year's prize package will be bigger and better than ever, and we're adjusting the rules slightly—videographers will no longer be excluded simply because they've had a few videos posted on motocross websites in the past. In other words, we're broadening our definition of amateur a bit. If you make your living doing video work in the action-sports world, you're out, but if you're just getting started, or you've had a little freelance success, this contest is for you.
Check back next week for full details.
Four-time WMX champion Ashley Fiolek was featured on CNN Health Thursday for the feature "In the Human Factor," which profiles survivors who have overcome the odds. Check it out here.
Here's another very funny SX Education video starring Miss Supercross and Dean Wilson. Gotta hand it to the riders—especially Blake Baggett—for going all-in to help promote this series (and Miss Dahlgren is very easy to watch too).
Round 5 of the Racer X Lucas Oil West Coast Classic Race Series is this Saturday the 22nd. This is a Televised Race series and will air on MAVTV (check your local listings for air times) Gates open at 6am, sign ups at 7am and practice at 9am. $20 per class. Come on out So Cal riders. Vets were you at?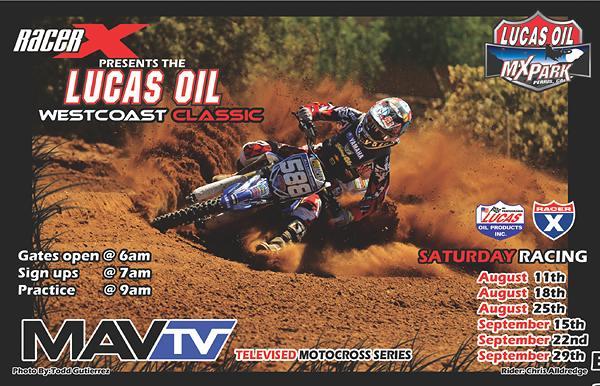 We got this note from Brad Zimmer, aka Happy Racing:
"Some of you remember Happy the character I play at motocross events. I have been doing this now for almost 10 years. I would like to invite you to my
Happy Racing Motocross Facebook page
. Please take a look at what I have been up to #itsallaboutthekids. Let me know if you like what I do. Also if you are into Twitter you can follow me @happyracingmx. I've got something huge coming for Happy. I will need everyone to suggest their friends like Happy Racing Motocross as I will need as much help as possible for this one. Putting together a Kickstarter project to get the giant helmet jump house funded. Details and project video coming soon."
Here's an exceptional film from 404Shots Films that popped up on the Vital MX Board from Australia, featuring Matthew Phillips doing a solo off-road act on the new WR Yamaha.
Woman v. Workout, a popular show on the YouTube channel 3V, which centers around health and fitness and features host Lauren Berlingeri taking on a new challenges (FDNY training, Timbersports, surfing, etc.) each week, stepped into the world of motocross. Berlingeri traveled to Nitro City and was taught how to ride on a track designed by Travis Pastrana. Check out the video here.
Former New Orleans Supercross promoter and Yamaha press relations manager Dave Ferrato is also an accomplished songwriter and musician and has a new album out this week. Later, on Decatur captures the spirit of the Big Easy vibe in a great way. Give it a listen here.
If you're in Southern California and want to try something cool, fun and different than motocross, check out the 44th Annual US National Speedway Championship from Costa Mesa Speedway. It's tomorrow night at Costa Mesa Speedway, be there!
Okay, that's it for Racerhead. Thanks for stopping by. Enjoy the weekend and see you at the races.