FIM World Motocross Championship
MX1 Points Standings

Antonio Cairoli 642pts. KTM *Clinched MX1 Championship
Clement Desalle 554pts. Suz
Gautier Paulin 502pts. Kaw
Christophe Pourcel 496pts. Kaw
Ken de Dycker 478pts. KTM
Kevin Strijbos 389pts. KTM
Xavier Boog 372pts. Kaw
Tanel Leok 365pts. Suz
Rui Goncalves 315pts. Hon
Shaun Simpson 298pts. Yam

Evgeny Bobryshev 295pts. Hon
Jonathan Barragan 219pts. Hon
David Phillippaerts 212pts. Yam
Davide Guarneri 212pts. KTM
Sebastien Pourcel 205pts. Kaw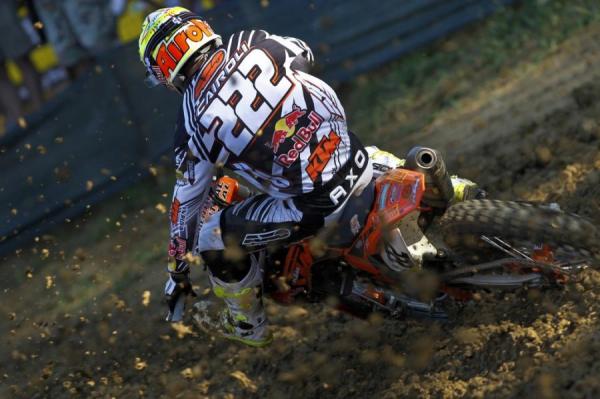 Antonio Cairoli has claimed the MX1 Championship.

Ray Archer/KTMImages photo
MX2 Points Standings

Jeffery Herlings 672pts. KTM
*Clinched MX2 Champ
ionship
Tommy Searle 601pts. Kaw
Jeremy van Horebeek 559pts. KTM
Jake Nicholls 409pts. KTM
Jordi Tixier 401pts. KTM
Joel Roelants 367pts. Kaw
Max Anstie 323pts. Hon
Jose Burton 272pts. KTM
Dylan Ferrandis 272pts. Kaw
Glenn Coldenhoof

251pts KTM
Alessandro Lupino 249pts. Husq
Arnaud Tonus 211pts Yam
Romain Febvre 196pts. KTM
Valentin Teillet 180pts. Kaw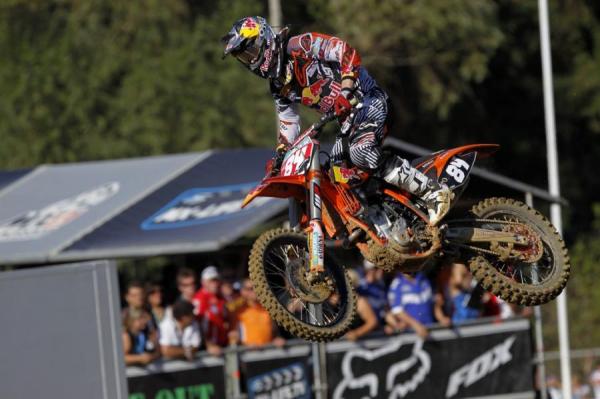 Herlings clinched the MX2 title.

Ray Archer/KTMImages photo
Can-Am GNCC Championship
Unadilla - New Berlin, NY
XC1 Overall
1. Thad Duvall Hon
2. Paul Whibley Yam
3. Nathan Kanney Hon
4. Kailub Russell KTM
5. Chris Bach Yam
6. Jordan Ashburn Yam
7. Charlie Mullins KTM
8. Jimmy Jarrett Hon
9. Rory Mead KTM
10. Takeshi Koikeda KTM
11. Josh Cennamo Yam
12. Mark Fortner BET
13. Grant Maryott Yam
14. Garrett Edmisten Kaw
XC1 Points Standings

Paul Whibley 253pts Yam
Kailub Russell 240pts KTM
Rory Mead 189pts KTM
Thad DuVall 168pts Hon
Jordan Ashburn 147pts Yam
Charlie Mullins 143pts KTM
Chris Bach 139pts Yam
Garrett Edmisten 123pts Kaw
Takeshi Koikeda 111pts. KTM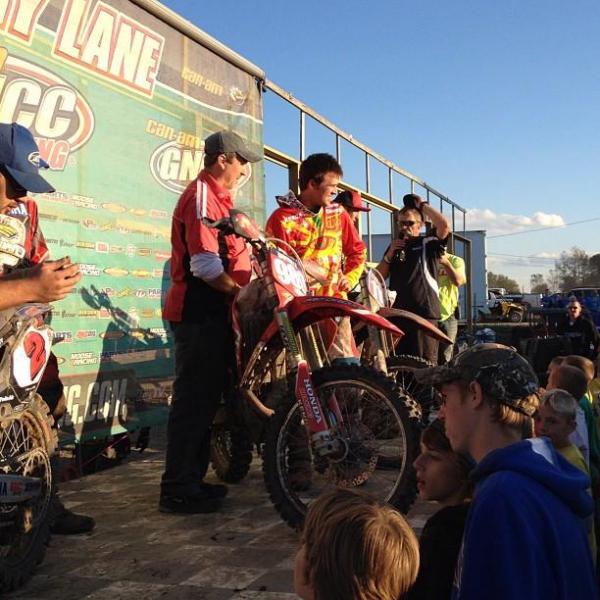 Thad Duvall won the XC1 Class at Unadilla.
Jen Kenyon photo
XC2 Overall
1. Andrew Delong HSQ
2. Morgan Moss Yam
3. Nick Davis HSQ
4. Steward Baylor Jr. KTM
5. Brad Bakken Yam
6. Jedediah Haines Yam
7. Michael McGinnis KTM
8.
Jason Thomas
KTM
9. AJ Stewart Yam
10. Cody Gragg Yam
11. Zach Nolan KTM
12. Ricky Mair HSQ
13. Guy Giroux HSQ
14. Philippe Chaine HSQ
15. Ryan Lojak Yam
16. Jeremy Daudelin Yam
17. Dallas Micha KTM
XC2 Points Standings
Steward Baylor 221pts KTM
Jason Thomas 211pts HSQ
Andrew Delong 208pts. HSQ
Jedediah Haines 168pts YAM
Jesse Robinson 156pts HSQ
Brad Bakken 146pts YAM
AJ Stewart 119pts. Yam
Cody Gragg 102pts. Yam
Zach Nolan 94pts. KTM

Michael McGinnis 94pts. KTM
Red Bull Pro Nationals
MX1 Point Standings
Nicolas Aubin 217pts. Hon
Martin Barr 198pts. Suz
Gert Krestinov 172pts. Hon
Stephen Sword 167pts.
Alex Snow 134pts. Kaw
Josh Waterman 108pts. Suz
Marc de Reuver 83pts. KTM
Ray Rowson 73pts.
Jamie Law 59pts.
Dorren Coutts 58pts.
MX2 Point Standings
Neville Bradshaw 213pts. Hon
Steven Lenoir 181pts. Yam
Graeme Irwin 159pts. Yam
Nathan Watson 152pts. Hon
Stuart Edmonds 140pts. Suz
Jordan Booker 113pts. Hon
Bryan MacKenzie 107pts. KTM
Matthew Moffat 102pts.
James Cottrell 101pts.
Luke Remmer 102pts. Yam
Maxxis British Motocross Nationals


450 Points Standings
Kevin Strijbos 388pts.
Shaun Simpson 339pts.
Matiss Karro 308pts.
Gert Krestinov 264pts.
Martin Barr 243pts.
Kristian Whatley 201pts.
Jamie Law 200pts.
Stephen Sword 198pts.
Alex Snow 186pts.
Dorron Coutts 170pts.
250 Points Standings
Mel Pocock 343pts.
Elliott Banks-Browne 327pts.
Nev Bradshaw 271pts.
Steven Lenoir 254pts.
Nicolas Aubin 239pts.
Graeme Irwin 239pts.
Bryan MacKenzie 235pts.
Stu Edmonds 174pts
James Cottrell 152pts. .
Lewis Tombs 141pts.
GEICO AMA EnduroCross
Ontario - Ontario, CA
Expert Overall

1. Taddy Blazusiak KTM
2. Cody Webb Beta
3. Justin Soule Kaw
4. Kyle Redmond Husq
5. Taylor Robert Kaw
6. Colton Haaker Kaw
7. Mike Brown KTM
8. Destry Abbott Kaw
9. Ryan Rodgers Hon
10. Gary Sutherlin Kaw
11. Jamie Lanza Hon

Expert Points Standings
Taddy Blazusiak 99pts. KTM

Cody Weeb 82pts. Beta

Mike Brown 75pts. KTM
Taylor Robert 73pts. Kaw
Colton Haaker 66pts. Kaw
Taddy Blazusiak claimed victory in Ontario
.
Drew Ruiz photo
DCMX
Dade City - Dade City, FL

Vortex Lights Overall
1. Austin Diperna
2. RJ Hampshire
3. Nicholas Guessford
ADAC MX Masters
Holzgerlingen, Germany
MX Masters Overall
1. Max Nagl
2. Xavier Boog
3. Filip Neugebauer
4. Romain Febvre
5. Julein Leiber
MX Master Points Standings
1. Marcus Schiffer 308pts.
2. Filip Neugebauer 239pts.
3. Romain Febvre 239pts.
4. Xaiver Boog 217pts.
5. Max Nagl 189pts.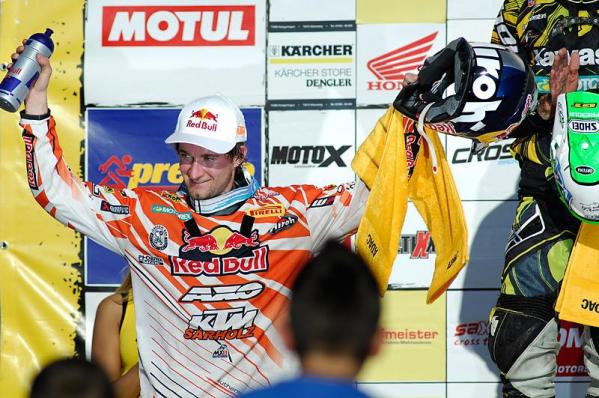 Max Nagl celebrates his win in Germany.
Max Ludwig photo
Vet Motocross des Nations
Farleigh Castle - England
Vet Team Overall
1. Belgium
2. United States
3. Great Britain
EVO Results
1. Werner Dewitt 1-2-3-5
2. Ryan Hughes 10-1-1-3
3. Gordon Crockard 5-4-2-2
Twin Shock Results
1. Ryan Hughes 1-1-1-1
2, Patrick Caps 2-3-3-2
3. Colin Dugmore 7-2-2-7
EVO 250 Results
1. Kristian Whatley 1-1-1-2
2. Gordan Crockard 15-5-2-1
2. Jack Gribble 7-7-4-5
EVO 500 Results
1. Scott Elderfield 3-2-2-2
2. Dorren Coutts 2-3-5-1
3. Tom Church 1-1-3-9
Twin Shock Under-40 Results
1. Tom Church 5-1-3-3
2. Ed Bradley 3-3-4-5
3. Luke Hill 2-4-6-6
Twin Shock Over-40 Results
1. Anders Sydborg 1-1-1-1
2. Howard Standfield 3-3-2-2
3. Danny Scheers 2-2-3-4
Twin Shock Over-50 Results
1. Russell Priddle 2-2-3-9
2. Mike Bell 5-5-2-5
3. Nick Toms 9-3-4-8
15. Chuck Sun