GNCC Championship Battle Continues at Unadilla
September 13, 2012 9:00am
Whibley and Russell Continue Championship Battle at Unadilla GNCC
Defending Champ Charlie Mullins Returns From Injury
Morgantown, W. Va. - After a two-month summer break,the 2012 Can-Am Grand National Cross Country Series resumes this weekend, September 15 and 16, with the Can-Am Unadilla GNCC in New Berlin, N.Y. AmPro Yamaha's Paul Whibley holds a mere six-point lead over Factory FMF/KTM's Kailub Russell heading into Round 10 of the 13-race series as the lead duo continues an epic battle for the 2012 XC1 Pro title.
While Whibley and Russell have been neck-and-neck for the points lead this season, GNCC newcomer Rory Mead has been inching his way toward the top of the leader board. WMR/KTM's Mead has chalked two wins this season, which has helped to put him into the third place position in the championship standings.
Factory FMF/KTM's Charlie Mullins will return to GNCC after a two-race hiatus due to an injury. Mullins has yet to win a race this season and although the defending champ sits outside the top five in the championship standings, he will be a threat to win races in the final four rounds.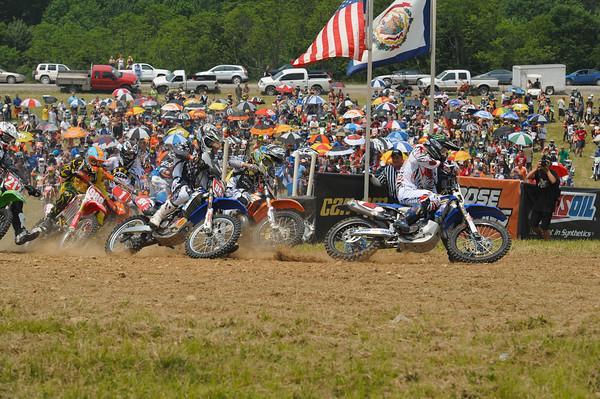 Shenandoah Honda/Offroadchampion's Thad DuVall looks to be another favorite this weekend as his combined motocross and off-road skill set caters to the Unadilla terrain. DuVall has put forth his most consistent XC1 Pro class season yet, sitting fourth place in the standings. However, AmPro Yamaha's Jordan Ashburn isn't far behind. Ashburn and DuVall have consistently battled for top five finishes this season and will most likely continue to do so in the final rounds.
JG Offroad/American Honda's Nate Kanney will be a heavy contender this weekend as the New York native grew up riding terrain similar to Unadilla. Kanney holds a ninth place position in the standings, but after a rough start early on he continues to improve as the season progresses.
KTM/Fly Racing/WPUSA/PG-backed Privateer Steward Baylor Jr. still holds the points lead in the XC2 Pro Lites division but KR4 Performance's Jason Thomas is closing the gap on Baylor. Thomas has topped Baylor the last four rounds of racing and confidence is on his side if he can keep the momentum rolling into Unadilla this weekend. F.A.R Husky's Andrew DeLong is perhaps the hottest rider coming into the weekend as he's won three of the last four rounds and taking second in one. DeLong missed the first two rounds but remains within striking distance of the championship chase nonetheless. Husaberg-backed Jesse Robinson sits in fourth, while Obermeyer Yamaha/Offroad Viking's Jedediah Haines rounds out the top five.
Four-wheeled ATVs will compete throughout the day on Saturday, September 15, and dirt bikes will race on Sunday, September 16. Local riders are invited to race the event, as GNCC offers classes for riders of all skill and experience levels. The amateur racer entry fee is $40 and riders can sign up at the track.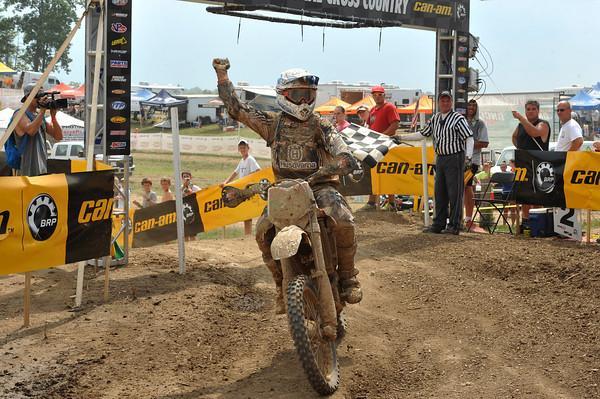 Spectator passes run $15 for the full weekend, with pro pit access and pro autographs at no additional charge. On both Saturday and Sunday, youth riders race at 8 a.m., amateur riders race at 10 a.m., and the top amateurs and the pros race at 1 p.m. Special races this weekend include PeeWee racing at 4:30 p.m. Saturday afternoon, following the 1 p.m. ATV race.
To get to the track, NYS Thruway to exit #31 (Utica, NY), follow signs for Route #8 SOUTH I-88 east, Exit 9 (Sidney, NY); Turn LEFT on Hwy 8 North; 30 minutes to track. For more information, check out the official series website at www.GNCCRacing.com or call 304-284-0084.
About GNCC Racing:
The Can-Am Grand National Cross Country series is America's premier off-road racing series. Founded in 1975, the 13-round championship is produced exclusively by Racer Productions. Cross-country racing is one of the most physically demanding sports in the world. The grueling three-hour GNCC races lead as many as 1,500 riders through tracks ranging in length from ten to 12 miles. With varied terrain, including hills, woods, mud, dirt, rocks and motocross sections, GNCC events are tests of both survival and speed and draw talent from all over the U.S., Europe, Australia and New Zealand. GNCC Racing is televised and airs every week on NBC Sports Network. For more information, please visit www.gnccracing.com.