Lake Elsinore
Lake Elsinore

,

CA
Lake Elsinore
Lucas Oil AMA Pro Motocross Championship
This is it; the last round of the 2012 Pro Motocross Championships took place in sunny and hot Lake Elsinore, California. A brand new track and facility greeted the teams and questions like, "Can Blake Baggett hold onto a 14-point lead in the 250 Class?" "Dude, can you get me a ticket?" and "Hey, where's Jeremy McGrath?" were all looming in the air.
The reviews from the riders were mixed on the track. It basically came down to whether you liked riding in Southern California because really, it was a SoCal track through and through. It was hard and slippery and when you put water on it, the track became even gnarlier. If you were Broc Tickle, live right up the road and ride this stuff all the time, you didn't mind riding there. If you were an east coast guy, then you definitely didn't like it. No matter where the Nationals went (Glen Helen or Pala) or where they go now (Hangtown, Elsinore), the California tracks are weird and different from anything else in the series.
It was unbelievable the amount of thought, effort and money that went into the all-new facility at Lake Elsinore. I hadn't been there for a long time and I didn't even recognize the place. The National track went onto the off-road truck course as well, which gave the fans a nice view of one side of the track with bleachers and concessions right there. I thought the track was pretty good and I hate to use the cliché sports term of "It is what it is" but really, it is what it is. It's a California track and with the sun out, it's really hard to keep any track in California from turning into hard pack. (Note to track workers: Throwing enough water onto it to sink the Titanic before the first motos doesn't work—it just makes it dangerous). In my opinion, they need to shorten it up a bit because it was so spaced out and you couldn't see half the track, the fans would be sitting there in those bleachers for a long time with nothing to watch.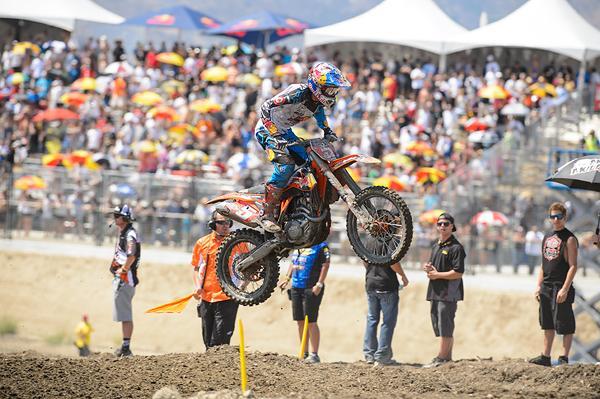 Dungey won his tenth straight overall at Lake Elsinore.
Simon Cudby photo
The bottom line: Is Lake Elsinore the best track of the series? No. Is it the worst track of the series? No. The facilities, proximity to the teams and most riders, sponsor access and everything else make it a good race to have on the schedule in my opinion.
Pro Circuit's Blake Baggett put a stamp on the championship. All of us goofs in the media worked the angles and figured out what he had to do to win the title (he needed to go 4-3!). We couldn't figure out how he was going to withstand the Eli Tomac heat and oh my, his margin of error was so slim. Whatever was he going to do?
Uh yeah, he went 1-2 for the overall, crashed pretty good and still got up and basically smoked everyone not named Justin Barcia (and he was closing big time on Barcia at the end). His second moto start was terrible, he was fourth or fifth from last going into the second turn and came out after one lap in eleventh! His last lap time was his fastest and it was THREE seconds faster than anyone else in the class. Yeah, he hadn't been making a lot of statements with his riding in the last three or four weeks but he definitely made one at Elsinore. He wasn't going to back into any title. He was going to take it and man, what an impressive ride on the day.
And with that, he's got the 2012 250 National Motocross Championship under his belt, his first title for Pro Circuit (and as a team, it was PC's 100th win in motocross). To think, three years ago Mitch Payton had room for either Blake Baggett or Dean Wilson under his tent. Both rode Kawasaki's, both were amateur champions and it was a coin flip to pick one of them, and Wilson won. And last year, Wilson won Payton a 250 Motocross Championship. But after Baggett spent a year on Suzuki's, Mitch signed him and now he wins a title. Sometimes, you can have your cake and eat it too.
GEICO Honda's Eli Tomac was certainly on a roll coming into the final round and he gave it his all to try and make this title interesting. Basically, Eli had to go 1-1 and hope for some luck from the Moto Gods. Anything less than that and it was going to be really hard to get the title. And in the first moto Tomac didn't get the start he wanted and charged hard to catch the disappearing Baggett. He put in an extremely fast 2:41 to BB's 2:45 to get close but that was it, he blew himself up in the California sun. The next lap was five seconds slower and he cried No Mas. The next moto out, he face-planted pretty badly and that was it, the dream was over. He even lost second in the points but still had a really great year. Last year at the Nationals we didn't know what we had in Tomac. He didn't appear to be taking that next step into the upper echelon but now, one year later with a supercross title under his belt, there's no doubt he's one of the very best.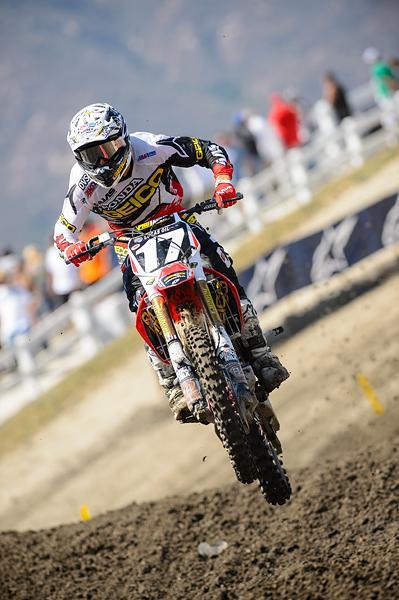 Could Tomac be heading to the 450 Class for the Nationals next year?
Simon Cudby photo
Rumors abounded and were sort of confirmed that Tomac just might be moving to the 450's next year for motocross. Stay tuned.
With the temperatures super hot, the track rough and slippery and not much fun for the guys, and a championship long sewn up, KTM's Ryan Dungey didn't have to put in his best effort of the series. The guy's long proven that he's the best rider out there right now (and by the way, did you guys hear that Jeff Stanton, an icon in the sport, said that Barcia, Baggett and Tomac could beat Ryan Dungey right now on DMXS? I'll definitely, without a doubt, 100 percent disagree with that statement and ask that we immediately drug test Jeff, as well) and at LE, he did it again. Catching and passing Mike Alessi both motos, going off the track a bunch of times, pushing hard each and every lap, and again going 1-1 on the day.
I've said it before but you can really put a quote from one of my all-time favorite movies and move it over to Dungey "Listen, and understand. That terminator Dungenator is out there. It can't be bargained with. It can't be reasoned with. It doesn't feel pity, or remorse, or fear. And it absolutely will not stop, ever, until you are dead beaten."
Mike Alessi ended up 2-2 and it was as much of a victory as a 2-2 can possibly be in that he was clearly better than Broc Tickle at a 3-3 and basically showed that he had 38 other guys beat. The weird thing about Alessi is that he never, ever, ever seems to get it into his brain that he's not as good as Dungey. Just like when he was getting second behind James Stewart in every moto in 2008, and he was happy about the seconds he made up during the last lap while Stewie was waving to the crowd, Alessi fights Dungey tooth and nail most times (Steel City last week was an exception) and even tries to strike back. I'm sure this drives Dungey crazy because he, and everyone else watching, knows that eventually Ryan's speed and fitness will carry him to the win. Everyone knows this and accepts this but Mike.  And I admire this. Mike fights and claws his way to the best finish he can each week and he ended up second in the points—some one hundred clear of Weimer.
Broc Tickle just keeps on riding the wave with his very fast LE race. As much as Alessi was a dominant 2-2, Broc was a dominant 3-3. He was all alone out there. There's no rider that improved their stock as much as Tickle did this summer. He ended up a scant few points out of third and actually had three mechanicals this year. Give him a tenth each time out (totally doable) and he's third overall in his debut on a 450 outdoors. And on that note, three DNF's for a Pro Circuit rider in 24 motos? What? Next you're going to tell me that some white-trash New Jersey kids by the shore are going to be turned into multi-millionaires by chronicling their sex lives and their shallowness! Egads!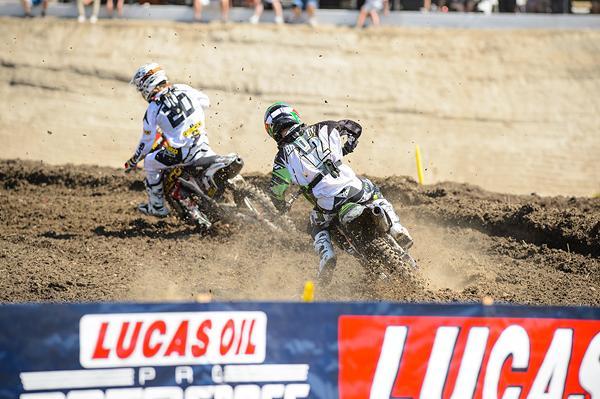 Baggett chasing down Barcia en route to his first career title.
Simon Cudby photo
According to Mitch Payton, Tickle's going to Hart & Huntington next year on a Suzuki with Ricky Carmichael playing a huge role. It's going to be interesting to watch and see if Tickle has reached his ceiling or if he can get better with another year in the class. I have to admit, his outdoor season kind of came out of nowhere for me as I had him definitely below the Justin Braytons and Kyle Chisholms of the world but he showed me and everyone else that he's capable of much more.
Let's take a look at the results shall we?

250 Overall
1-Blake Baggett 1-2 Kaw
2-Justin Barcia 3-1 Hon- Barcia got nipped by Tomac in the first moto otherwise the overall would've been his. He rode well on this day but he was no match for Baggett and like many others, his strength is not in the west coast tracks.
3-Marvin Musquin 4-3 KTM- Yeah Moose-can! Another podium for the guy that should be even better in 2013.
4-Wil Hahn 5-4 Hon- LE was Hahn's best overall finish on the year and he rode well both times out. He got good starts and that's a very important key to doing well in the 250 Class. Just call me Captain Obvious.
5-Malcolm Stewart 7-6 KTM- Yet another strong race for Mookie. The fever isn't back yet but it's coming on. I've got the chills starting already.
6-Ken Roczen 6-7 KTM- Roczen wasn't very Roczen-like at LE. Based on his standards, mailed it in.
7-Eli Tomac 2-14 Hon
8-Blake Wharton 8-8 Suz- 8-8 for eighth overall! Not often that it works out like that but for the under-the-radar Wharton, it did this time.
9-Jeremy Martin 10-10 Yam- This finish is strong for anyone but I feel like certain people in the industry oversold me on Martin. Maybe that's it, I'm not sure. The kid is fast but I've been hearing about him coming for a long time.
10-Jessy Nelson 9-13 Hon- Thumbs up to this ride! No, I know that sounds bad but after having him on the Pulpmx Show a couple weeks ago I feel I can make this joke about the one thumb-less Nelson. He's a cool kid.
11-Kyle Cunningham 14-9 Yam
12-Jason Anderson 31-5 Suz- Anderson's pants were falling down in the second moto and as the laps wound down we were getting more and more of a look into him. No really, it was enough already.
13-Justin Bogle 15-11 Hon- Bogle gets a mulligan for his first full season as a pro. Some ups, some downs, some injuries. 2013 is huge for Justin in determining which way he's going to go as a pro.
14-Travis Baker 11-15 Hon
15-Dillan Epstein 17-12 Kaw- Epstein's first race as a pro was pretty good, I think, as a complete privateer. I know there was talk of him maybe going to Pro Circuit for next year but I don't believe that is going to happen. Hey, Blake Baggett on a privateer Pro Circuit Kawasaki 250F went 12-23 at his first ever National. Just sayin…
16-Kyle Peters 13-16 Yam- Where do I sign the "Dear Star Racing, keep Kyle Peters and don't do what you did with Wil Hahn, Darryn Durham and Gannon Audette" petition? I'm all in, man. Peters deserves another shot.
17-Alex Martin 16-17 Hon- A-Mart didn't have a good day at LE as he went backwards in the second moto quickly. It's not surprising though, I've always thought of Alex as an east coast guy, needing the softer stuff to shine. Remember, he literally has sand whoops in his back yard.
18-Cole Thompson 12-30 Yam- The Canadian kid got his best finish of the year in the 250 Class in the first moto but DNF'd the second with what looked to be illness of some sort. Did he do enough to be kept on at Star? I'm not sure and in the words of Trent Dilfer, "It could go either way, Boom."
19-Killy Rusk 25-18 Hon
20-Dakota Tedder 18-21 Kaw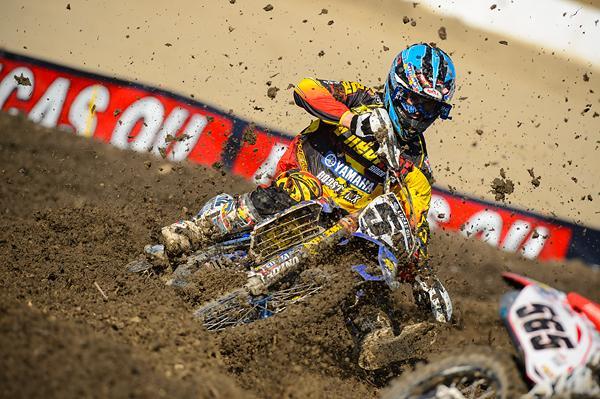 Ben LaMay scored his first top ten overall of the season at Elsinore.
Simon Cudby photo
450 Overall
1-Ryan Dungey 1-1 KTM
2-Mike Alessi 2-2 Suz
3-Broc Tickle 3-3 Kaw
4-Tyla Rattray 4-4 Kaw- Rattray had to pull in for goggles in moto two so his finish was even better, right? Anytime you have a pit stop in a moto, lose three spots and then pass the three dudes on the next lap, it's a good day. I don't know for sure but I hear rumblings of Rattray going to the MC/Brooks Honda team for next year.
5-Jake Weimer 5-9 Kaw- Weimer was really good at LE. Due to a combination of crashes and hitting neutral ten feet out of the gate, he had to pass 42 riders in two motos to snatch third place in the points with some awesome rides. He deserves it, no doubt about it. Also, he probably won another RC Hard Charger Award, which might be his 63rd this year. Oh man, who can forget the days of Carmichael passing so many riders each and every moto? He was always known for coming from way, way back….
6-Justin Brayton 12-5 Hon- Brayton's leaving Honda for JGR next year and went out with a 24th to 12th charge in the first moto. Then he was top five in his final race on red.
7-Christian Craig 7-10 Hon
8-Andrew Short 8-13 Hon- Short was in the hospital with some sort of infection during the week and he really didn't want anyone to know. I know he didn't tell me, he didn't make any excuses after the race but I found out anyways. His LE National was not good in any way, shape or form. He lost third in the points because of it as well.
9-Ben LaMay 10-12 Yam- Great race for LaMay who probably wishes the season wasn't ending. A ten-race points scoring streak shot him up to 15th in the final points and the 9th at LE was his best finish of the year. Great job for the long-time privateer.
10-Weston Peick 13-11 Suz- Peick's only raced four motos this year and has done well in all of them. Hopefully it helps him find a ride; his supercross season was very good as well.
11-Josh Grant 35-6 Kaw- Grant crashed out in the first moto, which his teammate Chisholm did as well. So stellar start to the day for JWR Racing.
12-Jimmy Albertson 11-16 Suz- Top Jimmy had his best National of the year at the last National of the year. Maybe not his best finish but the best two motos of the year and it couldn't come at a better time with him looking for a ride for 2013. Albertson ended up outside the top 20 in the points due to injury and ineffectiveness while out there. Harsh I know but he's my buddy and you always want your buddy to give it to you straight, right? No one wants to find out after they dumped the pill-popping stripper girlfriend that all your friends were just lying to you about how awesome she was, right?
13-Kyle Regal 6-32 Yam- Hallelujah! Regal gets a sixth which is something we all know he can do but couldn't seem to do this summer. Yeah he pulled out again in the second moto but at least we saw that he's still got "it" a little bit. His terrible outdoor season is going to go down with "What happened to the Mayans?" and "Is there really a Bermuda Triangle?" as the great questions still left in this world.
14-Nico Izzi 38-7 Yam
15-Kyle Chisholm 28-8 Kaw- Chiz DNF'd the first moto after colliding with Davi Millsaps. Second moto he passed a couple of guys, a couple guys passed him and he got eighth.
16-Vince Friese 15-14 Suz
17-Fredrik Noren 9-30 Hon- Oh man, Noren had a great first moto and had his best day ever lined up when he was a solid tenth until halfway when he pulled off with what looked to be a wrist injury. Bummer, bro, or as they say in Swedish, "En bra och dålig dag bro"
18-Derek Anderson 14-20 Kaw- Anderson was the story after round two in Texas, and then sort of didn't become any more of a story due to injuries and probably the impact of driving a van around the country while trying to race professional motocross. I do know that LE was his first race since Washougal where he got points in both motos so there's that.
19-Preston Mull 16-19 Hon- I don't know anything about Mull and when I mentioned this to the retiring Jason Thomas, he said: "He's a nice dude," so that's good enough for me.
20-Bobby Kiniry 31-15 Yam- Bad day for Meathead Kiniry, he lost a chance to move into 15th in points and actually got passed by a bunch of riders as well due to his poor showing at LE. Oh well, the dude missed five rounds because of races in Canada and still made top twenty. It's not a home run, but to me that is a solid triple.
No, I'm not the retiring Jason Thomas's press agent, I just seem like it. The #66, 16-year privateer hero hung it up with a farewell race of 24-24 and it was cool to see the fans seemingly wishing him well all day long.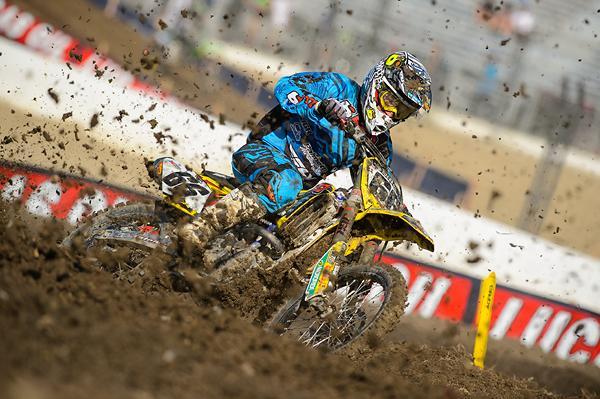 A bid farewell to Jason Thomas who is retiring at the end of 2012.
Simon Cudby photo
With that, I present to you the top ten reasons why Jason Thomas is retiring:
10- He's got a better offer to become a star in the Disneyland "Seven Dwarfs" show
9- He's tired of eating roost from all the fast guys
8- His mom Cindy has been a thirty-year plus scorer for the AMA and seeing as how she's hanging it up, JT has decided to keep the family tradition going and will be next seen scoring Anaheim 1 2013
7- He finally was forced into a severe mental breakdown from being ragged on non-stop by Chad Reed
6- The Pulpmx Show just pays better
5- He's now the lead shipper/receiver at BTOSports.com
4- He finally realized that making up his own rhythms in supercross wasn't the fast way around the track
3- Two words, BIG JUMPS
2- Feld and MX Sports are instituting a "You have to be THIS tall to race" signs by the starting gates in 2013 and he doesn't come to the bottom of the clown's hand.
1- Sixteen years is a long time to do anything, never mind race dirt bikes professionally
Thanks for reading, email me matthes@racerxonline.com if you've got some time on your hands and want to chat.