Lake Elsinore
Lake Elsinore

,

CA
Lake Elsinore
Lucas Oil AMA Pro Motocross Championship
Welcome to Racerhead, coming to you from right next to the big new motocross facility in Southern California known as Lake Elsinore. Of course the track is new for this weekend's grand finale of the 2012 Lucas Oil Pro Motocross Championship, but the name and the area are not new to the sport at all. In fact, Lake Elsinore goes back to the mid-sixties and the famous Lake Elsinore Grand Prix, immortalized in Bruce Brown's moto masterpiece On Any Sunday, with Malcolm Smith and his buddy Steve McQueen doing their thing. Elsinore is also the name Honda placed on their original motocross bikes that came out in 1973.
The Red Bull Lake Elsinore National is where we now end the most competitive and prestigious motocross series in the world. A brand new track has been crafted from the lake bed by Marc Peters. The Nanci family that now runs the facility used tons of mulch while also turning over deeper soil from underneath the old tracks. A detour into the Lucas Oil Off-Road Truck Stadium gives the whole layout a different look and feel than pretty much anything else on the circuit. Add it all up and you have the longest track in the whole series, with some fairly spectacular jumps and transitions. Here's a glimpse at it from yesterday by our own Matty Fran  and also a clip by Matt Wozney of MXPTV.
Lake Elsinore has come and gone in different arrangements over the years, and since the new group took over, it's safe to say that it's never looked better. There will always be folks who want to see other tracks and facilities on the schedule, but I hope everyone gives this place a chance—God knows they've done a great deal of work out here to make it work.
If you're going to the race yourself, bring some sunblock! If you're outside the area, you can watch the first two motos live on FUEL TV beginning at 4 p.m. ET (1 locally) and also streaming live on www.allisports.com The second motos will air Saturday night at 11 p.m. ET (8 p.m. out West) on NBC Sports. And every moto will be archived on Alli Sports, including last week's Steel City motos.
I will let the other guys talk up the battle for the 250 National Championship that's brewed up between Blake Baggett, Eli Tomac, and Justin Barcia, and the only real drama left in the 450 Class is to see whether Red Bull KTM's Ryan Dungey can run his streak to ten races in a row. His team will celebrate tomorrow night, with all the big bosses from KTM in Austria coming over to enjoy their first 450 title in American Motocross. They will also be hoping to celebrate a double win if things go well for either Ken Roczen or Marvin Musquin in the 250 Class.
What I do want to discuss is the Women's Motocross Championship. The WMX has come down to a thrilling three-rider battle for the championship between Rockstar Energy Suzuki's Jessica Patterson, Troy Lee Designs Honda's Tarah Gieger, and defending champion Ashley Fiolek of Muscle Milk Honda. Just 10 points separate the three girls as they ride into Lake Elsinore.
What's uncertain is what's going to happen to the WMX in general next year and how it will fit into the 2013 Lucas Oil Pro Motocross Championship. There have been conflicting reports and rumors, some saying that MX Sports is dropping the class, others saying the WMX will move to amateur days at these races. The truth is, I really don't know what's going to happen. A primary goal of the series in general was getting it on live TV all over the world, and we're more than halfway there. But with eighty riders per class, we have to start the riders' meeting at 7:45 a.m., run two sets of practices, two consolation races, opening ceremonies, four different sighting laps, and two motos of 30 minutes plus two laps each.... Add it all up it's a very long day for all of the tracks, their staffs, paramedics, officials, the TV production people, and so on and so forth. As it is right now, we're running into overtime on everyone, and we're not getting enough time to work on the tracks and groom the parts that need work.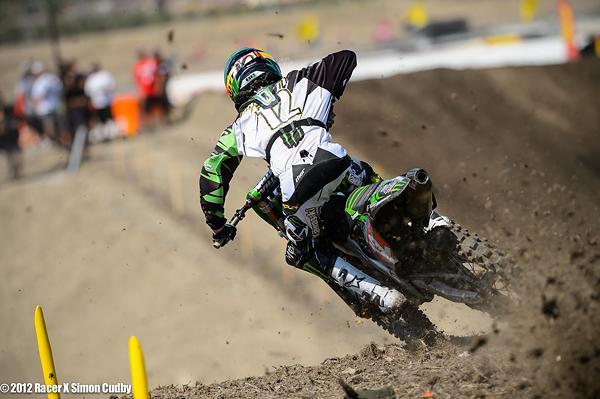 Blake Baggett has a 14-point lead over Eli Tomac heading into the season finale at Lake Elsinore.
Simon Cudby photo
We've spent years working on finding the right balance and spot for WMX. I suggested a single-moto format or a single practice but neither proposal got far with the athletes. The time constraints and the very challenging tracks have made things difficult for the girls, as we've had to move them around time after time, and they often end up with the very first practice of the day and the very last moto, when the tracks are extremely rough and the crowd is filing out. I get beat up a lot by people who don't think the girls belong out there, and while I agree that some of the riders in the pack do not possess the skill set that these big national tracks require, others like Ashley, Jessica, and Tarah do and I enjoy watching them battle at these rounds.
What I was going to suggest is a shorter pro schedule—maybe host the WMX at three or four rounds, like Hangtown and Thunder Valley and a couple of others—but then also involve other big events like Mammoth Mountain, Loretta Lynn's, and Ponca City to give the girls a longer schedule for a better championship.
At least that's an idea. Anyone else that has one, by all means send it over: DC@mxsports.com.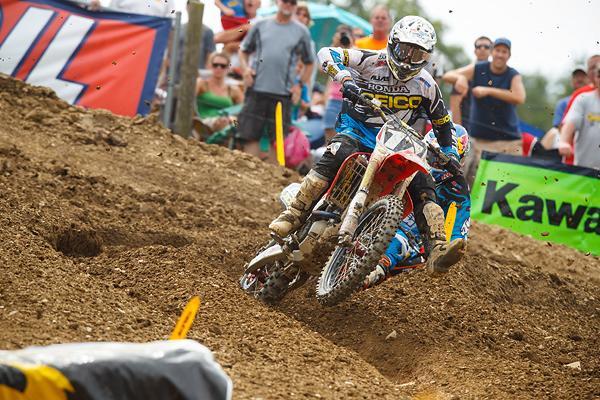 Will Tomac be able to chase down Baggett at the finale?
Simon Cudby photo
Here's Steve Matthes:

Saturday night, it's all over. The conclusion of the 2012 Lucas Oil Pro Motocross Championships is near. We will know who the heroes are and who the goats are, and then hope springs anew for 2013. First, though, we have a few different story lines for this weekend's race.
The battle for the 250 title is obviously number one. Fourteen points is a nice cushion for Monster Energy/Pro Circuit Kawasaki's Blake Baggett, and I expect he'll bring home his first title after it's all said and done. However, don't discount that E.T. kid calling home once again! Eli Tomac's been on fire the last month and I also think that will continue this weekend. The guy is on some kind of roll and showing some serious speed. At different times this year in the class, different guys have made me believe that they're the one. Baggett, Justin Barcia, Tomac, and even Ken Roczen have seemed to be poised and ready to run off some wins, but justlikethat the table turns and a new guy starts to be "the guy".
Something to watch for is the scene going into the final moto if either Tomac or Barcia has a bad first moto. It hasn't happened all year but team tactics could come into play for either GEICO guy. It doesn't have to be anything major, just some light resistance to a pass or a charge that's not quite at 100 percent. Either guy could help out the team and Honda to dethrone Baggett, who isn't going to have that kind of help available to him—Ivan Tedesco is back but I don't think the #9 will be on the leaders' pace. I still like Baggett to bring this thing home but I do think his margin is going to be less than 14 points when it's all said and done.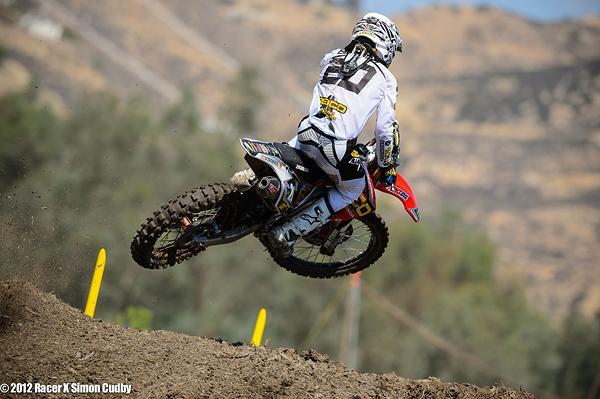 Justin Barcia is still in the title hunt, just 18 points back.
Simon Cudby photo
Lake Elsinore had their press day and the guys I spoke with said that it was pretty good, that it was fast and fun. The real challenge for the crew is to keep it from getting baked hard-pack, which is what it's always been known for. Being as the track is new, it's not really playing into anyone's hands, and we'll see who can figure it out the quickest. Any time there's a new venue on the circuit and you've been traveling said circuit for over fifteen years, it's an exciting thing. I'm heading down to check it out as soon as I hit send on this Word doc.
The battle for third in the championship in the 450 Class is raging. It seems Kawasaki's Jake Weimer and Chaparral Honda's Andrew Short have both been up and down lately. Shorty has a six-point lead for third. I've spoken to both riders and the indifference that each has shown to nailing down the third spot is incredible. It's like I'm thinking they might both just pull out of the race tomorrow and watch. And you know what? I don't buy it. It's just an act in front of the media so that no one thinks they're happy to get third place and therefore get the dreaded "he's not a winner" label that so many guys get after a few years. Look, neither guy is very happy getting beaten by Mike Alessi and his hot-tub-time-machine-black bike but methinks this battle is going to be interesting, and I'm betting that Weimer for sure has about 50K on the line if he can get third. It's the race within the race!
Longtime privateer hero Jason Thomas of the BTOSports.com team is lining up for his last national. That's right, the sixteen-year veteran racer is going to ease into a life of counting his money and driving his Lambo around while the soundtrack to Rocky IV blares on his Blaupunkt stereo. Okay, not really, but if Thomas has been saving up his energy over the years, if he's got anything in the tank, Lake Elsinore is his time to unleash it. Perhaps a 1-1 or maybe 2-2 at worst? Whatever it is, the #66 out there has been doing it week in and week out for years and it's time for the curtain to close on this pretty-good career. Say hi to him, cheer him on out there, and remember, short people are real people.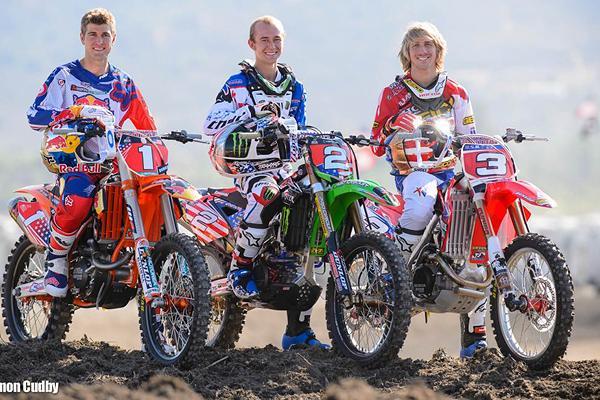 Your 2012 Motocross of Nations Team.
Simon Cudby photo
Now I know why Chad Reed came out for the race; he's the sentimental type and wanted to watch his buddy ride his last laps.
Did a couple of podcasts that weren't on Racer X this week. Check out Pulpmx.com for a short little one with Hobo Nick, who was Daniel Blair's old mechanic and decided to just walk across the country with nothing. He's three weeks away from finishing it and was a couple of hours south of Vegas yesterday, so I went down there to meet the Hobo and get his story.
Also a couple of Canadian riders, Kyle Beaton and Cole Thompson, are up over on Directmotocross.com for podcasts. Beaton raced some supercrosses this past January and recently got hurt pretty bad racing the Canadian nationals while Thompson was the privateer story in the 450 class earlier this summer down here and is now on Star Yamaha. Check them both out here.
Hey, check out Racertech.com for more info on their upcoming suspension and motor seminars hosted by Mr. Paul Thede himself. These schools have been going on for a long time and they're guaranteed to fill you full of knowledge from the basics to however advanced you want to get.
We'll be back on Monday with the PulpMX Show recapping everything that happened at Elsinore with the titles and with an eye to the upcoming supercross season as well. Thomas is even going to come up to Vegas and sit in on the show. Join Kenny Watson and me Monday evening around 6 pm PST for laughs and info. See you at Lake Elsinore!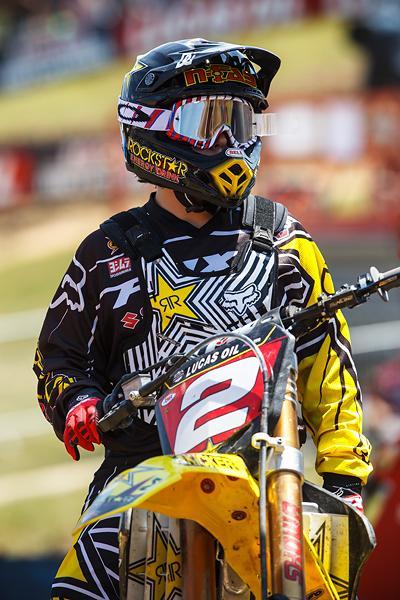 Jessica Patterson is looking for her seventh championship on Saturday.
Simon Cudby photo
Here's David Pingree...
The drama and excitement this weekend is centered around (for me, anyway) the 250 Class Championship. Blake Baggett has done a great job of hanging onto the red plate from the opening round, but ever since the series went to Unadilla he just doesn't seem like himself. He went backward last weekend and in the process his points lead has dwindled. This has probably been a difficult week for Blake; he's still in the driver's seat but if he finishes where he did last weekend, and Eli Tomac finishes where he did last weekend, Tomac takes the title. On a brand new track that will be pretty different from anything the riders have seen all year that equated to a pressure cooker.
Tomac, on the other hand, has nothing to lose. He has to go out and win. I really like both guys so I just hope they have a clean day of racing and go out swinging. But if you recall the way things went down with Christophe Pourcel and Trey Canard a couple years back you know that things don't always go as planned.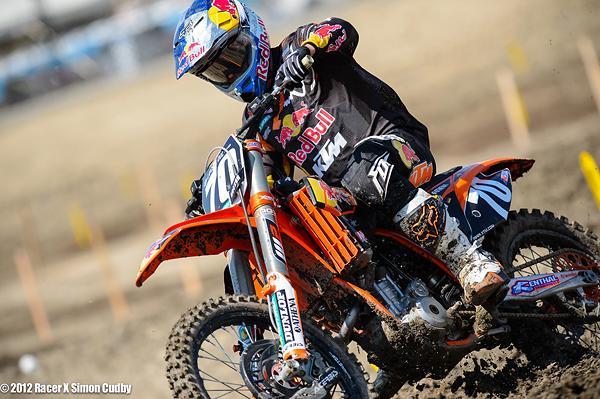 Ken Roczen could play a major role in the championship chase on Saturday.
Simon Cudby photo
I stopped by the track today and was shocked to see how much was changed for the weekend. The grandstands are going to be a cool addition for the thousands of fans looking for a place to sit and watch. And the track seems to be split into north and south segments so you'll definitely want to wander around to see the different sections. The track itself is buried in a deep layer of mulch, and it rutted up quickly. The layout seems really cool but there is some concern that the surface will form a one-lined track, making passing difficult—the mulch mixed with well-watered soil makes a pretty sloppy mixture, so getting off the racing line is a gamble. Hopefully it works in well. From the sidelines it looks super wide, which is something that some of the older tracks could take notes on. If it is one-lined it won't be because the track isn't wide enough.
Overall, I'm looking forward to Lake Elsinore, especially with the title coming down to the wire. The boys from DMXS Radio will be up in the Red Bull area doing some race day commentating and interviewing. David and Kevin are always entertaining so be sure to find them in one of the many Red Bull energy stations around vendor row.
MISC:
Here's another film by Matt Wozney, the story behind the Red Bull Lake Elsinore National.
I got this note from Mathew Dalton of The Autism MX Project:
Rock River Yamaha has been gracious enough to give The Autism MX Project some of their pit space at the Lake Elsinore National. There will be two Autism MX Team Yamahas on display and a booth where you can learn more about Autism Awareness and The Autism MX project. We'll also have a presence in the Langston-Witt pits. Stop by and check us out!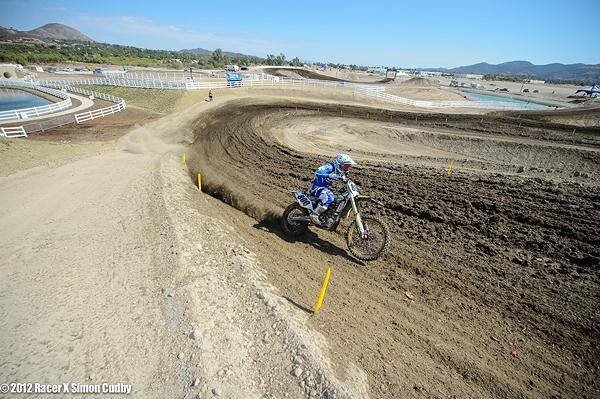 Mike Alessi at press day on the new layout at Lake Elsinore.
Simon Cudby photo

And here's another:
Sweet Baby LEW is my father Larry Earl Williams aka LEW! About 2 years ago he was diagnosed with prostate cancer. He underwent surgery to remove his prostate and everything went great. About a year later he found a mole in between his toes and it ended up being Melanoma. They decided to do surgery and they removed 30% of his foot. Although the surgery was successful they found that the cancer has spread into his lymphatic system. They have removed all of the lymph nodes from his right leg and he is on his 4th major surgery in less than a year! Even with all of this going on my father maintains a very positive attitude. My dad is a huge motocross fan and I thought I would do try and do something cool for him. At the Lake Elsinore National I have 4 Riders wearing the Sweet Baby LEW butt Patch to help lift his spirits and let him know that there are lots of people that care for him. Derek Anderson, Tucker Saye, Malcolm Stewart, and my dad's favorite privateer Preston Mull will all be rocking the butt patch on Saturday.
That's it for now. I hope to see lots of you at Lake Elsinore this weekend—I definitely can't wait. Thanks for reading, see you at the races.