Lake Elsinore
Lake Elsinore

,

CA
Lake Elsinore
Lucas Oil AMA Pro Motocross Championship
Hello, everyone, and welcome to the Rev Up. You can feel it pretty easy if you pay attention. The seasonal switch from summer to autumn is coming, and with it arrives American college and pro football, colored leaves, and the smell of chimney smoke. And if you are a motocrosser it signals the end of the season for our trade. While there is a veritable season within the off-season, the big pay checks have been signed and the number one plates are placed on the mantle come September.

It's been one of the most dramatic and injury stricken seasons I can recall. That said, the early departed have already began their quest for a new year. The boys we've been missing all summer are already back on the bike, for the most part, and it's already hard to not start fantasizing about Anaheim 1.

But, not yet. The game isn't over.
Barcia will need a win and some help as he sits 18 points back of Baggett.
Andrew Fredrickson photo
The last men standing are preparing to pull their goggles on one final time in the 2012 regular season. One of the most competitive series fights in recent history will conclude this Saturday in Southern California. Not to stall, but it's hard for me to think that the 2012 Lucas Oil Pro Motocross Championship has come and gone just so much as a blink of the eye. I'm a greedy fan in contemplating what could have been in the 450 Class, but my appetite for the charge has been quenched by the big four in the 250 Class. After supercross I thought Justin Barcia was going to be the guy, yet Eli Tomac was crazy strong in the West Region. There was the recent memory of Blake Baggett's 2011 speed and wins as well. I've seen video clips and pictures of Ken Roczen for years and I knew he was going to be special too....

All of them have been stronger than a garlic face mask. They have all won motos, but only two have a real shot at the championship as the bell rings for Lake Elsinore. That slippery slope I mentioned last week for Baggett is one he landed in. Instead of maintaining, he lost 14 points in one day, and only has 14 points remaining in his title hopes. It's with that nomenclature that I've seen more guys win from behind, than guys hold on. Blake is on his heels while Tomac is "The Guns of Navarone." This situation takes me back to Loretta Lynn's a few years ago when Blake and Barcia were battling for the B Class championship. Barcia took him out and came out on top. I sincerely hope he remembers that when he snaps his boot buckles on in two days.

That instance arrives at a more peculiar scenario. Will Barcia help Tomac win the title? If I am Mike LaRocco I put both my studs (or perhaps Hahn and Bogle) on either side of the Monster Energy/Pro Circuit Kawasaki. But, look at how "Bam Bam" raced his teammate at the end of moto one at Steel City? Didn't look like team tactics to say the least...Barcia rides every lap with blood in his eyes. The only reason I support his nomination for the MXoN. "Win by attrition" is a mantra that serves motocross alpha males well.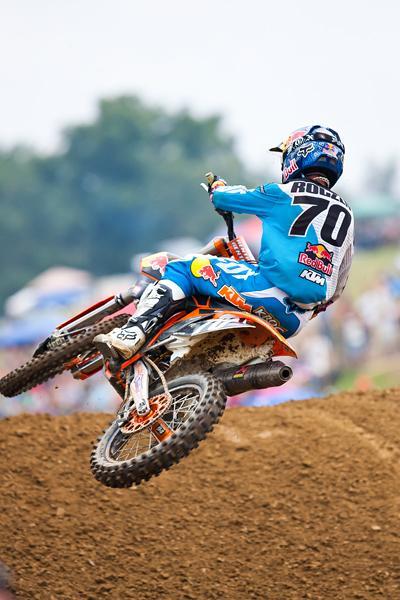 Ken Roczen could cause major disruptions at the season finale.
Andrew Fredrickson photo
It's hard to chose favorites, because I love Tomac too, but this writer wants to see "Bad" Blake go out and tear their heads off. He has to find what he had in his guts at the halfway of all those motos this summer and become born again hard when that gate drops. If he takes the approach he did last weekend, he's toast. Tomac will go 1-1 unless Blake takes this moment for what it is. A fist fight.

So many variables...a scary fast Ken Roczen and Marvin Musquin, a bad start, a practice crash, a bike failure...and more, create a block of timber with some hard bark. If he wants the title he has to spit on his palms and chop wood, plain and simple. I want to see the kid do it. Nobody can twist the throttle but him. Go get you some, Blake Baggett. Be the man and if you go down fighting, you won't regret anything and you had a great year.

Man, it's so exhilarating to think about this deal, boys! It is one thing and one thing only...it is time to finish the game, son. Time to harness EVERYTHING and ride your motorcycle like a God. Hell, they all do, so let's get it the hell up for one more charge in 2012. Can you feel it?