Catching Up with Justin Soule'
September 6, 2012 11:45am
By: Jason Reed of JR Publications

Q: Justin, we know you have been off the bike for quite sometime now with an injury, how it that going?
A: It's going good. I started therapy about three weeks ago and it's been good so far and I've been on the bike for around a week now. But I am content with my program and able to workout and ride my bicycle, so that will get me by for hopefully the next couple of weeks.

Q: Take us through exactly what happened. From the crash to the injury.
A: I was at the second round of endurocross in Sacramento, CA. There was a section of about 5-6 logs spaced out about a bike length apart, back to back style. In endurocross terms it's called the "matrix". I tried jumping the whole section in my timed hot lap but it didn't work out too well. I crashed and dislocated my shoulder. At the time we thought that was the extent of the damage, but after and MRI it turned out to be a broken humerus and slightly torn rotator cuff. I was the small percentage of guys who got lucky with this injury for not requiring any surgery, so I felt blessed about that.

Q: Well I am glad you are on the mend and going to come out of this thing on the up and up. Let's dig a little deeper into the sport of endurocross. Everyones talking about it, it's on ESPN, in the X Games, it's thought to be the next big thing for the two wheel community. Tells us about it.
A: It is one of the funnest things I have ever done on a motorcycle. It is so demanding on the body requiring every little muscle to just complete a lap. It takes a ton of bike skill, aggression, and a good racing background to be competitive in it. The racing is intense! Being there's never a dull moment...tons of crashes, lead changes and just the shear battle of everyone wanting to win. One misconception is the wear and tear of the bikes. People think it will just destroy the bike and i think it scares them away, totally understanding of course. But to me it's not bad. One clutch a year, one motor a year, new tire every other race. When compared to other disciplines of racing that require those parts every race, it's not bad at all. You come away with more cosmetic damage than anything. Plastics and skid plates being roughed up, that type of thing. Its definitely growing though, people recognize me as the guy who rides the obstacle courses and thats fine with me. Off-road doesn't have that fan base with traditional off-road events, so it's cool to have a following now, especially as an off-road guy. So pumped to be apart of it.

Q: Well that's great. You certainly seem to be a crowd favorite as far as how you interact with the fans. You are one of the more personable guys that is always smiling an willing to meet and greet people at the races. Does that same personality apply to the track as well?
A: That's a tough question. I am a pretty happy person overall. I love meeting new people and just getting to know them in general. I am a people person through and through that's for sure. I would say it doesn't carry over to the track though. I've been told I have a Dr. Jekyll and Mr. Hyde type of personality when it comes to my riding. "He's such a nice guy off the bike and then the helmet goes on and his eyes go white" is of the things I've been told. I guess my answer is that I am all business on the track. I train super hard to not give away a spot to another guy or to lose. I want to win every time I swing a leg over that bike. I am very passionate about what I do and i just want to do my absolute best every time I ride. Also, at the end of the day I am just as human as the next guy. Far from perfect.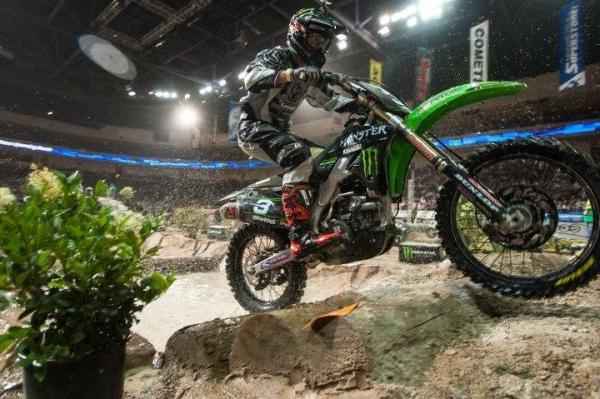 Adam Campbell photo
Q: I think that is something that all professional athletes are born with, you can't hold them to it. It's the wiring make up, right?
A: Exactly. In this sport your down more than your up, you have to have a deep down desire that keeps you striving for more and coming back to just get beat up again [laughs].

Q: You mentioned about how hard you work and train. Can you give us some insight about what it is you do?
A: Every training regimen is different because people are different. There is an amount of work that needs to be put in and a belief system established for what it is your doing. For instance, you could have the schedule Ricky Carmichael had when he went for his perfect season, but if you didn't believe in it and didn't apply it, most likely it wouldn't work for you an there would be no perfect season. My trainer Randy Lesovsky and myself have done tons of testing and experimenting on what works for me. We've found it and it works. I believe in it and so does he and at the end of the day that's all that matters. But getting onto what I do, nothing replaces seat time. It's quality not quantity as far as riding goes, having daily goals ect for why your riding that day. It could be speed and lap times or smooth and mistake free laps. It's all important. I do a tone of bicycling as well. It's the best form of cardio and building up a stronger lactate threshold and leg strength. Not to mention, I just love bicycling. Gym workouts are crucial as well. I do it all, it's just about touching all pieces of the pie and adjusting the work load for different parts of the season. You can't go flat out all season, because your body will eventually break. Find out what event is most important for you for that season and build your way up for peaking at that specific time.

Q: Well we wish you a smooth transition back onto the bike and the best of luck on the rest of the season. Thanks for your time.
A: Nah, thank you man. I appreciate the interview. I want to thank a few people real quick. Courtney, Randy, Monster Energy Kawasaki, Moose, SIDI, Shoei, Oakley, Asterisk, Focus Apparel, Recovery Pump, Incycle bicycle shop, JR Publications and everyone else. I couldn't do it without any of them. They mean the world to me.
Please visit www.endurocross.com to pick up your tickets today.