R2R Golf Tournament at Lake Elsinore
It is not to late to join the f
un at the Road 2 Recovery golf tournament tomorrow, Sept 6th. Here are a few of the contest holes offered from great supporters to the injured riders fund.

Elsinore MX National Golf Tournament Hole Contest Rules
FOX: Long Boot Drive – Player must take off golf shoes and slip into a size 14 boot. Longest drive wins a set of boots from FOX

FOX: Close to the Pin Head – Player must wear a FOX Helmet while teeing off. Close to the pin wins a FOX helmet.

FMF: Right down the Pipe – A straight line will be in the fairway from 200 - 250 yards Closest ball to the line wins a pipe from FMF.

Native Threads: Grip it and Rip it Long drive. Win Golf apparel from Native Threads on the spot for the longest drive in your group.

Rockstar: In the Can. Player closest to the can/flagstick wins 10 Cases of Rockstar.

Rockwell: Watch me get close to the pin! Player closest to the pin will win a Rockwell Watch.

Kicker: Livin' loud long drive. Longest drive of the day will be awarded a Kicker docking station.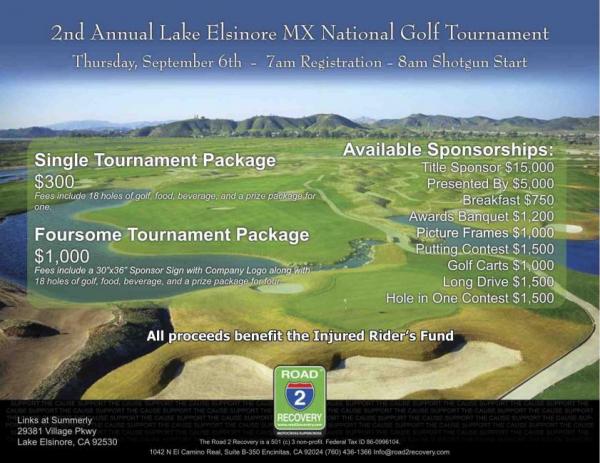 Ping: Ping goes the longest Put. Player who sinks the longest put on this par 3 wins a ping putter.

Replay XD: Replay gets you closer to the pin. If you would like to Replay your first shot, $10 and you can buy a Replay ball. Closest to the pin wins a Replay XD 1080 camera.

Cobra: Putting Contest. Anyone at the golf course can have a great chance to win a set of clubs from Cobra. $5 will get you one chance to make the putt. You can try as many times as you like. If more then one person makes the putt, a putt off will be played.

Falken Tire:  Chip Shot.  Anyone can have a chance at winning a new set of Falken tires from the official tire of Supercross. $5.00 per shot to chip your golf ball through a Falken all terrain truck tire. Play as many times as you want, all winners will be put into a drawing at the end of the tournament.

To register go to: https://r2r.webconnex.com/LakeElsinoreGolfTournament2012
or Call Anita Button at 602-578-5339