Lake Elsinore
Lake Elsinore

,

CA
Lake Elsinore
Lucas Oil AMA Pro Motocross Championship
Tucker Hibbert has accomplished just about everything there is to in the world of snocross. He's a two-time FIM Snowcross World Champion, a six-time National Snocross Champion and a ten-time Winter X Games medalist. But motocross has always had a place in his heart. After turning professional in both AMA Motocross and snocross in 2000, the two-sport pioneer has earned eight top-15's in motocross and four top-10's in supercross, coupled with six CMRC MX2 moto wins.
After spending the past two seasons recovering from injuries suffered in snocross, Hibbert made his return to the Lucas Oil Pro Motocross Championship at the FMF Steel City National. We caught up with Hibbert earlier this week to talk about his return to dirt.
Racer X: It's been almost two years since you've been back on the national scene. How did you feel in your first race back?
Tucker Hibbert: It was okay. I definitely didn't get the results I was hoping for, but all in all it was a successful race after being off the national series for a couple of years. I didn't really know what to expect, and it was my first race on a 450, so I had a lot of stuff going on that was new and different. I came in very open minded to the race and just wanted to get my feet wet again and see where I stood.
You raced supercross and motocross for quite some time before the layoff. Was there any specific reasoning behind not racing the past two years?
Just injuries. I had a knee injury a couple of years ago that I had to have surgery on, so I had to let that heal, which was a couple summers ago. Then last season I tore some ligaments in my wrist. I had surgery right at the end of the snocross series and it took all summer to get healed up from that. It definitely wasn't something that I did by choice, but injuries have played a part. And I have to make sure I'm healthy for snocross, so I have had to focus on healing up and being healthy during the summertime. It just so happen this year that I was healthy enough to go and race.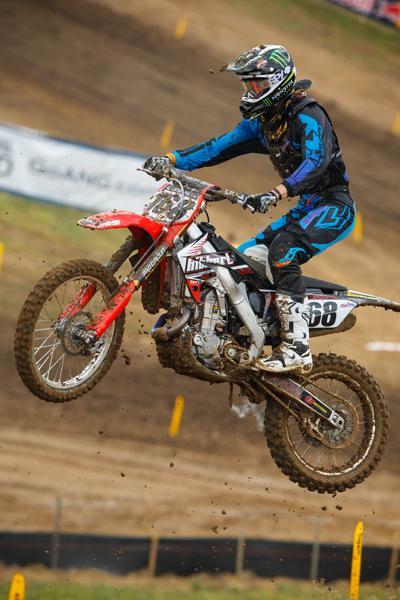 Hibbert competed in his first race in two years at Steel City.
Simon Cudby photo
You also suffered a big crash towards the end of the snocross season this year as well, correct?
Yeah, I had a pretty big crash at the last round of the ISOC National Snocross series this year in Wisconsin. I ended up lacerating my kidney pretty bad and that put me out for most of the summer or I would have been racing the Nationals much earlier. I have kind of been plagued with injuries these last couple of years, which has messed up my plans for motocross. Luckily it happened early enough that I was able to get healed up and do Steel City. I'm happy that I was able to at least get one race in.
That is a major injury. Did you have doubts as to whether you would make it back this year?
It was pretty much up in the air. It was a pretty bad injury and I was in the hospital for a couple of weeks. So I was basically laid up for three months. After three months I was able to get back to training, but I had basically lost all of my fitness. It was probably the lowest I have ever been as far as losing my fitness due to an injury. I really didn't know what to expect, I just knew I wanted to race a couple of races but I had to focus on getting strong and riding and making sure all of my injuries were healed.
You have some pretty big sponsors in snocross—Arctic Cat, Monster, etc.  Do you have it worked into your contract where it is okay for you to ride motocross in the off-season?
It is something that there are pros and cons to me racing motocross. Obviously the sponsors are more concerned with me racing snocross and being healthy for that. But at the same time I'm able to get a lot of exposure and able to promote them through motocross racing, too. I think in one breath they are a little nervous about me racing because of fear of injury or something like that, but when things are going good they benefit from it. I definitely don't have anyone telling me I shouldn't be racing motocross, but I'm sure it's in the back of their mind. For me it's something I have done my entire life. I have raced both motocross and snocross at the same time since I was a little kid and I think everyone knows that is what I do and who I am, so they are okay with it.
You are the pioneer of being a two-sport athlete in the world of motocross. Talk about the transition from riding a dirt bike to a snowmobile. Do you feel it helps you in certain ways, going from riding a dirt bike to a snowmobile and vice versa?
It's definitely complementary. For me, not racing any Nationals, or racing motocross at all, for two years really hurt me on the snocross track—especially in regards to fitness and just mental readiness. It definitely keeps my mind and body in tune with being prepared. I definitely feel that they complement each other and that I gain speed in snocross by racing motocross. There is a little bit of an awkward transition time from one sport to the other where you have to forget about some things you do when riding a snowmobile and relearn some things about the motorcycle, because they are quite a bit different. For the most part, it is not too big of a deal because I have been doing it for so long.
Next week you will have the special opportunity to throw out the first pitch for your hometown team, the Minnesota Twins. How special of a moment will that be for you and were you a baseball fan growing up?
I played baseball a little bit growing up, but quickly realized that I had no talents or skills that were good for regular sports! I wouldn't say I watch every game or follow it that closely, but I'm a fan of baseball. They recently built a new stadium, so to get to go back and see the new stadium and throw out the first pitch I'm definitely honored.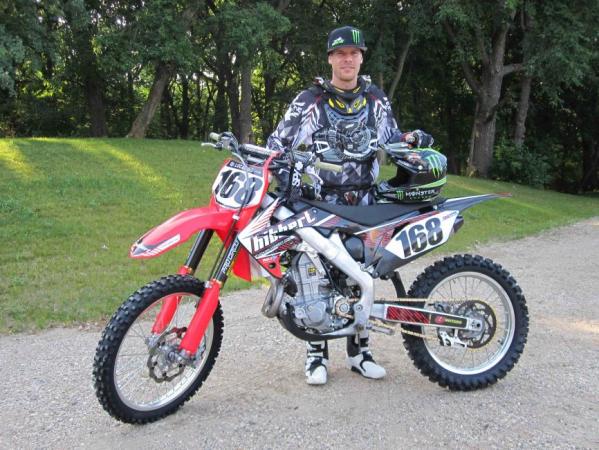 Hibbert finished 27th overall in his first, and only, race of 2012.
Tucker Hibbert Media photo
In the past we have seen some pretty big flops with celebrities and athletes throwing out the first pitch. Have you been practicing at all? 
I've been throwing a few rocks around the house [laughs]. I haven't done anything official, but I probably should go find a baseball and start throwing so that I don't make a fool of myself. I hope I don't make the highlight reels [laughs]. I'm definitely not expecting to do anything spectacular.
So is it back to training for the up-coming snocross season?
Yeah, I have some stuff coming up real soon for the snocross season. It's definitely transition time for me to start to get back into the season. I would love to race Elsinore, but my schedule just won't allow it.
You are a ten-time Winter X Games medalist, and after a year hiatus snocross returns to Winter X Games in 2013. How much does it mean to have snocross back in the X Games and on such a big platform again? 
It's huge. It's the biggest event all year and has been a huge part of my career. The first time I raced X Games in 2000 I was able to win the gold medal and that kind of launched my career as a professional snowmobile racer. For me it is something that I look forward to, and as a team something that we put a lot of effort towards because of the media attention and the exposure involved with X Games. We are really excited to have it back this year because it's a great opportunity to promote our sponsors and our sport and help try to grow our team and sport.
Thanks for your time, Tucker. Who would you like to thank for helping you out this season?
I would like to thank Monster Energy, Arctic Cat, SPY, Leatt, Hot Stuff Pizza, Kicker, Digital Ink Design & Graphics and CTi.